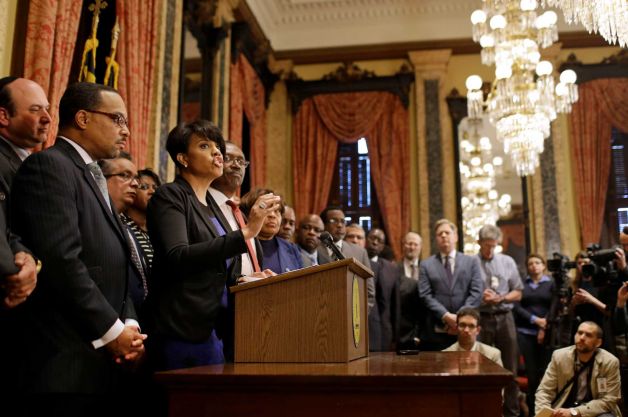 Patrick Semansky, AP
Mayor Stephanie Rawlings-Blake met with more than a dozen Baltimore faith-based leaders Friday afternoon at City Hall to discuss the ongoing protests and the city's response in the wake of 25-year-old Freddie Gray's death Sunday.

Gray, who was arrested and taken into police custody April 12, died April 19 at the University of Maryland Medical Center's Shock Trauma from injuries that included a broken neck and severely damaged spinal cord.
At a short press conference following the meeting with faith-based leaders as well as the leadership of the Baltimore chapter of the NAACP, Rawlings-Blake praised the faith community and those in Baltimore who have been peacefully protesting Gray's death and the handling of his case all week.
Rawlings-Blake said she shared the faith-based and broader community's desire for justice, but she indicated she still has more questions than answers about how and why Gray died.
"I still want to know why procedures for transport were not followed," Rawlings-Blake said. "I still want to know why none of the officers called for immediate medical assistance despite Mr. Gray's apparent pleas…I know that this is absolutely unacceptable and I want answers."
Rawlings-Blake went on to say that Baltimore City Police Commissioner Anthony Batts has assured her that the BCPD is moving as quickly as possible "with a responsible investigation and we will determine how exactly this death occurred."
"If necessary," Rawlings-Blake continued. "We will hold the appropriate parties responsible."
At the same time that the mayor said she recognizes the growing frustration around Gray's unexplained death, she said the investigative process must be followed. "In order to have justice, and not just seek justice, there are procedures that have to be followed," she said.
Batts held a press conference to provide an update on the city police department's investigation into Gray's death later Friday, but the results of the BCPD's initial probe are not slated to be completed and handed over to the city's state's attorney's office until May 1. At that time, the city's state's attorney office will consider bringing any charges. According to
live tweets from the press conference, Batts said, "If someone harmed Freddie Gray, we're going to prosecute them," but added few substantial new details about the case. He also said he will not be stepping down after calls by some for his resignation.
Six city police officers involved in Gray's arrest and transport are currently suspended with pay while the matter is being investigated.
Rawlings-Blake said she understands the community's desire for accountability, but also dismissed calls by some for Batts' resignation, adding that despite the current tragedy, Baltimore has made "progress" recently in reducing police brutality in the city.
A
Baltimore Sun investigation last year detailed $5.7 million in court judgments and settlements involving more than 100 lawsuits alleging Baltimore City police misconduct since 2011.
Rawlings-Blake acknowledged that the apparent "rough ride" Gray was given in the police van—meaning that he was shackled, but not seat-belted as required by procedure—was not a "one-off."
"Clearly not," Rawlings-Blake said. "The reason we have that policy is because of an incident that happened previously. The
Sun published a piece about so-called "rough rides" earlier this week.
Maryland Gov. Larry Hogan
said Friday he plans to sign a bill that would double maximum payouts in police brutality cases. On Thursday, he said he would sign legislation to encourage police departments in the state to launch body-camera initiatives.
The U.S. Department of Justice
announced Tuesday that they will open an investigation into the Gray's death.
Funeral arrangements for Gray have been made for Sunday and Monday. Gray's family will receive visitors from 1 p.m. to 6 p.m. at Vaughn Greene Funeral Home in North Baltimore on Sunday. The funeral service will be held at the New Shiloh Baptist Church in West Baltimore on Monday at 11 a.m.
"It doesn't matter if you celebrate your holy day on Friday, Saturday, Sunday, or another day of the week, [Baltimore] is our community," said Rabbi Andrew Busch of the Baltimore Hebrew Congregation after Rawlings-Blake spoke. "If we have greater income or are searching for work, it is our community. Regardless of our color, regardless of our education, regardless whether we were born here or came here—this is our community. We must ask difficult questions, but we must remember at every given point, [that] we are all different, but we are all the same in that this is our community."