Rushing into the Rubble
On the ground with Baltimore doctors and nurses responding to the Haitian earthquake.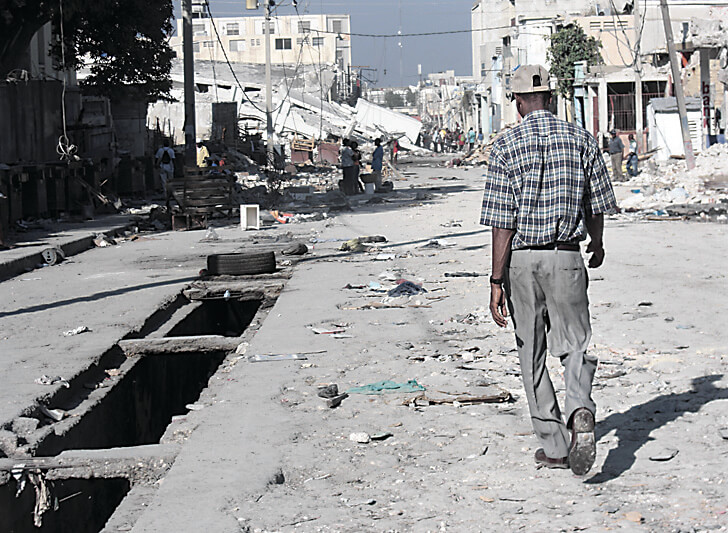 PORT-AU-PRINCE, Haiti: Ten days after the massive Jan. 12 earthquake that killed an estimated 200,000 people and left another 1.2 million homeless, Dr. Ken Crawford and Dr. Agha Khan, Baltimore volunteers with disaster-relief organization Humanity First, ramble over the broken, pothole-laden road from Santo Domingo toward the devastated capital.
Traveling with a group of American and Canadian medical professionals and myself, the group reaches the Haitian border in eight hours, at 6 p.m. Advised not to cross that late in the day because of potential danger, we sleep on the door of a trailer at the border station.
As night approaches, the group grows anxious. There are stories of bands of raiders at the border and a police lieutenant tells us that two of his officers have been killed there.
Before dawn the next day, the Humanity First team gathers among 75 trucks, pickups, SUVs, and cars in a caravan loaded with aid to Port-au-Prince. Three rocky hours later, we arrive on the east side of the Haitian capital and the first tent cities come into view.
That's when reality begins to sink in for the Baltimore crew. Crawford, a neuro-anesthesiologist from Hunt Valley, sits next to Khan, a neurosurgeon from Lutherville, and Adler Bernard, a Haitian-American lawyer guiding the group. Driving toward the presidential palace, they start to see the extent of the destruction. Whole sections of the city have collapsed. At the gate of the toppled palace, the team stops to get its bearings.
Crawford is out of the car for 15 seconds when he stumbles upon his first dead body, partially covered in the concrete. "The skull probably split open from falling rock," he says. The legs and head have been gnawed by rats or dogs. In the dust and stench-ridden air, Bernard yells in anguish, incredulous that nearby U.N. police hadn't made an effort to remove the body.
"For him, it was like seeing extended family," Crawford says. "You'd think, 10 days later, they would've cleaned the bodies off the streets—but there it was on a busy street."
Making their way around the palace, the team passes the pink façade of the collapsed Sacre Coeur Catholic Cathedral, a five-story nursing school where an estimated 100 students lay buried, and lines of patients trying to get in doors at the main hospital, guarded by U.S. Marines.
A few minutes later, we land at our destination, a sidewalk clinic set up a week earlier by fellow Humanity First volunteers. Among the first volunteers in Port-au-Prince, that group—Ahmad Bashir of Middle River, a recently retired U.S. Army R.N.; Dr. Ra Malik, an emergency room physician from Frederick; Dr. Omar Shams, a New Orleans cardiologist; Dr. Michael Simms of Detroit; and Khan's son Omar, a UMBC linguistics major—had been treating 130 patients a day since arriving four days after the quake.
After rushing to Haiti, the Baltimore doctors now faced the daunting task of finding ways to tackle the complete devastation surrounding them. As some would discover, it's not always easy to help, even when surrounded by such intense need.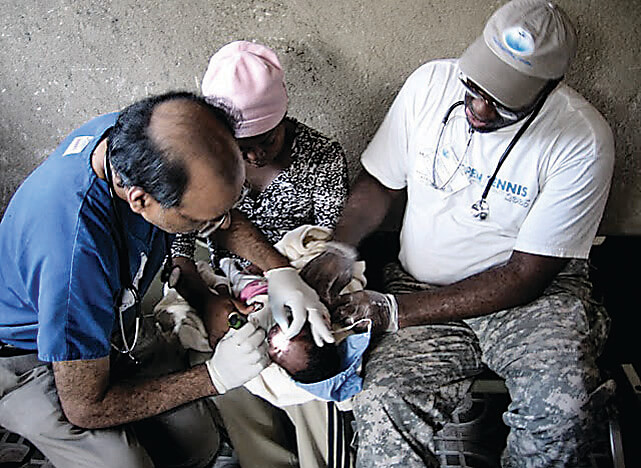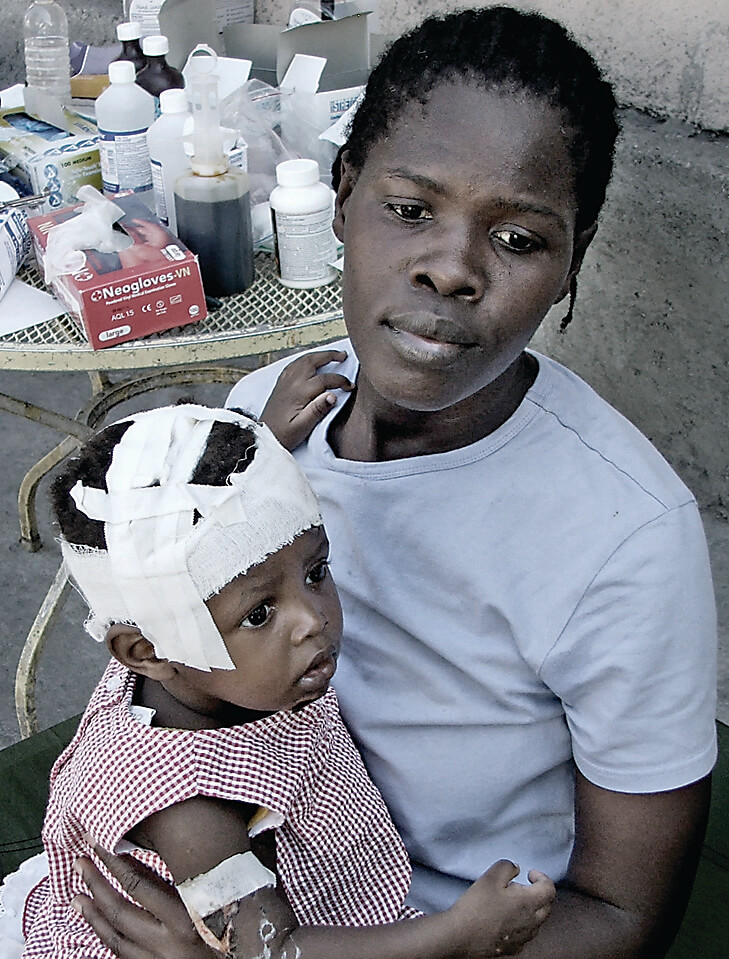 Like Khan and Crawford's group, the first Humanity First team had trouble getting into the country, highlighting the logistical problems in getting aid to those in need. Taking even longer—10 hours to cross the Dominican Republic—they got to the border at midnight, spending the night working at an over owing disaster unit at an orphanage in the Dominican town Jimani, 80 kilometers from Port-au-Prince.
"Lots of patients lying on cardboard boxes in the mud with badly infected, foul smelling wounds," recalls Malik, a 51-year-old, Pakistan-born U.S. citizen with three children who has worked in the emergency room of Hagerstown's Washington County Hospital for 14 years. "Many with bad fractures that had not received any medical care. Others had received the wrong antibiotics. It was dreadful to watch. We could only imagine what awaited us in Haiti."
A 20-year-old woman lying on the floor with a broken back and pelvis struggled to breathe normally, suggesting blood clots had formed in her legs and moved to her lungs. "I wanted to put her on a respirator—there was none. I wanted to do a bone scan—there was no machine," Malik says, his voice rising with emotion. "It was heartbreaking. I was worrying about her when I went to sleep. She died the next morning."
Malik and Bashir set up the Humanity First clinic the next day in the only standing building they could find, a small pharmacy with a Muslim worship center on the second floor, in a middle-class neighborhood 10 minutes from the presidential palace.
At the time there was only one functioning hospital in the city, and as soon as Malik and the others arrived, people needing medical help flooded the clinic, which operated without electricity or running water.
Bashir, 63, a defensive lineman-sized African American and a retired U.S. Army R.N., signed up as a volunteer with Humanity First—founded in the United Kingdom during the Bosnian War and now registered in 33 countries—two days before the earthquake. Directing traffic at the clinic's sidewalk tables in fatigues, ball cap, and a beige Walter Reed hospital T-shirt, Bashir says, "I was at home getting fat on the couch and I thought I'd better do something."
Despite a career in the military, he'd never witnessed anything like Haiti.
"In 24 years in the Army, I was never sent to a war zone," he says, shaking his head and pausing in disbelief. "Now I get a chance to put those skills into practice." Malik, Bashir, and the rest of the first response team immediately began treating all types of injuries: lacerations, infections, fractures, dehydration, and post-traumatic stress, eventually gaining the ability to arrange hospital trips for those needing x-rays.
"What could you say but, 'Why God? Why did you take them and leave me here?'"
"It was very depressing here when we arrived: no running water, no electricity at night, no police at night," Bashir explains at the clinic after administering to a girl with a four-inch-wide ankle wound that left her bone exposed. "Then, we had two or three aftershocks. Just as intense as the earthquake, but only lasting a second or two, not 35. We'd run outside and it would be over already."
Malik says nothing close to adequate food and water was getting distributed in the week after the earthquake.
"The other problem was post-traumatic stress. We were seeing so many patients that were depressed, stressed out, and afraid to go inside for treatment," he says. "One patient was afraid to lean against a wall. People were afraid to return to their homes. I saw a patient who had lost 20 family members, and he was very depressed, not eating, not drinking, very dehydrated. We tried to do some counseling."
As for himself, following the first aftershock, Malik says he was unable to sleep for more than a half-hour at a time. Bashir was actually surprised that so many Haitians were able to hang on emotionally despite everything they'd witnessed.
"They still smile when you smile at them," he says. "And I can't imagine how traumatic this has been for them. But if you can still smile, that means you still have hope, right?"
Weeks later, after Malik returned to Frederick, many of the patients he treated remain fresh in his mind. "Two girls, 13 and 14, in a lot of pain with broken femurs, had been lying at home for days without even pain medication," says the 51-year-old father of three. "A boy, 7 or 8 years old, had a brick fall on his head and was paralyzed on the right side of his face. A week later, no CAT scan had been done. He hadn't seen anybody or been to the hospital. These are people you can never forget."
Malik and Bashir brought a ton of bottled water with them and used water purification tablets too. The bathroom and shower rarely worked. They ate granola and power bars, and made soup and rice in the evenings for dinner. There was a satellite phone for emergency purposes, but without cell phones or Internet service, they were in a news blackout. Malik was able to text his family every couple days.
"They were challenging circumstances," says Malik. He received a call the night of the earthquake from a Humanity First organizer and found himself on his first overseas relief trip less than 72 hours later. "No labs, no blood tests, no x-rays, no CAT scans. By the end of the week, we'd run out of everything."
And now, Malik says, even those treated successfully for their injuries face immense hurdles. In Port-au-Prince, hardly considered handicap-accessible before the earthquake, there are shortages of prosthetics and wheelchairs. Mental health issues, ongoing treatment for the many amputees, and teaching family members how to care for loved ones with brain and spine injuries are subjects that have barely been broached.
"People need rehabilitation and therapy," Malik says. "Trying to prevent secondary infections and bed sores is also important. Food, shelter, and potable water are enormous concerns that still need work. There could be a real rash of cholera, dysentery, malaria."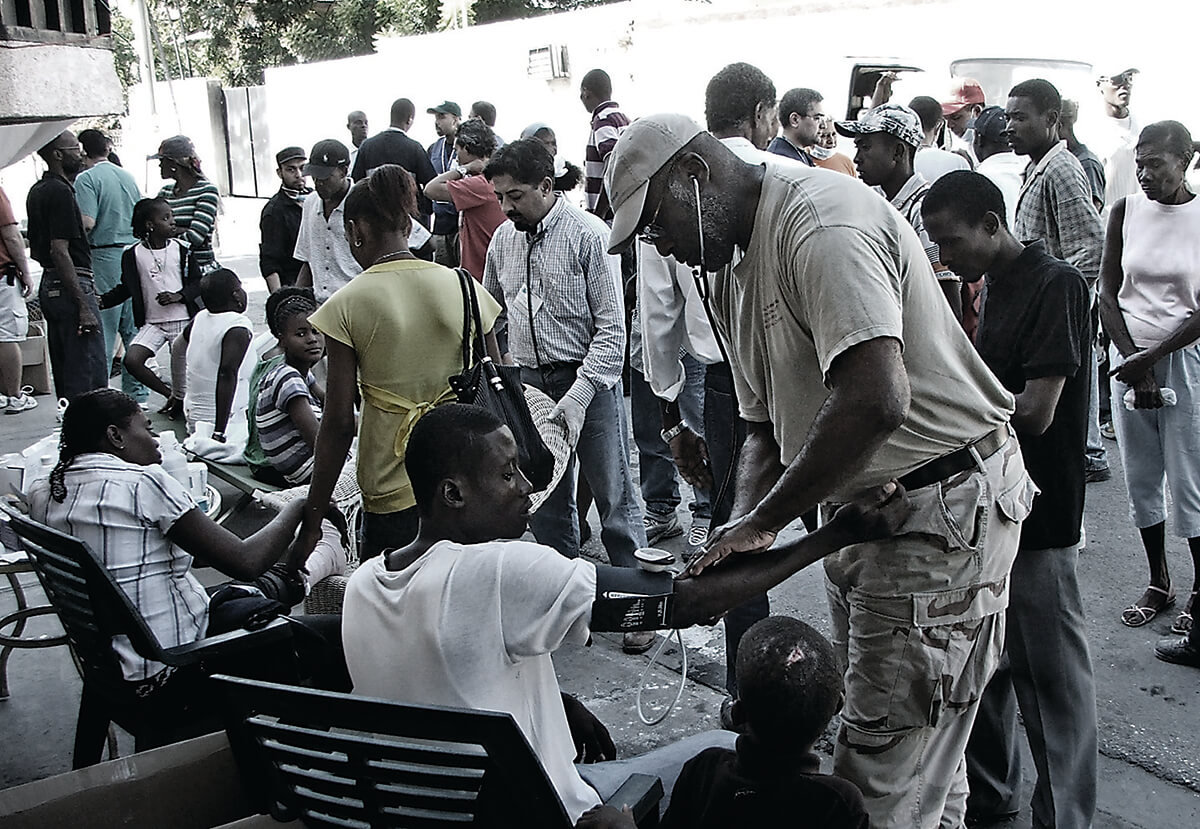 When the earthquake first hit Haiti, Dr. Agha Khan—a veteran of disaster-zone relief efforts—knew he would soon travel to the area. But while his son Omar, a Humanity First volunteer for several years, hustled to Haiti, trailing the first team to leave BWI with another dozen suitcases of medical supplies, the neurosurgeon stayed behind to put together a team for the second wave.
A decade ago, Khan launched the Neuro-Spine Research and Human Development Organization, bringing neurological and other surgical care to Ghana, and, as a Humanity First volunteer, he traveled to Pakistan following the 2005 earthquake and helped in the response to Hurricane Katrina. He started his nonprofit and volunteer relief efforts, he says, "when I got overwhelmed with the politics of practicing medicine."
"In the U.S., as a doctor, you feel like a businessman and administrator," says Khan, 54, a soft-spoken, engaging native of Pakistan. "[After starting the nonprofit], I felt like a doctor again, practicing pure medicine."
He figured that Haiti already had a flood of doctors doing triage and that, by week two, a highly skilled surgical team could come to handle more difficult cases. For this mission, Khan recruited Crawford, renowned Little Rock, AR, neurosurgeon Ossama Al-Mefty, and Vlad Zhelanko, a surgical assistant. But, after the treacherous trip to Port-au-Prince, the team was turned away everywhere they offered assistance—a testament to the disorganization of the relief efforts.
With lots of medical professionals relieving Malik and the first team of Humanity First doctors, Khan and Crawford, who'd brought hundreds of pounds of medical equipment, ventured to General Hospital, but were told there was no room to apply their trade.
"We found our way to the U.S.N.S. Comfort (the Navy's hospital ship) to offer our services and were told they had two neurosurgeons on board," Khan says. "Given the number of casualties, that was not enough, but we were told they didn't have the facilities. We went to a U.N. compound. We went to a smaller hospital. We knocked on many doors."
Given his experience with the chaos that comes after a natural disaster, Khan wasn't entirely surprised with the situation, but his colleagues—anxious to start saving lives—were deeply frustrated and disappointed.
"Dr. Al-Mefty came with a lot of enthusiasm to help and he really became disillusioned, not being able to help anybody given the obvious need," Khan says, blaming the chaos and a lack of strategic planning. Learning a plane was returning to Santo Domingo, Al-Mefty decided there was no reason to stay. Khan, who'd spent the previous evening sleeping in the street outside the Humanity First clinic like so many in Port-au-Prince, felt he should accompany his friend, and Crawford and Zhelanko followed suit. But in Santo Domingo, the team found ways to contribute to relief efforts—though not at all how they expected to.
"Going to the U.N., we found pallets of surgical supplies sitting on the compound not being distributed and we saw cargo left untouched while people were going hungry," Khan says. "Why is it sitting in the planes? Then, we found out a lot more supplies coming in hadn't been allowed to land."
Khan utilized his relief experience, networking with contacts he made in Haiti and Santo Domingo, putting them in touch with Humanity First by e-mail and phone.
The team worked with an American from Venezuela to deliver rice. They helped put Cuban physicians at a Haitian eld hospital in contact with Humanity First to assist their effort. They helped a Haitian peasant organization in need of doctors and the Haitian Chamber of Commerce connect with Humanity First, and saw that suitcases of medical supplies his group from Baltimore left be- hind were effectively distributed.
Crawford, realizing the need for shelter with the Haitian rainy season coming, started a Facebook page, "Tents for Haiti," with donated tents collected at Humanity First's Baltimore warehouse.
Back home, Crawford says he can still hear the cries of an 8-year-old girl—carried to the sidewalk clinic by her father—whose left ankle had been left hanging as she escaped from her crumbling house.
"Then there was a father, whom I'd seen poking around in the rubble. He'd built a third-story playroom atop his home for his three little girls," continues Crawford, 50, also a father of three girls, taking a moment to collect himself. "Most of the house withstood the earthquake, but the third floor completely collapsed, killing all three girls. At that point, what could you say but, 'Why, God? Why did you take them and leave me here?'