Street Outreach
The gangsters who once ruled the streets are now helping to stop the shooting in Baltimore.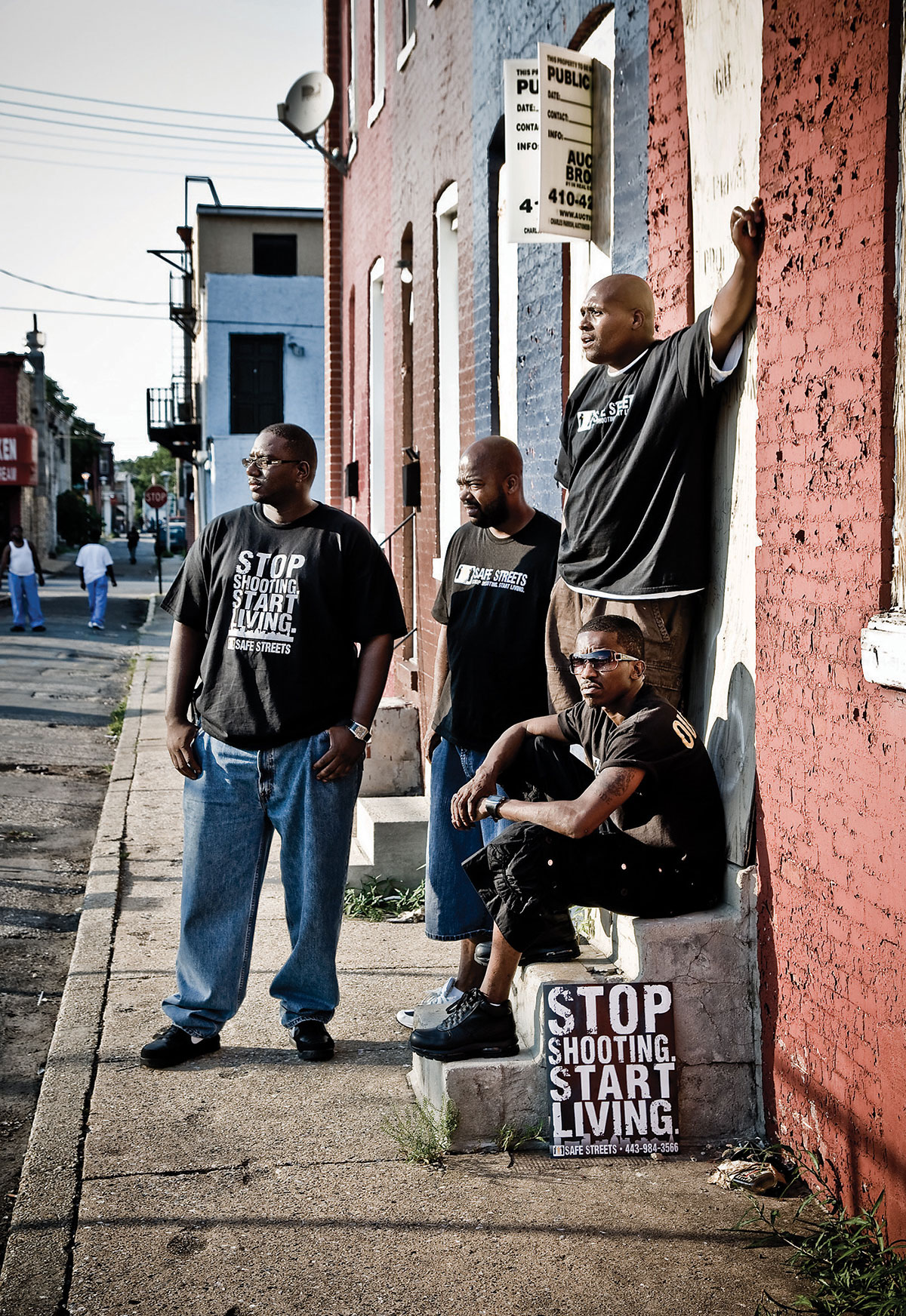 At dusk in the 3100 block of McElderry Street in East Baltimore, Dante Barksdale grabs a bullhorn. In baggie shorts and work boots, a hoodie pulled over his shaved head, Barksdale, whose very name is widely associated with inner city violence (courtesy of the HBO series The Wire), strides into the intersection of McElderry and North Robinson streets, stopping traffic. Forty-eight hours earlier, a young man was shot on this corner.
Barksdale addresses everyone within earshot: the women looking on from their front stoops, a group of older men standing near a car, store owners peeking outside, and his target audience—the teenagers and twentysomethings in white T-shirts milling about. His demeanor is deadly serious; his voice is filled with urgency. "Life is precious," Barksdale shouts. "Let's not make funerals a part of our lives. Everybody has a purpose. We want the streets to be safe."
The cadence of his speech becomes rhythmic, almost poetic: This is not a jungle, this is our home/We have to live in harmony, not carry guns/Stop the shooting, stop the killing.
Now in his mid-30s, Barksdale bounced around dock and construction jobs after serving a 10-year prison sentence for heroin and cocaine distribution. For the past 18 months, he's been a full-time outreach worker with Safe Streets, an innovative two-year-old City Health Department initiative aimed at reducing the leading cause of death among males aged 15 to 34 in Baltimore City: homicide.
Barksdale leads a march around the block, with a gathering group of community activists, outreach workers, neighbors, and youngsters in tow. "Put away the guns," he implores. "Put away the guns."
Modeled after Chicago's CeaseFire, a program credited with substantially reducing shootings and homicides in the roughest Windy City neighborhoods, Safe Streets hires ex-offenders who are turning their lives around and trains them as mediators and outreach workers. They work in the same streets they once ran, establishing relationships with men and women considered at high risk of getting shot—or shooting others.
Tackling homicide from a public health perspective is new to Baltimore, but the idea behind it has been around for some time, says City Health Department Deputy Commissioner of Youth and Families Dr. Jacquelyn Duval-Harvey, who oversees the department's efforts to prevent youth violence. There is a medical component to homicide, a law enforcement component, a moral component for the religious community, and "for us, there is a health component," says Duval-Harvey. "These are preventable deaths."
CeaseFire founder Dr. Gary Slutkin, a physician trained in infectious disease and epidemic control, began looking at violence as a public health issue more than a decade ago. In Chicago, Slutkin applied some of the same methods he developed working with the World Health Organization on AIDS prevention in Africa: mapping hot spots, changing behaviors through public education, building community coalition, and, critically, intervening with high-risk groups.
CeaseFire neighborhoods grew noticeably safer in six of seven locations, according to a 2008 Northwestern University study that determined the initiative was responsible for reducing shootings—the drop ranged from 16 to 34 percent—in those areas. As CeaseFire efforts grew, Chicago saw its lowest homicide numbers in 40 years.
The preliminary results in Baltimore are promising. Before May 30, the Safe Streets post at McElderry Park had not recorded a single murder since the program launched two years earlier. "That area projects six homicides over that time period," says Daniel Webster, associate director for research at the Johns Hopkins Bloomberg School of Public Health's Center for the Prevention of Youth Violence.
"Somewhere around 22, 23 months without a homicide in that neighborhood is, frankly, unheard of in recent history."
An interim evaluation prepared by Hopkins also noted a drop in non-fatal shootings in bordering Elwood Park. According to city officials, there have also been drops in shootings at newer Safe Streets posts that weren't included in the evaluation.
Safe Streets maintains three posts in East Baltimore and one in Cherry Hill. Initially funded with a $1.6 million U.S. Department of Justice grant—with additional support from the City, nonprofit organizations (including The Living Classrooms Foundation), the Archdiocese of Baltimore, the business community, and private citizens—it costs $385,000 a year to maintain each post.
Safe Streets East Program Director Leon Faruq says the group's efforts break down into three main components: community mobilization, public education, and outreach. Mobilization and education include not only partnering with local businesses, nonprofits, and clergy, but also having cookouts to help generate neighborhood support and cooperation.
And Safe Streets organizes a response each time a shooting takes place in the community. "We respond to each shooting within 72 hours," says Faruq. "We go to the site, get a visible rally together to let people know this [type of violence] is not normal. Our message is that this is not acceptable, and we should be doing something about it."
Toward that end, street outreach is especially important.
Baltimore Police Deputy Major William Davis of the Southeastern Command acknowledges that Safe Streets workers have a unique type of access. "We've had some of the Safe Streets guys in here at roll call to talk about what they do," says Davis. "Mediating gang disputes is something they can do that we can't."
If someone gets jumped or robbed of a jacket, says Faruq, that person feels belittled, especially if there are witnesses. Safe Streets outreach workers concentrate on the 14- to 25-year-olds, an age group prone to react violently. "This is how they've been taught to resolve conflicts," he says. "To them, this is necessary behavior."
Safe Streets workers attempt to intervene, on the street, to head off any retaliation. Each night, about 15 staff members—"I'm not going to call us a gang or crew," Barksdale laughs—canvas East Baltimore hot spots from 6 p.m. to 2 a.m. It's not far from the former Lafayette Court housing projects where Barksdale and a few other outreach workers grew up. "I used to be the one starting the beefs," Barksdale says, shaking his head. "Now, here I am trying to squash them."
His first night canvassing, Barksdale spotted about 16 young men standing in the middle of a street, blocking a Lincoln Town Car. In what was a potentially violent standoff, two guys had stepped outside the car and one remained inside. Barksdale recognized a few of the participants.
"I'm thinking, 'This doesn't look right,'" he recalls. "But I keep walking up. I keep walking and I'm smiling—I am not afraid of nothing—I mean, I grew up on these same streets. And I'm handing out Safe Streets literature, telling everyone I'm from Safe Streets and asking, 'What's going on here?'"
One of the two guys standing by the car told him it's about, "What this girl said."
"What this girl said?" Barksdale asked. Then, he laughed at the absurdity of it all and laid out a likely scenario.
"Murder in cold blood, that's what is going to happen," Barksdale told the teenagers. "People are going to get arrested. Two or three are going to snitch. One person is going to be a gun shot victim. One person is not going to survive. And someone is going to go to jail and not have anyone send him any money in there.
"And you're telling me this is over some girl who isn't even here, not even to look her in the eye and find out if she is telling the truth? Somebody is going to get shot over this? Oh, no. No, no, no."
Meanwhile, other Safe Streets outreach workers showed up. They also knew some of those involved and helped further diffuse the situation. By the end of the standoff, recalls Barksdale, everyone was shaking hands, hugging on each other, and slapping backs. "But if we wouldn't have been there," he says, "it would've gotten ugly."
According to Lori Toscano, the City Health Department's Safe Streets liaison, about 75 to 80 such mediations have been documented.
Recruiting uniquely qualified staff with credibility on the street is key for the work Safe Streets does. And that sort of credibility starts with Faruq, 58, who did 27 ½ years of a life sentence on a murder charge at various maximum-security institutions.
"All of my doing had put me up against these prison walls, and I did not want to end up that way any more," says Faruq, before adding that, at one point, most of his friends were incarcerated.
While in prison, Faruq began turning his life around, converting to Islam and earning two bachelor degrees and a master's. When released nine years ago, he started working with ex-offenders and eventually partnered with Living Classrooms and the health department on the Safe Streets program.
Faruq does the hiring himself. "Our outreach workers are ex-offenders who know the clients because they lived in the area," he says. "They are respected as guys you don't mess with, but who now say, 'I don't have to [be violent] anymore.'"
Faruq doesn't look at resumes, relying, instead, on his own contacts in the prison system and those doing re-entry work. If he doesn't know someone's reputation, someone on his staff will. For many, Safe Streets is their first real job. "It took me six months when I came home from prison to find a job working on the back of a trash truck for $298 a week," says Street Coordinator Cory Winfield. "This is my first real job with benefits."
Besides mediating potentially dangerous disputes in real time, outreach workers also try to bring people off the streets to the Safe Streets office on East Monument Street. There, workers can provide contacts for resources—a job, G.E.D classes, housing, or substance-abuse counseling. They may also assist with a family crisis, or try to help someone disengage from a gang.
Typically in their late 20s and early-tomid 30s, the workers handle caseloads of up to 15 clients apiece, meeting with each one at least once a week and documenting their progress. Safe Streets East has about 200 participants in its program; Cherry Hill, the newest site, has 25 participants.
Tard Carter, another East Baltimore ex-offender previously arrested on drug and gun charges, has done outreach with Safe Streets since 2007. He checks daily to make sure his 16- and 17-year-olds are making it to G.E.D. classes. "I tell them the real deal, the real story," says Carter. "The truth doesn't need an alibi. My job is to help them become aware, see what's going on. I ask them, 'What are you going to die for at 16 [years old]? A beef? A dope pack?
"Safe Streets is about changing the definition of slick and what that image is all about," Carter continues. "It is the opposite of the drug game, and no one can tell it like we can. It's true, and the [clients] know it by looking at us and how our lives have been changed."
"We cut through all the bull crap and put the light on all the bad stuff," says Barksdale. "[We] tell them the truth. Like prison: no air conditioning, no girls, and you're under a whole lot of pressure in jail, dog. I tell them, 'They steal your peace of mind in there.'"
He goes on: "They're thinking, 'I can get a pack [of coke], get rid of that in five days, and then I can get me some clothes.' The only thing is, you might not be alive when that pack is done. Seven grams of cocaine, maybe you make $500 or $600, but before you finish it, you might have a bail of $50,000. I wake them up."
Barksdale says many of the friends he grew up with are dead or in prison. Both facts haunt him, as that cycle continues. "I don't like it when I see the same things happening," he says. "I didn't like it even when I was a part of it. But this is still my neighborhood, and that's my motivation. I want to make my mother proud today, allow her to hold her head up. Maybe I can help save someone."
Carter has no idea why he survived and so many others from the neighborhood didn't. But he figures he must still be here to help others avoid the same fates of jail or death that he, and the guys he grew up with, faced.
"I have prayed hard about that," he says.
And Carter adds that it's important not to overlook the role outreach work plays in the continuing transformation of ex-offenders like Barksdale and himself. "This is healing for us," he says. "This heals our hearts."
[Note: As we went to press, Leon Faruq died from kidney disease. Reached by phone, the City Health Department's Jacqueline Duval-Harvey sounds confident the Safe Streets initiative will continue. "Leon was certainly the spirit of the program," she says, "but everyone involved is clear about the fact that one of the most positive ways to commemorate his work is to take up the cause with renewed energy. We intend for Safe Streets to be even stronger by working more aggressively to reduce violence." Duval-Harvey notes that Faruq's wife, Noni, will help smooth the transition until a permanent site director for Safe Streets East is found.]