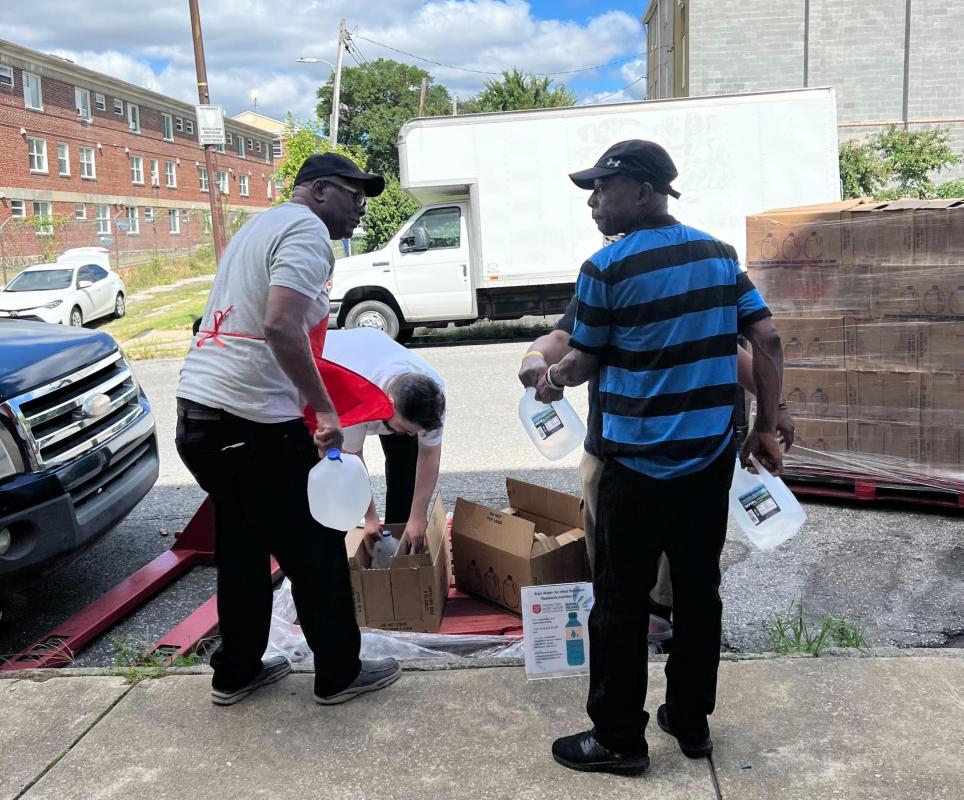 —Courtesy of The Salvation Army of Central Maryland
On Monday, Baltimore City officials announced the detection of E. coli bacteria in routine water supply samples collected in West Baltimore, with the Baltimore City Department of Public Works (DPW) issuing a required water boil advisory for residents in impacted areas including parts of West, Central, and Southwest Baltimore, as well as portions of Baltimore, Howard, and Anne Arundel Counties. According to Mayor Brandon Scott's office, the advisory came after developments over the weekend, when DPW first learned of potentially contaminated water from a testing site near Sandtown-Winchester and Harlem Park. 
Along with the advisory, DPW also released an interactive map outlining areas affected. Although many areas in Baltimore City and parts of surrounding counties were within the initial water boil advisory boundary, a partial mandate lift on Wednesday night shows that these measurements have drastically reduced, with nearly all locations south of the initial impact area now contamination-free. But those still under advisory are being urged to continue boiling their water before use. For those still affected, DPW announced multiple water distribution sites—including Harlem Park Elementary/Middle School, the Lansdowne Library, and Middle Branch Park—where residents can collect up to three gallons per household from 9 a.m. to 8 p.m. Residents can also dial 311 to arrange water delivery to their homes. 
Today, relief efforts continued as The Salvation Army of Central Maryland announced a partnership with Royal Farms to donate roughly 4,200 gallons of water to West Baltimore, with an emphasis on families and seniors who might need it most. Distribution efforts—the Salvation Army used its Disaster Emergency Funds to purchase 2,100 gallons, which Royal Farms matched—began this afternoon and will continue on Friday, Sept. 9 from 12:30 to 3:30 p.m. Between those hours, those affected by the outbreak will be able to retrieve clean water at the Sandtown-Winchester Senior Center located at 1601 Baker Street.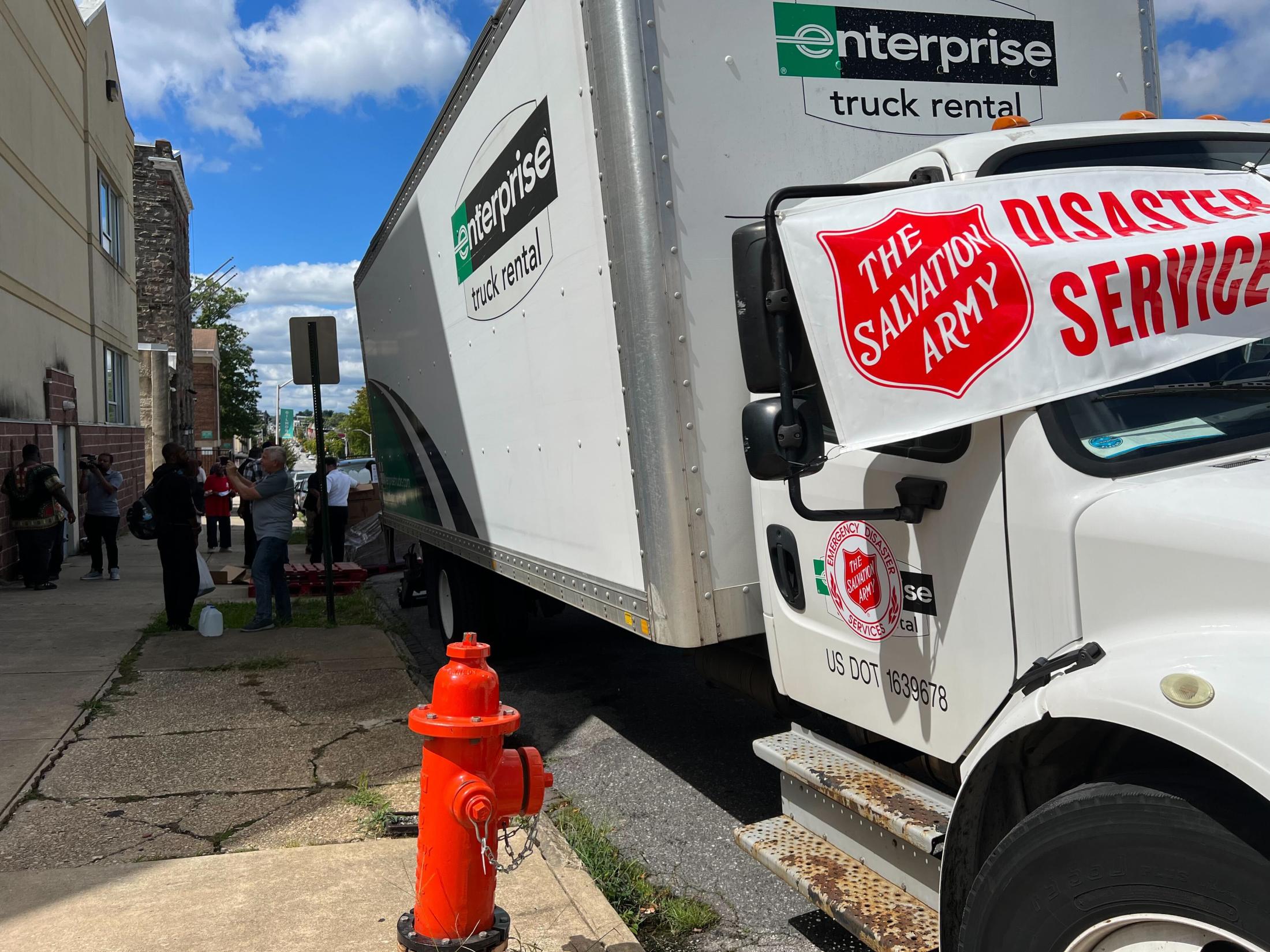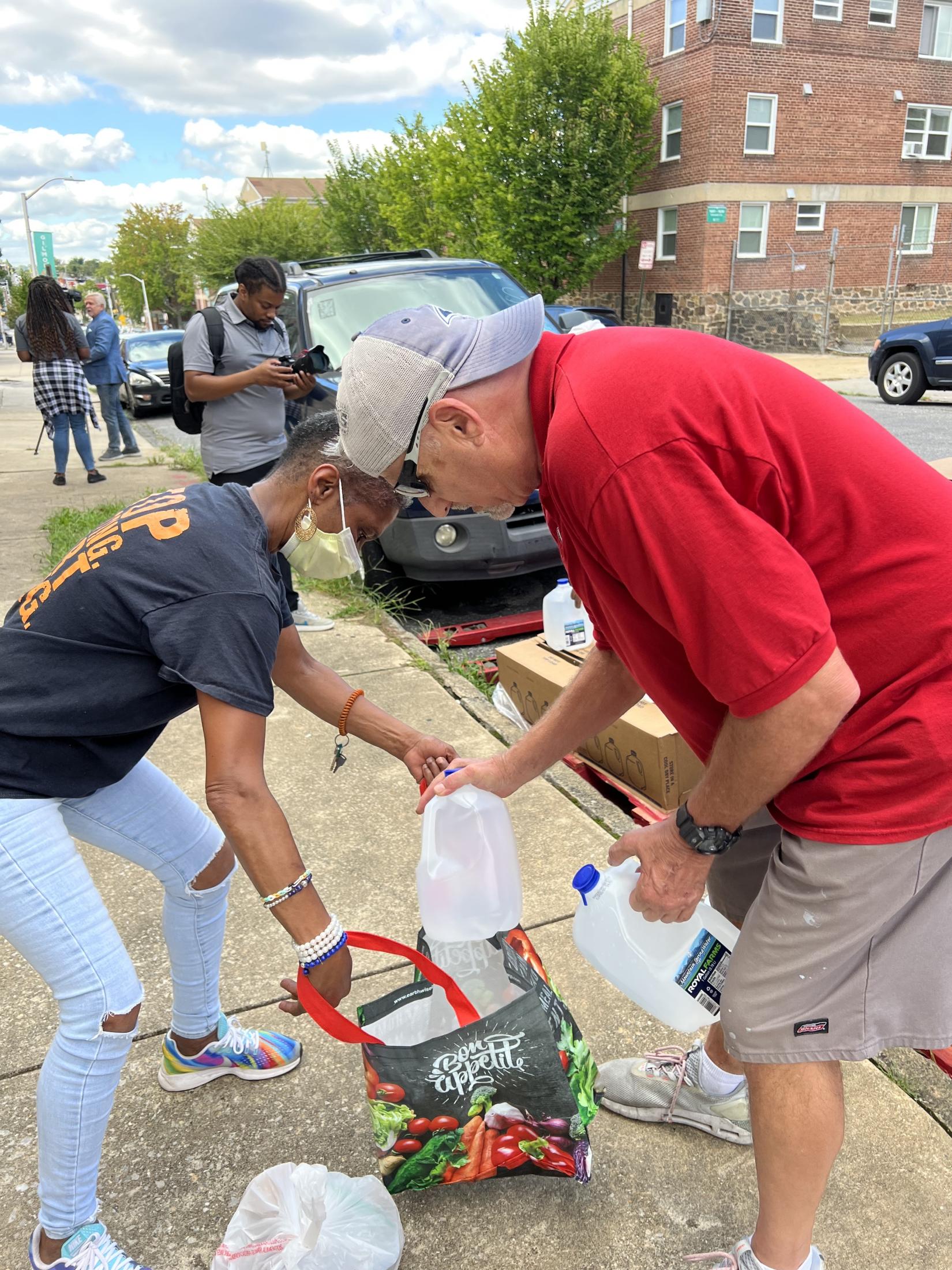 When news about the recent outbreak surfaced, Nina Christian, director of social services for the volunteer organization, says members "thought it was important to jump right into action." Eighty two-year-old Delatha Field, who has been a Salvation Army volunteer in West and Southwest Baltimore for 50 years, was one of them. She says food insecurity due to a lack of grocery stores in the neighborhood only exacerbates the situation that residents are currently facing. 
"Us giving out water means a lot this community," says Field, who understands "the struggle and the hardship" as a senior in West Baltimore. "The people [here] need love and hope."
Adds Christian: "Clean water is a right for all people. Our seniors in West Baltimore are so vulnerable and we want to make sure they have sustainable water to live in greater comfort."
Mary Parker-Collins, who directs the senior center, hopes the donation drive will also be easily accessible for West Baltimore residents—particularly seniors such as Field.
"A lot of people in the community have a harder time getting to the distribution area in Harlem Park, [but the senior center is within] walking distance for many people struggling to get water," Parker-Collins says. "There's a special need in Sandtown-Winchester for food, water, education, and outreach between children and the older population. The need for water was already high before. The E. coli outbreak made it even harder."
And throughout Charm City, several other organizations are following suit to ensure access to clean water. Here is a list of resources that we will continue to update:
ACCEPTING DONATIONS
Baltimore Safe Haven: The nonprofit aimed toward supporting the city's LGBTQIA+ community is collecting funds for water through GoFundMe. Contributions will help seniors to take life-sustaining medicine, and homeless populations who use drugs do so safely.
The Salvation Army of Central Maryland: Monetary donations, collected via the Salvation Army's website, will be donated to emergency relief.
We Keep Us Safe Collective: The organization is prioritizing water delivery to seniors, disabled people, and those unable to visit a water distribution site. Those in need are asked to text 410-434-9566 for help. Those who are able to donate water, hand sanitizer, baby wipes, water quality tests or COVID tests, should text the same number. Monetary donations for funds and supplies can be sent to @water4bmore on Venmo or $WKUSCollective via CashApp.
Wylie Funeral Home: Located in Harlem Park at 701 N. Mount St., this family-owned establishment has been giving out free water and accepting donations. Check the funeral home's Instagram page for updates.
DISTRIBUTION SITES
Druid Hill Y Family Center: 1609 Druid Hill Ave. 6 a.m.-8 p.m
Harlem Park Elementary/Middle School: 1401 W Lafayette Ave.  9 a.m. Limit three gallons per household.
Lansdowne Library: 500 3rd Ave. 9 a.m. Limit three gallons per household
Middle Branch Park: 3301 Waterview Ave. 9 a.m. Limit three gallons per household.
Motor House: 120 W North Ave. September 9. 12-2 p.m., 7-10 p.m. First come, first served.
St. Francis Baltimore: 2405 Linden Ave. September 9. 1-4 p.m.