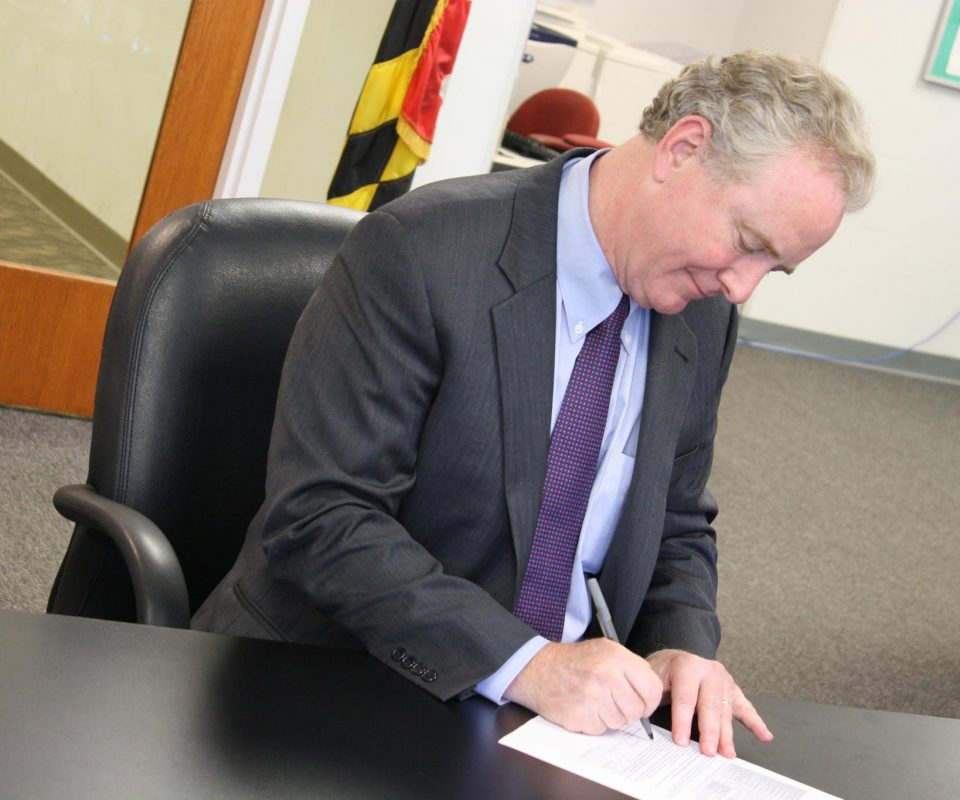 Chris Van Hollen Facebook
On April 12, U.S. Sen. Chris Van Hollen announced the "Customers Not Cargo" act, which will prohibit the forcible removal of a passenger after boarding a flight due to overbooking. This new piece of legislation comes on the heels of a viral video showing a United Airlines passenger being forcefully ejected from a flight.
The video showed Dr. David Dao, with a bloodied face, being heaved and dragged through the aisle of a plane departing Chicago for Louisville on April 9. To accommodate for an overbooked flight and no volunteers coming forward to leave the plane, United Airlines randomly selected four passengers and when Dao refused, the Chicago Aviation Police forcibly removed him.
"It is outrageous that airlines can bodily remove passengers after boarding rather than providing appropriate incentives to encourage volunteers," Van Hollen tells Baltimore. "A lot of people don't realize that airlines currently have the legal right to forcibly eject a passenger who's already on board. And that's just not right."
Van Hollen explains that his proposed legislation doesn't prevent airlines from the common practice of overbooking, but requires them to instead offer sufficient incentives to passengers to encourage the voluntary release of seats. While the United passengers were offered $800 to de-board, Van Hollen argues that should have happened before passengers boarded the plane, not afterwards.
"Right now you have this perverse system where airlines are able to offer incentives to get passengers off flights," he says. "But if they forcibly eject somebody or, say, voluntarily bump you, the financial risk for overbooking should be on the airline, not the passenger."
The cause is especially important to Van Hollen, whose father shared a similar, albeit less violent, experience.
"My father, who passed many years ago, was thrown from a flight," he says. "He wasn't on board yet, but it was the last flight for the day, he was about 83 years old at the time. That's why we named the bill Customers Not Cargo. [Airlines] overbook and then tell passengers they can't get on."
On April 11, Van Hollen and 13 other members of Congress sent a letter to the CEO of United Airlines, Oscar Muñoz—who originally praised the work of the Chicago Aviation Police and later publicly apologized to Dao—requesting answers about the current policies in place.
The same day, Muñoz released a statement, saying "no one should ever be mistreated this way." He continued and said that United Airlines will "take full responsibility" and the airline is conducting a review, in which results will be made public by April 30.
Van Hollen and fellow Congress members have not yet received a response from Muñoz, but remain optimistic that they will. He has begun circulating the Customers Not Cargo act with hopes of gaining co-sponsors in time to introduce the bill to the Senate—in less than 10 days when Congress is back in session.
Right now, he is focused on spreading the word about the bill and highlighting Dao's experience. Dao's attorney, Thomas Demetrio, said at a news conference on April 13 that his client was released from a Chicago hospital after suffering a concussion, broken nose, missing teeth, and the need for reconstructive surgery.  
"It's one thing to read about a passenger that was mistreated," Van Hollen says. "It's much different to see it with your own eyes on a video. It really adds transparency and accountability to the process. This is a passenger's rights issue; it's a consumer rights issue. It has created the opportunity for action."