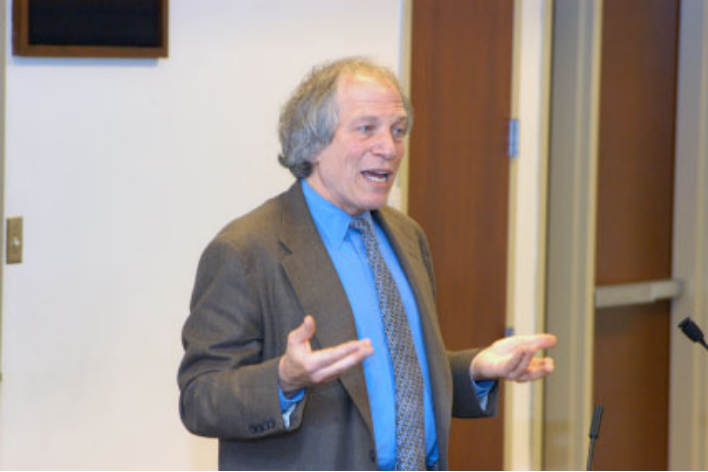 Courtesy of University of Maryland
The first of the six trials of the Baltimore police officers facing charges related to the death of Freddie Gray from injuries suffered while in custody began Monday with Ofc. William G. Porter, 26, who is charged with manslaughter, second-degree negligent assault, misconduct in office and reckless endangerment. Jury selection continued Tuesday with opening arguments likely to begin Wednesday or Thursday.
We talked with University of Maryland Francis King Carey School of Law professor Douglas Colbert about juror selection, the prosecution's burden, and his faith in the jury process. Colbert teaches criminal law, constitutional law, evidence, and race and criminal justice seminar.
You've been following the cases very closely, attending pre-trial motions and now the first trial in court. Why are these cases important for you to follow in person, in court—and for others to follow closely beyond just waiting for a verdict?
Colbert: Historically, cases like this, involving a police officer accused of killing someone in the line of duty, are a rare occurrence. Usually, the police department and state's attorney's office puts out statements, say that there's an investigation underway, and then months later declares that the action by the officer was justified. The public doesn't learn anything and the lack of transparency adds to the distrust. End of story. Here we have the rare local prosecutors willing to follow the evidence at trial. In court, evidence will be submitted, and testimony given and cross-examined, which will offer insight into what happened as well as how the police department functions.
How much of this first trial will come down to jury selection?
Jury selection is critical—that's the short answer. It's essential to select people who will consider the evidence in a fair and impartial manner . . . Jury selection eliminates people who have already formed an opinion or who show bias in favor of one side. It's important that the prosecution eventually looks at a jury that reflects the city's demographics and diversity. A multi-racial jury, by that I mean, 6, 7, or 8 African-Americans . . . And I don't think lawyers for the African-American police defendant will get bent out of shape as they might when defending a white police officer if the jury looks like their client. Black jurors know both professional and good police officers as well as unprofessional officers and can make the distinction between the two because of their experiences. I've got to say, in the American criminal justice process, I have more faith in the jury system than anything else. Even when I've disagreed with an outcome, I've still always believed that ordinary people take their juror responsibilities seriously and act conscientiously.
What's the challenge for jurors in the Porter case?
I think the challenge for jurors is to focus on what occurred from the time Porter observed Freddie Gray in the van. The prosecution wants the clock to begin from the time he was apprehended, cuffed and left unrestrained in an apparently injured condition. I think the defense will want jurors to consider bigger issues, in terms of the police fighting crime, doing a dangerous job and acting reasonably under the circumstances.
What's the crux of this and the other cases?
The prosecution must meet its burden of proving guilt beyond a reasonable doubt. If the prosecution establishes that the police officer, or police officers, were aware of Freddie Gray's plea for help, or acted with extreme negligence in causing his death—by not taking him for medical treatment—that would be a very important part of the prosecution's homicide case. A police officer has a legal duty to provide medical assistance to prisoners and people taken into custody.
What about the allegation that Gray was not seat-belted in the transport van—which is said to have led to his ultimately fatal spinal cord injury?
If there's evidence that the police trained its officers to restrain and protect prisoners, or police officers disregarded a significant risk of danger to life or severe injury—that would certainly show a wanton disregard for Freddie Gray's life and bodily safety. How to prove that is a legal obligation [securing Gray in the van]—is the prosecution's burden of proof.
Prosecutors will rely on several pieces of evidence in the courtroom. Evidence that Freddie Gray said, 'I need help,' or 'Take me to the hospital' or 'Help me'—that's one of the centerpieces of the prosecution's case. And evidence that police officers were informed on how they should employ safety practices inside the van, including training and appropriate practice, also will be key to the prosecution's case if those things were made clear.
How much time is Porter potentially facing is found guilty?
If convicted on the most serious charges, up to 10 years.