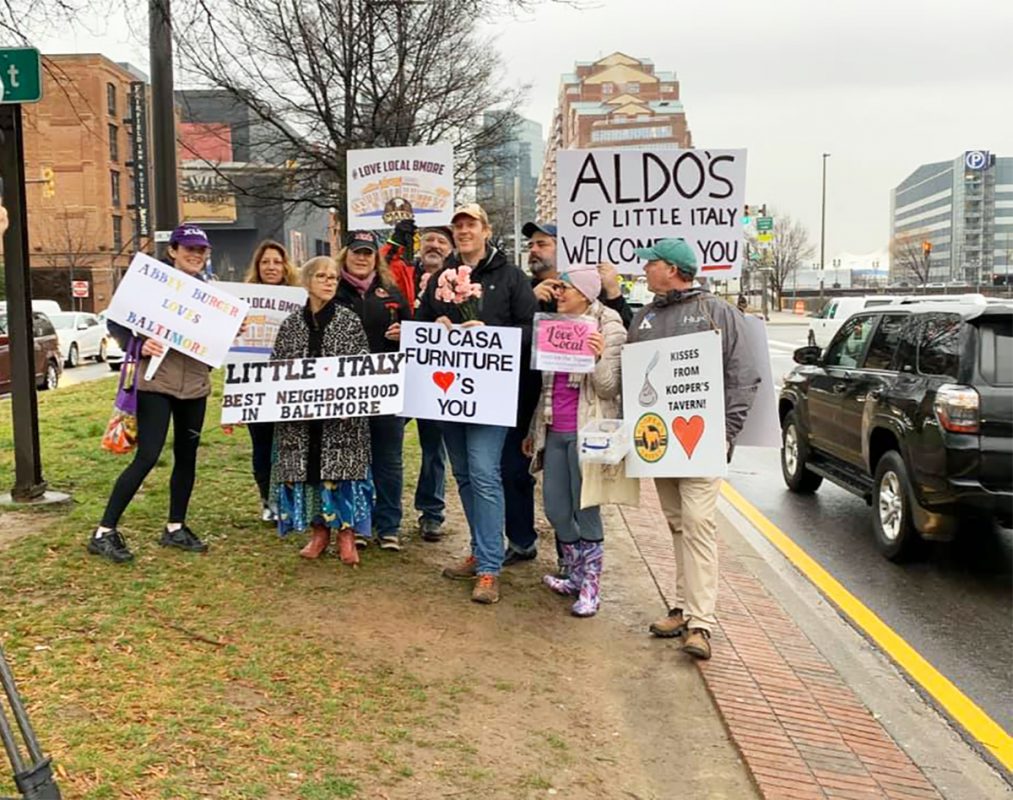 With handmade signs, carnations, and candy in tow, a group of Southeast Baltimore small business owners are taking to the medians of President Street this week to wave and give out goodies to morning commuters coming into the city.
Among them Tuesday morning was a smiling Nick Johnson, owner of furniture store Su Casa in Fells Point, who stood alongside Sergio Vitale of Aldo's, Patrick Russell of Kooper's Tavern, Beth Hawks of Zelda Zen, Max's Taphouse owners Ron and Gail Furman—who gave away wooden tokens redeemable for free beer at their bar—and others proudly holding signs with slogans such as "You are Our Valentine" and "Small Businesses Welcome You."
"For me the fun part is I've met a bunch of my customers in traffic," Johnson says. "It's nice to put a smile on their faces. That was the whole intent. Some people are like, 'Isn't there a larger message? Is this a political thing?' And the answer is no, this is about smiles and waves, and that's it."
The mission behind the gathering at one of the city's most prominent entryways at the bottom of I-83—a location often frequented by squeegee kids, people who are experiencing homelessness, and organizations collecting donations—is part of a larger small business initiative called "Love Local Bmore" spearheaded by councilmembers Zeke Cohen and Bill Henry.
"We've heard from far too many people in surrounding counties that they don't come to Baltimore anymore," says Vitale of Aldo's, mentioning negative perceptions of the city based on media coverage of the crime rate. "All of those stories deserve a lot of attention, but at the same time a lot of us here in the city are doing great things, and we have employees who depend on people visiting. So we wanted to counter that narrative with love, positivity, and a little generosity."
Gathering on President Street is seen by many as the first action plan in moving the Love Local Bmore project forward. Johnson, a Fells Point Main Street board member, says that the idea was a result of him and his neighbors collectively "feeling the impact of fewer people downtown."
"One of the things we noticed is how conditioned we've become to trying to ignore people in the street," Vitale adds. "It seems like everyone has blinders on, but once we broke through that and people realized we weren't asking for anything, just giving things away, most of them were super positive. It was sort of a pep rally for small businesses in a lot of ways."
The owners plan to continue their presence during the morning commute throughout the rest of the week leading up to Valentine's Day. Vitale even hints that there could be additional free sweets, including cookies made by bakers in Little Italy.
Johnson says that the hope is for this to inspire other business owners in different areas of the city to start similar projects, or even join in on President Street. (Anna Leventis, owner of SoBo Cafe in Federal Hill, was among those waving on Tuesday morning.)
As Vitale puts it: "When you lead with love, all other things fall into place."
"I had such a blast, all of us did," he adds. "Gail Furman told me, 'You're going to be reinvigorated by this. You're going to go back to your business and feel super pumped and charged to be in Baltimore.' She was 100 percent right."