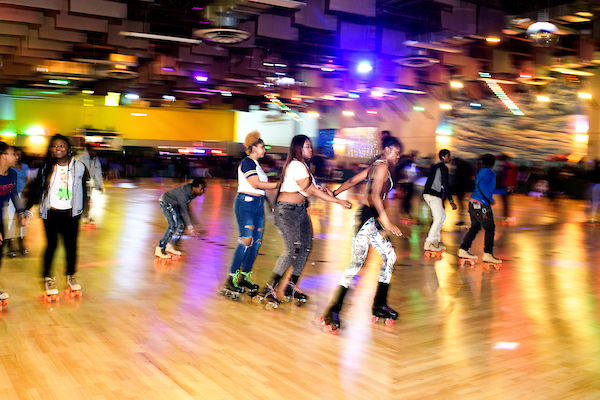 Matt Roth
"I've been coming here for a long time. Since before they closed," said Shamia Howard, 9, smiling after skated off the freshly laid hardwood—with a gaggle of 15 friends and cousins and aunts—at the grand re-opening of Upton's legendary Shake and Bake Family Fun Center Friday night. "I like to come every weekend."
Last August, the iconic West Baltimore roller rink and bowling alley—founded by former Colts star Glenn "Shake & Bake" Doughty" in 1982—closed for major repairs. But without a timetable for a new start, there were fears that the 36-year-old family friendly institution might not make a comeback.
Friday night proved otherwise, with lines stretching down Pennsylvania Avenue before the official 7 p.m. re-opening. During the shutdown, the center received a $300,000 overhaul from the city, including the current skating floor, plus heating, roof, and air conditioning upgrades, as well as a new paint job and flat-screen televisions (turned to CBS and the NCAA March Madness basketball tournament for an appreciative number of non-skating fathers on hand).
"When I shut it down you would have thought I shut down heaven," Mayor Catherine Pugh said earlier Friday while standing next to Doughty, who sold the Shake & Bake, which has struggled financially over the years, to the city long ago. But "the roof was falling in, the floor was buckled, you were hard-pressed to find matching skates in here."
Doughty returned for the reopening wearing a vintage, blue Colt warm-up jacket with his No. 35 emblazoned across the front and said that what he liked about Shake & Bake is that it is "an oasis in a neighborhood with some challenges."
"You've got the conscious of America saying, 'What are you all doing in urban areas?' Shake & Bake is it," Doughty told reporters. "This is a model for the country.'"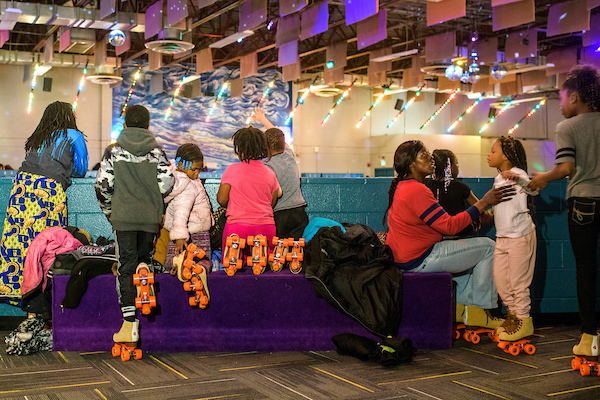 Doughty brought excitement and fun, on and off the field, to Baltimore when he arrived from the University of Michigan before the 1972 season. One of the game's most colorful downfield threats during his 8-year career, all in Baltimore, he helped lead the team's stunning worst-to-first AFC East turnaround in 1975, pacing wide receiver corps in catches, yards, and touchdowns.
The same year he formed The Shake & Bake Band with teammates Ray Chester, Freddie Scott, and Lloyd Mumford.
No. 35 didn't forget Baltimore after his playing days ended in 1979. Three years later—after 60 months of fundraising efforts—the former Colt brought the $5 million Shake and Bake project to fruition. An emotion-filled Doughty, who grew up in Detroit's tough lower east side and recognized the lack of investment in Baltimore's black neighborhoods, donned a white tuxedo for the ribbon-cutting with then Mayor William Donald Schaefer. He called the occasion " . . . a dream come true."
According to the Baltimore Afro-American, the 70,000 square foot structure, which also includes 40 bowling lanes, video games, and a snack bar, represented one of the first major black-owned and operated facilities of its kind in the country when it was built. In 1984, Doughty coaxed Muhammad Ali into paying visit, filling not just the roller rink, but quite a bit of Pennsylvania Avenue outside, too. The Shake and Bake is estimated to have served more than a million visitors over its history, including 34-year-old Faunyette Brown.
"I love to dance and I love to skate and I love the combination of the two," said Brown, a public relations manager at the Maryland Jockey Club, at the re-opening Friday evening.
"I wanted to be an ice skater, a figure skater, when I was 5 years old, but there was nowhere to close by to go and so my babysitter started to bring me here," added the Upton-native. "I've been coming to the Shake and Bake since 1988. I'll be back Sunday, too."