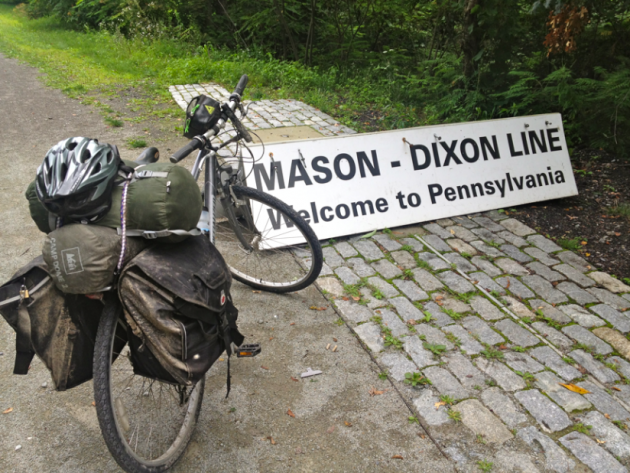 Ron Cassie
So this is basically my travelogue of the past year. An old bike messenger, I've always loved riding city streets — the only way to see, hear, and smell any place as far as I'm concerned. Literally feel it beneath your feet. But I've also gotten into riding country roads, getting out weekends with the Baltimore Bicycling Club — and this is brand new — discovering the bliss of bicycling camping. Without further ado:
1. D.C. to Pittsburgh: I bought panniers from Baltimore Bicycle Works, camping gear from REI, and loaded my hybrid commuter bike for a 5-day, 330-mile trek from Washington to the Iron City. Here's the beautiful part: The C&O Canal Towpath and Great Allegheny Passage meet in Cumberland and I slept out all four nights on the trails. Swam in the Youghiogheny River, chased a coyote on my bike, and rode through the 3,118-foot Paw Paw Tunnel in Allegany County.
2. New York City's Five Boro Tour: Registered months in advance for a good starting spot, covering 40-plus traffic-free miles from Central Park to all five New York boroughs during a blast of weekend riding in the suddenly super-bike friendly city. Also included: a trek over the Queensboro Bridge to catch The National's six-hour show at MoMA PS1.
3. Monument to Monument: On a freezing morning, I tagged along with a hearty group from the Baltimore Triathlon Club and rode from Baltimore's Washington Monument in Mount Vernon to the other Washington Monument in D.C. — 103 miles. Having lived in both cities, traversing the distance by bike for the first time was a transcendent experience. As was the giant burrito lunch on the steps of the Library of Congress.
4. Civil War Century: I took the easy way out and did the metric century (64 miles) and not the full 100-mile route. An awesome ride, organized by the Baltimore Bicycle Club, that includes the Gettysburg Battlefield — and fresh peaches at the rest stops.
5. Tour Dem Parks, Hon!: The diversity of the bicyclists, of all ages and abilities, and terrain, makes this my favorite annual Baltimore recreational ride. Joined with the Baltimore Heritage group this year and learned some history along the way, too. Go just to ride and see historic Dickeyville.
6. Major Taylor Club Ride: Jumped in on a Wednesday night summer ride with Pittsburgh's Major Taylor Cycling Club — and got my rear kicked on the city's steep hills. A great group, though, that leaves no one behind. Met at the OTB (Over the Handlebars) Bicycle Café and then returned for burgers and beer afterwards. Don't miss the warehouse-sized Bicycle Heaven museum in Pittsburgh, either.
7. Baltimore Bike Party's Superheroes and Supervillians Ride: The last Friday of every month rides are always a chance to don a costume and ride with about 1,000 friends. This edition was my favorite. Perfect weather and outrageous outfits — not just talking Batman and Superman here — but Frank the Bunny from the "Donnie Darko," Jack Black's masked Mexican pro wrestler from "Nacho Libre," and even then-brand new Pope Francis (kind of a prescient choice) in a towering white mitre.
8. Corn Roast Ride: A Baltimore Bicycle Club event, there's a bunch of different distances to choose from, all ending at the Union Mills Homestead in Carroll County for the 43rd Annual Corn Roast Festival. Fried chicken, juicy local tomatoes, lemonade, live music — and a truckload of Maryland corn, roasted on the spot. I had to cut myself off at three ears.
9. York County Heritage Trail: Connects to the old North Central Trail (now called the Torrey C. Brown Trail), which runs from Cockeysville to the Pennsylvania border. On one of the warm late winter days last year, I threw my bike in the back of my pick-up and drove to New Freedom for a fast 40-mile roundtrip to York and back. Still remnants of snow in the fields, the trail was wet and muddy in parts, but it all just added to the feeling of a midday, winter blues escape that I needed. Perfect for when you need to get off the concrete for a couple of hours.
10. B&A Trail: In April, for the first time, rode the Baltimore & Annapolis Trail for much of a 50-mile roundtrip to the state capital, reconnecting with an old friend and making two new ones in the process. Sixty-degree temperatures, clear blue skies, and halfway through the trail park rangers at the Earleigh Heights station were handing out big, homemade, chewy chocolate chip cookies. Doesn't get much better.