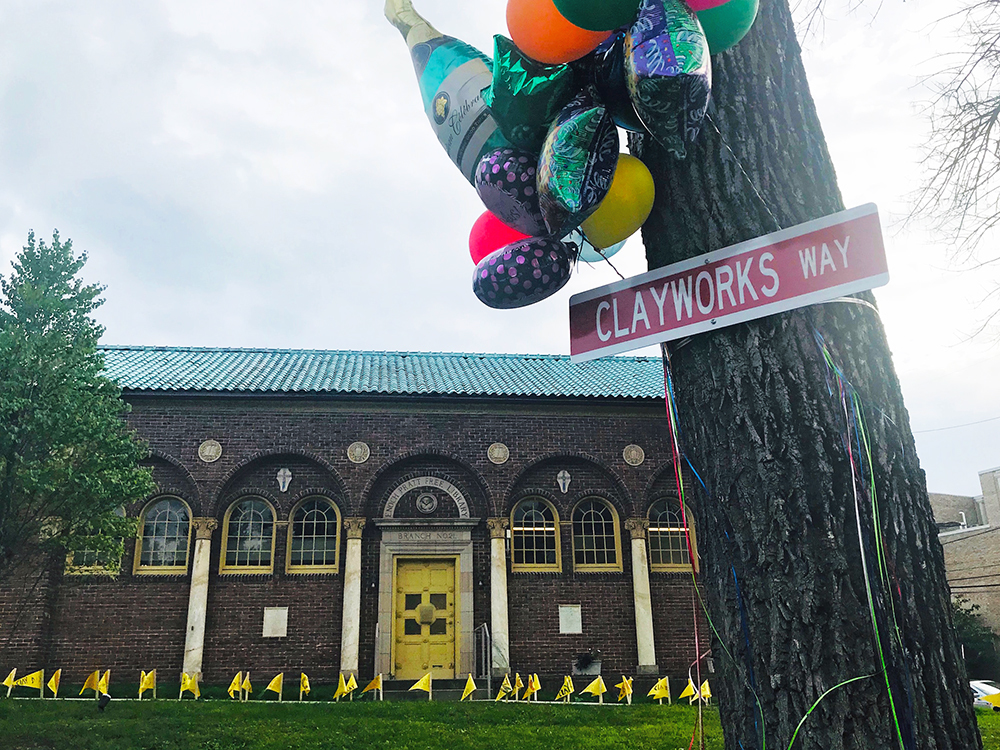 Lauren LaRocca
This is the story of how a small group of people came together to save a cultural institution: Baltimore Clayworks.
On October 10, the Global Day of Clay, a large, cross-generational network of Clayworks students, teachers, resident artists, board, volunteers, and friends, as well as state delegates, gather on the lawn outside Clayworks' galleries and office building to celebrate one year of their reopening. The crowd fills the foldout chairs on the grass, and others stand to watch as a new executive director, Cyndi Wish, is installed, and an honorary street sign marking this stretch of Smith Avenue as Clayworks Way is unveiled, to much fanfare and cheers.
They have good reason to celebrate.
In early 2017, Clayworks was on the verge of what many thought could be the end of its 37-year existence. The board running the nonprofit at the time had plans to sell Clayworks' two large buildings in Mt. Washington, pay off its debt, and find a space to rent in downtown Baltimore. When the Clayworks community—students, donors, artists, a thinning staff, and even leaders of clay centers in other parts of the country—learned of this, they banded together to raise funds to pay off the debt.
"People were blindsided. We were in shock," said Susan Patz, the new board president at Clayworks. Without any power to decide Clayworks' fate, which was in the hands of the former board, the community didn't know if or how the organization could be rescued.
Former students, staff, and teachers came together to create the Save Baltimore Clayworks campaign. They made a website. They petitioned. Eventually, they went to the state capitol.
"It became a rather public battle," Patz said.
A turning point came in June 2017, when Baltimore City Councilman Isaac "Yitzy" Schleifer sponsored a resolution with other council members—which passed unanimously—to stop the sale of the Clayworks buildings. In mid-July, a potential buyer purchased a different building, and the former board closed Clayworks' doors, unannounced, and proceeded to begin to file for bankruptcy. The classrooms, studios, rooms of loaded kilns, and exhibit spaces all went dark. Artists, summer campers, students, and staff were locked out.
Those trying to save the nonprofit pressed on—at times working 60-hour weeks.
From July through September, the Agreement for the Continuation of Baltimore Clayworks was negotiated and eventually signed by the former board and the Clayworks Community Campaign. An entirely new board was installed when Clayworks reopened on October 1.
During the first couple weeks, some 70 volunteers worked around the clock to clean and paint every wall of the two buildings and prepare the kilns, wheels, and glaze rooms for artists and students to return. "So many people came back to help," said Patz. "The board, volunteers and staff were indistinguishable."
Artists were welcomed back and exhibitions installed. Classes started November 1.
Founding member and director until 2011 Deborah Bedwell calls Clayworks a "church for clay artists. It's a sacred space." She and eight other ceramic artists started Clayworks as a small collective in 1980 in the old brick schoolhouse building in Mt. Washington (which would later see an addition and remodeling of that building and also the acquisition of a second building across the street). She was among the group who returned to help rebuild the legacy institution.
John K. Smith, who served as board chairman for more than a decade, came back, too. "I was just shocked to hear it was in trouble. This was just an amazing group of volunteers. These women—they saved this," he said, and begins listing the names of those on the steering committee of the Campaign to Save Baltimore Clayworks: Marsha Smelkinson, Patz, Bedwell, Pat Halle, Ronni Aronin, and Rima Semaan. "Old staff came back and taught for free. It's just a great group of people who do wonderful things."
By the end of 2017, the new leadership managed to pay more than $350,000 in previous debt, see record class enrollments, and earn a positive net of about $150,000. Classes were filled throughout 2018, too. The galleries saw multiple exhibitions, 200 kids participated in summer camp, and a new group of emerging artists were selected to be residents artists with studios onsite. Programming will continue to expand in 2019, as the organization builds upon its signature classes, with finding from new grants from Baltimore City and the Bloomberg Philanthropies.
And so, on October 10, the community celebrated.
"I hope we'll continue to gather here and celebrate," Patz tells the crowd, before they dispersed and mingled, wandering around the buildings to see exhibits and artist studios and hear live music. Outside, a group of people noticed it has started to drizzle—and then, to their wonderment, they noticed a double rainbow, framing Mt. Washington's sky. One by one, kids and adults pointed, marveling, saying, "This is a sign!" and "This is our good omen!"
"We believed we were right, and we just persisted," Patz said succinctly, after sharing her story. "The community had a mission. They knew the value of this organization. I know the value. Its mission resonates with so many people."