The Lady in Waiting
For much of her life, Catherine Pugh has wanted to be mayor of Baltimore. Now she is. But what took so long?
Someone, it seems, is always stealing Catherine Pugh's thunder. Tonight, that someone is inveterate thunder-stealer Donald Trump. It is Nov. 8 and, inside a plushly carpeted ballroom at the Radisson in downtown Baltimore, Maryland Democrats have gathered to celebrate what the pundits and pollsters have predicted will be a decisive victory for the blue team, culminating in the election of the nation's first female president.
And at first, all seems to be going according to plan. Maryland's statewide and citywide races shake out as expected: Sen. Ben Cardin isn't up for re-election until 2018, so he's safe. Chris Van Hollen nabs retiring Sen. Barbara Mikulski's seat, and seven of Maryland's eight congressional seats remain in Democratic hands. In Baltimore City—where registered Dems outnumber Republicans 10 to 1—the results are even more of a foregone conclusion: All 15 members of the City Council will be Democrats (though eight are newcomers). And last but not least, Pugh, at age 66, secures her self-described "dream job" as mayor with 57.6 percent of the vote.
But, as the national results come in, things seem far less certain. Several states that Hillary Clinton needs for an electoral college victory—including Pennsylvania, Michigan, and Wisconsin—seem to be slipping away, and that drama, unfolding on the room's two giant flat-screen TVs, threatens to eclipse Pugh's accomplishment.
But it's not like Pugh hasn't been in this position before. She has often been overshadowed during her political career, losing elections to candidates with more fiery charisma (Sheila Dixon for City Council president in 2003) and more establishment support (Stephanie Rawlings-Blake for mayor in 2011). But Pugh—moderate, disciplined, and gracious by nature—just put her head down and went back to work.
So, in a way, it's fitting that Pugh's moment of triumph is preempted by Trump's stunning upset. Still, in politics as in show biz, the show must go on, and Pugh is nothing if not professional. Just before 10:30 p.m.—with Stevie Wonder's "Signed, Sealed, Delivered I'm Yours" blaring over the sound system—Pugh takes the stage to give her victory speech. Surrounded by Congressman Elijah Cummings, Baltimore County Executive Kevin Kamenetz, and all 15 members of the incoming City Council, she strikes an optimistic but rallying tone.
"We've got, I believe, a great road ahead of us," she says, looking characteristically chic in a blush-colored shift dress and her customary three-inch stiletto heels. "[But] we have neighborhoods that need to be focused on. . . . We have 76,000 people who are unemployed. . . . And we've got 3,000 people sleeping on the streets. . . . We've got to create a more diverse and inclusive government that allows opportunity to spread throughout our communities because we recognize that when you lift the least, you lift all of us."
It's an effective speech, and the crowd seems temporarily buoyed, but it also serves as a reminder of the many problems facing the city and the effort it will take to make even a small dent in them. It does make you wonder: What kind of a person even wants a job like that?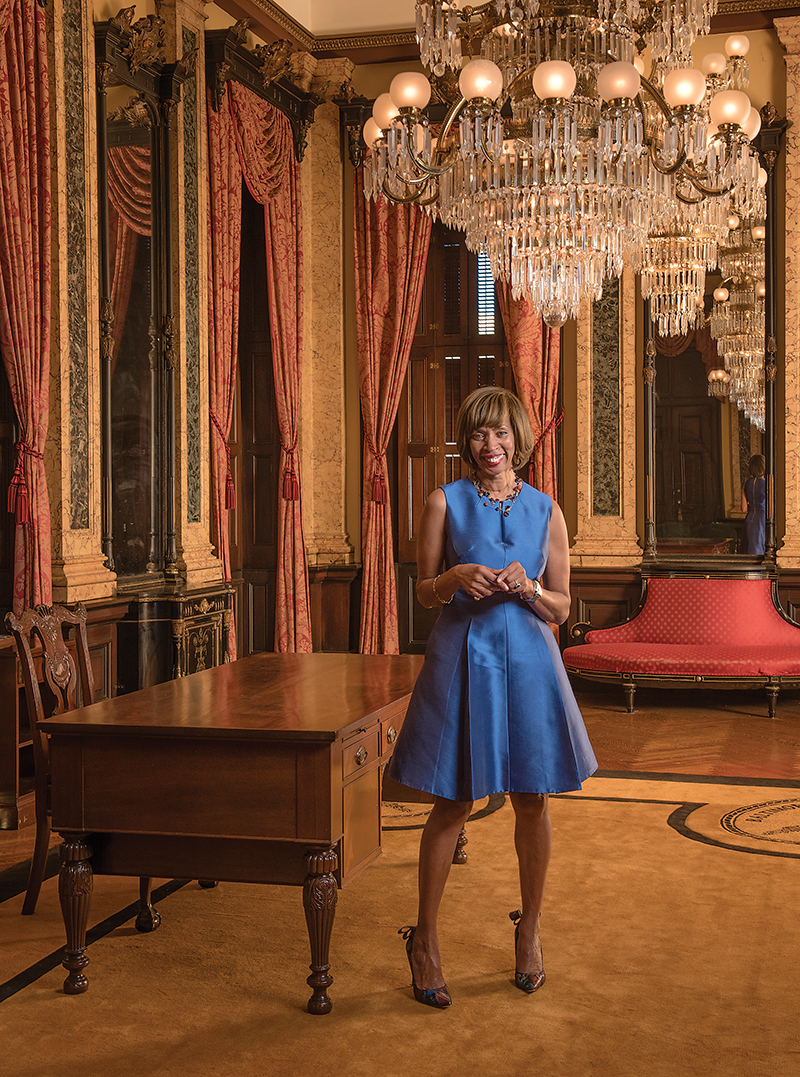 Catherine Pugh was born on March 10, 1950, in the Philadelphia suburb of Norristown, Pennsylvania, the second of seven children born to James and Addie Crump.
Her father, a union laborer in a rubber factory, and her mother, a homemaker, ran a house full of love, but also full of discipline.
"They were pretty strict," Pugh remembers now. "We ate breakfast together every morning. We ate dinner together every night."
They also emphasized education, with her mother running a makeshift at-home preschool for the brood.
"My father said it was her job to teach us to read and write, and so he went down to the local school and bought each of us desks," she says.
Because of this, Pugh says she was literate by the time she was 3 years old. This precociousness was reinforced by weekly trips to the library and regular consultation with the family's set of World Book Encyclopedias, which she calls the 1950s version of Google.
"I thought my parents were, like, the smartest people in the world because if I said, 'Hey, dad, where's the Antarctic Ocean?' he would say, 'Go get A, the World Book Encyclopedia!' And if I asked my mother, 'Hey mom, where's Bolivia?' she would say, 'Go get B!' So, as a 3-year-old, I would be sitting there reading, thinking that everything I'm reading, they already know. But I do know today that they prepared us to be whatever we wanted to be."
But it wasn't all work and no play. Her mother, especially, provided some fun and glamour.
"I had a mother who dressed like nobody else," Pugh recalls. "[She] used to take us downtown for what she called window-shopping. And she would window-shop in some of the most expensive windows that I'd ever seen."
And though the family couldn't afford to dress seven children in the department store fashions of the day, Pugh's mother found a way to keep her style-conscious daughter sartorially satisfied.
"There was a dressmaker who lived around the corner from us," Pugh explains. "And if I saw something on TV I liked, she would say, 'If you sketch it out, take it around to the dressmaker and see if she can make it.'"
Not that Pugh got free rein. There were standards to be upheld.
"There were absolutely parameters. We were churchgoing!" she says with a laugh. "I remember when wrap-and-buckle skirts came out and my mother had skirts made for my sister and me. One morning, I was looking for my skirt and my mother said, 'It's gone.' I'm like, 'What happened?' And she was like, 'I was watching you walk down the street and that skirt just kept flipping, and it just didn't look good.' I was like, 'Okaaaay. All right. So much for that!'"
It's a lesson Pugh has taken to heart: Appearances matter, but for reasons beyond vanity.
"When I was in junior high school, my mother used to always say, 'I don't care what job you go to, go like you're in charge,'" Pugh told The Baltimore Sun in 2014. "Appearance . . . gets you in many doors. Brains keep you in."
Pugh possessed both. So after working several jobs to help pay her own way, she set off for Morgan State University, where she earned both a bachelor's and a master's in business.
"I'm a numerical person," she notes.
After graduation, she interviewed for 11 jobs at major banks and got eight of them. Five of those eight jobs were in Baltimore. She chose Equitable Trust Bank, where she started as a branch manager trainee, graduated to branch manager, and then worked as a credit analyst.
From there, her career only diversified. At one time or another, she has been a print journalist, a talk show host, the dean of Strayer Business College (now Strayer University) in Baltimore, and director of citizens involvement under Mayor William Donald Schaefer. She's still president and CEO of her own public relations firm and a co-owner of a high-end consignment shop in Pigtown called 2 Chic Boutique. In addition, she is the author of three children's books and a book of poetry. She sits on the boards of numerous institutions and nonprofits, including the Baltimore Design School, which she co-founded.
A workaholic who is divorced and has no children, Pugh often describes herself as "married to the city." She lives in Ashburton and, for fun, likes to run, play golf, and go for long, solo drives in her Jeep Cherokee, something her staff is reluctant to let her do now that she's the city's chief executive.
"I'll figure out a way though," Pugh says with a laugh.
Pugh began her career as an elected official in 1999 on the City Council. That's when she came to realize the power, both direct and indirect, a mayor wields.
She recalls, early on, going to then-Mayor Martin O'Malley with two ideas—one for a public art project in which artist-decorated fish sculptures would be placed around the city, and another for what became the Baltimore Running Festival. O'Malley okayed both, then left the planning up to her.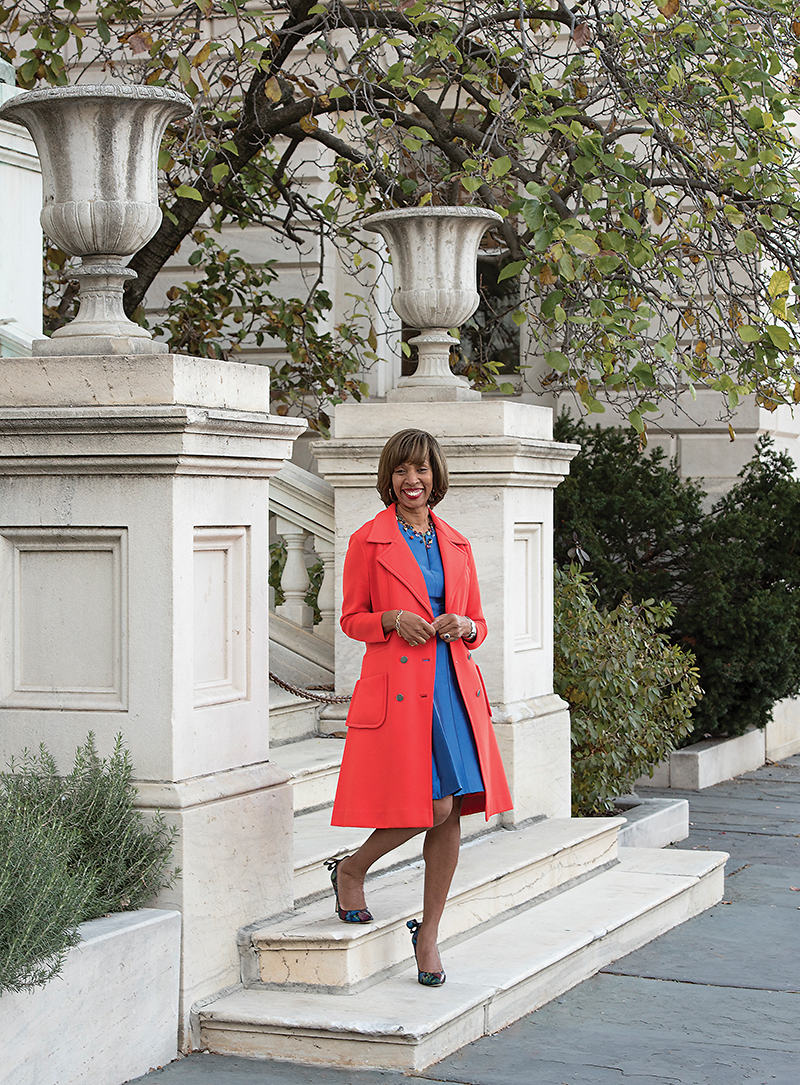 "When I thought about it, I said, 'Oh, this is a problem, because he didn't say, 'Well, go to so-and-so and they'll give you money.' So I'm thinking about the fish sculptures: How much is that going to cost? The artists: Who's going to pay them? Who's going to mount [the sculptures]? The first thing I did was write a letter to [Abell Foundation President] Bob Embry, and what I said was, 'The mayor wants to do this project. I can get you a letter!' And the letter got me $100,000 from the Abell Foundation to jump-start that project. . . . That's when I recognized that the word of the mayor could go a long way in getting things done."
Similarly, Pugh drafted the initial request for proposal for the Baltimore Running Festival, and chose its first sponsor, Corrigan Sports. Sixteen years later, the festival remains one of Baltimore's marquee events and provides the city with an estimated $40 million economic impact.
But after this string of early successes, Pugh encountered a rare professional setback in 2003 when she challenged Sheila Dixon's re-election as City Council president. Pugh lost by more than 21,000 votes to Dixon, who then ascended to the mayor's office in 2007 after O'Malley left to become governor. Dixon resigned three years later amid a corruption probe.
When Pugh's term ended in 2004, she left the City Council with seemingly few political options. But just six months later, she was appointed to a vacant seat in the House of Delegates by then-Gov. Robert Ehrlich. She represented the 40th District—which stretches from lower Park Heights across to portions of Hampden and Remington, and then all the way down to Violetville in the southwest corner of the city. In 2006, she ran for state Senate in the same district and won handily. And though her goal remained the mayorship, she flourished in the state legislature, eventually rising to the rank of Senate majority leader.
Indeed, some think her time in Annapolis was the best thing that could've happened to her.
"I've known her since she was on the City Council and then she went to the state. I think that's where she did her best work because it allowed her to accomplish the goals that she set for the community," says Edna Manns-Lake, the president and founder of Fayette Street Outreach Organization, a neighborhood improvement group in West Baltimore.
For Baltimoreans, Pugh's highest-profile success in the legislature was the Baltimore Design School, a public middle and high school in Greenmount West that offers specialized curricula for aspiring architects, graphic designers, and fashion designers.
But there's much more where that came from. During her 11 years in the General Assembly, Pugh passed more than 150 pieces of legislation. In 2016 alone, she passed 18 bills, including one that provides up to $2,500 in property tax relief to public safety officers who work and own a home in Baltimore City.
"She lives and breathes this stuff," says Bri Ujimma Ward, who was a legislative aide to Pugh from 2008 to 2010. "When you work for her, the work is going to get done. To me, the general public doesn't know enough about the work she's done."
Ward might have a point. Because for all her accomplishments, Pugh was not able to ignite the kind of groundswell needed to unseat Rawlings-Blake in the 2011 mayoral primary. And she faced a similar battle this time around, struggling to break away from a pack of her fellow Democratic mayoral hopefuls, especially Dixon. Then, when the general election came, Dixon, tenacious as ever, mounted a write-in campaign that garnered a not negligible 22 percent of the vote.
It is virtually impossible to know all the conscious and unconscious factors that inform a person's vote. But looking at the results can give some insight into Pugh's strengths and weaknesses as a candidate.
In the primary, Dixon won 170 of the about 200 precincts in the city with majority African-American populations. Pugh, meanwhile, won 69 of the 96 or so precincts with predominantly white populations. Pugh's 2,408-vote victory likely resulted because while Pugh was able to place second in many African-American districts, Dixon garnered only meager support in white enclaves.
Though it might be tempting to infer from this that Pugh's support isn't rock solid in African-American communities, Mileah Kromer, the director of the Sarah T. Hughes Field Politics Center at Goucher College, cautions against such pat conclusions.
"The question becomes . . . whether there was a preference for Dixon, which is one thing, or actually a disliking of Pugh, which is a completely other thing," says Kromer. "I don't know about any polling that was done, or any serious focus groups, to be able to conclude which one of those two realities was happening."
If eyewitness testimony is anything to go by, Pugh seems to connect with African-American voters just fine. On a campaign stop at Northeast Market in early November, Pugh was treated like some combination of rock star and long-lost relative, doling out hugs and snapping photos with excited vendors and shoppers, most of them African American. On the other hand, Sen. Ben Cardin and then-Senate hopeful Chris Van Hollen, who were also there that day, were greeted with a certain arm's-length politeness.
Oddly enough, what hurt Pugh might not have been a lack of support, but rather the wrong kind of support. In a year when voter frustration with the status quo precipitated unexpected outcomes, Pugh's endorsements from just about every major establishment figure may have dogged her, making her seem like just another politician. Dixon, on the other hand, may have endeared herself to the disenfranchised by casting herself in the role of insurgent outsider.
As late as mid-October, WEAA First Edition host Sean Yoes was asking Del. Jill Carter—also perceived as an outsider—to justify her support of Pugh.
"Given the fact that you are considered the ultimate outsider, and Catherine Pugh is definitely an insider as far as the political game is concerned, a lot of people were probably surprised that you went ahead and endorsed her," Yoes said.
"I can see how it could look that way from the outside," replied Carter, who represents much of Northwest Baltimore in the 41st District. "But in terms of my experience with the Democratic establishment in Annapolis, Catherine Pugh, while perceived as establishment herself, has always been fair-minded and intelligent. She's also been welcoming to me, unlike many, many others."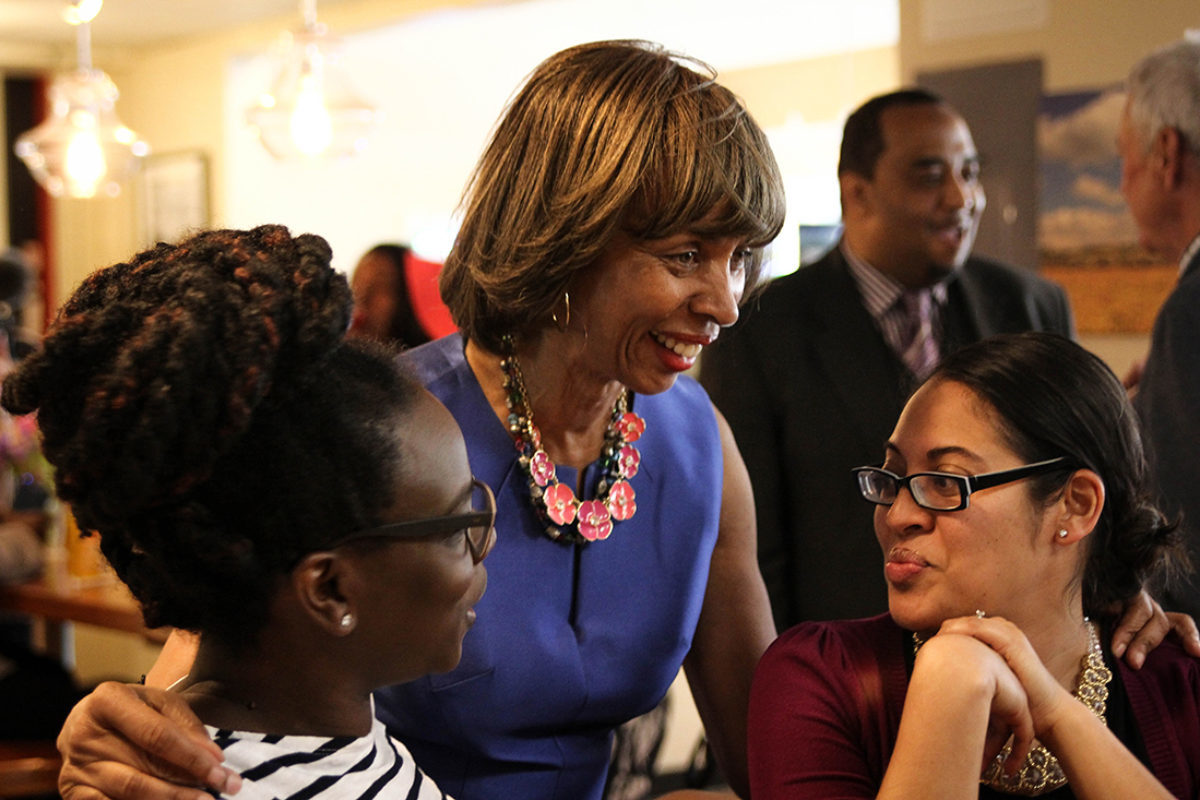 This equanimity and warmth aren't always apparent with Pugh, who can come across as uncannily poised and prim. But last year, during the Freddie Gray unrest, Pugh made worldwide headlines when she defended a group of protestors to Fox News correspondent Geraldo Rivera. She was also captured hugging a teary protestor in an image that went viral. Predictably, Pugh's actions angered some and gratified others. But, more than most, she seemed able to straddle the divide between the powers that be and the passion on the streets.
Ultimately, Kromer thinks this is Pugh's great strength. "You could take the one approach to say that Pugh does not have the inroads among African Americans that Dixon has," she says. "But I also think there's a different way to look at it, to say that Pugh is a coalition-builder. Pugh is able to appeal to different areas of the city and cobble together enough support to actually win."
Naturally, many have high hopes that she will use this bridge-building capacity to advance her agenda, which, for the record, includes restoring to the city full control of the public school system, decreasing crime and improving community-police relations, and restructuring the city's housing department and replacing its commissioner, Paul Graziano, who has been accused of letting the department become a hotbed of corruption and ineptitude. She also wants to further progress made by Rawlings-Blake in decreasing property tax rates and eliminating vacant buildings. Mostly, however, Pugh wants community development that goes beyond the waterfront neighborhoods.
"We want to bring businesses to our city," she has said. "We want to create retail corridors where people can get the services that they need in their neighborhood.
"When I look at what's happening in Hampden, and Canton, and Federal Hill, we ought to be able to make that happen in Pigtown or Ashburton or other neighborhoods."
If Catherine Pugh is indeed "married to the city," her inauguration is her wedding day—and just like any other bride, she has to contend with the weather.
The inauguration is generally held in War Memorial Plaza between City Hall and the War Memorial building. But because Tuesday, Dec. 6, is cold and rainy, Pugh decides to move the ceremony inside the War Memorial. Barbara Mikulski, one of the many state and local politicians on hand for the ceremony, thinks the decision provides Pugh's administration with an auspicious beginning.
"I know she will be a fantastic mayor," Mikulski tells the crowd. "She already made her first executive decision, which was to move this inside. That in and of itself shows that she will provide common sense leadership . . . so three cheers!"
The crowd laughs and Pugh, wearing a red-and-white Carolina Herrera that she snagged on sale, looks positively giddy.
After several more speeches and a performance by the Morgan State University choir that moves state Senate President Thomas V. Mike Miller Jr. to tears, Pugh comes forward to recite her vows.
Flanked by two of her brothers, Pugh faces Maryland Court of Appeals Judge Shirley M. Watts, raises her right hand, and begins the oath of office. When she gets to the word "mayor," she hits it hard, breaking into a huge grin as the audience whoops and her brothers beam proudly. She is now the 50th mayor of Baltimore.
In her prepared remarks, she describes herself as "excited" and "blessed" to become the city's "servant-leader."
"I believe that everything that I've done to this moment has prepared me for this particular point in time," she says.
She then launches into a litany of thank you's, mentioning everyone from Gov. Larry Hogan (with whom she vows to work closely) to her old Morgan State cheerleading buddies sitting in the front row. The normally controlled Pugh actually seems slightly overwhelmed by the moment.
But after a few minutes, she catches herself, and, referencing planned inauguration events throughout the city, says, "I don't want to stand before you all long. . . . I've got four communities that are waiting for me."
Of all people, Pugh knows what it's like to be kept waiting.