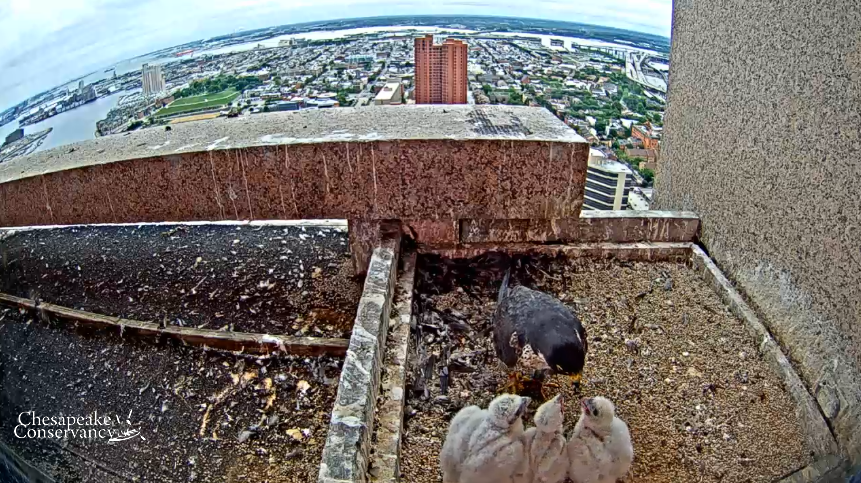 Courtesy of the Chesapeake Conservancy's webcam.
"Boh" and "Barb," the peregrine falcon couple who make their nest atop the 33rd floor of the Transamerica Building in downtown Baltimore have been thrice blessed this spring.
The fast-flying pair's three eggs, laid in mid-April, hatched two weeks ago and as far as the Chesapeake Conservancy folks can tell—they launched a 24/7 live-streaming webcam on the Transamerica Building earlier this spring—"all three chicks look healthy and thriving," says Jody Couser, director of communications for the Annapolis-based nonprofit. (The above photo, a screen shot from the conservancy's webcam, was taken earlier this afternoon during lunchtime as the baby falcons were being fed by one of their parents.)
"When they get banded, they will get checked for parasites, which is always a risk in young birds and something that we would most likely not be able to tell from the camera," Couser wrote in an email. "Their nestling period is 35-45 days, so they will begin trying to fly towards the end of that period and will continue to stay in the nest for a while to learn how to fly and hunt. The juveniles will usually stay regional, for instance, our current 'Barb' is from Philly. How far they will go depends on the availability of nest sites, territory, and mates."
The banding of the three eyases, as baby falcons are called, will be done by an eagle/raptor biologist with Chesapeake Bay field office of the U.S. Fish and Wildlife Service.
The new falcon webcam comes on the heels of the conservancy's popular Kent Island osprey cam, which garnered more than 500,000 unique visitors last year from 123 countries. Those birds, nicknamed "Tom" and "Audrey," can be viewed here. Ospreys, similar to peregrine falcons, faced a 90 percent population decline between 1950-1970 in the wake of DDT and other pesticide poisoning.
According to a chronology provided by the conservancy, a 1-year old falcon named Scarlett, released by ornithologists from the Edgewood Arsenal area on the Chesapeake Bay in 1977, turned up a year later on what was then the USF&G Building near the Inner Harbor. Now known as the Transamerica building, Scarlett successfully hatched four eyases in 1984—three females and a male. When she died later that year from a throat infection, her mate, Beauregard, was said to be heard mourning loudly from the ledge.
Although peregrine falcons generally mate for life, Beauregard would later mate with a banded falcon brought from New Jersey, producing numerous eyases into the early 90s. Ever since, pairs of peregrine falcons have been making their home—and baby falcons—with a skyline view of downtown Baltimore and the harbor.
"A building mimics a cliff for them. It gives them a high perch to be able to look for prey and swoop out and get them," Joel Dunn, of the Chesapeake Conservancy, recently told WJZ, adding that the young falcon family has already received more than 200,000 camera views this spring via its feed.
Below is an earlier webcam shot from two weeks ago after the first two eyases had hatched.