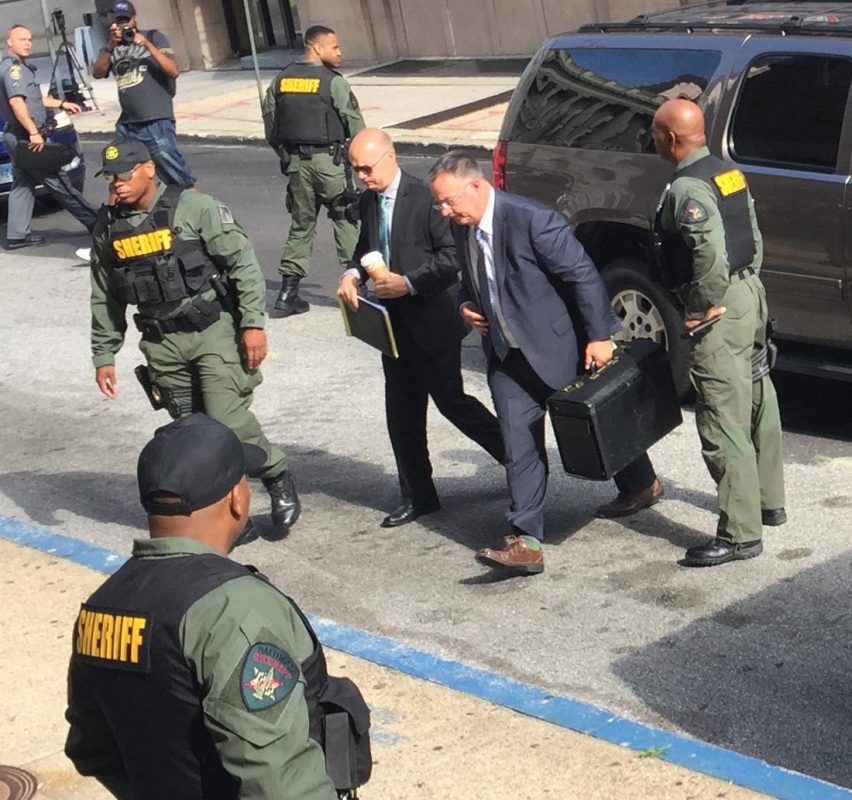 Kenneth Burns/WYPR
The trial for the highest-ranking of the six Baltimore police officers charged in connection with the death of Freddie Gray got underway Thursday.
Lt. Brian Rice, 42, faces charges of involuntary manslaughter, assault, reckless endangerment, and misconduct in office in the death of the 25-year-old Gray, who died last April from injuries suffered while being transported in a police van.
To date, two officers involved with the arrest and transportation of Gray—Edward Nero and Caesar Goodson Jr.—have been acquitted of all charges in the case. Officer William Porter's trial ended in a hung jury and he is scheduled to be tried again in September.
Nero and Goodson each sought bench trials, with Baltimore City Circuit Judge Barry Williams determining their fate, as has Rice.
Officer Garrett Miller is scheduled for trial at the end of this month. Sgt. Alicia White is scheduled for trial in October.
At issue in Rice's case—and in each of the trials thus far—was the failure to properly secure Gray in the back of the police transport van while in custody. Defense attorneys in the other cases have argued that the officers did not receive proper training in the securing of the detainees, and that they hadn't been aware of new departmental guidelines requiring the seatbelting of all detainees. Defense attorneys have also argued that officers are allowed to use their discretion in seatbelting detainees who may be considered a physical threat.
Prosecutors had hoped to introduce some 4,000 pages of documents—evidence related to Rice's training, according to The Baltimore Sun—into court, but were denied this week by Williams. The judge ruled that the prosecutors had sought and turned over the documents to Rice's lawyers too late in the process.
Rice was one of three Baltimore bicycle patrol officers who chased and detained Gray at the Gilmor Homes public housing complex in West Baltimore early Sunday morning on April 12, 2015. He was also one of the officers who first placed Gray into the back of the police transport van.
As the highest-ranking officer on duty that day at the Western District police station, Rice had authority over the officers on the scene, prosecutors argued in their opening statement. Legal observers largely agree, however, that prosecutors face an uphill battle in the Rice trial, particularly given their failure to earn a conviction on any charges against Goodson, the van driver, who had direct custody of Gray after he was placed in the transport vehicle.
Nonetheless, University of Baltimore law professor David Jaros noted that the public still has yet to hear the statement Rice gave investigators after Gray's fatal arrest and ride.
"Because we don't know his statement, we don't know if there's different support for some of the key elements that we couldn't find in the prior trials," Jaros told the Sun. "We also have a slightly different set of circumstances."
It still remains unclear why Gray was arrested and ultimately placed into the back of the van—other than that he'd initially run from police in a so-called high crime area after allegedly making eye contact with an officer. Gray was eventually found to have a small knife in his possession, but whether the knife was legal or illegal in Baltimore City hasn't been an issue in court.
Allegations of police brutality have received renewed attention this week in the wake of deadly and controversial police shootings of citizens in Louisiana and Minnesota that were captured on video.
Some have questioned City State's Attorney General Marilyn Mosby for going forward with charges against the remaining officers in lieu of any convictions thus far. But University of Maryland Francis King Carey School of Law professor Douglas Colbert said after Goodson's acquittal that, if nothing else, the public is learning how criminal, policing, and judicial systems function in the city.
"It's like two totally different judicial systems, and I'm talking about white folks, in upscale neighborhoods, who generally have positive interactions with police," Colbert said. "I think it's important for them to see how different the interactions of people of color with law enforcement often are."