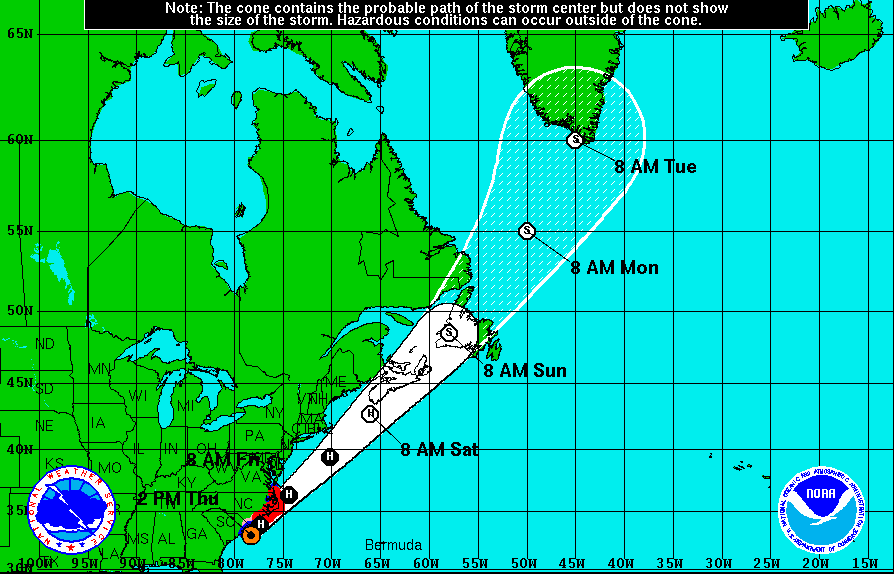 National Oceanic and Atmospheric Administration
Update: Tropical Storm Arthur has turned into Hurricane Arthur after having picked up strength on its route up the East Coast. Arthur, officially the first hurricane of the 2014 Atlantic storm season, is continuing to disrupt travel plans for thousands of Fourth of July beach-goers.
While a cold front is expected to push the storm further from the Maryland coastline than originally projected, there is still a chance for tropical storm conditions in Ocean City and its surrounding beaches on Friday, July 4.
This wet weather forecast has caused Ocean City officials to postpone its fireworks display until Saturday night. As for the Baltimore area, clear skies are currently being forecast for Friday evening, and the Inner Harbor's fireworks display is expected to go on as originally scheduled, kicking off at 9:30 p.m.
(For a full list of Baltimore area firework displays, click here.)
From July 1: For those planning to celebrate Independence Day beachside, you may want to keep your eye on the forecast. The first tropical storm of the 2014 Atlantic hurricane season, Arthur, formed by 11 a.m. this morning and is predicted to intensify to a Category 1 hurricane early Friday, July 4.
According to the National Hurricane Center, as of this morning, the system was 95 miles southeast of Cape Canaveral, FL, with maximum sustained winds of 40 mph. Arthur will be crawling up the Southeast coast over the next two days and hit the North Carolina Outer Banks and Delmarva Peninsula.
Thunderstorms are expected to be likely in Ocean City from late Thursday through Friday afternoon, according to the National Weather Service. Baltimore will see less of an impact, though tropical moisture from the storm will linger until early Friday.
Of course this is all just speculation as of now, and the National Hurricane Center will be monitoring any changes in intensity today and tomorrow. In other words, don't change your firework vistas or beach vacation plans just yet.