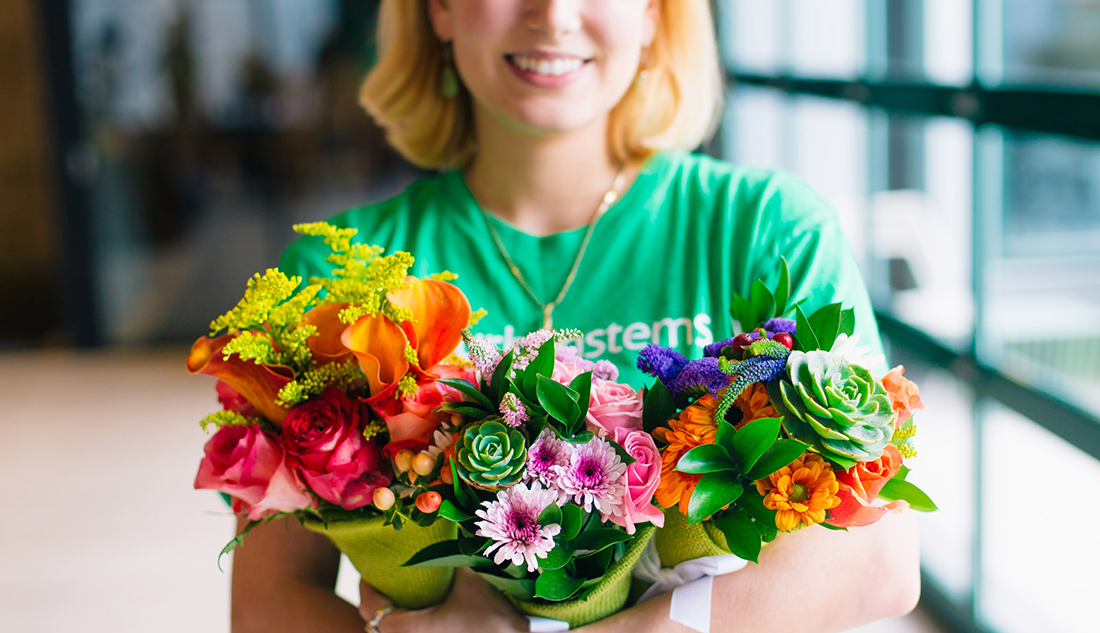 Courtesy of UrbanStems
Duke University grads Ajay Kori and Jeff Sheely always aspired to start their own company, but it wasn't until an unfortunate flower delivery mishap that their idea came to fruition.
Back in 2013, Kori, who was living in New York, sent a birthday bouquet to his long-distance girlfriend in Philadelphia. Wanting to surprise her, his plan was to wait until she received it to wish her a happy birthday, but the flowers were never delivered.
"They got in a huge fight and almost broke up after that," Sheely says. "That was when we really started doing research on the industry and trying to figure out why this was such a concern."
The founders' frustration with the flower-delivery market (damaged arrangements, late delivery times, poor preservation) was the catalyst for them to launch UrbanStems, an on-demand service that sends affordable arrangements via bike courier in under an hour.
The startup—whose list of investors includes Under Armour CEO Kevin Plank—launched in Washington, D.C. on Valentine's Day 2014, and has since expanded to New York City. The brand hopes to begin serving Baltimore by the end of the summer, and has its sights set on Philadelphia in the near future.
"We thought that launching the week of Valentine's Day was going to be really brilliant, but there was a massive snowstorm that week," Sheely recalls. "So we were trudging around D.C. walking through snow banks trying to get bouquets delivered. But that really set the tone for us. It's always an adventure."
UrbanStems's custom-designed arrangements are sourced from farms in South America. Customers place orders online (bouquet options rotate monthly and range from $35-65) and can request for delivery in as little as one hour. Bike messengers then shuttle the flowers to their destination, and even snap a photo so that customers can see what condition they arrived in.
Sheely says that, with such a user-friendly model, the startup has made it the norm for people to send impromptu flowers "just because."
"We really wanted people to be able to send them for any occasion, rather than once or twice a year on an anniversary or birthday," he says. "The majority of our business comes from people who want to say things like, 'Congratulations on your promotion,' 'Good luck on your test,' or 'Hey, it's been raining for three weeks in a row so here's something to cheer you up.'"
Just in time for a sunny summer, the founders hope to be up-and-running in the local market by mid-July.
"We've always really liked Baltimore," he says. "It's a great city with a really tight-knit community that we think will really embrace something like this, which isn't offered currently."
Another local draw: Last month, UrbanStems announced a $6.8 million round of venture-capital funding from four firms including Plank's Sagamore Ventures. Fittingly, the local entrepreneur has his own attachments to the flower business. One of Plank's first-ever projects was called Cupid's Valentine Rose Delivery, a startup that he ran out of his dorm room at the University of Maryland, College Park.
"It's cool how that's how [Plank] got his start," Sheely says, "and in a way it brings it all full circle."
Above all, Sheely says that his favorite part about his job is seeing customers' reactions—something that he's especially excited to experience once the company gets the ball rolling in Baltimore
"People just light up," he says. "If one of us is having a bad day, we go and do a few deliveries because seeing people's faces makes it all worth it."