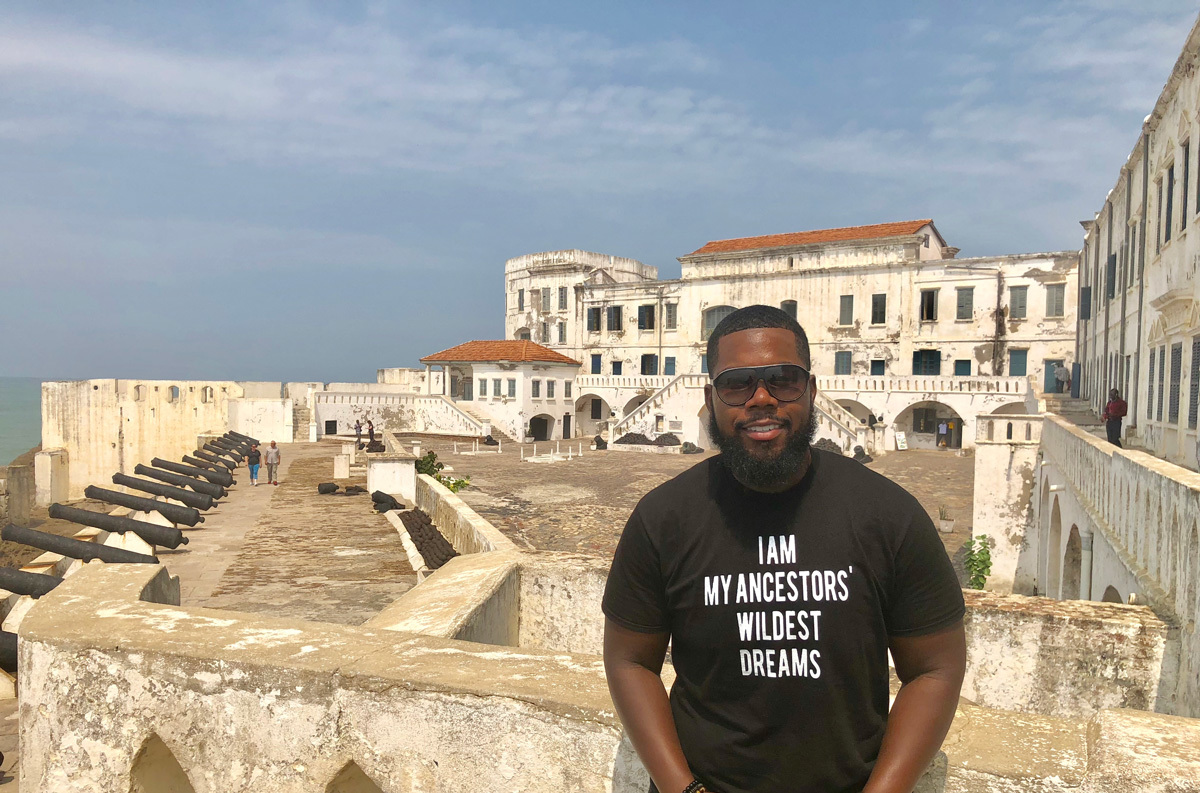 Brian Oliver
Although Brian Oliver graduated from Towson University with a degree in political science, he knew that a career in law was not in his future. He wanted to do more than just read over documents and sit in courtrooms all day.
He was always interested in traveling the world but he found himself constantly waiting for his friends to jump on board. Oliver got to a point where he realized that if he sat around waiting for other people, he would never go.
"I decided to just take that leap," he said of his first trip to London. "Once I ended up going alone that first time, I was like, oh I'm good. I can do this."
Since that realization, Oliver has traveled to 48 countries, 25 states, and has shown no signs of slowing down. His goal is to live a very full, and well-traveled, life while helping others in Baltimore to do the same.
To fund his travels, the 33-year-old has a pretty unorthodox day job working at the family business, Howell Funeral Home, in West Baltimore.
"I live the way I do because I'm surrounded by death every day," he said. "You want to live. You read people's obituaries and they never did anything. I really want to live my life to the fullest."
Around Thanksgiving of 2015, as he was en route back to his Ashburton home from Thailand, Oliver started thinking about how he could expand upon his travels by helping other people. He says while sitting on the airplane, the thought just hit him.
"The word beyond came to me out of nowhere and I started really thinking of the meaning," he recalled. "A typical person from Baltimore, especially a black man, carries so many stereotypes. I started thinking about going beyond what people think of you and what people expect of you. When you travel, you go beyond your neighborhood, your city, and your state—both mentally and physically."
And thus birthed Beyond Bmore, an online platform to document his travels and share with the rest of the world how to make it happen for themselves. Through this initiative, he also hopes to help foster a love of new cultures and experiences for the youth in Baltimore and help children in the countries he visits. For example, he's volunteered at a Kenyan school on his many visits to the country and is currently working on a fundraiser to help them rebuild their school.
"If people can go outside of where you live, it can change your outlook and your mentality of everything," he said. "I tell people all the time, 'Every time I go somewhere, I appreciate home so much more.' We have issues here but I've seen some real issues traveling, especially when it comes to poverty, lack of resources. It puts it all into perspective."
While many of the places Oliver has visited may appear on your bucket list—France, Japan, Egypt, South Africa, Tanzania, Portugal, Hungary, Denmark, Switzerland, Bahrain, and UAE, to name a few—he says that it's not as difficult to travel to them as we think. By using credit card points, airline miles, and various websites he manages to secure these trips for less than $800 and is very public about how to attain it.
"People ask me for tips and advice, which I don't mind giving because I want to see all of us travel to different places," he said. "I go to Secret Flying, The Flight Deal, and Airfare Spot and also follow them on social media so I can stay up to date on their deals. Yesterday, a flight to Nigeria was $600 from D.C. It's a game changer."
During his travels he has eaten a scorpion in Thailand, been mistaken for rapper 50 Cent in Egypt, been called a "stolen child" in Kenya—that experience shook him to the core—and has taken a tour of black history in Amsterdam.
"Some of the experiences are so surreal I can't put it into words," he said. "I go to these places and when I get back into my room in the evening I'll just sit there for a minute trying to take it all in."
Oliver's travels are taking him to Nigeria in two weeks to participate in a day of service in Lagos and in the new year he plans to travel back to Africa to trace his ancestral roots in Cameroon, Mali, and Benin. He says that his travels have helped him to grow as a person and have changed his life for the better.
"I hope that my experiences will show people that there's so much more to life than the city you are from," he said. "Just do it. Get out and see the world. It will change you forever."