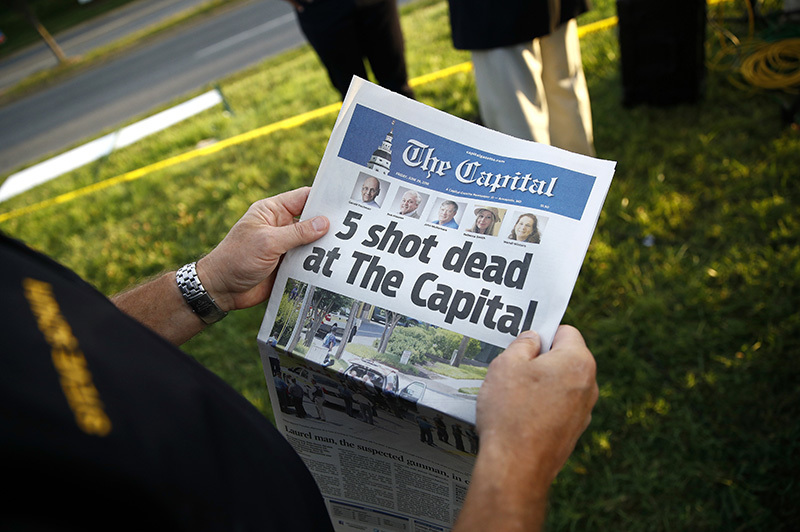 AP Photo / Patrick Semansky
Five people were fatally shot and two others were injured at the Annapolis offices of the Capital Gazette Thursday afternoon. Jarrod Ramos, a 38-year-old Laurel man, who had long carried a resentment for the publication, was charged with five counts of first-degree murder.
Many journalists in the state are reeling with the loss of colleagues and the attack on their industry as a whole.
"I just read the news with tears in my eyes because these people are family," said Adrianne Flynn, career development director and ethics professor at University of Maryland's Philip Merrill College of Journalism. "We instill in our students that in times of tragedy, it's a journalist's duty to tell the public what is happening. We buckle up and mourn later."
That was exactly the response of Capital reporters, who, within hours of gunfire in their newsroom, released the Friday edition of the paper. The opinion section stated "Today we are speechless" and was dedicated to the five victims who lost their lives: Rob Hiaasen, Wendi Winters, Gerald Fischman, Rebecca Smith,­ and John McNamara.
"I worked with Rob and I knew John for 37 years," said Milton Kent, a lecturer at Morgan State University, former Baltimore Sun reporter, and head of the MSU Spokesman. "We all, even in our worst moments, have to put aside whatever there is and get the job done. I can speak for John and Rob, they wouldn't have wanted it any other way."
Several regional reporters have weighed in on the tragedy and how it speaks to the journalism landscape as a whole. Maryland Matters editor Josh Kurtz wrote a poignant essay about hearing the news while standing in the Newseum in Washington, D.C.
"There's a towering artifact dedicated to journalists who have been killed in the line of duty," he says about the museum. "But usually you're a foreign correspondent covering a war, not sitting at your desk. Journalism is a noble profession and it always will be."
The Capital Gazette, which incredibly traces its origins back to 1727, has been owned by the Baltimore Sun Media Group since May 2014. Many Sun reporters assisted with getting the paper out today. University of Maryland's Capital News Service has offered its newsroom up to Capital employees.
"We have sent so many kids to work there," says Flynn, who has been at University of Maryland since 1999. "Rob has been an adjunct here for the past year and always said he wanted to help young journalists. He wanted to instill good values."
In July 2011, columnist Eric Hartley wrote a story about a criminal harassment case against Ramos, who then brought a defamation case against Hartley and the Capital publisher at the time Thomas Marquardt. The court ruled in favor of the newspaper.
"The randomness of it is so shocking," Kent said. "This guy had a beef and a gun. I'm starting to call these American days. Because this is uniquely American. There has been a mass shooting almost every day this year. No other civilized country on the planet lives this way."
The 154th mass shooting this year comes at a time when the political landscape centers around a particular vitriol against journalism. As recently as June 18, President Trump tweeted that the media is "the enemy of the people" and "truth doesn't matter to them."
"As far back as ancient times, it's been about 'don't shoot the messenger' and that holds today even more powerfully," Flynn said. "The climate in the country right now is so anti-information. Our community is under attack."
More than 30 years ago, veteran journalist McKay Jenkins got his start in the Capital Gazette newsroom. He considered McNamara a "close personal friend."
"What makes the newsroom shooting so unsettling is the grotesque fact that we live at a time when political voices in our country are openly calling for repression, harassment, and even outright violence against journalists," Jenkins said in an email. "Strong, unfettered journalism is a fundamental structure undergirding the very possibility of democracy."
Thanks for the kind notes. They are balancing out all the senseless vitriol in my email about minor copy-editing mistakes & general hate for the media. Someone who hit a paywall wrote he hopes I "choke to death." Someone else wrote yesterday was "deserved." Buy a subscription.

— Kevin Rector (@RectorSun) June 29, 2018
The shooting feels reminiscent of the January 2015 terrorist attack on satirical weekly magazine Charlie Hebdo in Paris. As a small staff of about 20, the Capital Gazette lost a quarter of its newsroom to the violence yesterday.
Bloomberg government reporter, Madi Alexander, started a GoFundMe campaign for the journalists and it has already reached nearly $120,000. Gov. Larry Hogan ordered that the flag above the State House be flown at half-staff and two vigils are planned for Friday night in Annapolis.
"A fool doesn't seek out danger, but in the course of our lives as journalists you can't live your life in those terms," Kent says. "The challenge for the staff moving forward is to do justice by the people who were killed. In the end, it's going to be really hard, but they are professionals."
Additional reporting was provided by senior editor Lydia Woolever.