Who Wants to Be a Cop Now?
After a 14-month federal investigation, the Baltimore Police Department is tasked with with reforming its culture.
After Thanksgiving, Maj. Richard Gibson arrived at the Northern District station expecting a long shift. The previous day, Black Friday, two of Gibson's police officers had shot, multiple times, a 48-year-old man who was wielding a pair of knives near the busy commercial intersection of 33rd and Greenmount Avenue.
The 911 call had come from a woman working at a nearby salon, reporting that someone beating a cane into the sidewalk and waving two knives was terrifying passersby.
Body camera footage released a few days later would show that police officers told the man 10 times to drop the green knives with the word "MARINE" painted on the blades. The man can be heard saying, "I have one life to live, and I'm ready to give it." But several witnesses believed that arriving officers fired too quickly on the man, who was clearly in the throes of a mental health crisis and never lunged at police. The next day, activists from the People's Power Assembly and West Coalition mobilized a protest at the intersection as the man, who survived the shooting, recovered in a hospital.
Not wanting to escalate tensions, Gibson decided against sending any officers to the Saturday protest. He drove over himself, met with organizers, and simply requested that demonstrators not block the intersection. He parked his unmarked car at a gas station across the street and watched as the rhetoric from the 60 or so protestors grew increasingly loud, vehement, and anti-police.
Tawanda Jones, the activist sister of Tyrone West, an unarmed man who died in a controversial police custody incident four years ago, questioned why law enforcement officers refer to shooters in the community as "cowards" but never apply that description to other cops. "What about the cowards who killed my brother?" she asked. Another protestor blasted Lil Boosie's "F--k tha Police," according to City Paper coverage of the demonstration. At one point, protestors spotted Gibson in his uniformed white shirt and began harassing him as he sat in his vehicle. He rolled up his window and drove around the block. Then, not long after he returned, several demonstrators spotted him again and began running toward his car.
This time for a different reason.
A protestor who brought her weeks-old daughter to the demonstration had stepped into Mama Lucia Italian Eatery to feed the baby, and now it had stopped breathing and was bleeding from its mouth and nose. Gibson called for an ambulance as he rushed across the street, and began performing CPR immediately. "I blew breath after breath into that little girl's mouth and her chest would fill with air and heave," the beefy Gibson recalls. "I did a couple of compressions but was very careful. Her chest was so tiny.
"I thought she was going to make it." Gibson learned later that she did not. Many at the scene had tears in their eyes as the child was rushed to Johns Hopkins Hospital. A father of three daughters, Gibson was distraught afterward, with blood visible around his mouth. Local residents and some protestors applauded Gibson, who, with other officers, hung around the pizza shop and bought slices for the crowd. "Other protestors still didn't want anything to do with me," Gibson says.
The 20-year veteran recounts the story in his office, where the threaded brass fitting that knocked out two of his teeth during the April 27, 2015 riot, sits on his desk as a grim reminder of that hellish day. Coincidentally, that date is also Gibson's wedding anniversary. "My wife and the kids watched everything that was happening on TV at home," he says.
Asked what it's been like as a Baltimore cop in the two years following the death of Freddie Gray, Gibson, an earnest, outgoing, lead-from-the-front optimist, pauses. He leans back in his chair and reaches to find the words. He considers the riot, the intense scrutiny of police officers, the indictments of the six cops involved in the arrest and transportation of Gray, the scathing Department of Justice investigation into the department, the continuing attrition in the police ranks, and most unnerving, an unparalleled spike in violence that shows no signs of abating.
"I'd say it's been a challenge."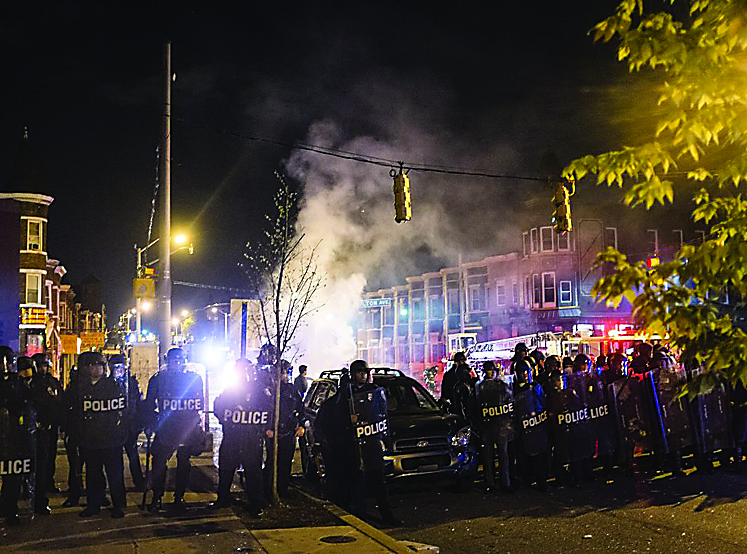 Since the April 2015 riot, the ongoing surge in gun violence in Baltimore is, as best anyone can tell, without precedent in modern U.S. policing history.
"Shootings have jumped 75 percent," says Peter Moskos, an associate professor at the John Jay College of Criminal Justice and a former Baltimore police officer. "As far as being tied to a single event, it's like nothing else that I know of." 
When the city recorded its 50th homicide of this year on Feb. 23—an otherwise ordinary weekday when nine people were shot across the city—it put Baltimore nearly a month ahead of 2016's murder rate, which was the worst on record, other than 2015.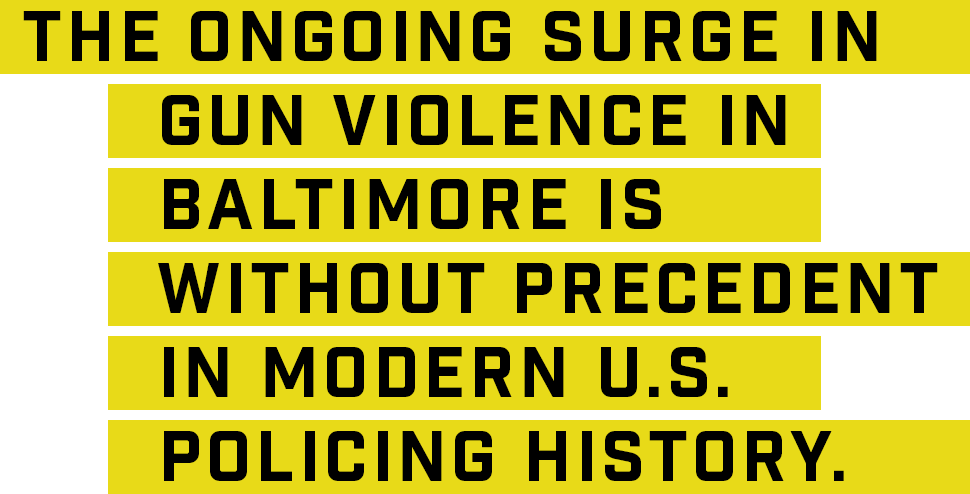 Street robberies and aggravated assaults are also surging, with each up nearly 40 percent year-to-date over 2016. And recent carjackings, which included the high-profile assault of 80-year-old former City Councilwoman Rikki Spector in her Federal Hill garage, have nearly doubled. Meanwhile, with court-enforceable federal mandates now hanging over the department, the BPD faces an uphill battle of rebuilding trust in the community, recruiting more cadets, and putting additional uniformed bodies on the street. It's a huge climb that only got steeper last month after the stunning federal indictments of seven police officers, who served on a specialized gun unit, on racketeering and extortion charges. (The allegations of brazen thuggery include robbing a driver after a routine traffic stop and stealing $1,500 from a nursing home maintenance man who needed the cash to pay his rent.)
"Look around at everything that's been going on," says Lt. Victor Comegna, a shift commander serving underneath Gibson in the Northern District with 17-plus years on the force. "Who would want to be a Baltimore cop today?"
There is some hope that the reforms mandated by the Department of Justice and the deployment of more patrol officers can stem the city's cycle of violence, but that might also be wishful thinking.
"We, and by that I mean the citizens of Baltimore, are paying the price for two decades of 'zero tolerance' and mass arrest policing," says Commissioner Kevin Davis, who came to the BPD from Prince George's County in February of 2015 and took over as commissioner when Anthony Batts was fired three months after the riot and unfolding unrest. "That's [the violence] that began in the aftermath of the riot."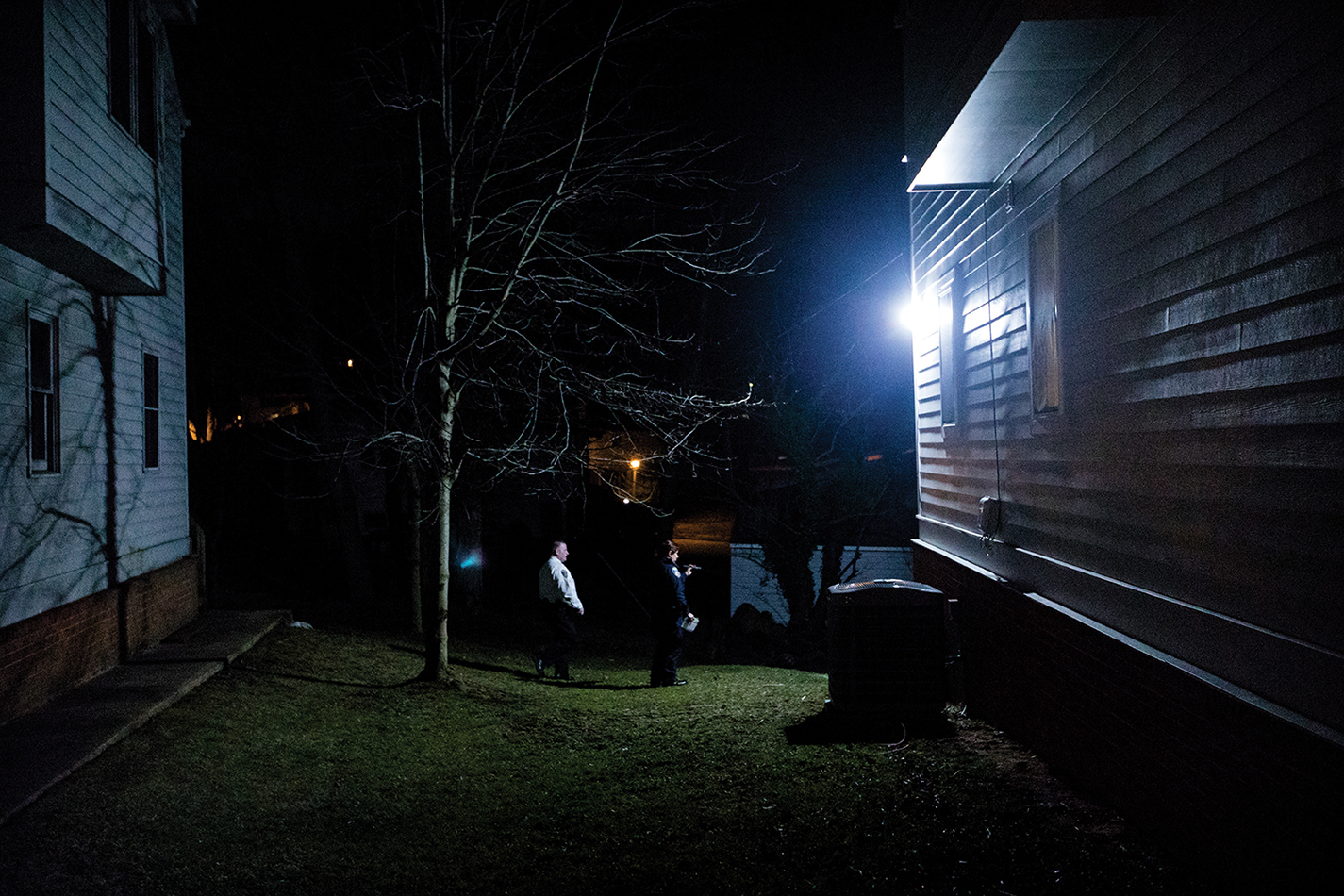 Two years ago this month, a stunned Baltimore watched as arson fires destroyed more than 200 buildings and automobiles and dozens of city businesses. We witnessed the looting of Mondawmin Mall on live television. We saw rocks, bricks, and other objects hurled at police officers, injuring well over 100 officers—including a couple of whom sustained traumatic brain injuries—all in protest of the death of 25-year-old Freddie Gray, who had sustained fatal injuries while in custody. Eight days later, in her first official trip in office, then newly appointed Attorney General Loretta Lynch came to Baltimore, offering words of support for Gray's family, local leaders, and the Baltimore law enforcement community, whom she called "the hardest-working police officers in America."
In between, City State's Attorney Marilyn Mosby indicted the six cops involved in the Gray case.
And ever since, the city and the law enforcement community have been stuck in a complicated, bipolar struggle. 
Baltimoreans want police to make fewer stops and arrests, but they also want police to take more violent offenders off the street. "Grandma wants the corner cleared until it's her grandson standing on that corner," Gibson acknowledges, repeating a familiar Baltimore law enforcement maxim.
Over the last two years, arrests have been down substantially, as is morale, as cops have become more cautious since the indictments of the officers involved in the Gray case. (Those officers were all eventually found not guilty or had their charges dropped.)
The Justice Department was already conducting a collaborative review of the Baltimore Police Department at the behest of Batts at the time of Gray's death. After the unrest, which came on the heels not only of the Gray tragedy but also an award-winning investigative story on endemic police brutality in the city by the Baltimore Sun—then-Mayor Stephanie Rawlings-Blake requested a full-scale civil rights investigation into the department by the Department of Justice.
That inquiry revealed stark patterns of racially discriminatory and unconstitutional stops, searches, and arrests of residents whom the Baltimore Police Department was sworn to protect and serve. One black man in his mid-50s, for instance, was stopped more than 30 times in less than four years without ever being issued as much as a citation. The report also recounted the horrifying experience of one woman, who was pulled over for a nonworking headlight and then was forced to remove all her clothing while she was bodily searched, including her anal cavity, on the sidewalk—only to be handed a repair order after nothing was found. (The BPD has faced more than 60 lawsuits over strip searches during the past five years.)
Those findings and others led to the 227-page court-enforceable consent decree signed in January that Mayor Catherine Pugh and Davis promise will overhaul the BPD. The bullet points of the decree mandate include stricter use of force guidelines, greater transparency, computers in patrol cars, improved data analysis, a re-commitment to community policing, an overall focus on de-escalation, and "training, training, training, training," as Pugh put it at the City Hall press conference announcing the agreement.
William H. "Billy" Murphy, the prominent former judge and attorney for Freddie Gray's family, described the consent decree as "a sea change" in policing in Baltimore.
For his part, Davis is adamant that the BPD will emerge from all of this as a better police department. "Corruption won't be tolerated. Unnecessary use of force won't be tolerated," Davis says. "But if people think reform is writing some policy changes and holding a press conference, it's not. It's ugly. It's getting rid of people who have no business wearing the uniform."
One of the most pressing issues at the moment for the department, however, is recruiting more cadets to wear that uniform.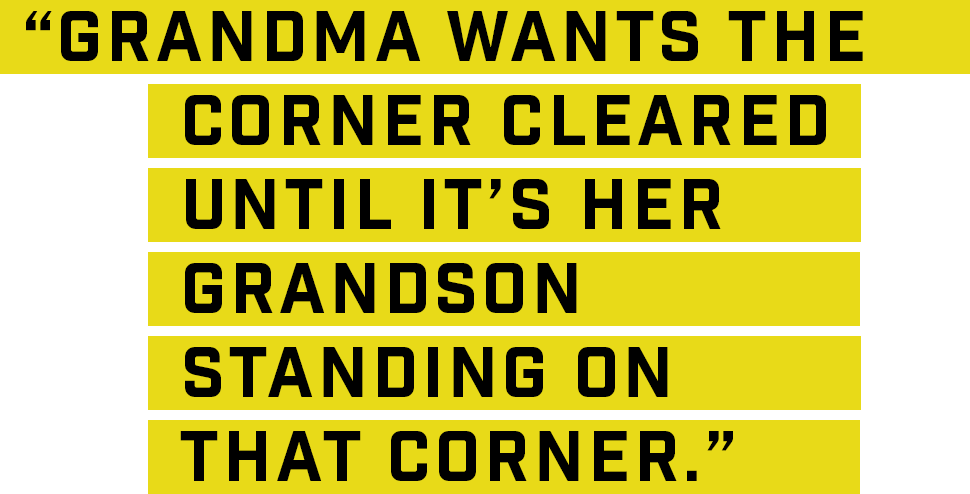 Before heading out for a few hours of patrol on a recent evening, Gibson checks in with Comegna to see how many officers he has on the street. Comegna informs Gibson that he has 29 available officers—16 or so less than ideal.
They both acknowledge they're shorthanded, which becomes abundantly clear in the next half-hour when three separate armed robberies, including a carjacking, are called in to the Northern District in a span of 15 minutes. Those dispatches are followed by the report of a five-car crash involving a stolen car and suspects from one of the armed robberies, who are fleeing across the Loyola College campus at North Charles Street and Cold Spring Lane.
"You see how fast things happen," says Gibson, as one of the department's Foxtrot helicopters suddenly appears overhead. "We can get stretched thin pretty quickly." He flips on his flashing lights and makes a beeline for the school.
Fraternal Order of Police Lodge #3 President Gene Ryan has made this a point of emphasis. He publicly raised the issue of patrol shortages recently when he said the city doesn't "have enough police officers to patrol the streets safely protecting themselves, much less protecting the citizens of Baltimore."
(Ryan has also made it clear that he's adamantly opposed to civilian representation on trial boards for alleged police misconduct cases. It's one of the most important aspects of the consent decree, in terms of building trust in the community and among activists, and an issue that remains to be negotiated with the FOP.)
Davis wasn't keen on the fact that Ryan's decrying of patrol shortages became fodder in the media, but he responded immediately by promising to move 114 uniformed officers to patrol. More recently, in light of the Gun Trace Task Force indictments, Davis announced he was moving 46 other officers, typically dressed in plainclothes and "modified" uniforms, from specialized units to patrol. Partly, he explains, because these units—referred to as "knockers" and "jump-out boys" in areas of the city—generally draw the most citizen complaints for aggressive behavior. But, Davis adds, he also wants to see more uniformed men and women on the street to help suppress crime. He says, however, that still leaves the department 300-400 patrol officers short.
Davis also acknowledges two disconcerting facts in making the patrol changes.
For starters, the current four-days-on, three-days-off patrol shifts that were negotiated with the union under Batts, are unsustainable and exacerbating current staffing shortages to the tune of $1.6 million in departmental overtime each pay period. (Or, to look at it another way, 70-90 officers each day are "drafted" into working overtime past their regular 10-hour shift.)
Secondly, annual officer attrition via retirement, resignation, transfer to another police agency, etc., continues to significantly outpace recruitment.
Roughly 220-plus officers now leave the force each year, a figure that jumped to 249 in 2015. The annual attrition number essentially returned to normal in 2016, but the academy is only averaging three classes a year. Each generally tops out at 45-50 cadets and runs 27 weeks, followed by three months of field training. (However, two classes were canceled altogether after the unrest of 2015, and the first class of 2016 was down 50 percent in size.) And then there is another obstacle: The 40 hours of annual additional training for officers ordered by Davis in the wake of consent decree negotiations will take even more uniformed patrols off the street.
Only three times in the last 14 years has the number of recruits equaled the number of officers leaving the force.
Pugh sounded almost desperate at the press conference when she said she had recently recruited a neighbor to apply to the academy, and then looked at TV cameras, adding, "Baltimore, we're hiring police officers."
The current math just isn't good. Neither is the irony.
Far and away, the greatest impediment to recruiting more cadets isn't fear of injury or being the subject of mass protests. It's the current state rules regarding previous marijuana usage among potential candidates. "Of the applicants who are rejected at the initial application stage, more than half of the time [56 percent] previous marijuana use is the reason," says Maj. James Handley, director of the Baltimore Police Recruitment Unit. The paradox that stat-driven arrest policies and the war on drugs—put in place by elected officials and implemented by the department in the late '90s—have come back to haunt the organization as it seeks to attract city residents to a career in law enforcement isn't lost on Handley.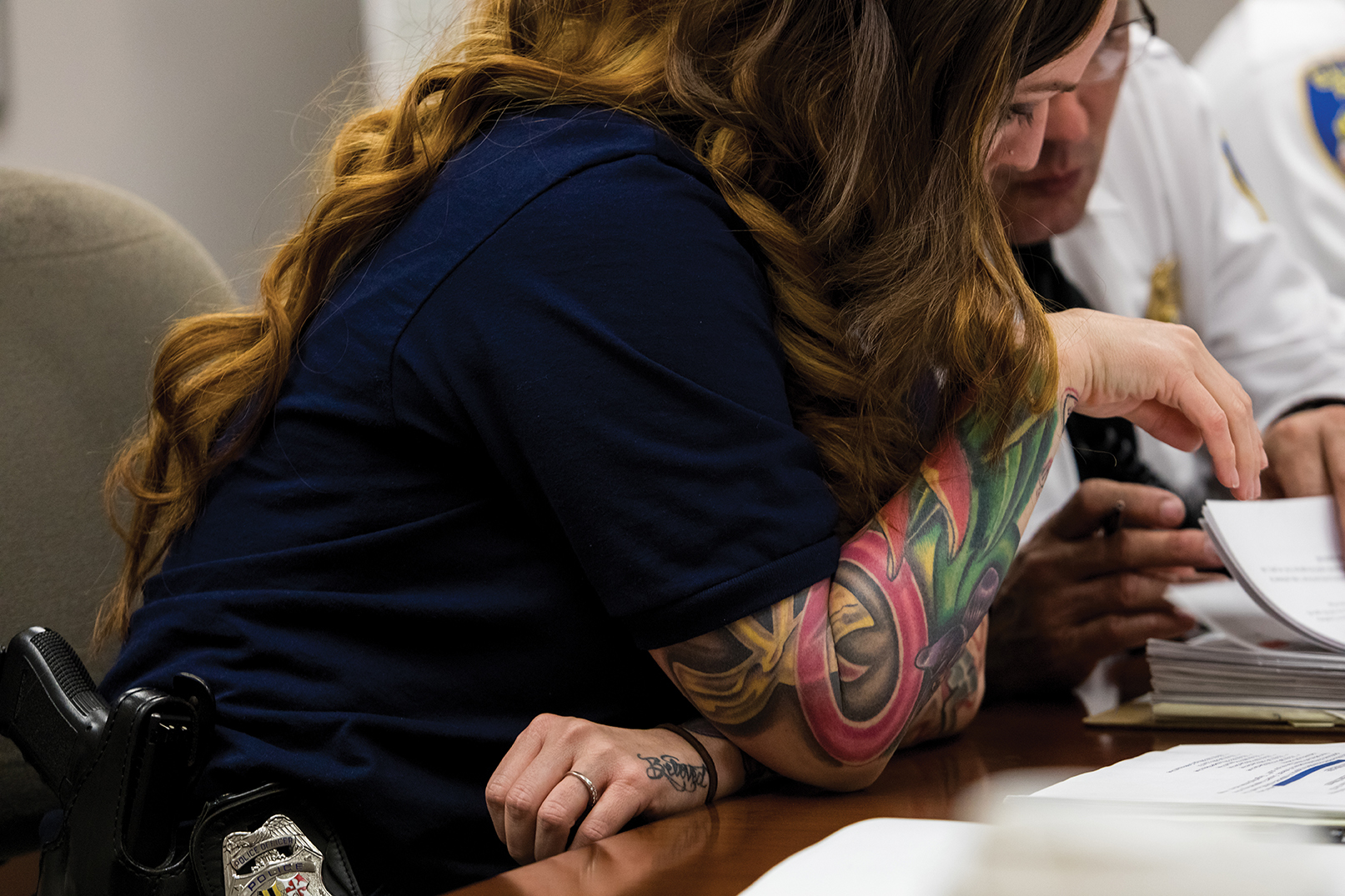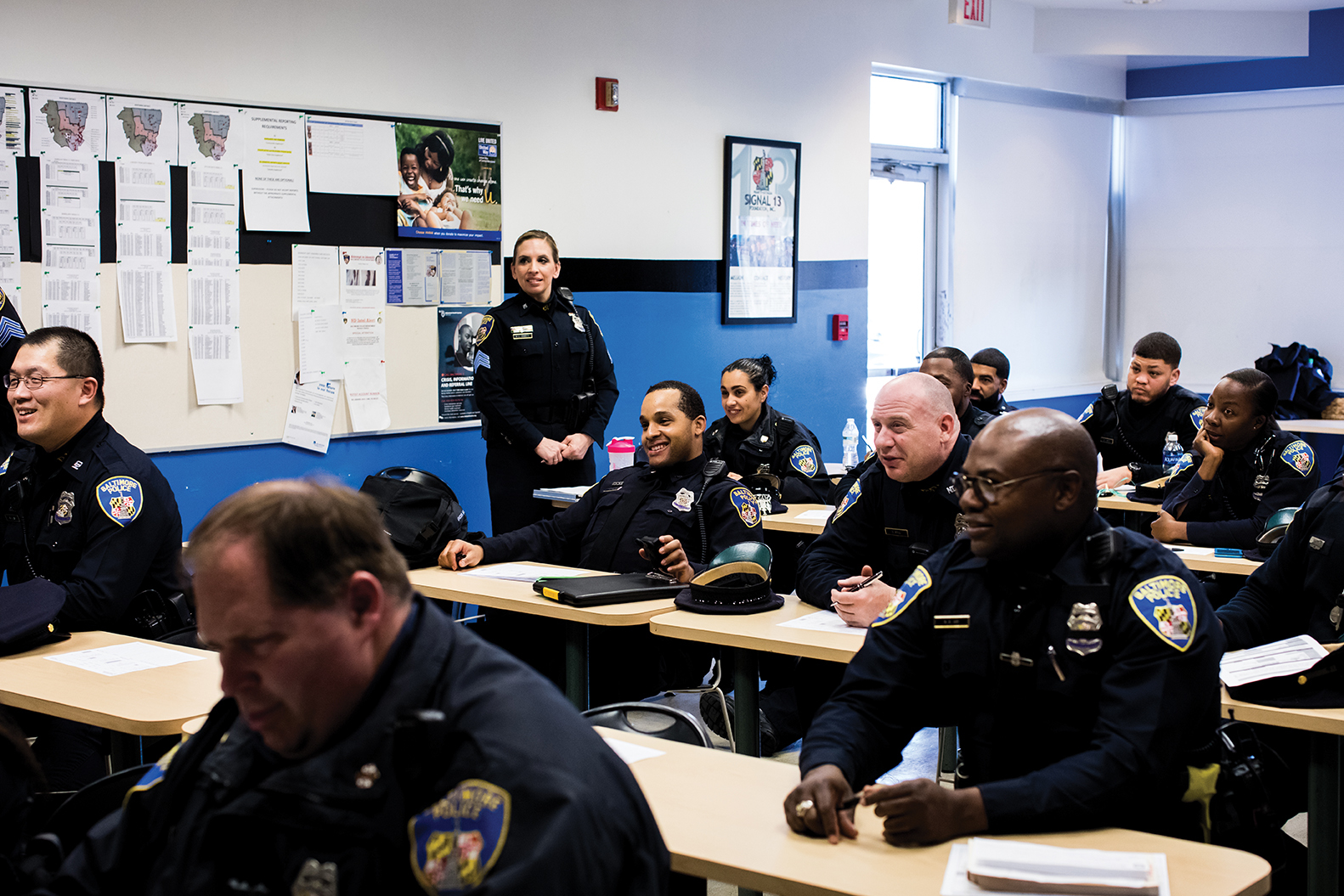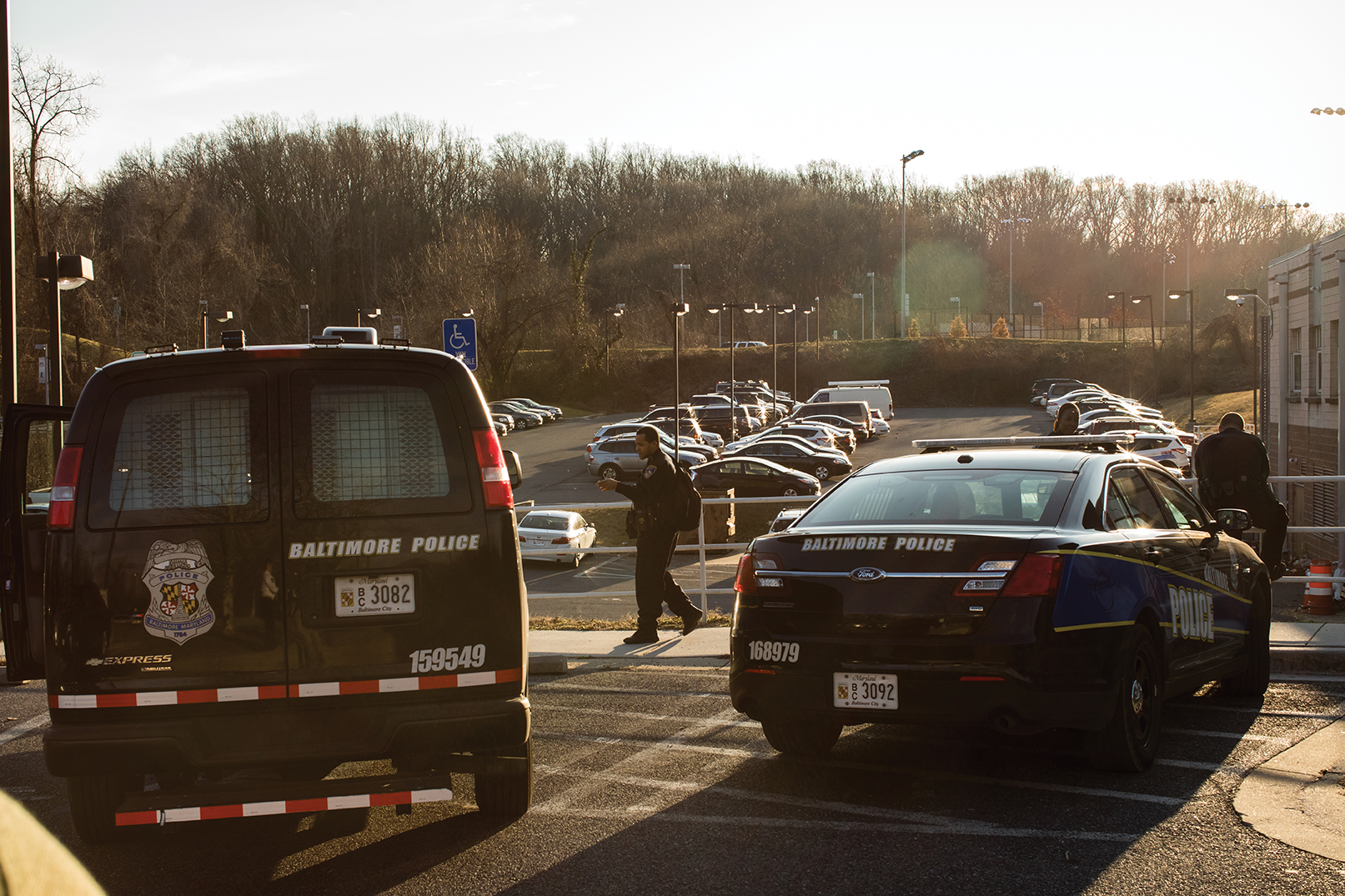 "There are times when individuals are in the application process," says Handley in his office at the BPD's downtown Bishop L. Robinson, Sr. headquarters on East Fayette Street, "and I'm here on my computer helping to legally expunge minor criminal records so they can become eligible for us to hire down the road."
How much it will help remains to be seen, but Davis, in fact, successfully lobbied in Annapolis this year to somewhat ease the state standards for previous marijuana usage for law enforcement candidates. Starting this month, police applicants will no longer receive a lifetime ban for using marijuana more than 20 times or five times after turning 21. Applicants will still be rejected if they have used marijuana in the last three years.
(More irony: Robinson, the first black police commissioner in city history, made his first arrest as a cop in 1951, making a then rare collar for smoking marijuana, according to The Sun. Thirty-three years later, as commissioner in the mid-'80s, Robinson "marveled" that his officers were making 12,000 drug arrests a year.)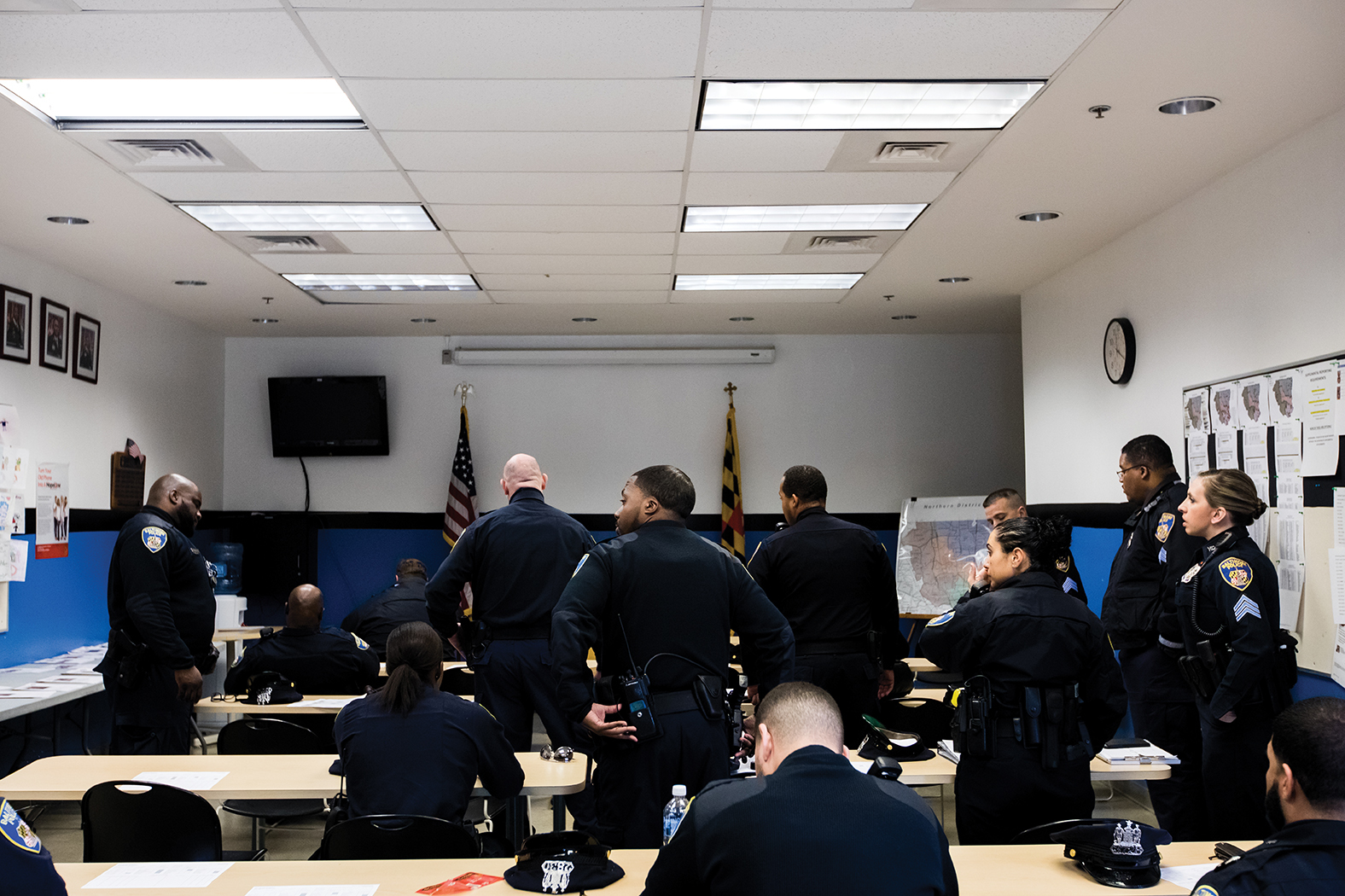 Twenty-eight-year-old Northern District police officer Darius Carter, who is from the Sandtown neighborhood of West Baltimore, did not require record expungement. He still has family on Gilmor Street, down the block from where Freddie Gray was arrested and detained. He and his network of buddies were into sports as kids, playing ball at the local Police Athletic League center, which, notably, has since been closed. He played basketball and baseball, swam at Southwestern High School, and played trumpet in the band. He's also always been something of a tech geek and avoided any serious trouble growing up.
Carter joined the Army National Guard after high school and hadn't considered becoming a cop until another military buddy from Baltimore said he was joining. Personable, approachable, a Baltimore City native and resident with military experience, Carter checks a lot of boxes in terms of the ideal recruit.
During a recent afternoon ride-along, which included an investigation of a stabbing in which a woman was rushed into surgery at Sinai Hospital, Carter admits—military and academy training notwithstanding—that he was nervous answering calls at first. "I think everyone is. It's the unknown," he says. "It takes a couple of months, maybe two to three months, to get your bearings in your district. Once you know your way around and get to know people, the business owners, then you don't want to go anywhere else."
After the unrest began, Carter was actually called back into Maryland Army National Guard reserve duty to protect the city. "It's a strange feeling knowing that the same people who are throwing rocks at you, if something would happen to them—you'd run over there to help them and not think twice," Carter says, his voice swelling slightly with emotion.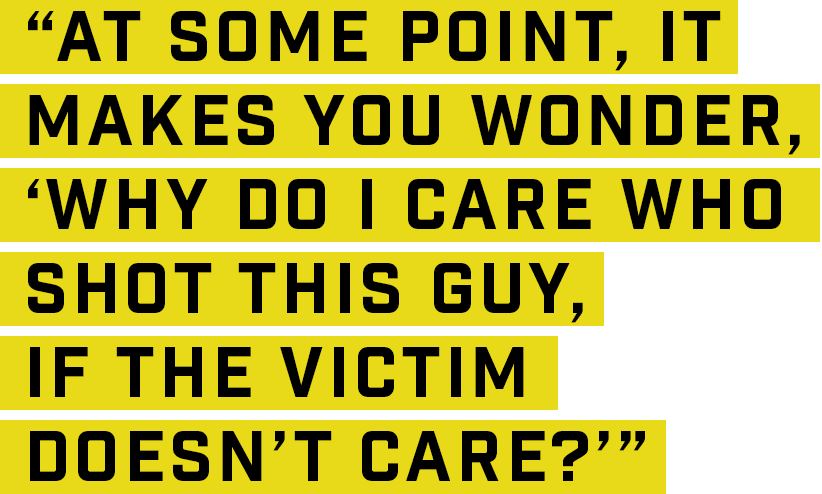 What he learned from his military service, he says, is that the stress of that job—and his current job—cannot be ignored. As young as he is, he says he recognizes that healthy coping mechanisms are required, as is counseling in some situations.
(Gibson, his boss, readily volunteers that he met with a department counselor after the death of the newborn girl he tried to save with CPR.)
Carter rides a motorcycle to relax and has begun to fool around with drone photography, which among his other tech pursuits, he says, helps him leave work at work. "One of the guys I was stationed with in Egypt, who had been deployed in Iraq, killed himself while we were over there together," he recalls. "No one would've guessed there was anything wrong. He came to work every day with a smile on his face. You can't keep that stuff inside, but some guys do."
His biggest surprise after becoming a Baltimore police officer—keeping in mind he grew up in what is considered a high-crime neighborhood—was how hectic it is.
"I couldn't believe how many calls were coming in," he says. "It's just kind of shocking that people are committing crimes hour after hour, day after day. Not even citywide, but in your district. Your sector."
Moskos, who spent nearly two years with the BPS, including his months in the academy and training in the field, says it took him longer to get over the job than he spent doing it. He arrived at the Baltimore Police Academy as a Harvard grad student, intending all along to eventually leave and pursue a Ph.D. "Look, I was still young when I left and moved to New York [for grad school], but I couldn't sit on the subway, put on headphones, and close my eyes like other people," says Moskos, who wrote the book Cop in the Hood: My Year Policing Baltimore's Eastern District, based on his experience. "It wasn't because I thought something was going to happen. The odds of that are incredibly long—it's that you remain in that state of hyper-alertness all the time. You can't turn that off. That's the PTSD symptom that materializes as a police officer.
"That stuff everyone jokes about? About never sitting in a bar or restaurant with your back to the door? That's real for cops."
Moskos says he often dreamt about work when he was a cop—"which wasn't fun"—and he still vividly recalls coming across his first shooting victim.
"That doesn't leave you."
Part of the frustration that cops experience, Moskos and others say, is the routine deceit police officers deal with day in and day out. The old joke among homicide detectives is "at least the body won't lie to you." And there's the legendary lack of cooperation in some quarters of the city.
Baltimore Police Academy training instructor Sgt. Ryan Guinn, a thickly muscled, heavily tattooed patrol, narcotics, and shootings veteran, shakes his head when he recalls being sent out on his first shooting investigation by older detectives. When Guinn got to the scene in Cherry Hill, he thought he caught a break because the victim was still alive, albeit being hauled onto an ambulance gurney. "Then I watched as he saw me, sat up, and pointed and looked at the crowd that gathered and said, 'No one tells this motherf--ker anything. I mean it. No one tells this motherf--ker anything.'
"At some point, it makes you wonder, 'Why do I care who shot this guy, if the victim doesn't care?' But you do. You have to get that shooter off the street for everyone else's protection."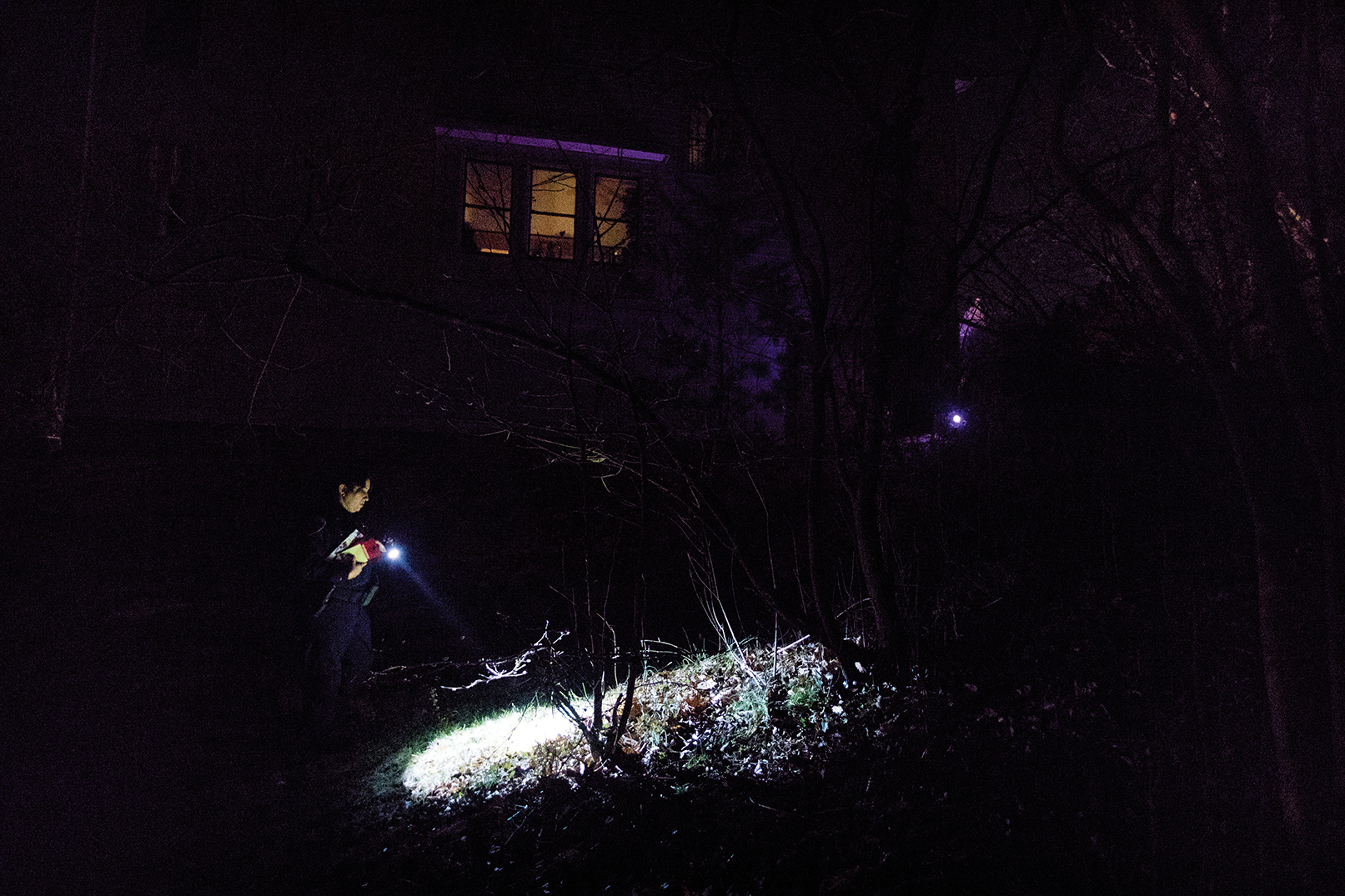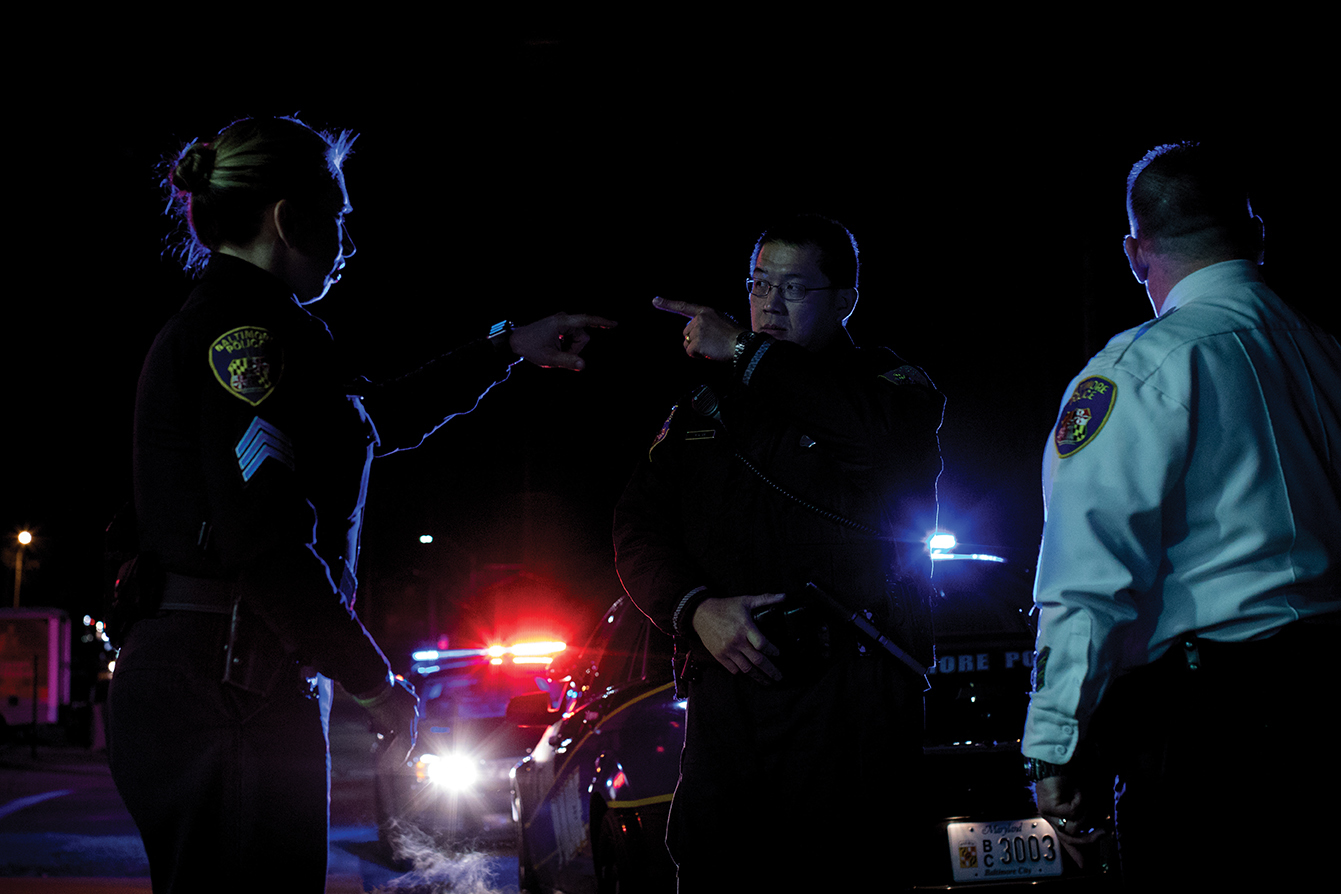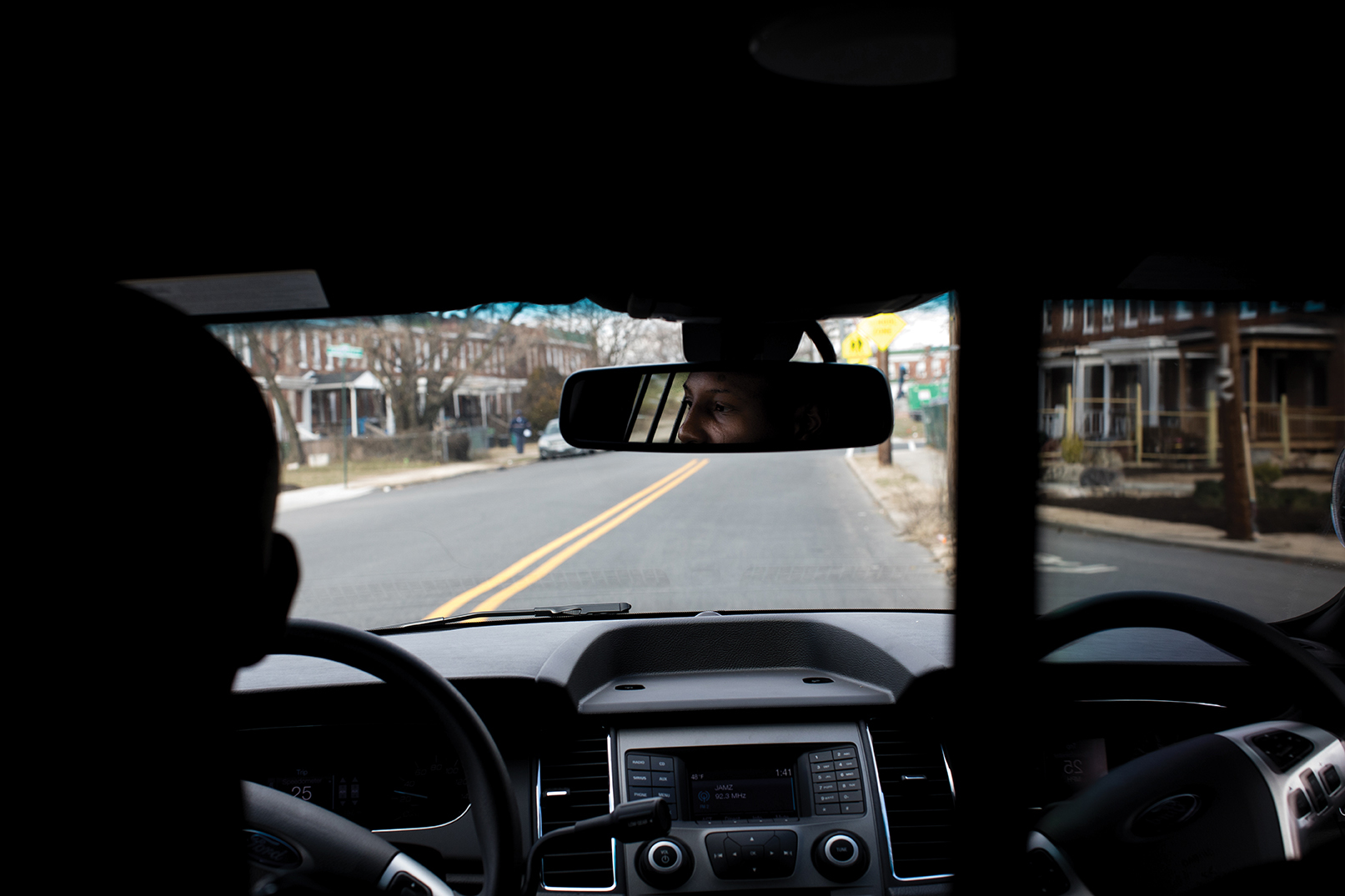 A significant part of civilian Baltimoreans' struggle with their police department is trying to reconcile both the earnest cadets who enter the academy and the good, sincere cops like Gibson, Comegna, Carter, and Guinn, who we all come across in the city, with the findings in the DOJ report. Bad seeds are inevitable in any profession, of course. But the DOJ investigation put the department's failures squarely on the shoulders of its leadership, citing a lack of policy oversight, analysis, supervision, and accountability that is remarkable. Also cited was the willful neglect of citizen complaints.
That said, there are other factors that help contextualize why some cops end up breaking the law and others look away from such infractions. The stress and trauma of the job, ex-police officers and law enforcement leaders say, inevitably lends itself to an insular culture that's not healthy. Not for individuals or the profession as a whole.
Bad cops tend to find each other, longtime ex-law enforcement leaders say. It's not so much that good cops turn their heads from the criminal behavior of other colleagues, but that they simply stay away from cops they don't trust. This may help explain, for example, how the seven, federally indicted cops on a small unit like the Gun Trace Task Force could manage to keep their alleged rogue behavior a secret for so long. (That, and a gross lack of oversight, particularly regarding their alleged inflation of overtime hours.)
"Out of the academy, your focus very quickly shifts to other metrics than serving the public," Moskos says. "How you are judged in your job, your own worth—the 'job well done' pats on the back—that comes from other cops. You go from public-centered approval to police and peer-centered approval. The police world is your world."
"Nobody signs up to become a cynical asshole but that's what I became," says former Louisiana police chief Scott Silverii, author of Why Good Cops Go Bad. "I looked at myself and thought this isn't the guy I knew. The street is where you are taught to assimilate into the police culture. In a lot of ways, these are guys who need to bond. The thin blue line? The code of silence? These things are held very closely."
The bottom line is cops care for each other, Silverii says.
"'Watch your six' or 'I've got your six,' which means I've got your back [six representing the bottom number on a clock], that's the most basic way cops look at things," Silverii explains. Alcohol abuse, higher than average suicide rates, and domestic violence issues among police officers have been the cost of doing business in the past, Silverii says. "Cops will say, 'My wife doesn't understand me.' Who could? And the isolation deepens. The only friends many cops have are other cops because it changes you. It's a self-destructive occupation."
The good news? Police departments are starting to get the idea that the barroom isn't necessarily the best place to wind down, Silverii notes. The BPD, in fact, has expanded both its chaplain and wellness initiatives for employees—an initiative that was also required in the consent decree.
If there is going to be that "sea change" Billy Murphy was talking about in Baltimore policing, BPD officials say it will have to begin at the police academy, where Director Pamela Davis took over last fall.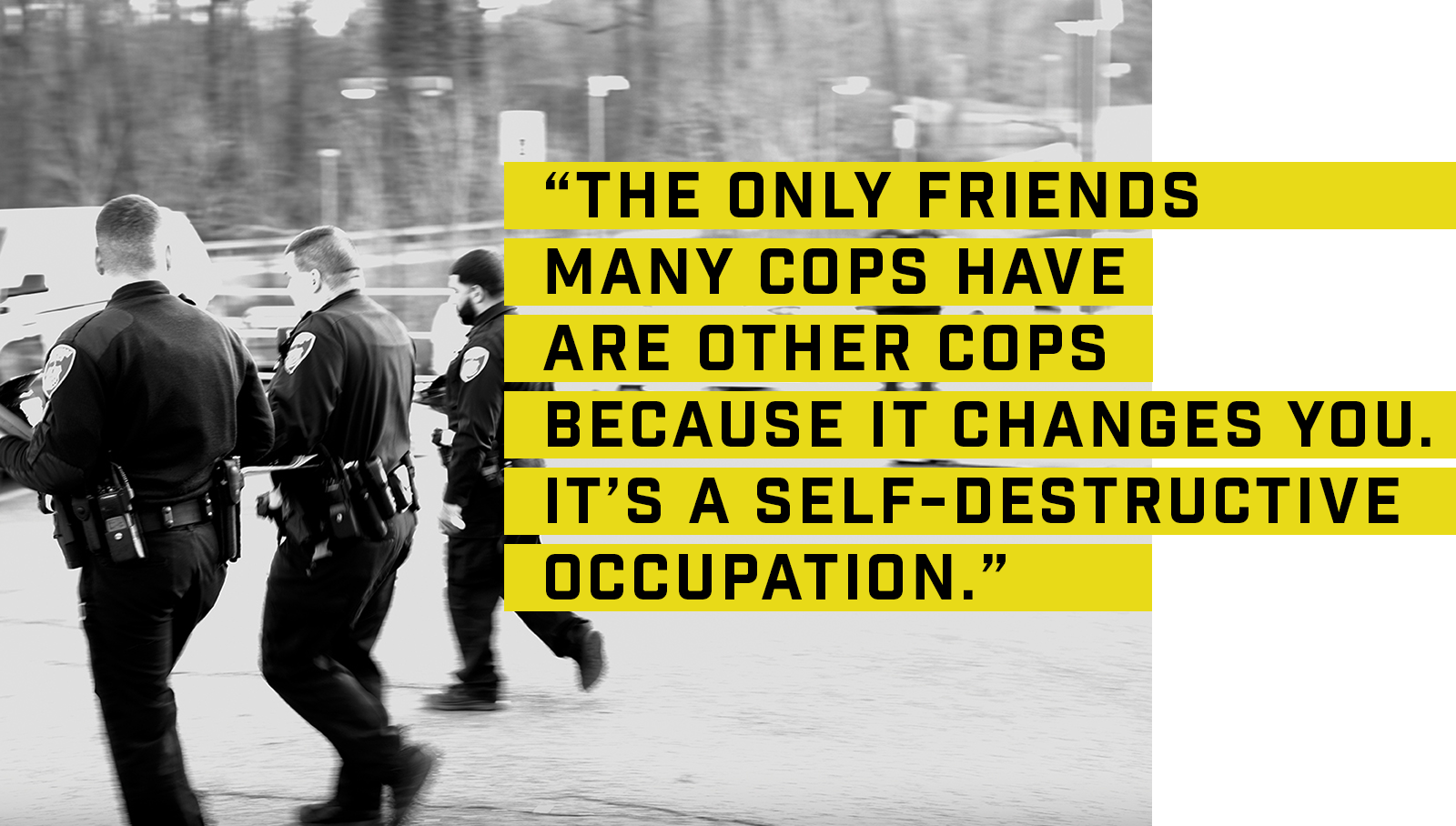 "We're here to explain there is a certain way of doing things," says Davis, who is of no relation to Commissioner Davis, although she did work for him when both served with the Anne Arundel County Police Department. "And the first thing they need to learn is how to talk to people. Then, they need to understand that we are a paramilitary organization and there is a chain of command. But I want them to be critical thinkers at the same time. They are going to be on their own a lot of the time out there."
One of the things a police officer can't afford to be, she says, is an introvert. Most of the work of being a cop is addressing disputes—from minor neighborhood disagreements to family quarrels and worse.
"I've heard people call cops 'social workers with guns,'" says Guinn, the academy training instructor. "You know what? That's 90 percent of the job. It's crisis intervention. The other 10 percent is law enforcement."
Much of the curriculum related to the issues raised by the DOJ is already in place. Training is underway for the full implementation of body cameras. More scenario-based, conflict mediation training, as well as instruction on constitutional law, have been implemented. Veteran officers have begun returning to the academy for their 40 additional training hours this year.
Many, however, are skeptical that the consent decree mandates will make a decisive impact on crime itself in Baltimore.
Neill Franklin, who previously served as head of training for the state police and BPD, acknowledges the reforms called for in the DOJ report are needed.
"Of course, they are," he says. "But in terms of addressing crime, law enforcement, and policing, it deals with about one-half of 1 percent of the issues," he says. "The vast majority of the other 99.5 percent are Baltimore's issues around education, lead paint, housing, public health, addiction, homelessness, joblessness, youth rec centers, and the rest.
"You can't separate any of it from crime and policing," he says. "It's all intertwined."
The most immediate action that city and state leaders could take to combat violent crime, he says, is to legalize and regulate drug use. Franklin says the money needs to be removed from street corners to help end what he describes as "a nearly half-century systemic cause of broken police and community relations." He also calls for tougher penalties for carrying an illegal firearm. "In New York City, it is two years. In Baltimore, people get time served and probation or parole. New York used to have 2,200 murders in the early '90s. Now they have about as many as Baltimore."
Overall, in terms of major crime prevention, that's up to the city—not the police, Franklin says, pointing a finger at the City Council and mayor. "We don't need a two-year plan or a four-year plan that helps them get reelected. We need a comprehensive, holistic 20-year plan.
"Don't get lost in the weeds of this consent decree," he says, adding that "too much focus on any one thing isn't the answer."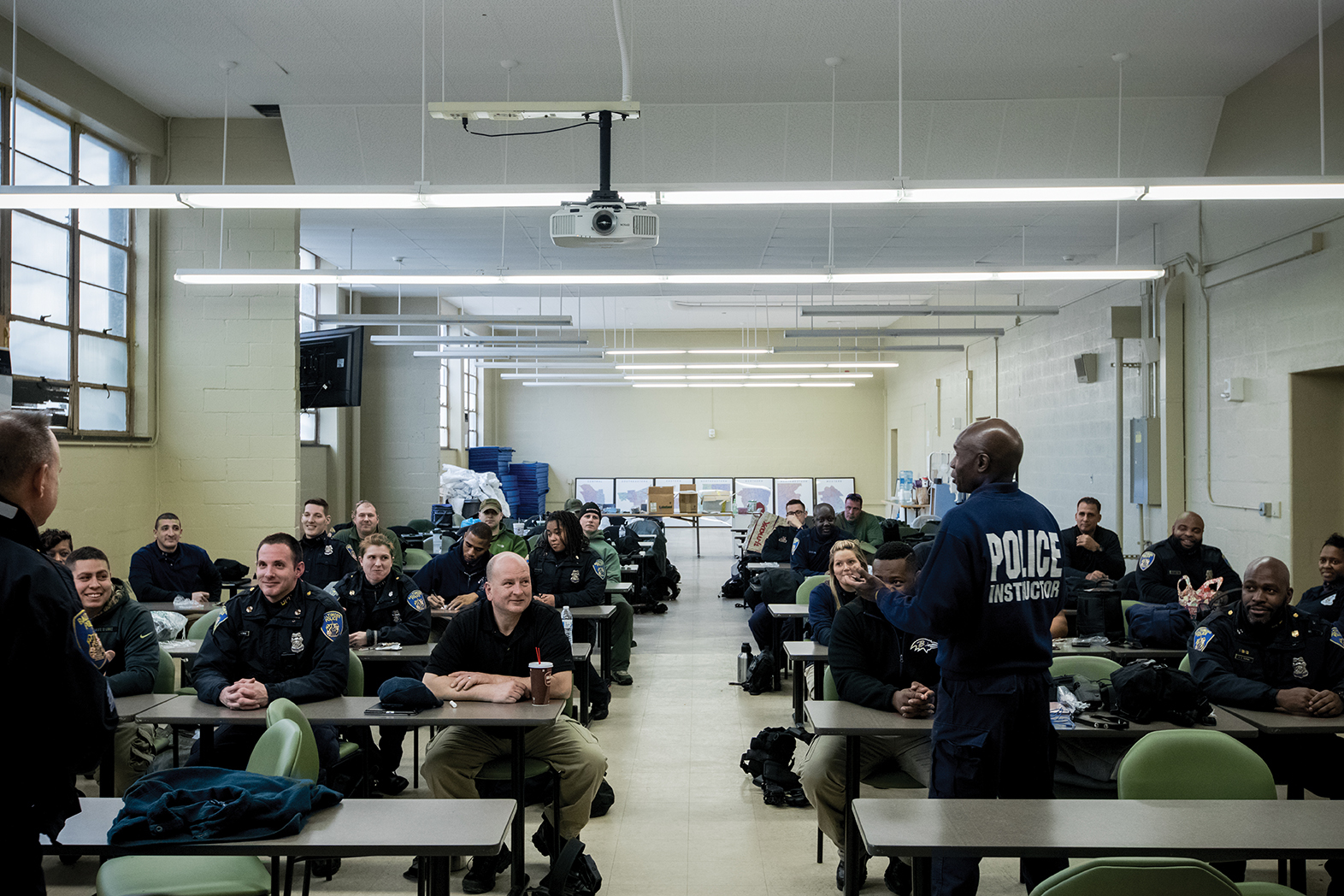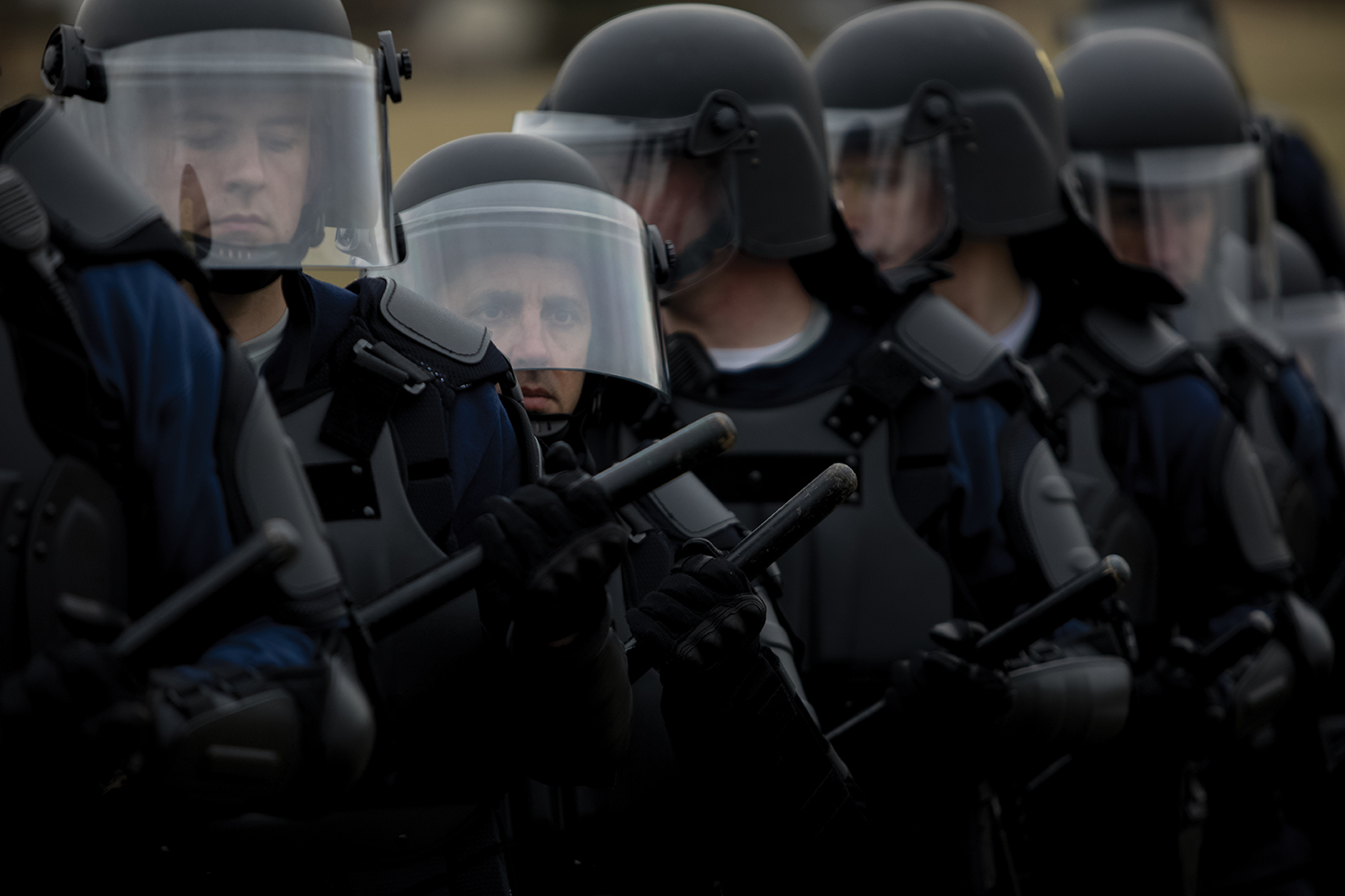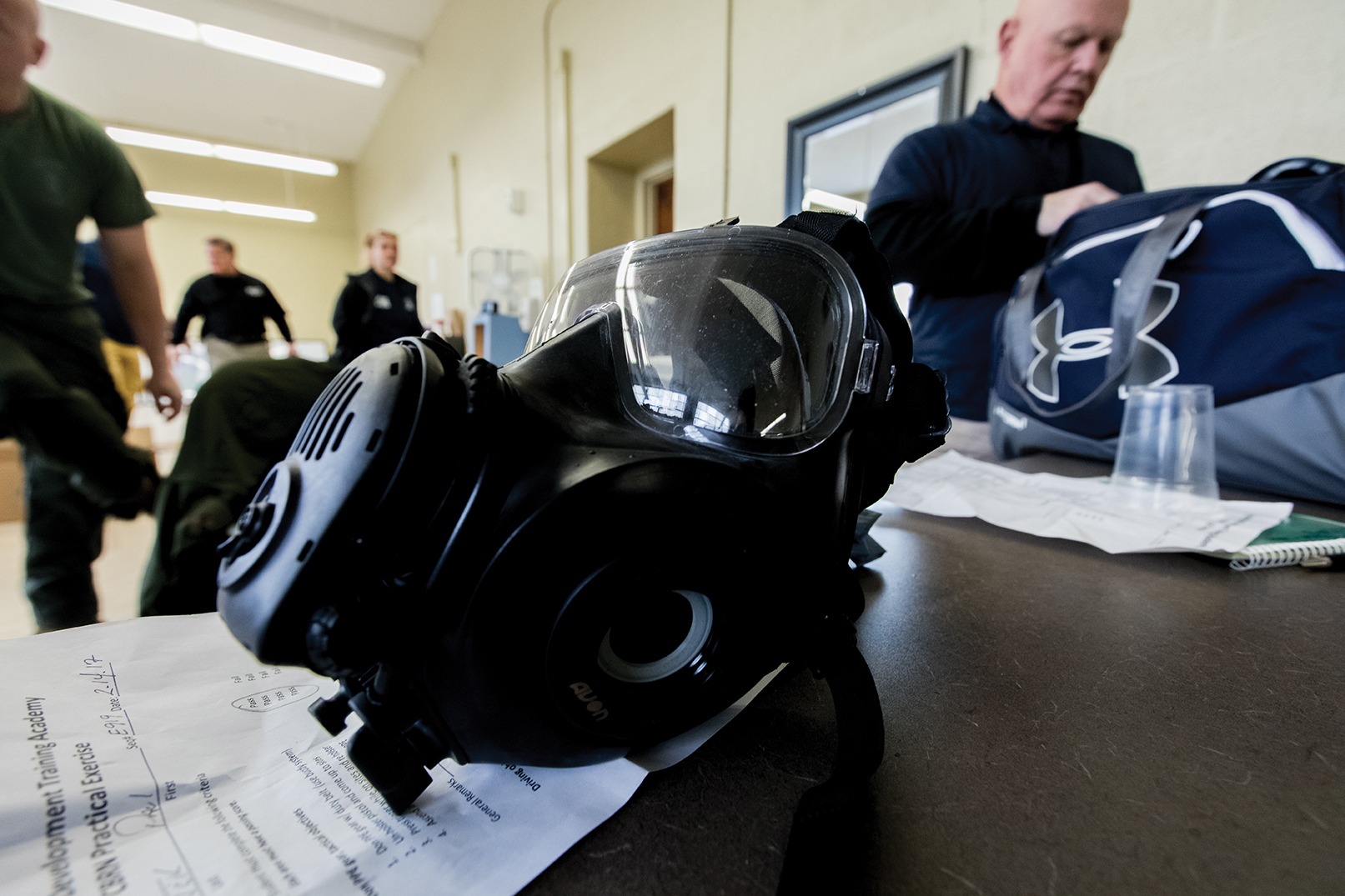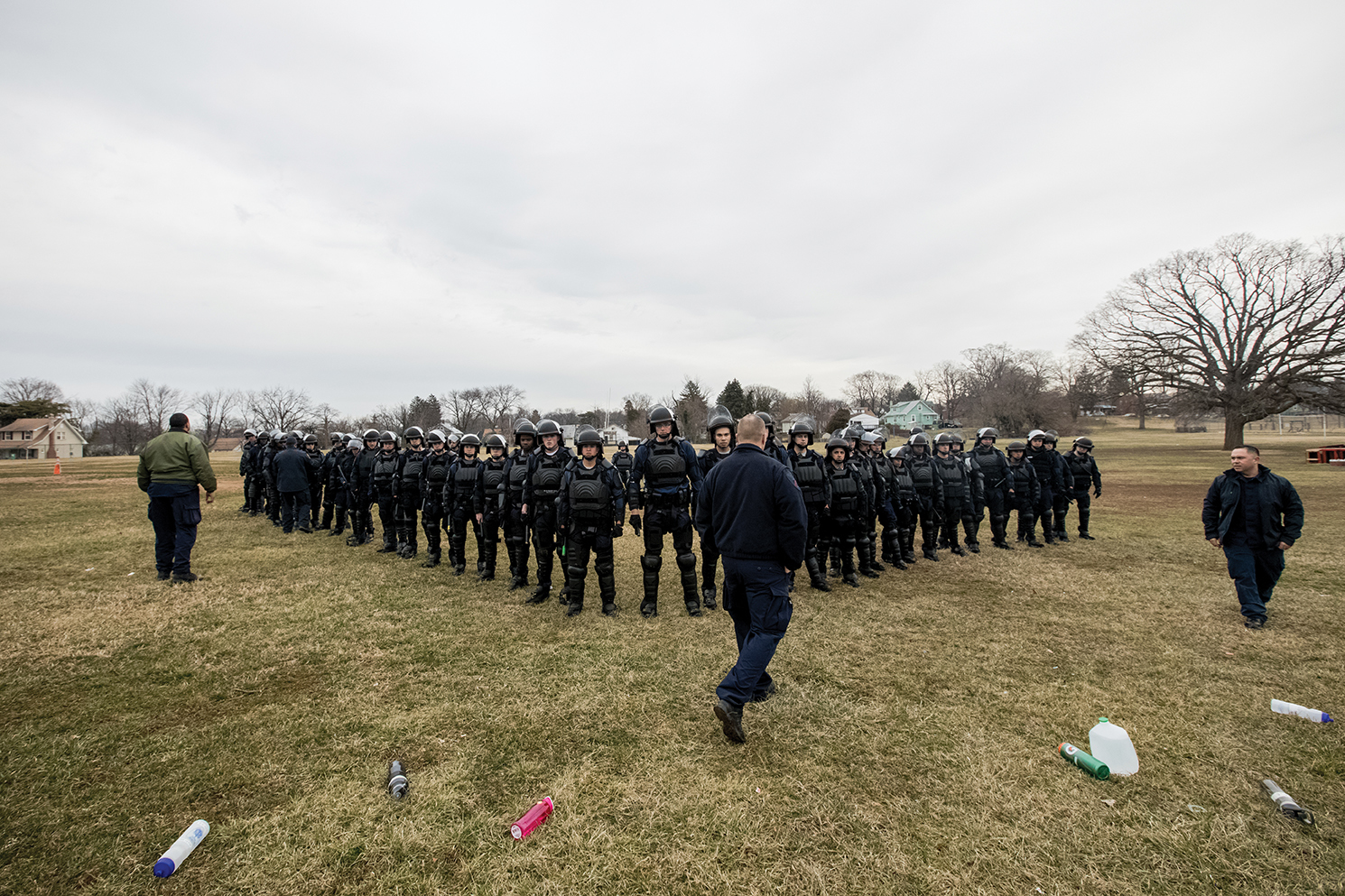 Earlier this year, a staged reading took place at Coppin State University that brought a lot of these ideas of conflict, crime, community, and healing into high relief. The play was Antigone in Ferguson, an updated version of the ancient Greek play, now set around the death of Michael Brown in that city. The Wire's Sonja Sohn and Oscar-nominated actor Paul Giamatti performed the lead roles, and several members of the St. Louis Police Department sang and played the music that accompanied the work.
Afterward, Avis Ransom, co-founder of the Baltimore Racial Action Coalition, sat on a panel with former Police Commissioner Leonard Hamm, and discussed the theme of the play and its relevance to this city.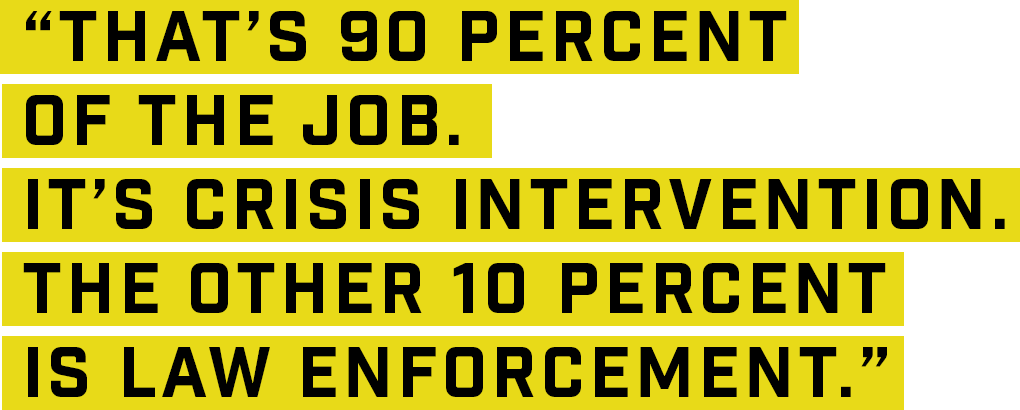 "Ultimately, it's about the King [Giamatti's character] taking responsibility for the deaths he has caused and the harm he's done. He undergoes a transformation and that's powerful to witness," Ransom says. "What I don't hear," she continues, invoking the signing of the consent decree, "is anyone taking responsibility for the harm that has been caused by the decades of policies and practices set forth by our elected officials and enforced by our police department.
"Where is the justice in that?"
It's worth highlighting that city officials and the BPD denied the allegations made against the Baltimore Police Department when they signed the consent decree. It may have been lawyerly language to protect against liability claims, but it is, perhaps, telling, as well.
"I don't doubt that the police department will be reformed," Ransom continues. "I have doubts about whether, or maybe when, our communities will heal. I have doubts that our communities will receive the reparations they deserve and need to help the cycle of violence come to an end."
Several times this year, out of both empathy and frustration, Commissioner Davis has made pleas for the community to get more involved, to look out for its youth, pointing to not just the homicide rate, but also the 30 percent increase in youth robbery arrests last year. Given the uptick in the violent juvenile crime numbers, it can appear as if a whole new generation of youth offenders has been emboldened since the unrest. "We need everybody on board," Davis says. "This isn't just a policing issue."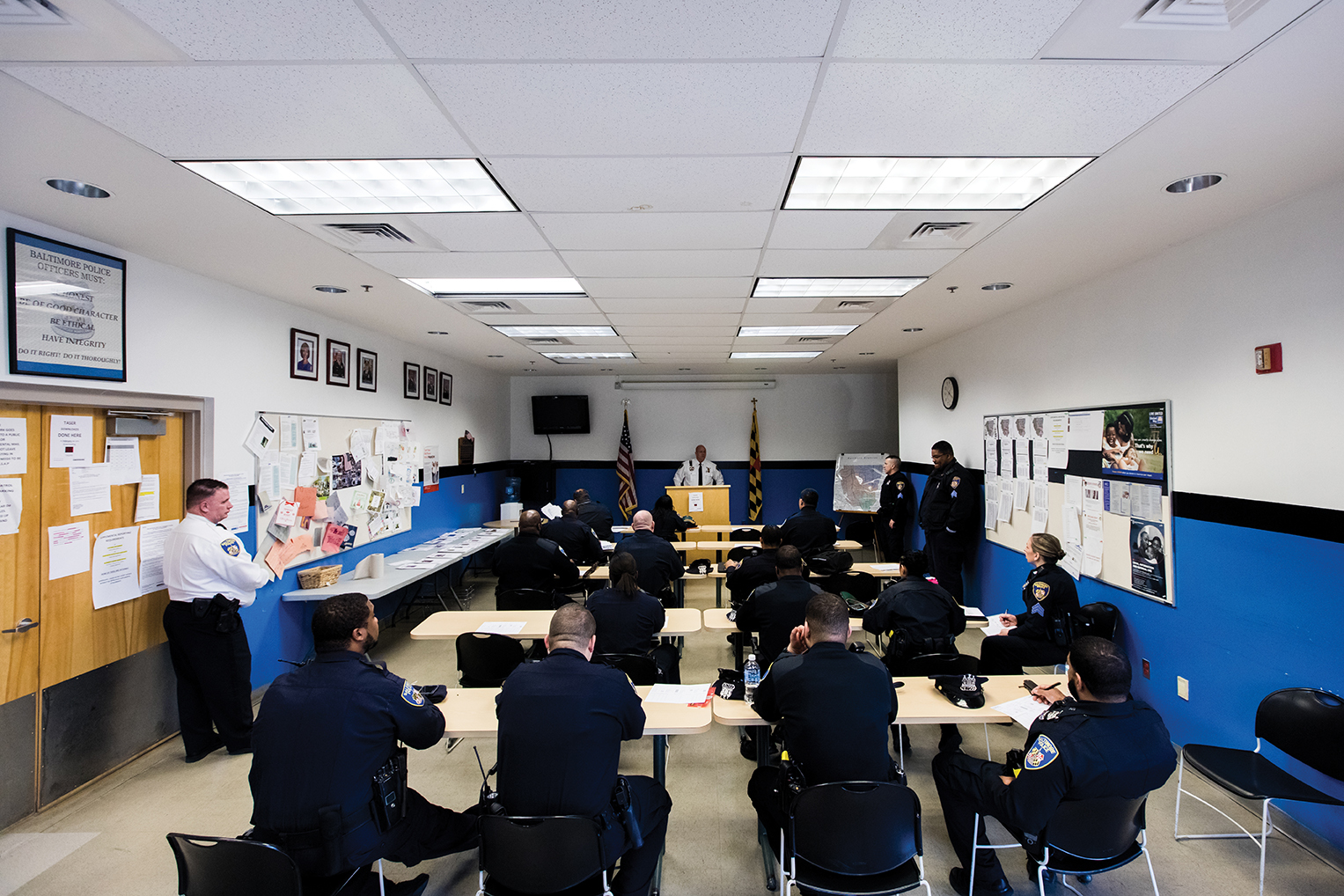 He made more specific remarks when he addressed the police shooting of the man in the mental health crisis swinging knives on Greenmount Avenue after Thanksgiving: "That man had been in psychiatric care recently. This isn't someone that should've been left alone to have an interaction with police."
But the burden placed on officers does not excuse the department's legacy of systemic civil rights violations, Davis says. And it certainly does not excuse the actions of individual officers involved in excessive use of force or any other civil rights abuses.
In one compelling commentary, the DOJ report concluded that BPD past practices, rather than serving its most vulnerable citizens—"perpetuate and fuel" issues rooted in poverty and race, and encourage adversarial and unnecessary interactions and fail to improve public safety.
Davis doesn't dispute that, either. "Look," he says, echoing Franklin's words, "in America, we ask police officers to stand in the gaps—which are really pronounced in Baltimore—created by the society we live in, and be the people who pick up the slack for other agencies. That's a tough job. And it's really shortsighted."
One cop put it this way: "People expect us be to able to jump rope with kids on the sidewalk and then chase down someone waving a gun the next. Who can do that?"