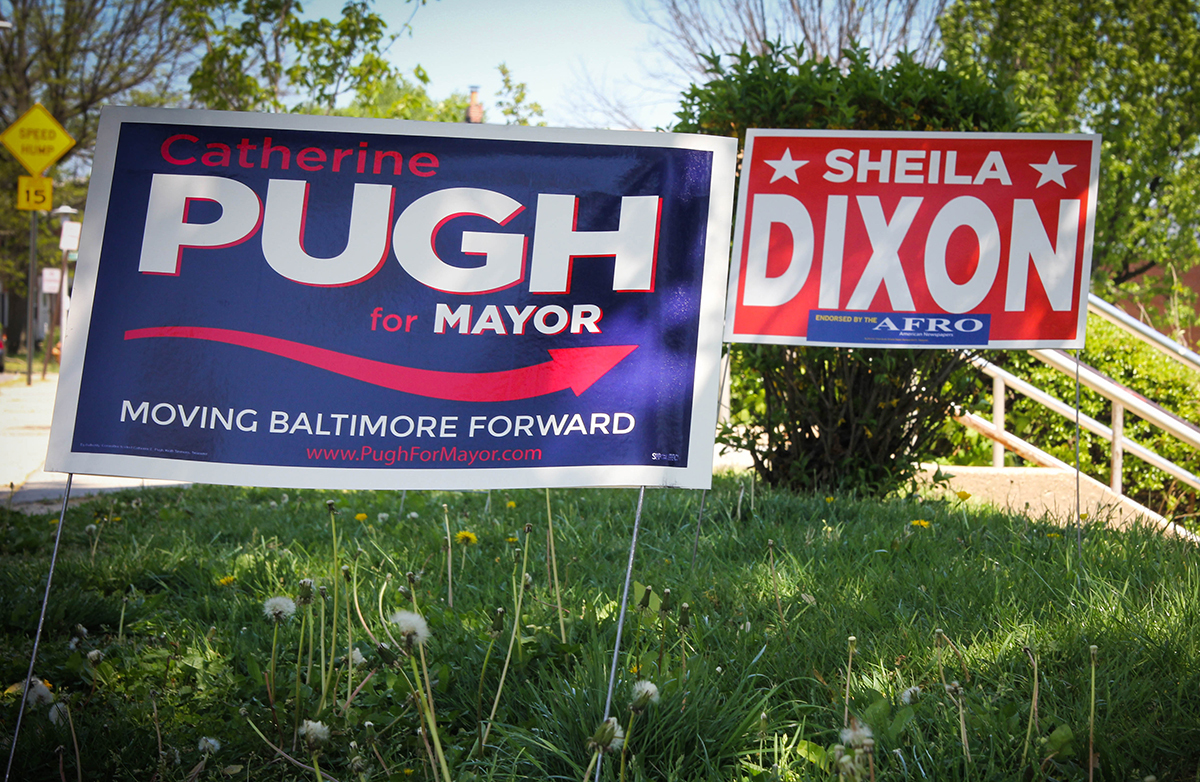 Photography by Meredith Herzing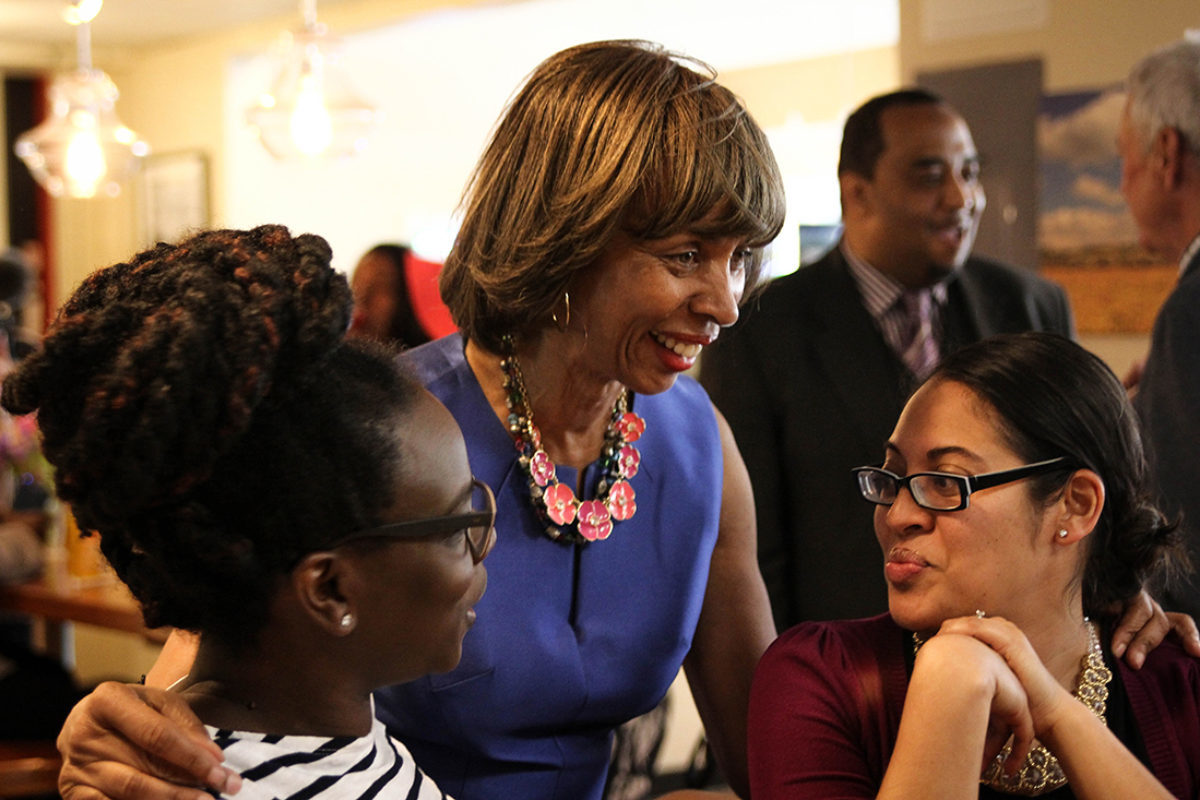 On the other hand, some questionable tactics during the election season have continued today. One example is the slashing of 3rd District City Council candidate Ryan Dorsey's tires this morning, which he discovered at 4:30 a.m. as he was starting his day.
"Thankfully, I have some great neighbors who were willing to help me with transportation," Dorsey said while greeting voters outside Northwood Elementary. "I have had signs slashed and stolen as well during this entire campaign. Big signs, too. Not just the small yard signs that are easily pulled up."
In Bolton Hill, windshield fliers headed "Press Release," with no address or name attached, claimed that former Mayor Dixon, who was forced to resign during her term because of theft and perjury charges, was "set up" by political opponents.
And at Catherine Pugh's campaign headquarters, the windshield of a van that belonged to her campaign was smashed and its tires slashed, and another van was damaged after part-time campaign workers, expecting to be paid, were told they wouldn't be needed today, according to reporting by The Sun.
There were also reports of campaign polling places opening late Tuesday, struggles at some venues with the return to paper but scanned ballots, and finally, a shortage of "I Voted" stickers.
Six of the current 15 City Council members declined this year to seek re-election, including longtime legislators Robert Curran, Helen Holton, and Rochelle "Ricki" Spector, all whom are retiring. First District Councilman Jim Kraft gave up his seat to run for judge, and fellow members Carl Stokes and Nick Mosby gave up their seats to campaign for mayor, although Mosby recently dropped out of the race and endorsed Pugh.
Along with efforts to fill those vacancies, 9th District Councilman William "Pete" Welch, who was initially appointed to the seat by his mother, former Councilwoman Agnes Welch, is expected to face a strong challenge from 37-year-old John Bullock, a Towson University assistant professor of government. Bill Henry, the 4th District city councilman, faces a credible challenge from 35-year-old Brian Hammock, a CSX executive.
In the 13th District, 35-year-old Shannon Sneed, who lost to Councilman Warren Branch by 43 votes in the last election, is running again. And, in the 11th District, Councilman Eric Costello, whose appointment to his seat was supported by Council President Jack Young, faces three credible challengers.
Hardly of lesser importance, Baltimore voters will also choose between Vermont Sen. Bernie Sanders and former Secretary of State Hillary Clinton in the Democratic primary. Sanders drew a big and enthusiastic crowd to the Royal Farms Arena Saturday, but Clinton maintains a sizable lead in Maryland in the latest polling.
On the Republican side, all three candidates, real estate developer Donald Trump, Texas Sen. Ted Cruz, and Ohio Gov. John Kasich held rallies in the Maryland in the last week, but Trump maintains a large lead in the latest polling.
Baltimore voters, meanwhile, are also expected to play a key role deciding between Prince George's Rep. Donna Edwards and Montgomery County Rep. Chris Van Hollen in the Democratic primary race to replace Fells Point native and Maryland stalwart Mikulski, whose groundbreaking political career will come to end early next year.
The Republican primary for Mikulski's long-held seat hasn't received the same attention—the GOP is out-registered 2-1 in the state—but that field includes Baltimore County Del. Kathy Szeliga, Richard Douglas, a former George W. Bush Defense Department appointee from Bladensburg, and Chrys Kefalas, who worked in former Gov. Robert Ehrlich's administration, from East Baltimore's Greektown.
St. Mary's College of Maryland political science professor Todd Eberly says in two of the big races today—the Baltimore mayoral race and the Democratic U.S. Senate primary—Pugh and Van Hollen have become the frontrunners, but he wouldn't be completely surprised if the elections go the other way.
"Edwards ran an attack ad recently that portrayed Van Hollen as soft on guns and the NRA and that backfired," Eberly said. "But until then, it was very close between them. In the other race, Sheila Dixon has a strong core of supporters and I think that race remains combustible, with a lot of undecided voters. I would not be shocked if she won. Stranger things have happened."