In Retrospect
Moments that mattered in 2016.

Ellicott City Decimated by Flash Flooding
In just two hours on the evening of July 30, a storm dumped 6.5 inches of rain on Ellicott City, producing a deluge that swept down the town's historic Main Street, inflicted $23 million of damage, and caused two deaths. The world witnessed the chaos via viral videos, but even those showed only a fraction of the devastation. When the waters of the usually picturesque Tiber and Hudson rivers finally receded, the downtown was strewn with flipped cars, collapsed roads and sidewalks, and a thick coating of mud. Many businesses, particularly those at the bottom of the sloped Main Street, lost everything. Still, the community vowed to rebuild and rallied with fundraisers. A few less severely damaged businesses reopened in late August, but others remain boarded up as business owners wrestle with insurance claims and await infrastructure repairs. (The town received federal disaster designation in September.) Meanwhile, authorities are mulling how to incorporate better storm water management practices in the flood-prone town.

Department of Justice Drops Scathing Report on Baltimore Police
Soon after the death of 25-year-old Freddie Gray in April 2015, the U.S. Department of Justice launched an investigation of the Baltimore City Police Department. On Aug. 10 of this year, the DOJ's 163-page report was released to the public and a press conference was held in which Mayor Stephanie Rawlings-Blake, Police Commissioner Kevin Davis, and DOJ representative Vanita Gupta discussed the findings. Chief among them: Police routinely violated the civil rights of the city's black residents, the department lacked proper oversight and was sometimes negligent in cases of sexual assault, the department needed improved transparency and community engagement, and as a whole, BPD needed upgraded technology and infrastructure. The findings formed the basis for the first steps toward a negotiated settlement, or a "consent decree," and the city and DOJ are currently locked in negotiations, which will mandate specific reforms.
Officers Acquitted, Remaining Charges Dropped in Freddie Gray's Death
After failing to earn a single conviction in its first four attempts, the Baltimore state's attorney's office dropped all charges against the three remaining officers accused in relation to the arrest and death of Freddie Gray. First, Officer William Porter's trial ended in a hung jury. Then, in quick succession, Officer Edward Nero, Officer Caesar Goodson, and Lt. Brian Rice were acquitted in bench trials. The trials of Officer Garrett Miller and Sgt. Alicia White were scrapped, as was a retrial of Porter. The process left many city residents frustrated. Some saw the acquittals as proof that State's Attorney Marilyn Mosby had bungled the cases, rushing to indict in the wake of the unrest following Gray's death. Others felt that the inability to hold any police officer criminally responsible for Gray's death represented business as usual in a city with a checkered history of police violence toward its black citizenry. As for how it will all play out for Mosby, time will tell—she's not up for reelection until 2018.
"For those that believe that I'm anti-police, it's simply not the case. I am anti-police brutality."
—Baltimore State's Attorney Marilyn Mosby defending her decision to bring charges against six police officers

Port Covington Approved Despite Controversy
For years, no one paid much attention to the 266 acres of post-industrial waterfront in South Baltimore now known as Port Covington. Enter Kevin Plank. Throughout 2014, the Under Armour CEO's Sagamore Development Co. spent about $90 million to buy the tract, envisioning a new Under Armour campus and a $5.5 billion mini-city with offices, retail, parks, and commercial space (plus some affordable housing). While some residents were thrilled by the proposal, others were skeptical, wary of gentrification and wondering what the city would really reap for its $660 million tax increment financing investment in the development. In September, Sagamore, the city, and a coalition of South Baltimore neighborhoods reached an agreement whereby Sagamore would provide about $100 million in community benefits as part of the development. With that settled, Plank's plan won approval from the City Council and the mayor. Look for the digging to start pronto.
"I think we're making the right decision."
—City Council President Bernard C. "Jack" Young

Maryland Dominates Olympics and Paralympics
We all know the "America in miniature" slogan about our home state. But during the 2016 Summer Olympics in Rio, it really came true. Maryland-born, -raised, or -trained athletes won a staggering 23 medals—more golds (18) than all but four countries. Of course, leading the pack were swimmers Michael Phelps and Katie Ledecky. But don't forget swimmer Chase Kalisz, basketball players Carmelo Anthony and Angel McCoughtry, wrestlers Kyle Snyder and Helen Maroulis, and volleyball player Aaron Russell, among others. Less than a month later, state pride was on full display at the Paralympics when Tatyana McFadden won four golds in track, Navy's Brad Snyder broke a 30-year-old record in the 100-meter freestyle, and swimmer Rebecca Meyers won multiple golds. Three more swimmers—all Loyola trained—cleaned up in the pool, too.
Crab cakes and gold medals – that's what #Maryland does! https://t.co/ieJCxNMs9G #Olympics
— Larry Hogan (@LarryHogan) August 10, 2016

Baltimore Discovers It's Being Watched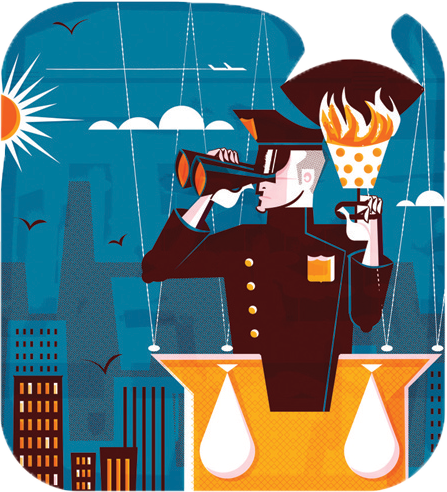 Illustration by Scotty Reifsnyder
In August, Bloomberg News published "Secret Cameras Record Baltimore's Every Move From Above." As the bombshell story detailed, since January, the Baltimore police department has conducted a secret spying program to watch its citizens, just like the kind used by the American military in Iraq. Camera-equipped planes "transmit real-time images to analysts" and the footage—mostly of crime scenes or high-crime areas—can be archived for future use. The project—enabled by technology from Persistent Surveillance Systems—was able to be kept secret from most city officials because it was financed via a private grant through the Baltimore Community Foundation (which also claimed no knowledge of the project). The police downplayed talk of "Big Brother," insisting this is just another effective crime-fighting tool. Meanwhile, many Baltimoreans could do little more than shrug, noting that, between cellphone tracking and blue-light cameras, we were already being watched.
"Imagine Google Earth with TiVo capability."
—Elevator pitch for Persistent Surveillance Systems' technology

Light City Makes its Shimmering Debut
For months, it had been promoted as an unprecedented event—the first large-scale light festival in the country. When it arrived at the end of March, Charm City wondered if it would live up to the hype. It did—mostly. The first Light City Baltimore boasted 28 light installations, dozens of performances, and an innovation conference featuring national and international speakers. All told, the festival attracted more than 400,000 attendees and added $33.8 million to the local economy—drumming up excitement for 2017's iteration. Sure, the weather didn't exactly behave, a few installations underwhelmed, and there was criticism that the social justice emphasis was lost in all the hoopla. (A pending lawsuit between the city and two founding organizers about intellectual property rights also threatens to tarnish the event's luster.) Still, it's always remarkable to see a city come alive, and for those seven nights, it truly did.

Peacock by Tim Scofield and Kyle Miller,
photography courtesy of Baltimore Office of Promotion & the Arts

"It helps bring us together, and yes, it transforms us."
—Baltimore resident Fred Shoken

Pugh Emerges From the Pack
Once Mayor Stephanie Rawlings-Blake announced that she wasn't running for reelection, it truly opened the floodgates in the Baltimore Democratic mayoral primary. No fewer than 13 Democrats ran for mayor—including businessman David Warnock (whose folksy TV ads blanketed the city), upstart attorney Elizabeth Embry (daughter of Abell Foundation's Bob), and Black Lives Matter activist DeRay Mckesson. But in the end, inevitably perhaps, it came down to two longtime political foes—state Sen. Catherine Pugh and controversial former mayor Sheila Dixon. When the dust cleared, Pugh—who gained key endorsements from Kweisi Mfume, Rep. Elijah Cummings, and fellow mayoral candidate Nick Mosby, who dropped out toward the end of the race—won by a narrow margin (36.6 percent to Dixon's 34.7 percent). In the general election (which was held after we went to press), Pugh was projected to beat Republican Alan Walden, the Green Party's Joshua Harris, and—wait for it—Dixon again, who announced a long-shot write-in bid as an independent in October.
We did it — we won! Thank you for all of your support. Let's move Baltimore forward! pic.twitter.com/DgIbgo7hUh
— Catherine Pugh (@MayorElectPugh) April 27, 2016

Carla Hayden Becomes 14th Librarian Of Congress
It's not every day that a Baltimore bookworm gets picked by the president of the United States to head up the immense collection of books, archives, and research held by the Library of Congress. But as longtime CEO of the Enoch Pratt Free Library, Carla Hayden is not your average bibliophile. A beloved figure within the Baltimore community, the 64-year-old Cross Keys resident spent more than 20 years at the Pratt, shepherding the local institution through advancements in technology, multimillion dollar renovations and, of course, the Baltimore Uprising, when she kept all branches open during the unrest and its aftermath. Her longtime friend Barack Obama noticed her hard work, and this September, just as schools were back in session, Hayden was sworn in as the 14th Librarian of Congress. In that moment, she became not only the first African-American to hold the position but the first female, as well.
"More than eighty per cent of librarians are women, but the Librarian of Congress has always been a white man—until now."
—The New Yorker, 9/20

Record Blizzard Blankets Baltimore
Here's a riddle: What was 29.2 inches deep, took some 3,100 pieces of heavy equipment to remove, caused 368 car accidents, and canceled 1,352 flights at BWI? Snowzilla, of course, the record-setting, snow-shovel-breaking blizzard that bore down on the region the weekend of Jan. 23 and 24. Of course, it should have been good news when Gov. Larry Hogan told us all to stay off the roads that Monday—bonus vacation day!—except that we then had to spend the next two days digging through the drifts to find our cars. With up to 35 inches smacking other parts of the state, Hogan also requested federal disaster funds to bankroll the budget-busting cleanup that cost as much as $17 million in Baltimore alone. But hey, at least we set a record.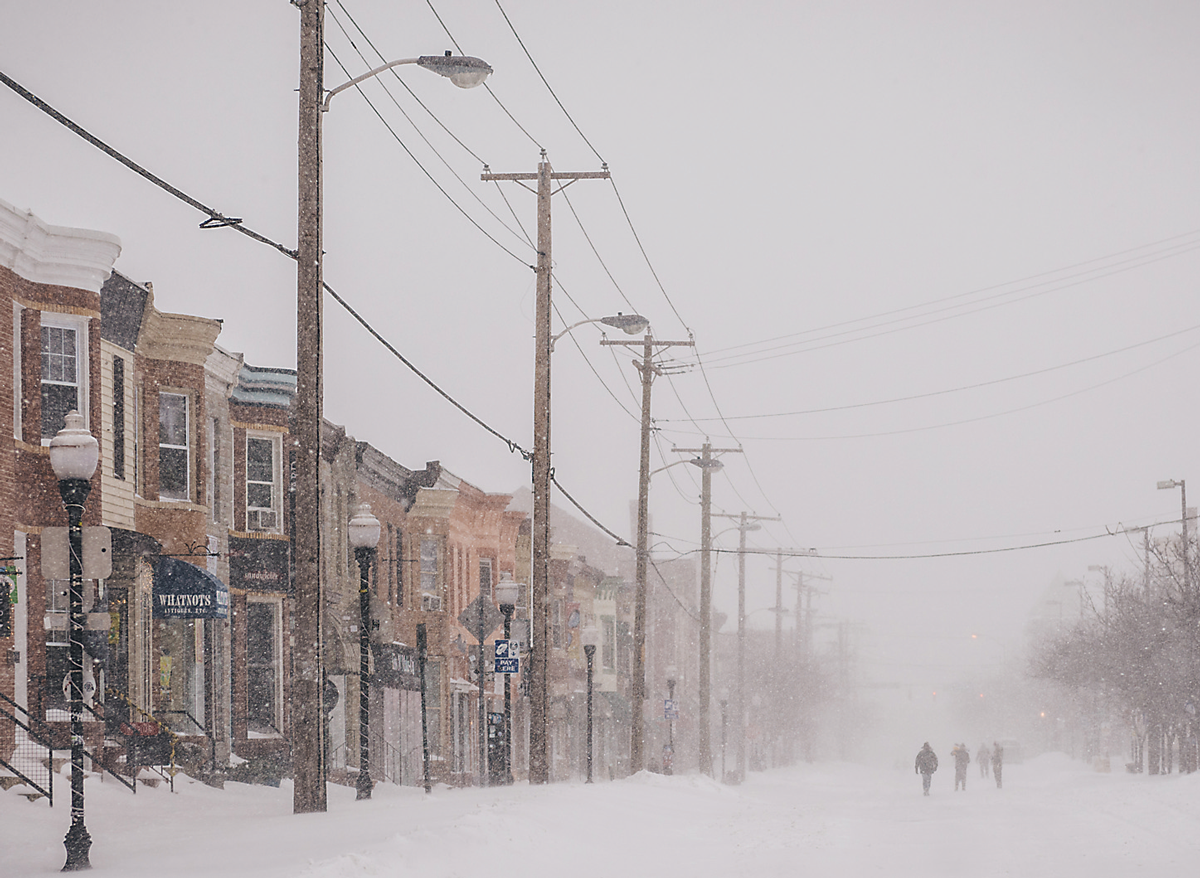 Courtesy of gbrammer
"It blew [previous storms] out of the water."
—Mayor Stephanie Rawlings-Blake

Bike Share (Finally) Rides into Town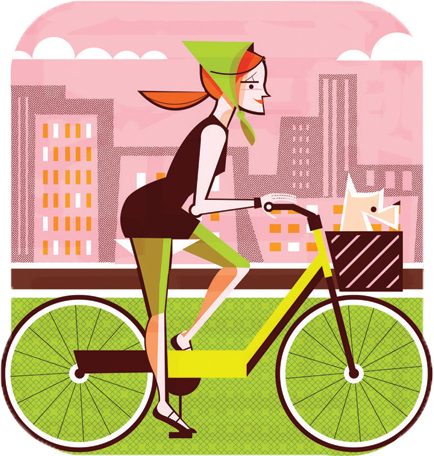 Illustration by Scotty Reifsnyder
Mayor Stephanie Rawlings-Blake first announced plans to bring a bike-sharing program to Baltimore in 2011. So it was with a great sense of satisfaction—and a little bit of relief—that local cyclists finally saw the formal launch of Baltimore Bike Share on Oct. 28. Ultimately, 465 bikes at 50 stations from Locust Point to Station North should be in place by spring. Equally important, construction of the Maryland Avenue cycle track—a dedicated, two-lane bikeway protected by flex posts—is nearly complete. A new downtown network of bike lanes also is getting a build out, which should help folks on those new blue-bike-share rides enjoy a safer cruise. The hope is that Baltimore Bike Share will grow to include more bikes and more stations in more neighborhoods.
"I'm optimistic. There's a lot of good planning in place and funding."
—Liz Cornish, executive director of Bikemore, the city's nonprofit bicycling advocacy organization

Thornton Out, Santelises In as City Schools CEO
Though discontent began building almost as soon as Gregory Thornton took over as city schools CEO in July 2014, most were caught off guard this spring when the school board announced that Thornton was leaving less than two years into a four-year contract. Turns out, even as the school board was publicly supporting Thornton, it had been privately searching for his replacement since last fall. And when Thornton's departure was announced at a May meeting, the board simultaneously revealed his successor—former city schools administrator Sonja Santelises. The surprise ouster pleased Thornton's critics, who blamed him for a drop in enrollment, stagnant test scores, and inert leadership. "Dr. Thornton has . . . not yet provided any kind of operational plan to improve academic instruction, particularly in literacy. . . . There have been only . . . empty promises and generalities," one former school board member told The Sun in February. Though Santelises, who started July 1, seems to be settling in, the switch has not been without hiccups. This fall, the Maryland Open Meeting Compliance Board ruled the city school board twice violated the state's Open Meeting Compliance Act during its secretive CEO search.
"This was not an attempt to be underhanded. Just because the adults had to figure things out, we couldn't let that affect the kids."
—School Board Chair Marnell Cooper

Adnan Syed's Conviction Overturned
Sixteen years after he was found guilty of murdering his ex-girlfriend—and almost two years after his case gained infamy as the subject of the hit podcast Serial—Adnan Syed got his wish when his conviction was overturned by a Baltimore Circuit Court judge in June. The ruling was a long time coming for the former Woodlawn High School student, who launched his latest appeal in late 2014. Judge Martin Welch cited deficiencies in Syed's original legal defense as the reason for a new trial, and insisted that media coverage had not affected his decision. Nevertheless, Welch's judgment proved divisive. The family of the victim, Hae Min Lee, derided the ruling as a miscarriage of justice, and the Maryland attorney general's office is appealing it. In September, elected state's attorneys from every jurisdiction in Maryland except Baltimore County, Baltimore City, and Cecil County signed a petition opposing Welch's decision, too. However, Syed's brother called it "not only a win for us but a win for a lot of people who are stuck in the system." With no new trial in sight, Syed's attorneys filed a motion for bail in October, stating their client represents no danger to the community and poses no flight risk.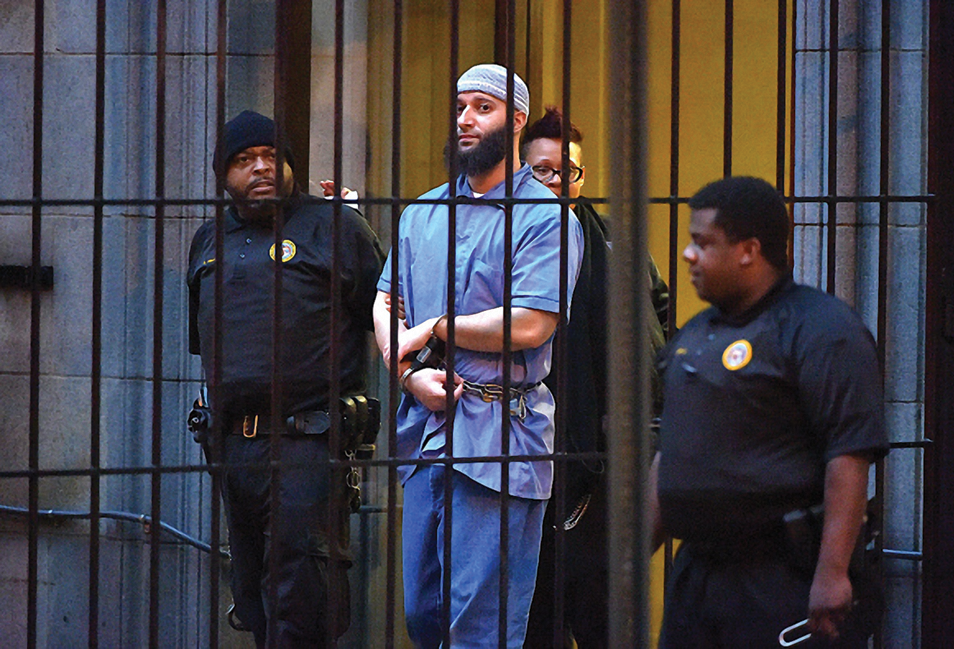 Getty Images/The Baltimore Sun
"If the state is so confident in its case, the state should do the right thing and give Syed a fair trial he never received the first time around."
—C. Justin Brown, Syed's lead attorney to The Baltimore Sun

Harriet Tubman Announced as New Face of $20 Bill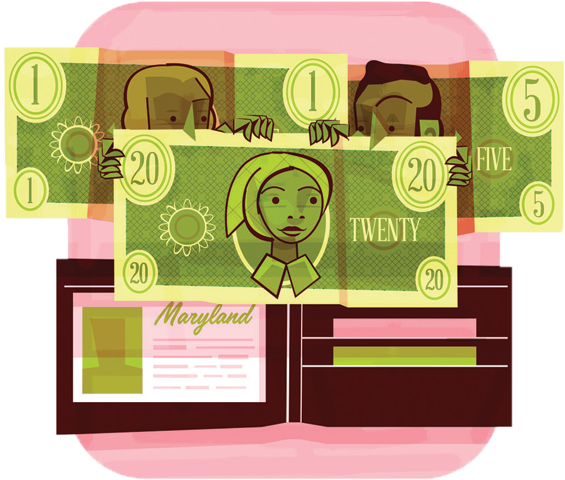 Illustration by Scotty Reifsnyder
This past spring, after months of debate, the U.S. Treasury Department announced that Harriet Tubman would be on the $20 bill, making her the first woman and African-American honored on modern paper currency. Tubman will displace Andrew Jackson, moving the seventh U.S. president (and known slaveholder) to the back of the bill. Born in Dorchester County in 1820, Tubman escaped slavery in her late 20s and became perhaps the most famous "conductor" of the Underground Railroad, as well as a prominent abolitionist. While final designs will not be revealed until 2020, the move marks a symbolic shift and victory for gender equality and women everywhere.
"This is . . . a victory for the millions of American people, young and old, who cared enough about women and their worth to rally for this historic change."
—Susan Ades Stone, executive director of the campaign to put Tubman on the bill

Howard County Sheriff Forced Out
Three-term Howard County sheriff James Fitzgerald was forced to resign in October following protests and threats of impeachment spurred by the release of a 48-page report detailing an alleged history of bigoted behavior. In the report, the majority of those interviewed described Fitzgerald as "vindictive and abusive." He is accused of using racial epithets to describe African Americans, belittling the intelligence of his black deputies, and disparaging government officials who are female, gay, Asian, and Jewish. One witness said that Fitzgerald referred to former Howard County Executive Ken Ulman as "little Kenny Jew-boy." The investigation was launched after a complaint by one of Fitzgerald's deputies, who resigned after what he alleged was years of retaliatory behavior by the sheriff for refusing to support his reelection bid.
"We really pride ourselves on being a place where we don't just tolerate diversity, we celebrate it."
—Howard County Council Chairman Calvin Ball


Miller Makes History at Hopkins Hospital
After 127 years of male leadership, The John Hopkins Hospital sparked considerable fanfare when it named 49-year-old hospital exec Dr. Redonda Miller as its president in May. Though Miller's gender marks her as a trailblazer, in many ways she was an obvious choice: She earned her medical degree and completed her internship and residency in internal medicine at Hopkins, and subsequently served in numerous teaching, clinical, and high-ranking administrative roles there. Said Johns Hopkins Health System president Ronald Peterson: "Redonda's extraordinary combination of exceptional medical prowess, years of progressive administrative experience, and the well-earned respect of senior clinical and administrative leadership will serve us all well." For her part, Miller took her glass ceiling-shattering moment in stride: "I'm very proud to be the first female president, and it does send a message to other women aspiring to leadership roles, but gender won't play into my day-to-day role."
"We didn't necessarily set out to do this, but increasingly, we are trying to make sure we look at a diverse pool of candidates. I am personally pleased that the best candidate happened to be a woman."
—Ronald Peterson, president of the Johns Hopkins Health System

Bel-Loc Diner To Become a Starbucks?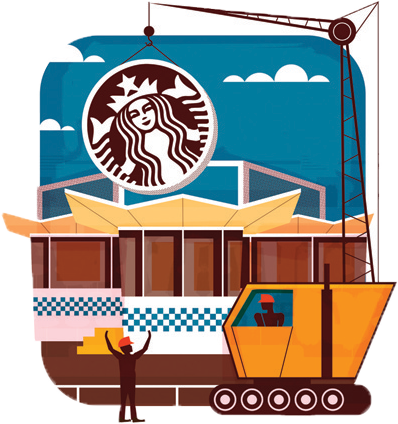 Illustration by Scotty Reifsnyder
With its foil-colored, folded-plate roofline and neon signage, the space age-inspired Bel-Loc Diner was a beaut when it opened on April 4, 1964, to the tune of $112,544. Serving burgers, fries, and shakes around the clock for 52 years, the Parkville joint at 1700 E. Joppa Road was where you went for a slice of pie—and a piece of the past. So when the Starbucks Corporation submitted plans to replace the diner with the ever-expanding coffee chain and drive-through, preservationists protested. In June, the plans were approved by the Baltimore County Department of Planning, but they're still awaiting approval by the permits department before getting green-lighted. Good to the last drop? Stay tuned.
"It's a truly unique part of Baltimore's history."
—Baltimore County Councilman David Marks

Joyce Scott is Officially A Genius
Baltimore, and Maryland for that matter, has long been aware of Joyce Scott's artistic prowess. For decades, she has melded social activism, sculpture, and jewelry into intricately beaded works that challenge our ideas about society and civil rights, and are displayed in museums around the world. So when "Aunt" Joyce was lauded locally and nationally this year, Charm City's art scene rejoiced. In May, she won a $50,000 Baker Artist Award, one of the city's top honors for working artists. But the biggest news came in September, when the MacArthur Foundation announced that Scott was a recipient of one of its "genius grants," which recognize the country's greatest creative thinkers. Each comes with a $625,000 prize. Now, we await Scott's artistic response to her banner year. If it's like her past work, it will be remarkable.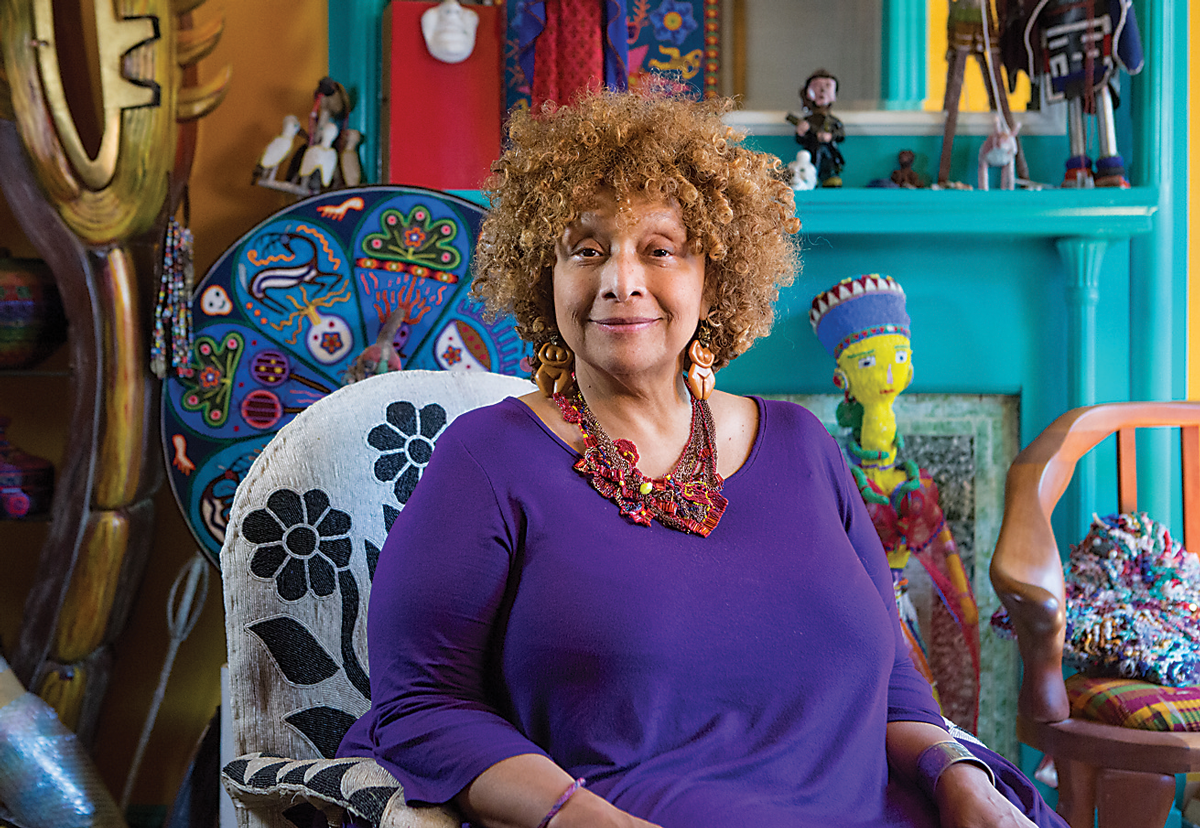 Courtesy of John D. & Catherine T. MacArthur Foundation
"This is an amazing time for me. At 67, all my dreams are coming true, and then I'm getting new dreams."
—Joyce Scott

A Hedgehog Storms Fox45
At first, it seemed like a Halloween prank gone awry. In May, a man dressed in a hedgehog costume and wielding a flash drive containing a conspiracy rant walked into the lobby of Fox45, threatening to blow himself up unless the TV station broadcast his message. Fox45 staffers were evacuated and covered their own story via social media. Many followed along, snarking on the situation's absurdity, especially after a bomb-detecting robot determined that the "bomb" was, in fact, candy bars stuffed inside of a life preserver. But the event took a sad turn when it became clear that then-25-year-old Alex Brizzi—shot, but not killed, by police to end the standoff—was suffering from the symptoms of severe mental illness. "We really didn't see this coming," said his father, Ed. "We were looking at him, trying to assess him, trying to figure out what to do. He's 25 years old, so I can't say, 'You've got to go into the hospital.'"
"This is a very, very unusual event."
—Police Commissioner Kevin Davis


Cal and Kelly Are Kaput
After almost 30 years of marriage, Cal and Kelly Ripken called it quits in April. By the time the public heard about it, a settlement had been reached, and all court documents were sealed to protect the couple's privacy. But that didn't stop speculations about what happened to the former golden couple of Maryland sports, who met in a Cockeysville nightclub in 1983. Cal, who moved to Annapolis in 2015, didn't comment publicly on the matter—but through her legal team, Kelly did. "Kelly has been a great mother . . . and a wonderful, faithful wife for the duration of the parties' relationship, which lasted more than 30 years," said Sanford Ain, Kelly's lawyer. While gossips were left to parse that statement for clues, the Ripkens tied up loose ends, listing their sprawling 25-acre Reisterstown home for a cool $12.5 million in September.
"Everybody continues to go along in life in a way we all do, I suppose."
—Cal Ripken commenting on his family life to The Baltimore Sun before the split was announced.
Online Exclusive!
We've compiled a list of our favorite Baltimore-related viral videos of 2016.