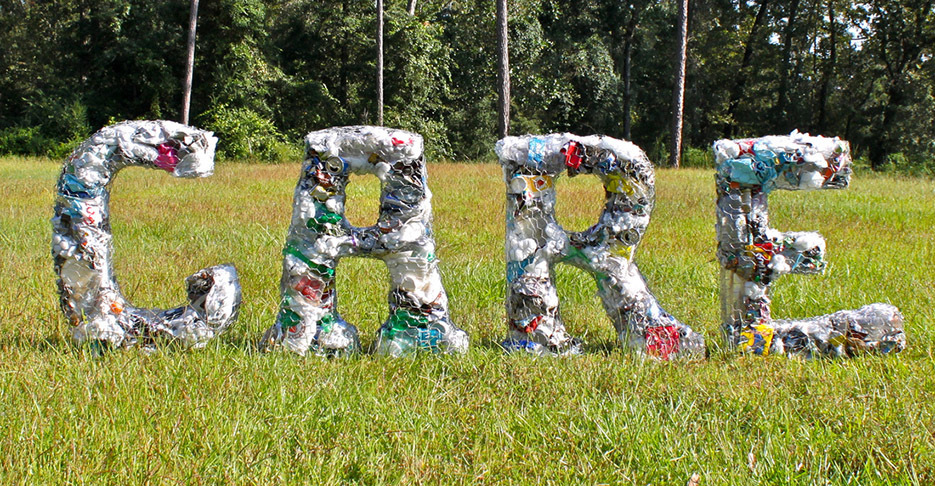 The Litter Letter Project
When the 25 members of YouthWorks were told their summer would be spent collecting trash, they weren't quite sure what they were getting into.
The Waterfront Partnership's Healthy Harbor initiative partnered with the Southeast CDC and YouthWorks to create a visual message about the dangers of littering and the importance of keeping Baltimore's waterways clean.
"It was difficult to describe to the kids in the beginning," said Malia Pownall at the Waterfront Partnership. "It's kind of crazy to present this idea that you're going to build these 3D structures and fill it with trash—that doesn't sound exciting."
The Litter Letter Project began in 2013 in Louisiana, and has expanded to reach more than 10 cities across the country, with structures in Europe and Australia as well. Using a 3D messaging system, the goal is to encourage dialogue in the community about how littering and recycling habits can change for the better.
For five weeks, students collected garbage around Southeast Baltimore while learning about how it affects the city and its waterways. They were taken on boat rides through the Inner Harbor to get a first hand encounter about where the trash ends up and what the pollution does to the environment.
"Now that they've learned what happens when you throw trash on the ground, they've stopped littering," said YouthWorks crew supervisor Shahem McLaurin. "It upsets them now when they see people litter."
While working on the trash collection and beautification in Southeast Baltimore, the students chose a word that was meaningful on a personal level that would also deliver the message of taking pride in the neighborhood and its health.
"I wanted them to have a sense of ownership over the project, I gave them ideas like 'HOPE' or 'CLEAN,' as some direction," Pownall said. "They chose 'BMORE,' which is cool because it's where they're from, and where they live— there's ownership there."
The five-letter word 'BMORE'—each letter is 5-feet tall, 4-feet wide—made of steel and chicken wire, took nearly four days to complete and will be on display at the Conkling Street Garden in Highlandtown.
Currently, there is no word on whether the project will repeat next summer, but the folks at Waterfront Partnership and YouthWorks are hopeful that more students will have the opportunity to have this experience.
"I'm hoping to create change," Pownall said. "I want the youth to be agents of change and advocates for the environment."