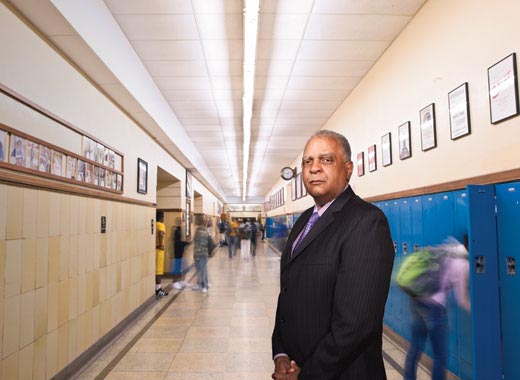 MilwaukeeMag.com
The Baltimore City Board of School Commissioners announced Tuesday
that after a national search it has chosen Gregory
Thornton, superintendent of Milwaukee's public schools, to be the next
CEO of Baltimore City Public Schools.
Born and raised in Philadelphia, according to a bio provided
by BCPS, Thornton attended Philadelphia public schools and then Temple
University, earning his degree in elementary education in 1977. After
starting as a teacher, he quickly moved to the principal ranks, serving
as principal at four elementary and high schools in Maryland, Delaware,
and North Carolina between 1981 and 1997.
"There are defining
points in one's career and one's life, and opportunities like this one,
to really transform the lives of children, come along rarely," Thornton
said in a press release.
"Baltimore's school district is in an exciting place, where there is
work underway and a strong base of community support in place to change
the future for our children. Baltimore's students deserve the best
possible education, to be competitive and meet the challenges of this
new economy and ever-changing world."
Thornton has big shoes to fill in replacing Alonso, who recently accepted a prestigious professorship at Harvard
and whose six-year tenure leading the city school system was widely
hailed for lowering the drop rate and increasing graduation numbers.
In
2004, Thornton became chief academic officer of the School District
of Philadelphia, "overseeing all facets of the instructional, school
management, accountability, policy and compliance programs of the
190,000-student, $2.2 billion district and its then 272 schools,"
according to the BCPS bio.
"We have a solid foundation of
progress, and we are now building on that progress through the
implementation of long-term reforms in areas where Dr. Thornton has deep
experience and demonstrated expertise," said school board chair
Shanaysha Sauls in making the announcement. "Additionally, the
priorities and values exhibited across Dr. Thornton's career align
closely with those driving the work in City Schools—from engaging
parents and communities to investing in the capacity of staff and
embracing the importance of high-quality learning environments."
Freeman
A. Hrabowski III, president of the University of Maryland, Baltimore
County, described Thornton as "one of the nation's most admired
educational leaders."
"Dr. Thornton is known to be a strong
academic leader, one who understands the importance of emphasizing the
whole child," Hrabowski said in a statement. "Most important, he knows
how to build community involvement in a school system and is committed
to supporting urban children and families. His experience in several
major school districts around the country will serve him well in
Baltimore."
From the Baltimore City Public Schools press release:
"Dr.
Thornton comes to Baltimore nearly four years into the superintendency
in Milwaukee, a district comparable in size to City Schools, with 80,000
students, 165 schools and a $1.1 billion budget. Under his leadership,
Milwaukee Public Schools has seen an increase in its graduation rate, in
the number of students attending college and in college scholarships;
scholarships for the Class of 2013 topped $24 million, up from $18
million the year before. Like Baltimore City, Milwaukee participates in
the National Assessment of Educational Progress Trial Urban District
Assessment, and the latest TUDA results from December 2013 show
Milwaukee student achievement scores not only on the rise, but growing
at a faster pace than the national average in reading and mathematics."
Milwaukee magazine profiled Thornton in April of 2012.