Food & Drink
Family Meal
We rediscover the joy of breaking bread.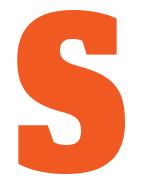 haring a meal is rarely about the food itself. Yes, when we hear the familiar refrain, "Dinner is ready," it's what brings us to the table (or the floor, depending on where in the world we eat). But once seated in the company of others, dining together nourishes not only our bodies but our souls. It's a place where we say our blessings (sometimes literally, sometimes figuratively), swap stories old and new, and learn life lessons that stick with us—and even shape us—for the years to follow.
Whether it's with family or friends (often one in the same), the concept of communal eating is as old as time itself. From the Qesem Cave in Israel, there's evidence of diners amassing around a 300,000-year-old hearth—the oldest ever found. And at the ancient Mount Vesuvius volcano in Italy, archaeologists have unearthed a 2,000-year-old loaf of bread—with eight scored wedges clearly meant to be divided. Even the phrase "breaking bread" dates back to the Bible. But while the idea of eating a home-cooked meal together has been around for eons, sadly, the practice is on the verge of extinction.
The signs are everywhere, whether you queue up at a fast-food joint, indulge in your car (where writer Michael Pollan estimates about 20 percent of our food intake occurs in America), or even take note of the disappearing dining room, now replaced by the multi-purpose "great room." We should rage against the family meal's disappearance. In fact, scientists have long studied the importance of sharing a meal, from building bonds to promoting healthy eating habits, helping kids perform better in school, lowering high-risk behavior, and even boosting vocabulary.
On the bright side, though, in some corners of Baltimore, family meals are alive and well. From spring through summer, we visited three of our favorite local families who still take the time to bond over bread. Through regularly scheduled repasts, dining together remains a part of their ritual, whether they're digging into an array of heirloom recipes or myriad plates of global cuisine.
What we've learned from joining them is this: If the kitchen is, indeed, the heart of the home, the family table is its lifeblood.
---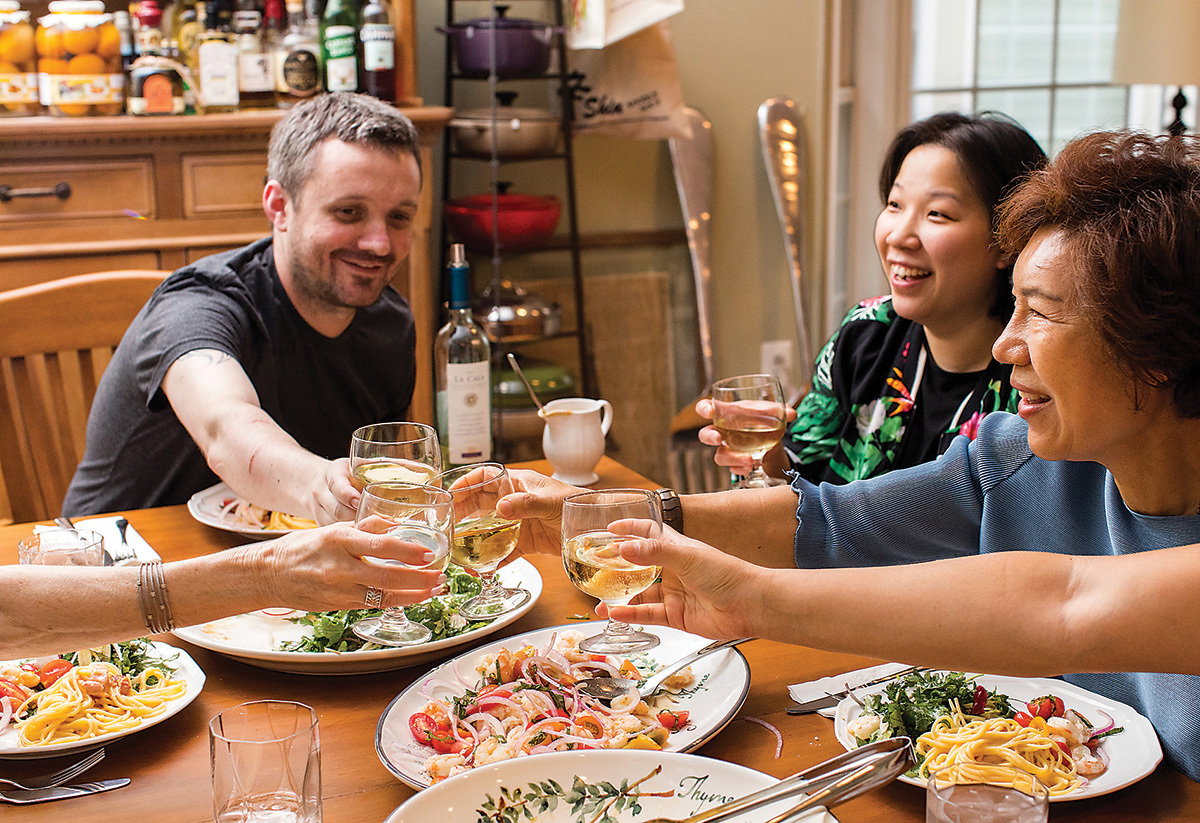 Liz and Kevin Irish
Owners, The Local Fry
To say that Liz and Kevin Irish have a well-stocked kitchen would be an understatement. There's a drawer stuffed with springform pans in every conceivable size for Kevin's cheesecakes. There's a cabinet devoted solely to cutting boards. They're quick to point out one wall of the space known as "the coffee section," which includes a Chemex pot, a Nespresso machine, a French press, an Italian espresso pot, and a coffee grinder. In another area, Liz's collection of some 15 teapots is stowed in a cabinet. "I'm not a hoarder," she cracks. "I promise."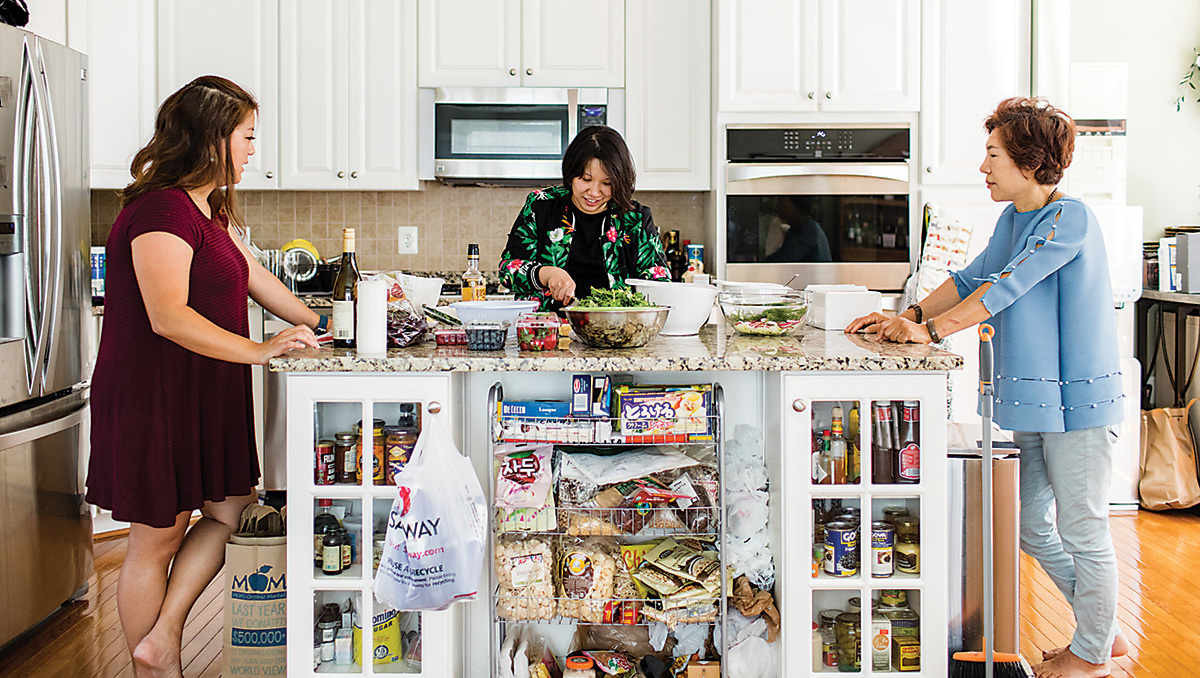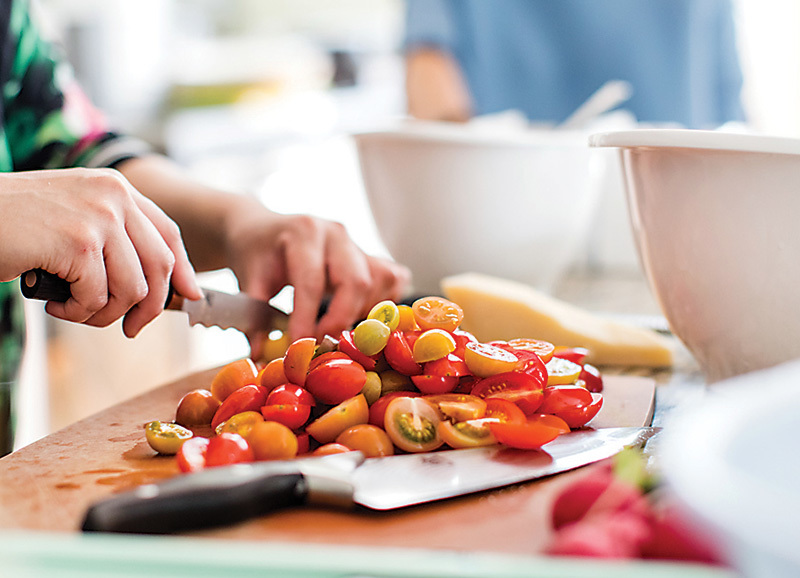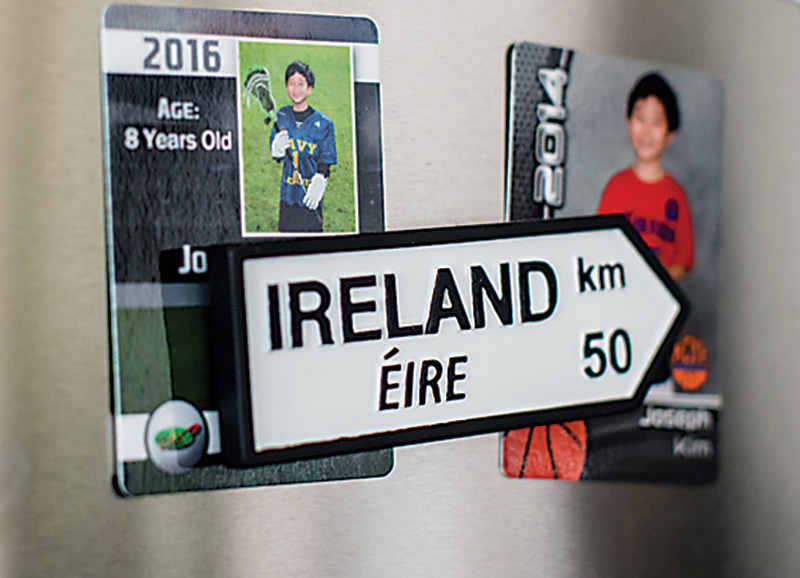 It's often a culinary truism: The nicer the kitchen, the lesser the cook. But that's not the case here in this Hanover kitchen, where the Irishes, owners of The Local Fry, often welcome family (including Liz's mother, Hye Jung Kim) and friends to their home on Mondays, when their shops are closed, to make an elaborate late lunch.
On this sunny Monday in early summer, Liz stands at her granite island using a mandolin to slice radishes for her mixed greens and fennel salad, and, with craftsman-like precision, chops bacon for a pasta sauce. With her hands, she also tosses raw shrimp with salt and pepper, seasoning everything by memory.
"In Korean, we call it sohn mat, which translates to hand taste," offers her friend Lois Han, a frequent guest at the table and first-generation Korean-American, like Liz. "The idea is that you're extending love though your hands."
Liz's mother, Hye Jung Kim, assists in pan-frying the gambe a la Catalana, or Catalonian shrimp. "This recipe is from a restaurant in Milan called Trattoria La Grigilia," says Liz. "I like to eat at restaurants and then try recreating versions of the dishes at home."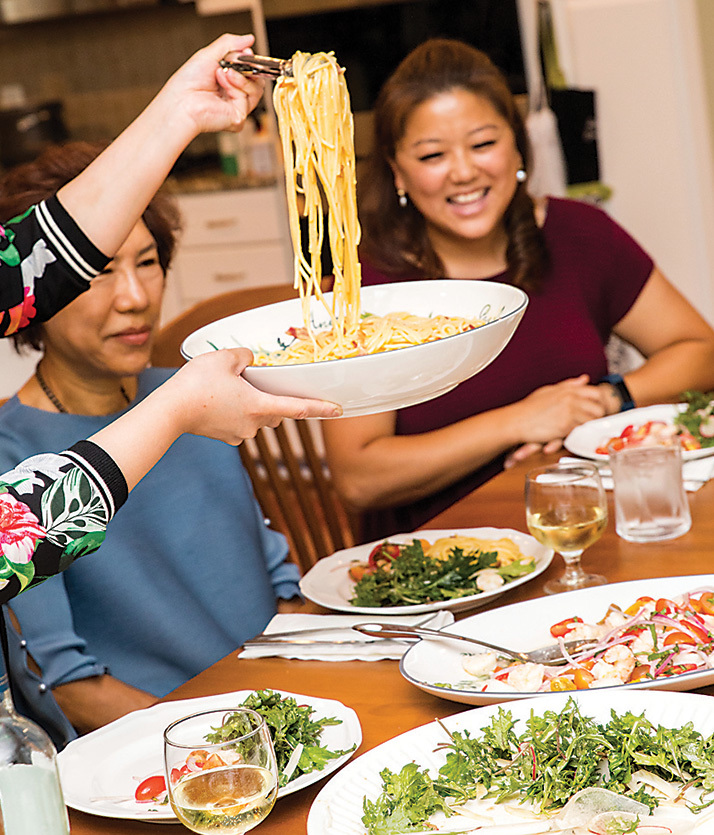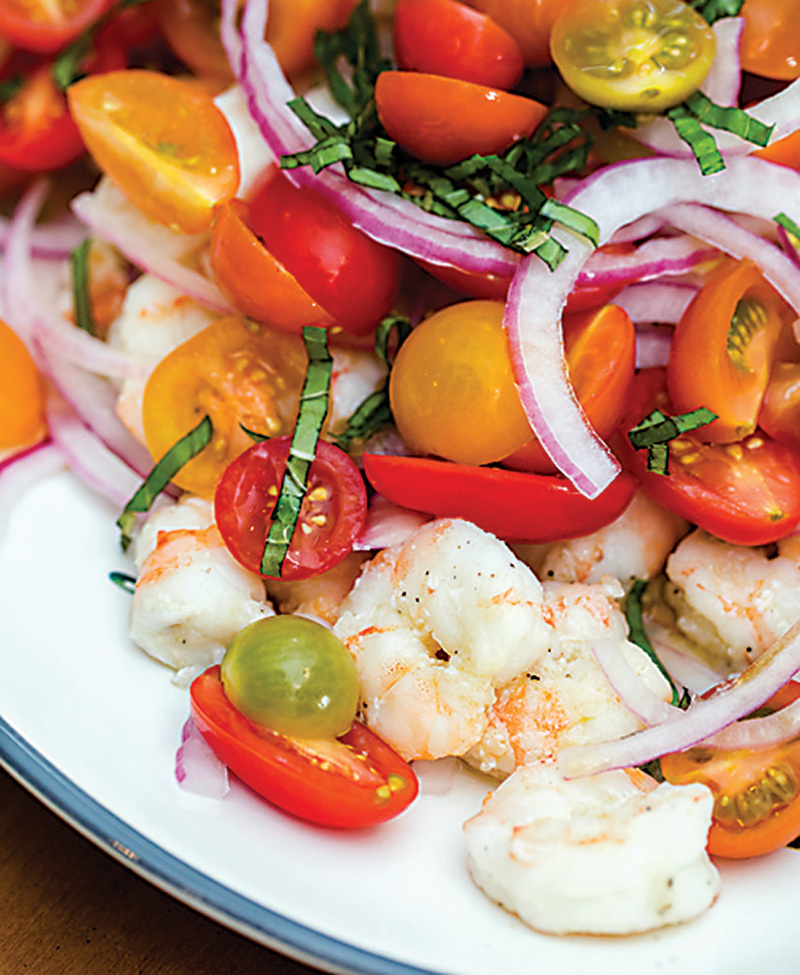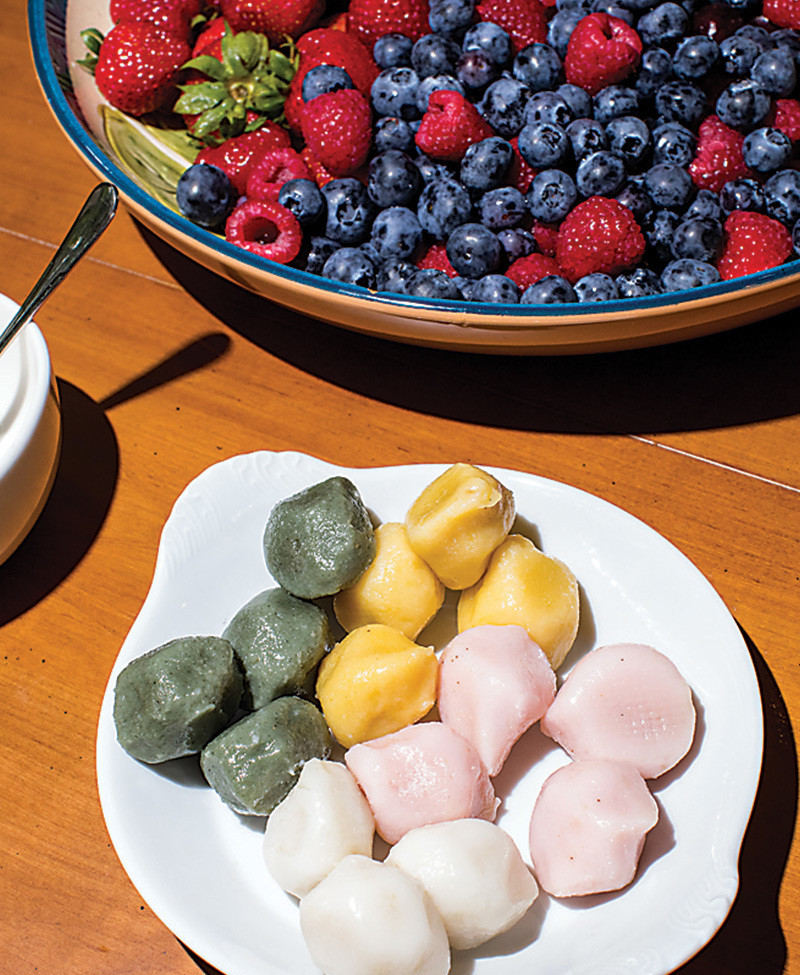 Growing up, her parents, themselves restaurant owners of Baltimore's Kimmy's Restaurant & Carry Out, didn't have much time for gatherings like this one. "My parents immigrated from South Korea and were working, so I didn't see them a lot," Liz recalls. "After Kevin and I got married, we always wanted to entertain, because I didn't really grow up sitting around the table unless it was a holiday." In Kevin's case, his family ate together often, though the food tended toward standard Irish fare—steak and kidney pie, corned beef and cabbage, and always, always potatoes. "There would be four kinds of potatoes at a meal," he says with a laugh.
The couple's love of food—and each other—plays out like a rom-com. They met in Europe 12 years ago. Liz, a Baltimore native, was traveling abroad. Kevin was visiting France from Waterford, Ireland. They spoke for the first time in a youth hostel in Paris and formed a whirlwind friendship over two days before she went back to America. By the summer of 2006, she had moved to Milan for a job in fashion, and still more than 1,000 miles apart, the two started to date. "Kevin hadn't tried sushi or Korean food or anything of the sort," says Liz, "so whenever he would visit me, we would go on food adventures."
Now Baltimore restaurant owners, their food adventures take place closer to home these days. "I like these meals on Mondays because it's really relaxing to sit down and not worry about work," says Liz. "I like to see people smile when they're eating my food," she adds, looking at Kevin as he contentedly pops a shrimp into his mouth.
---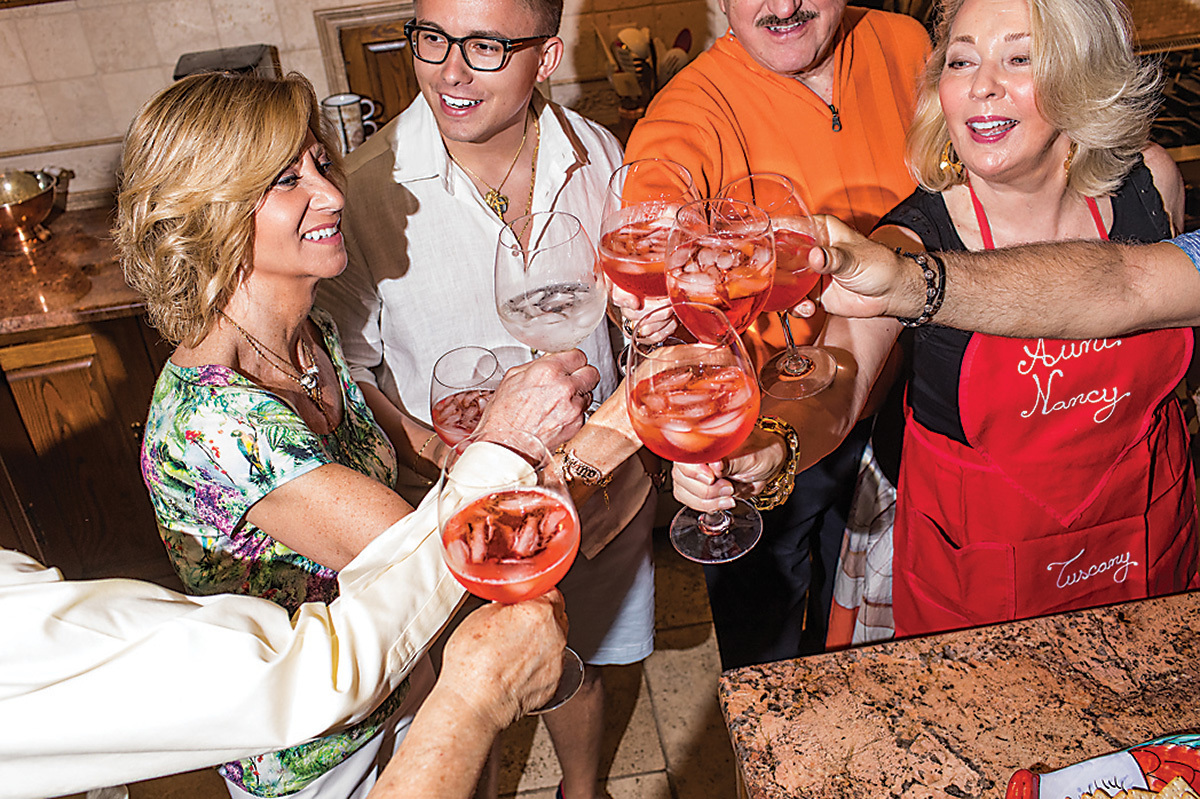 Mary Ann and Mimmo Cricchio (& Friends)
Owners of Da Mimmo Ristorante
When Mary Ann Cricchio sits down to dinner, whether it's during a pre-service meal at her veteran ristorante or a ritual Sunday supper with friends in Baltimore County, it's all about la famiglia. For the matriarch of Da Mimmo's and maestra of Little Italy, sharing food has always been, in true Italian fashion, a big affair.
And while there's no such thing as a leisurely Friday night meal in the restaurant business, at least one Sunday a month, after morning mass at St. Leo's, she packs up her car and hops on I-83 to break bread with longtime friends Tom and Nancy Stuehler, owners of La Fontaine Bleue catering and Backfins Grille in Glen Burnie. They are, by all measures, family—their friendship developed over a gourmet dinner club in the 1980s. Nowadays, "We celebrate every holiday together—Thanksgiving, Christmas," says Mary Ann. "The only major events we've ever missed in each other's lives was Nancy's wedding day, because my son was being born. We're so close, we're almost like sisters."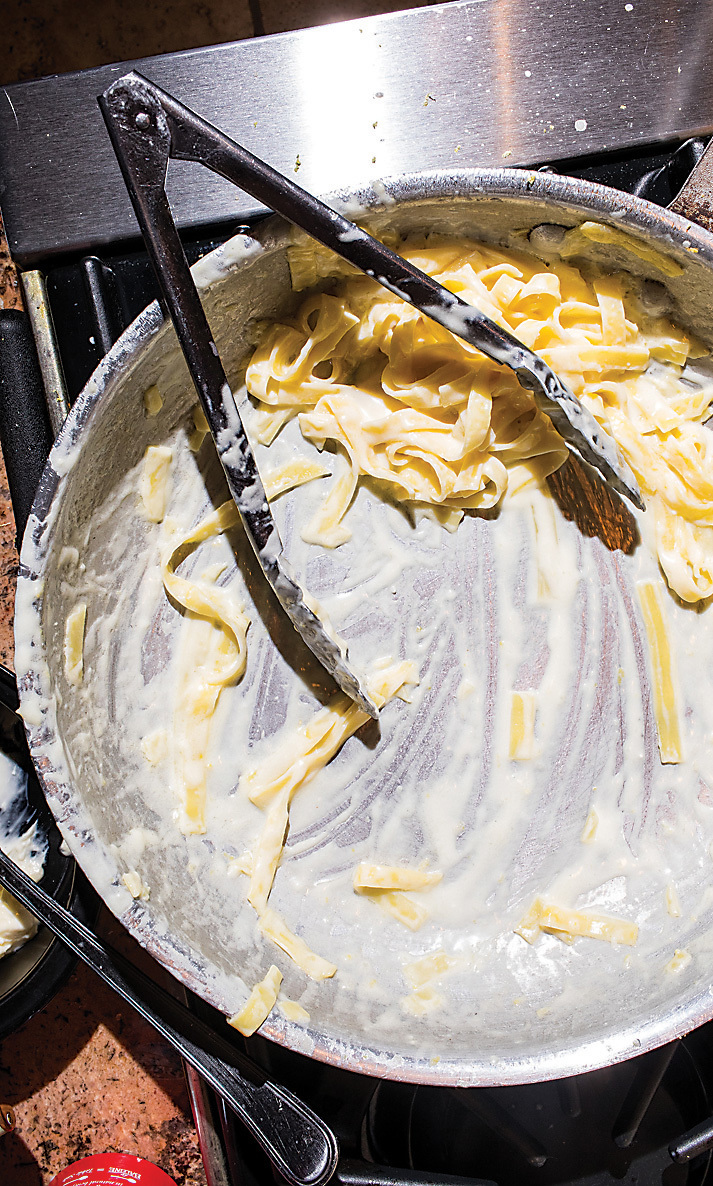 At these Falls Road feasts, everyone arrives around 1 p.m., including Mary Ann's 27-year-old son, Mimmo, and the restaurant's chef, Masood Masoodi, who has also become like kin. A smattering of other guests trickle in, too, including siblings, neighbors, and family doctors, and no one comes empty-handed.
The Cricchios bring the wine and make the cocktails: Aperol spritz on this Memorial Day weekend. "That's the Italians' drink of summer," Mary Ann says. "Aperol, prosecco, a little club soda—saluti!" They pass the time in the pool, play tennis, and prep mise en place over platters of antipasti—salami, prosciutto, mozzarella, mushrooms, hearts of palm—while Nancy and Masood prepare the entrees.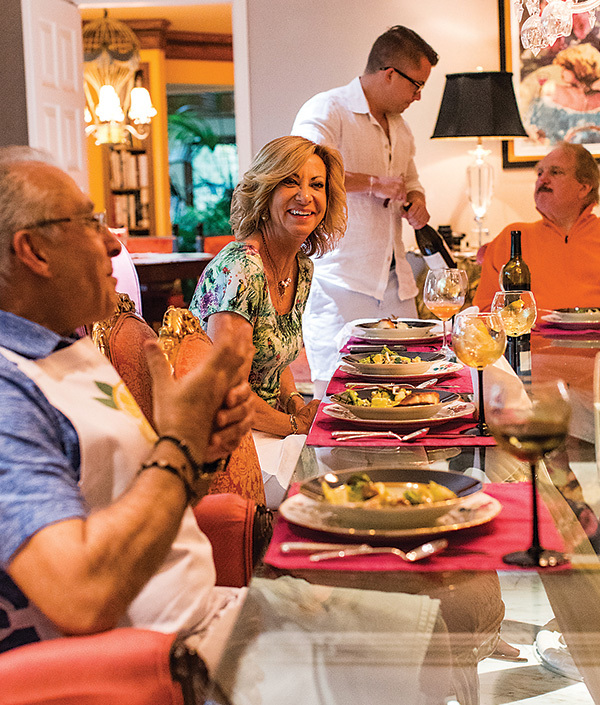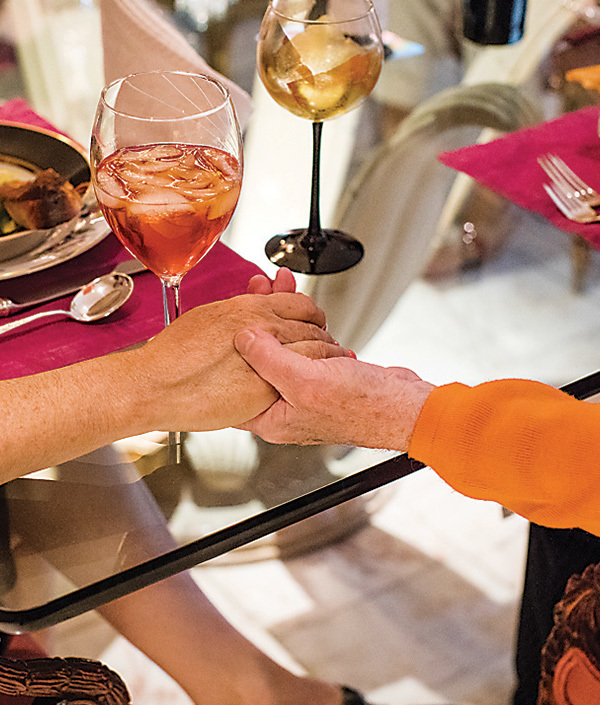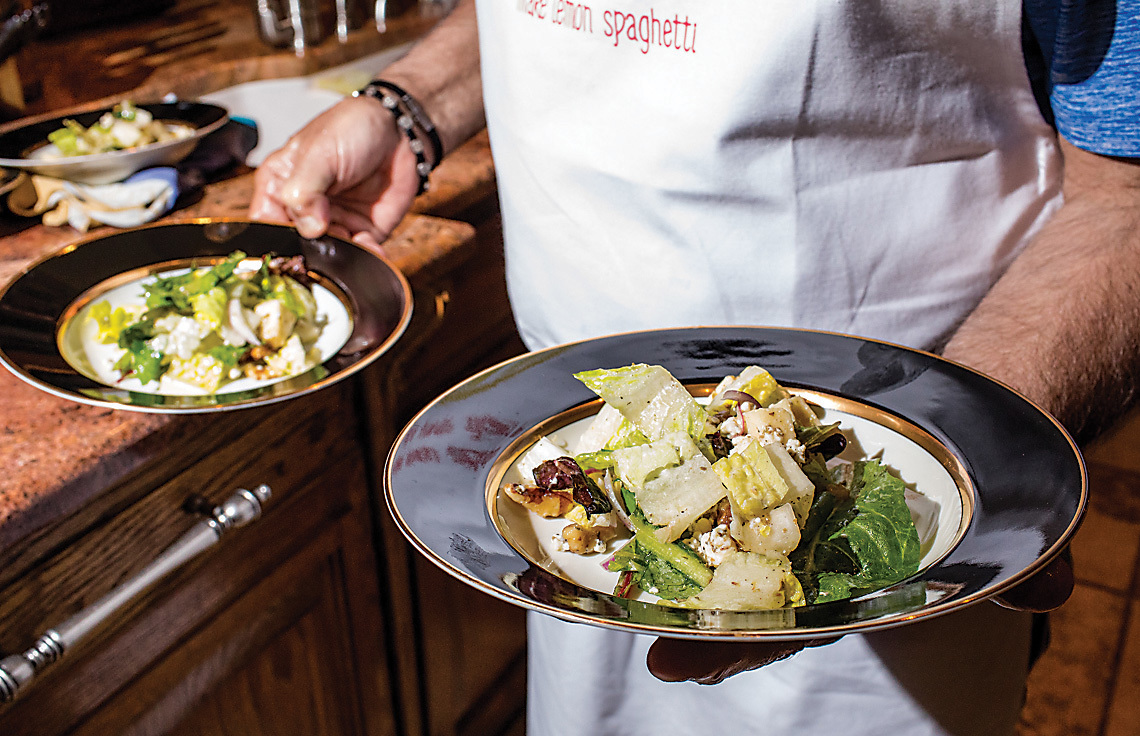 On this Sunday, they're serving pan-seared halibut, tagliatelle al limone, and roasted carrots with garlic and cumin, but the end result is always a medley of cuisines and cultures, thanks to Nancy's Russian-Irish roots and Masood's Iranian heritage and Italian techniques, cultivated in culinary school along the Amalfi Coast. "We respect each other's cooking, exchange ideas, and work together very well," he says. "Some people say, 'How can an Iranian cook Italian food?' But it's like language. You can always learn a new one."
After a few hours, the diners—a mix of Roman Catholics, Muslims, and non-sectarian spiritualists—finally find their seats in the Stuehlers' dining room. "If those walls could talk," says Nancy. "Sometimes we have as many as 15 people at the table." Beneath a sparkling chandelier, they hold hands, say grace, and raise their glasses. Bottles of wine are emptied and, before long, the hand-painted china is once again clean.
For the Cricchios, the importance of a family meal goes back to their very beginnings. Every day at 3 p.m., Mary Ann's late husband, Mimmo Sr.—"Old-school, old-world Italian," she says, "born and raised in Palermo, Sicily"—would leave Da Mimmo's, his apron full of ingredients as he walked next door to cook his wife and son dinner in their High Street rowhome. At 5 o'clock on the dot, "We met around the table and enjoyed a meal together," says Mary Ann. "By six, we were back at our stations at the restaurant for dinner service. Even today, that's what the meal is about—sharing time and stories with friends and family. At the Stuehlers, we end up looking at our watches like 'Oh my gosh!'"
As always, they've lingered too long, over conversation and Masood's torta caprese chocolate cake. They gather their belongings and drive back to the city just in time to close up their Little Italy shop.
---
Gilda Pew, Aisha Pew, and Cole
Owners of Dovecote Café
For Aisha Pew and her partner, Cole, the owners of Dovecote Café, coming home to a meal made by Aisha's mother, Gilda, is a rite of passage, a way to officially mark the end of a busy day. It helps, of course, that Gilda, whose homemade peach upside-down cake is the stuff of legends, earned a culinary degree after retiring from a career in social work. "We try to have a family meal at least once a week," says Aisha, who spends her days at the couple's Reservoir Hill café-cum-community hub. "When she retired from the café, Mom turned her culinary goodness onto us. She's our anchor and has become really intentional in making sure that we eat well."
On one night in late spring, with the table all aglow in accents of gold and red (Gilda's favorite color), Gilda greets guests with fragrant bowls of spicy Creole shrimp with cilantro-lime rice and platters of garlic broccoli and sliced avocado in the cozy art-filled dining room of their Victorian Reservoir Hill row home, just down the street from Dovecote. "I like to cook almost every kind of cuisine," says Gilda, who counts Ina Garten, Julia Child, and Anthony Bourdain among her culinary muses. "But I don't want to cook something that takes 200 steps to make."
One year, stirred by the film Julie & Julia, Gilda cooked her way through Child's The French Chef Cookbook. She's also inspired by the flavors of her travels, which have included visits with Aisha and Cole to South Africa, Singapore, and China. The dining room, decorated with a church pew purchased at Second Chance ("Wherever I've lived I've had one because of my last name," says Aisha), is a truly sacred space for the family, which includes 19-year-old daughter Raven.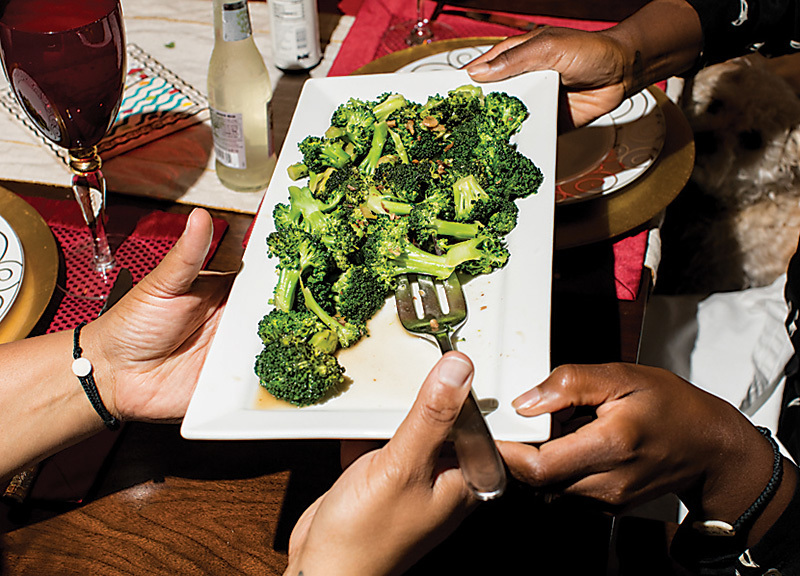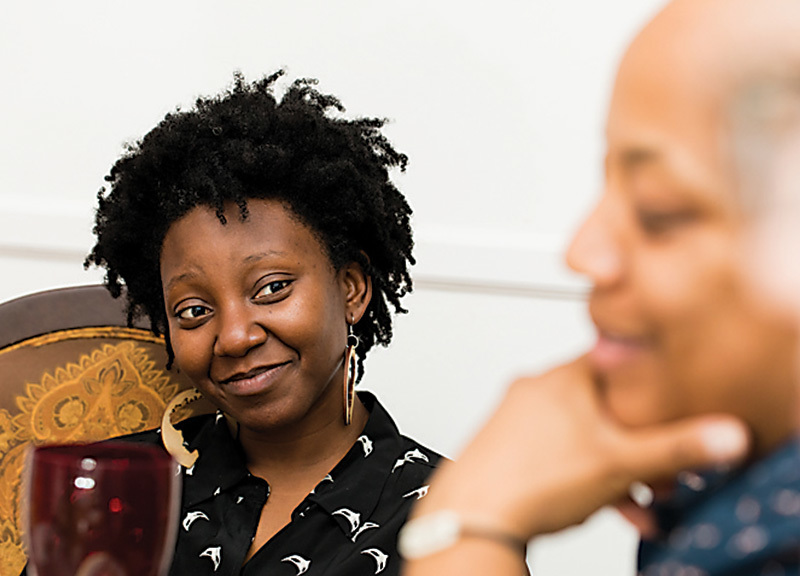 "We live such an extroverted life that when we get home, we take the opportunity to just sit and recollect and reengage and recenter," says Aisha, whose dog, Bacon, shares a seat with her at the head of the table. "We love what we do in the community—the mission, the purpose—but it's a noisy life, and I'm an introvert with an extrovert's life. By the time we get home, it's about recharging and reconnecting over food so that we can continue to do the work that we do."
It was Cole, whose father is a former chef from Berkeley's famed Chez Panisse, who suggested that Gilda attend culinary school years ago. On this night, as evidenced by the lack of leftovers, it was an excellent idea for everyone. "Whenever Ma cooks, Cole goes, 'Ma, this is soooooo good,'" says Aisha with a smile. "She always has to one-up me."
Concurs Gilda, "Cole will say things like, 'The cumin just balances it all out,' and I'll say, 'What is she talking about?' I just cook—I love to cook for them. It's like, 'Okay, I love you guys, let's have pancakes.'"