Education & Family
The Kids Are Alright
Baltimore youth are giving us hope for the future.
"Kids these days . . . " These words have likely been uttered by every aging generation since the dawn of time. They're spoken as conventional wisdom: that young people are little more than lazy, narcissistic lugheads, and that, with them as our successors, the human species is essentially doomed. It's almost Darwinian. After all, who really wants to grow old and be replaced?
Over the past several decades, these rants have been fueled by the likes of fast cars, rock 'n' roll, sex, drugs, and, of course, the internet. And now, in 2019, the alarm seems to have only grown louder and stronger. There's the factor of technology, for starters, with study after study forewarning the damage being done to the brains of children who've been raised on digital screens. Add to that social media, which even us adults know is eating away at inner confidence and outer communication skills. Not to mention sexting. Don't even get us started on the Kardashians.
Then there's all the hard stuff beyond their control, like crushing college debt and climate change, with tuitions through the roof and new international reports stating that the ultimate environmental crisis is as close as 2040.
But even amidst the bad press and harrowing predictions, we still find ourselves standing in awe of these kids—the post-millennials, the iGeneration, Gen Z, whatever you want to call them. And maybe right now more than ever.
In ways that our generations couldn't, they're embracing their individuality, not fending it off to fit in, and they're accepting each other's differences, not cowering in fear of them. Maybe that's in part because they've been raised in strange and scary times. It's 2019, the year that post-9/11 babies will become full-fledged adults, and their coming-of-age years have been spent witnessing two wars, watching the economy tank, and seeing our country fall into a state of deep divide. But they've also watched movements form—from Black Lives Matter to #MeToo to Everytown—and they've learned to advocate because they know that everything is at stake.
They're standing up against climate change, speaking out against gun violence, and donning pink hats in support of women's rights. They're calling out politicians, running for public office, and even getting nominated for the Nobel Peace Prize. In other words, they're growing up right before our eyes, and likely far faster than we did. Sometimes they're the most grown-up people in the room.
Around the globe, across the country, and right here in Baltimore, young people are defying expectations and the odds, refusing to be defined by any thing or person but themselves. They're pushing gender boundaries, protecting the planet, and going for the gold (literally)—all before their 18th birthdays.
Kids these days. They give us great hope. And if our future is in their hands, we think we'll be alright, too.
---
THE BUDDING CHEFS
Sammy Baunoch, 13 & Sara Baunoch, 15
Seventh-grader, home-schooled and freshman, Baltimore School for the Arts
While most kids are famously finicky about food, Sammy and Sara Baunoch not only eat exotic fare— they make it from scratch, too. Their passion for cooking started when their mother, Beth, was teaching at the Community College of Baltimore County. For one of her classes, area chefs taught the Baunoch kids how to cook global cuisine while Beth's students worked as the crew.
The class ended in 2017, but the siblings have kept cooking. The duo now offers their own tutorials on their YouTube show Sup! Kids Cooking and website. They've even written an Amazon e-book, Snackation. "Cooking is a great creative outlet," says Sammy.
"It relieves stress," adds Sara, "especially when it's actually done and I can eat it."
Sammy specializes in all things savory; Sara specializes in sweets. Their skills were showcased on a recent episode of the Food Network's Chopped, where they came in second place and impressed host Ted Allen with their use of ramen pizza croutons in a chili shrimp appetizer, as well as rambutan for a shortbread cookie topping. "He said, 'Keep cooking, you have a great future,'" recounts Sammy.
From the inviting kitchen of their Lake Walker home, the siblings prepare Hawaiian Spam musubi and Brazilian brigadeiros. As Sammy sears the meat and cooks sticky rice like a pro, Sara effortlessly rolls the desserts in her hands, then coats them in nonpareils.
While Sara will likely pursue her passion for music—she currently studies classical guitar at Baltimore School for the Arts—Sammy, who is home-schooled, plans on one day having his own eatery. "I want to work for Grant Achatz, a Michelin-starred chef in Chicago," he says, "and then come back to Baltimore and open a restaurant. The dream is to get three Michelin stars of my own." —Jane Marion
---
PARENTAL ADVISORY
Information Overload
When your kid begins to seek knowledge, make sure you're smarter than Siri.
By Geoff Brown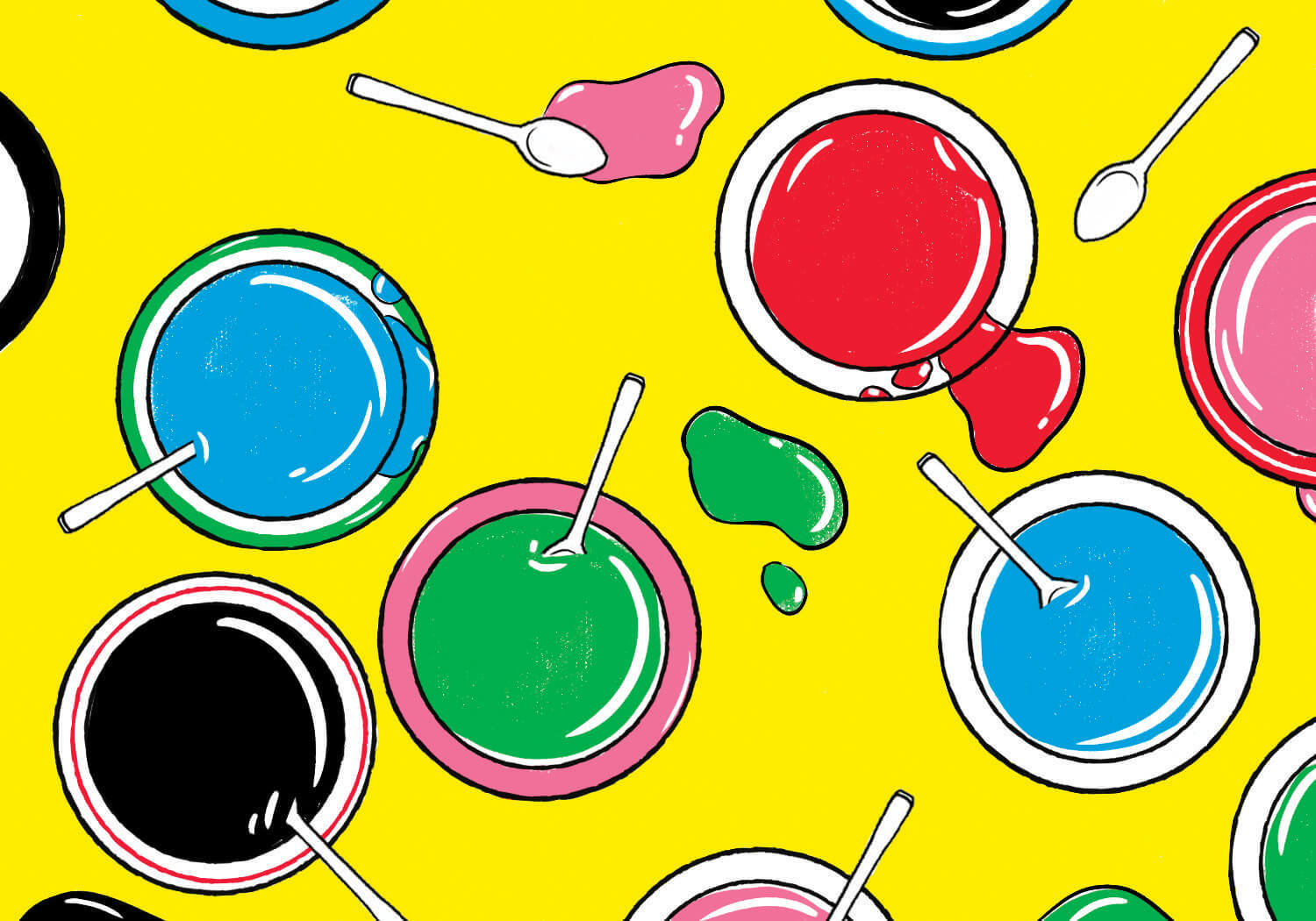 From the moment your new child arrives, there's some helpful grandparent or intense blogger who is eager to explain the basics of baby ownership. But once your child starts turning into a real person who can hatch schemes and implement them (for our son, this happened around age 5), you're all on your own. You will find yourself, for example, in your kitchen, staring at a halfdozen bowls and counters covered with goo. "But why," you will plead into the void, "does he need to make so much glue slime?"
This is about the time you realize you have a fully conscious human being (albeit completely inexperienced, and very short) living in your house. One who wants information constantly and will get it from whatever source they can. That means Alexa, Siri, YouTube, Bruno Mars songs, or worse—their friends' older siblings. (Older siblings are the mortal enemy of the diligent parent.)
We want to impart our values to our son, but we also realize that in the internet age, we're in a constant battle to remain his primary source of information. For a while, they need to see you as an omnipotent deity, or, at the very least, more than just the person nagging them to pick up their socks.
The noble way to achieve this, of course, is to be thoughtful, compassionate, and wise. When kids ask questions, pay attention. Provide comprehensive answers, and then discuss. But you may also need to employ other, more Machiavellian tactics.
Study their behaviors and interests, and then use these observations to make it seem like you can read minds. (Catch them reading books about ancient Egypt? Surprise them with a trip to The Walters to see real mummies.) Look for opportunities to demonstrate your technological superiority. (Their best friend is going to Thailand this summer? Show them how to use FaceTime to communicate across the globe.) And don't be afraid to use guile. (Ask them how much the moon weighs, which is a trick question. It doesn't weigh anything; it's in space. Boom. You're a genius.)
Our son is now 9, and we can already see a few probing maneuvers toward teenagerhood ("Yes, Dad, duh, I know that."), but I'm pretty sure we've established enough good credit to keep him talking to us. And not just to ask for pizza money, but how to deal with life and love. We're trying to give him the tools he needs to grow into a man and succeed on his own. But we hope he'll always be able to trust us enough to ask the hard, even uncomfortable questions. Like the one he posed yesterday: "When I flush rocks down the toilet, where do they go?"
---
THE BIONIC GIRL
Andreea Basescu, 13
Eighth-grader, Hereford Middle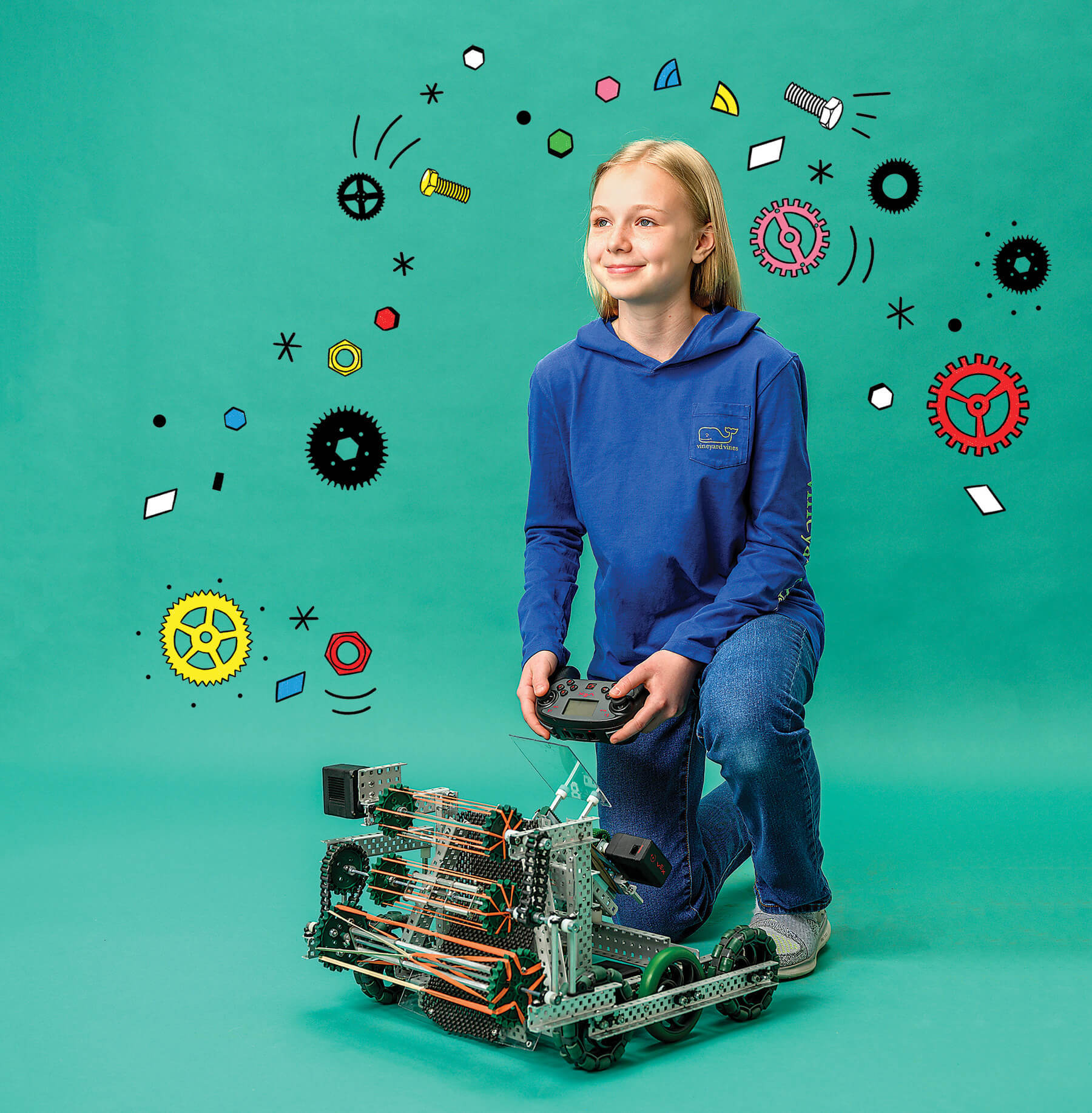 Andreea Basescu has one minute to earn a win for her team in the Maryland VEX Robotics State Championship for middle schools. Her thumbs fly across her remote controller as she manipulates her metal robot to catapult balls and caps while dodging opposing robots. 
With five seconds left, she drives the robot onto the multi-level platform, winning the match and qualifying her team, which also includes classmates Emma Hsieh and Miranda Self, for the World Championship. "It was a pretty tight battle," says Andreea, "but we won because we were working so well together."
While she has been building robots since fifth grade, the Hereford eighth-grader says her love for engineering began with Legos when she was little. Since teaming up with Emma and Miranda two years ago, she's taken on the role of builder and driver, which requires researching new designs and constructing robots in between softball practice and helping her 11-year-old sister, Alexandra, who has just gotten into robotics herself.
Thanks to weekly practices at the nearby high school and weekend sessions in Andreea's basement, her team has become a force to be reckoned with—finishing 21st in the technology division of last year's World Championship. As for being one of the only all-girl teams, Andreea thinks they sometimes communicate better than their male counterparts. "If one of us has an idea, we talk about it and try it together," she says.
Although Andreea is still a few years away from landing her dream job—a mechanical engineer at NASA—she plans to use the same skills she's learned through robotics to do so. "Robotics teaches you to have determination, because it's not going to work the first time," she says. "You just have to have hope and keep trying again and again." —Kaitlyn Pacheco
---
THE TOP BRASS
Keith Fleming, 16
Sophomore, Baltimore School for the Arts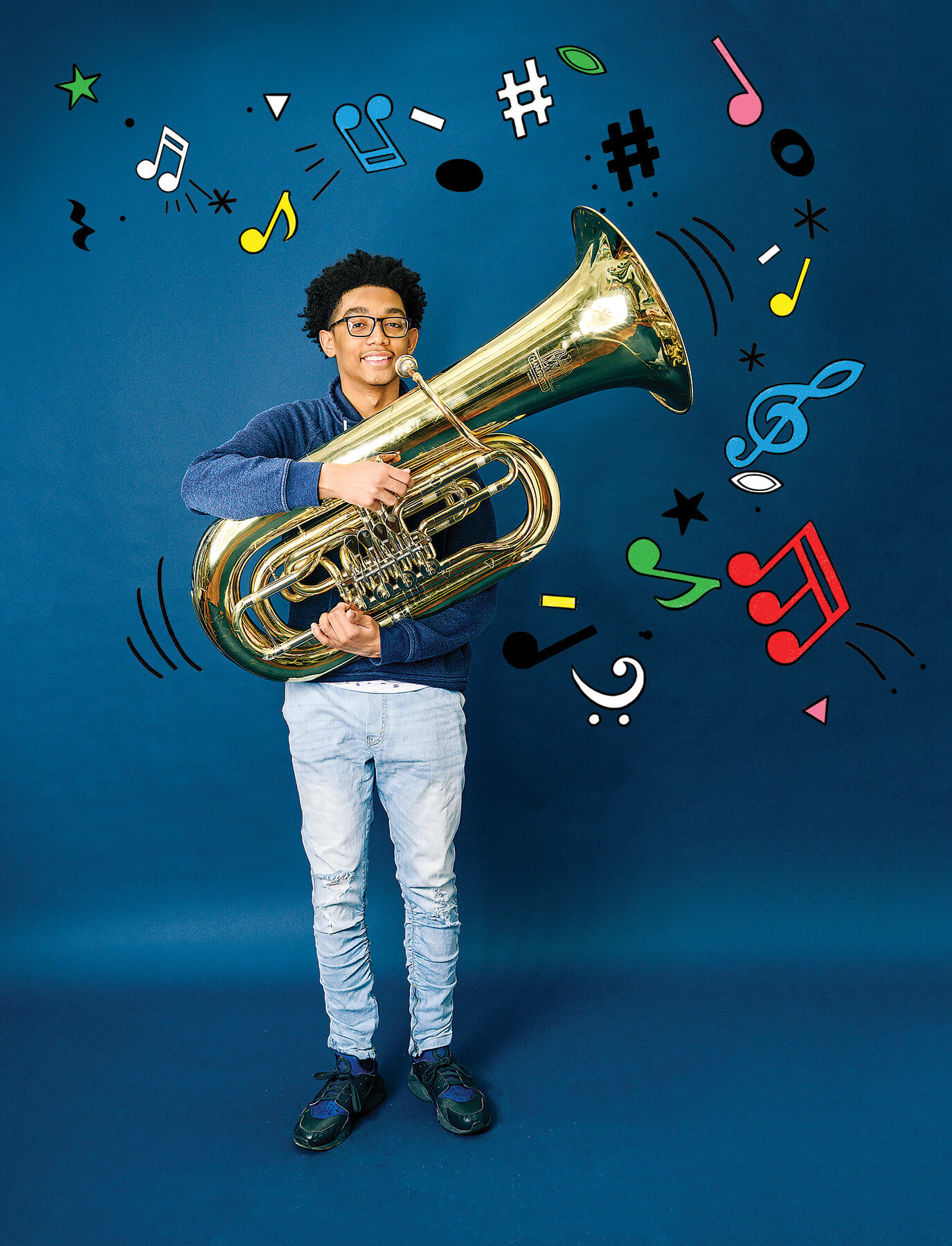 One of Keith Fleming's favorite phrases is "think outside the box." He says he was doing exactly that when he joined OrchKids, the Baltimore Symphony Orchestra's music program for city youth, when he was in first grade. "It was something different," he explains. "A lot of my classmates wanted to play sports or grow up to be, like, a police officer."
He was also thinking outside the box when he picked the tuba as his instrument. "A tuba can do what a violin can do if you play it right," he says, now a high school student at the prestigious Baltimore School for the Arts and a participant in Peabody Preparatory's Tuned-In program.
But Keith's main message, the thing he gets most excited about, is that music can be an agent of change. "Music is something that everybody can relate to," he says. "I know a lot of people who, if they're mad or sad, music is their outlet."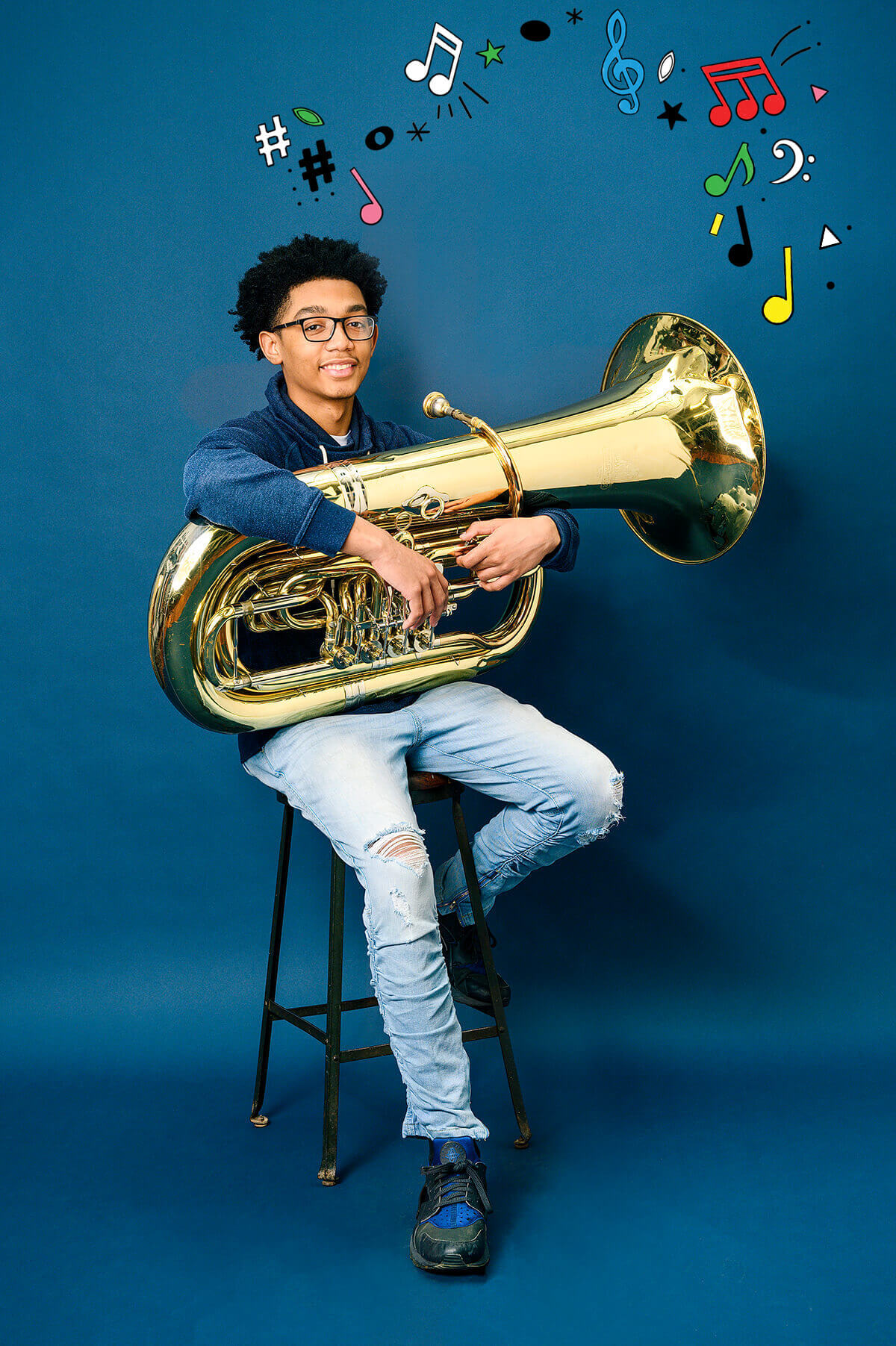 Dan Trahey, or "Mr. Dan," as Keith calls him, the co-creator of OrchKids and the co-founder of Tuned-In, has watched Keith progress over the years, from a rambunctious little kid who often landed in the office for misbehavior to the poised young man he is today. "His leadership has helped skyrocket this program," says Trahey.
Keith, who grew up in West Baltimore, is so passionate about the benefits of music that he has given talks on the subject at conferences around the country. "It kind of amazed me what I could do when I did music, like how far it could take me," he says, noting one seminal moment two years ago, when he went on tour in Europe with Mr. Dan and other OrchKids. "I'm the first person to travel out of the country in my family."
That trip convinced Keith to pursue music as a career, while another one, to New Orleans, solidified his desire to play brass jazz. Mr. Dan thinks Keith has everything it takes to be a professional musician. But a new kind, he says, which combines all these local influences—jazz, classical, hip-hop, trap, even go-go—into something fresh. "I think Keith represents the current sound of Baltimore as much as anyone I know," he says.
All it takes is a little thinking outside the box. —Max Weiss
---
THE ENVIRONMENTAL ACTIVIST
Nadia Nazar, 17
Junior, Eastern Technical High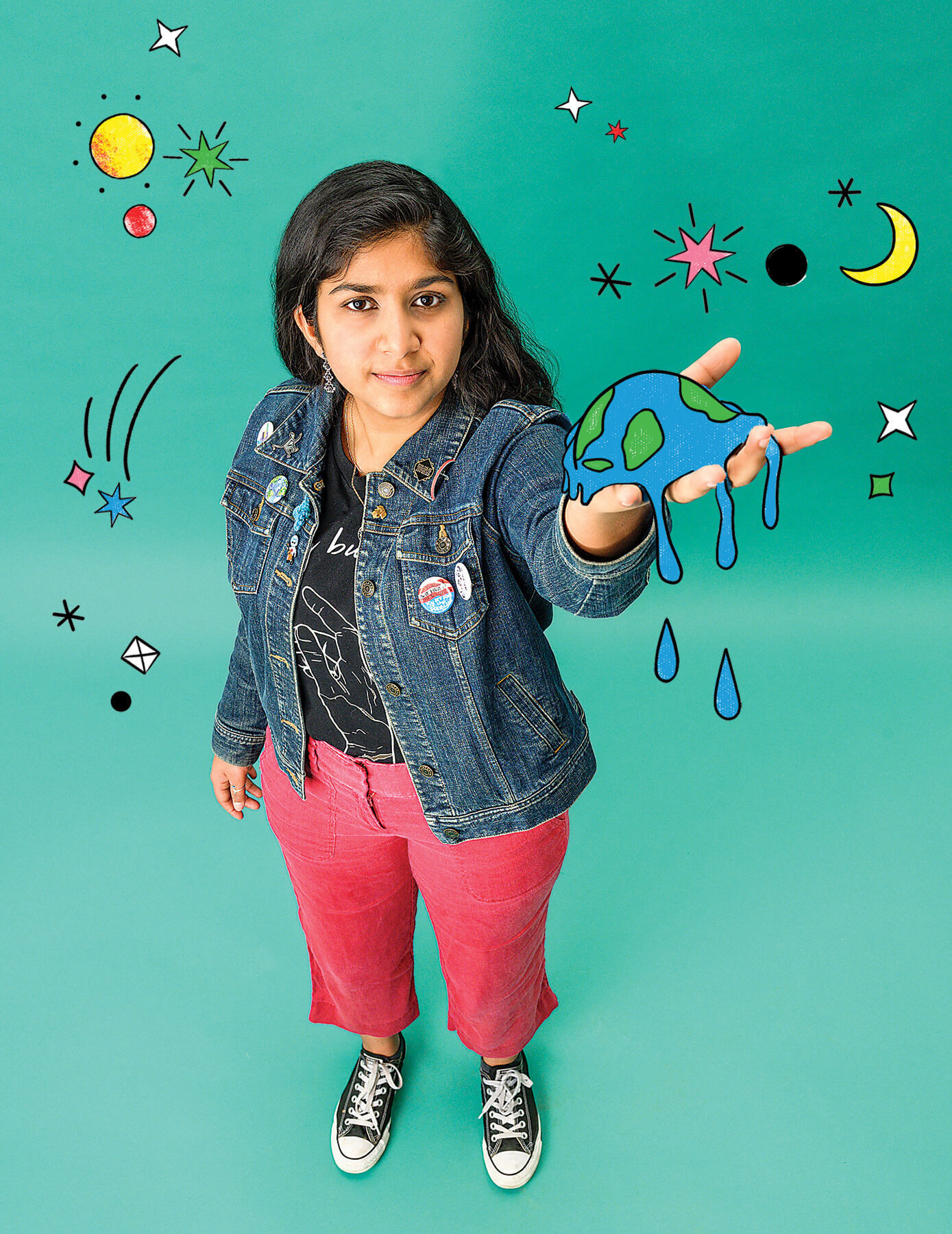 This past February, dressed in a navy blue pantsuit with a pin of planet Earth fastened to her right lapel, Nadia Nazar sat before members of Congress and spoke with pointed clarity. "You should put the interest of your future generations first," she said. "Not just because it is the right thing to do, but because many of us have the right to vote in just a couple of years."
This was not the first time that the 17-yearold had stood up before a microphone for herself, and her generation. In fact, she did so last summer, as she helped lead hundreds like her in the first-ever Youth Climate March on Washington, D.C. And again that fall, at the United Nations in New York City, when she was asked to speak to young girls about climate justice. And this spring, when she skipped school and stood before the U.S. Capitol with a banner that read WE DON'T WANT TO DIE during the Youth Climate Strike she helped organize with Zero Hour, an environmental organization she co-founded with friends in 2017.
When she's not an activist, or "organizer," as she prefers to call it, Nadia is a normal high school junior, going to class and rehearsing for the end-of-year drama production. But on the bus, at the lunch table, and outside her locker, she's serving as an official Zero Hour spokesperson— even one time taking a call in class.
"My teacher was chill," she says. "It was CNN." After school, she finishes her homework, studies for the SATs, and stays up late working on various creative projects. She'll be applying to art school this fall.
Her current goal with Zero Hour is just getting the word out about climate change. "Movements are better with more people," says Nadia. "More and more young people are talking and getting involved and paying attention.
We realize that climate change is something that our generation is going to have to deal with." —LW
---
PARENTAL ADVISORY
Playing Defense
Trying to trump maternal fear in these modern times.
By Megan Isennock
From what I've gathered, the goal in all of this parenting business is to get it right enough to produce kind, capable adults who make good choices, and, eventually, grandkids. And that would be straightforward if we lived in a vacuum, but we live in this world, which is marred by climate change, a president who shows little regard for intelligence or kindness, and too many jerks who don't return their cart at the grocery store. There are guns in schools and islands of plastic floating in the sea, and people who still, impossibly, see women as the lesser sex. So instead of parenting my kids for who they are, I at times find myself on the defense—parenting them for how the world happens to be.
Though they seem simple, my fears boil down to worrying that my son will be mean and entitled, and my daughter will be vulnerable. And so I've leaned hard into little Lou's obsession with The Great British Bake Off and his recent triumphant announcement that he was pregnant, because the former has taught him to be patient and supportive, and the latter has shown that he can be gentle and nurturing (to what is, admittedly, a rather unusual make-believe friend). And when Edie skins her knee or doesn't get her way, I take a beat before reacting. My instinct is to smother her with sympathy; instead, I allow room for self-sufficiency.
I'm sure there are flaws in this approach, but if I want him to embrace his intuitive kindness and her to be just a little bit tougher, is that so wrong? It's hard to balance shutting out the world while molding future inhabitants of it. I'm lucky (as are our kids) that I married my husband, because his no-nonsense bleeding heart keeps me in check, and more importantly, it reminds me to trust myself. When the news makes me feel like we need to get our 18-month-old daughter into a joint martial arts/law school training program, he doesn't disagree, but instead talks me through until I've downgraded to buying a tumbling mat and RBG board book.
It's a wild time to be alive, and an even wilder one to be raising people in. It's important to prepare kids for all the havoc they don't know about yet, but to do so in a way in which intelligence and kindness rise above fear. My advice is to hunker down with your people and let love rule.
---
PERSONAL SPACE
Anatomy of a Childhood Bedroom
The ordinary objects of our childhood lives shape the adults that we become.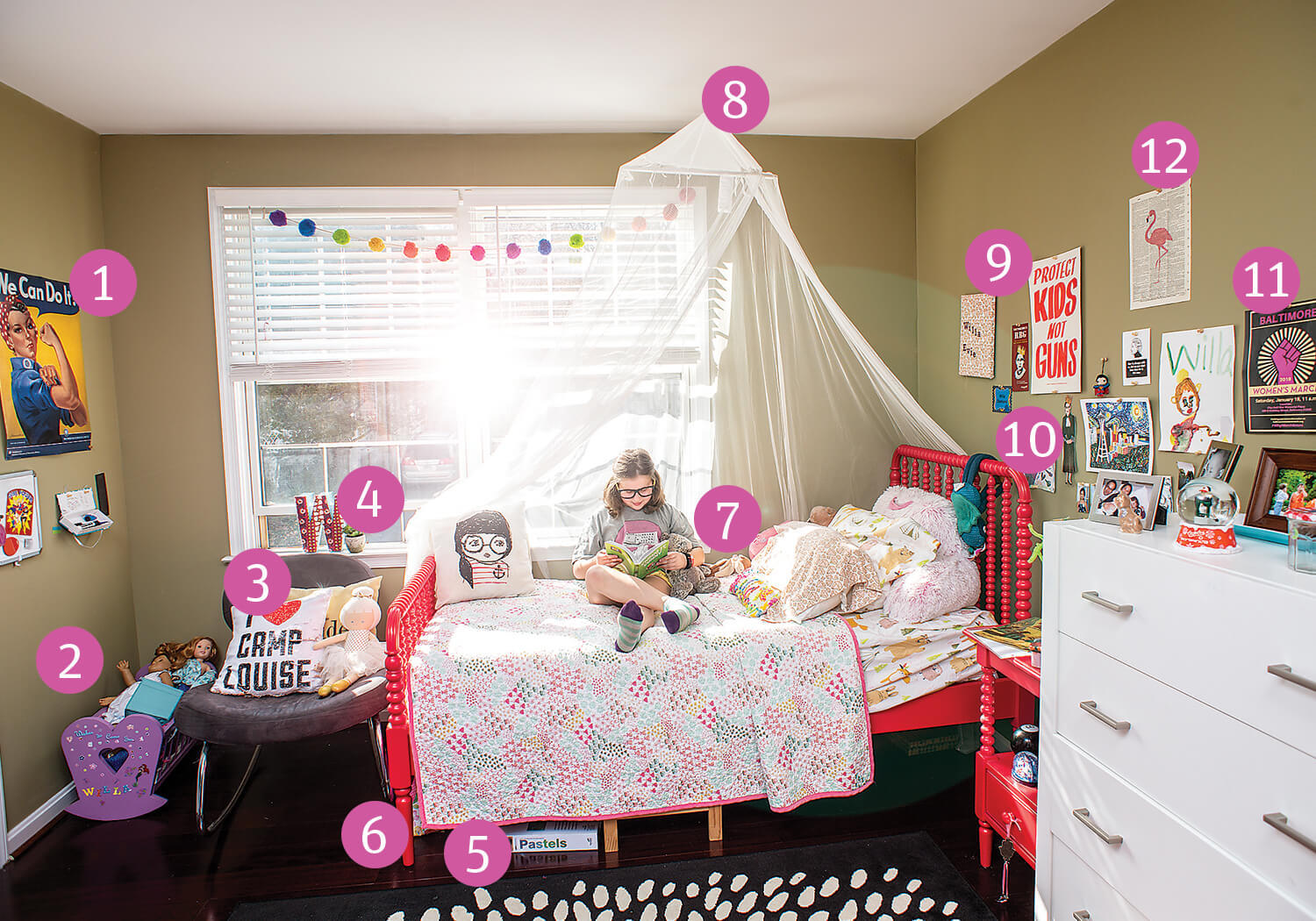 Willa Diamond, 10
Fourth-grader, Riderwood Elementary
There's something at first intimate, and later nostalgic, about your childhood bedroom. At the time, it's just your stuff. Your magazines, your homework, a few haphazard piles of theoretically clean clothes. But as you grow older, it becomes a sort of museum of the many yous—an aggregation of the miscellany that molded the grown-up you'd eventually become. Each artifact marks your evolution from childhood to the terrible teens to early adulthood. There are the tattered toys you've had since infancy, the knick-knacks you bought with your first tooth-fairy money, the birthday cards from your grandparents that you carried each time you moved. Just their very existence is significant; you decided to keep them. Our HOME features editor, Janelle Diamond, welcomed us into the world of her daughter, Willa, to see what a kid's room looks like in 2019. What we've found is both new and familiar. And it shows the promising young woman she one day might be. "I love my room because it's just my space," says the 10-year-old. "It's where I escape. I listen to music. I do slime. I play with my Barbies. I play teacher. I love my bookcase because it has my lava lamp, favorite books, and pottery."
"We Can Do It" poster.
American Girl dolls. Her Poppy made the purple cradle.
This will be Willa's fourth summer at Camp Louise.
Potted succulent. "I stole it from my dad," she says.
This box now houses her Harry Potter wands and spells.
Willa's first big-girl bed.
Rosie the bunny.
The canopy "protects me from mosquitos," says Willa. "AKA it gives me privacy from my annoying brothers."
"Protect Kids Not Guns" poster from the March for Our Lives in Washington, D.C., in 2018.
Ruth Bader Ginsburg. "I love strong women," she says. "And RBG is Jewish, just like me."
Baltimore Women's March 2019 poster.
Flamingo art by local artist Shawn Theron from the JFX Farmers' Market. 
---
THE ROLE MODEL
Darrea Frazier, 16
Freshman, Community College of Baltimore County
Speaking with Darrea Frazier, it's hard to remember that she's only 16 years old. She sits up straight in her chair in the Patterson Park Audubon Center, surrounded by turtles and taxidermied waterfowl, and talks eloquently about things like personal responsibility and community service.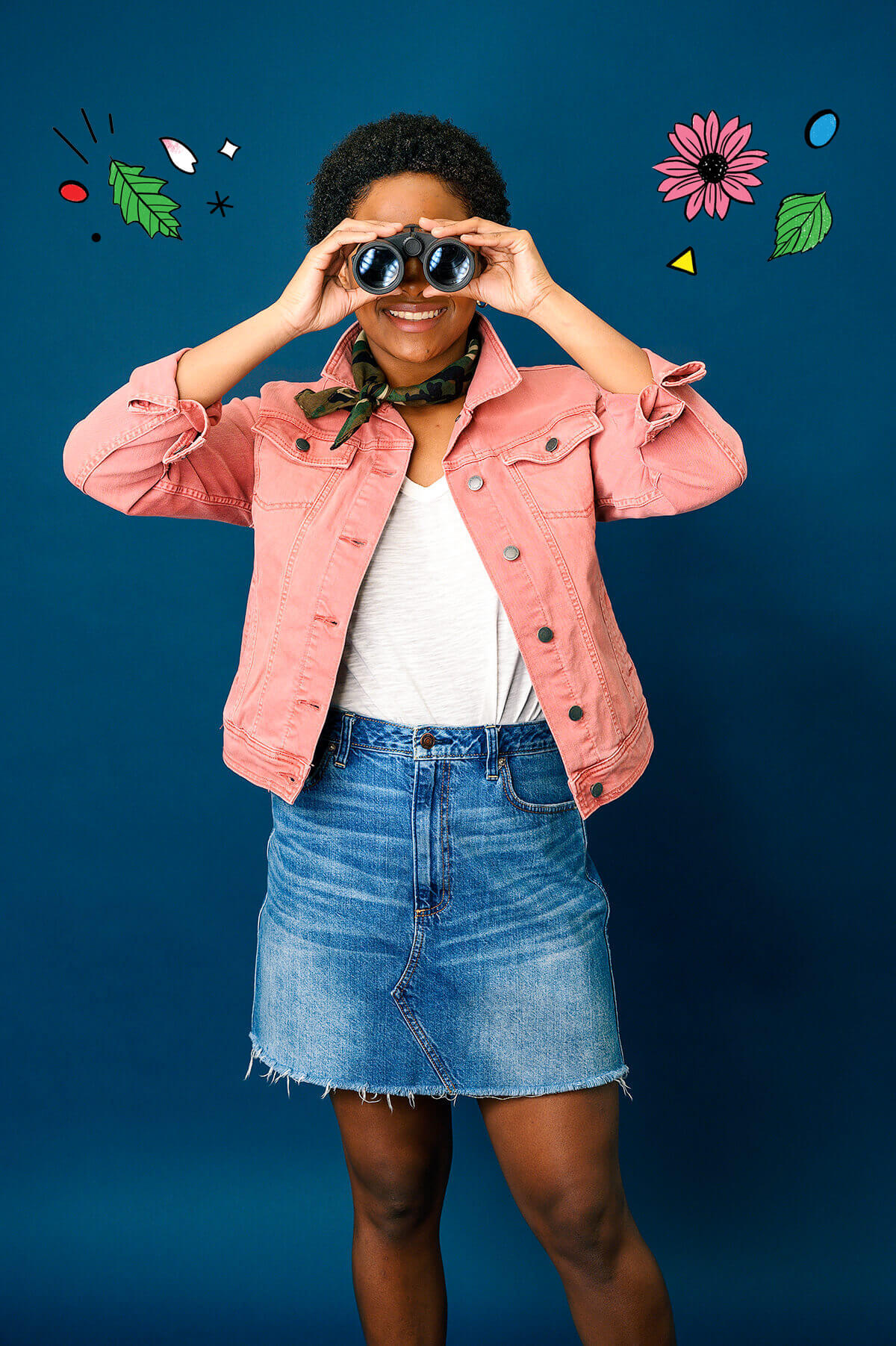 In part, that's probably because she has been volunteering across Baltimore since the age of 11, planting habitat gardens for native wildlife, drawing colorful stencils on storm drains to discourage littering, and teaching other young people about protecting the planet. It could also be because she's a six-time National American Miss Maryland State Finalist who won Junior Teen Queen last fall. And of course, it could have something to do with the fact that she's already a college student, too, dual enrolled at both CCBC and the Baltimore Academy of Illustration, where she's pursuing her GED.
In each aspect of her life, Darrea is propelled forward by a need to share what she's learned with others. Through the Audubon Center, she wants to teach city kids that it's cool to care about nature. "You can still be a normal teenager and still really care about the environment," she says. And with the National Miss crown, she wants to help other girls be their best selves. "It's about growing confidence, not outer beauty," she says. Sure, it seems to be a cliché for a pageant contestant to hope for "world peace," but when it comes to Darrea, she actually means it, especially ecologically.
This fall, she will be competing for the national title on the platform of environmental integrity, and she's currently illustrating her own book about the misunderstood marine animals of the Atlantic Ocean. "I know so much, I can't just sit back and do nothing," she says. "Another dream I have is to start my own local environmental organization for city youth. Where I've lived in Baltimore, there's still not enough awareness, and I'd like to do something about it." —LW
---
PARENTAL ADVISORY
Black Beauty
A letter to my daughter on growing up in Baltimore. You're smarter than Siri.
By Stacia L. Brown
When we returned to the city where I was raised, you were one year old, too young to remember a time before. Like me, you are a Baltimorean, not by birth, but by early adoption. We come from Midwestern stock, where blackness only presents itself in pockets.
Like me, you were born in Michigan. I was teaching in a conservative part of the state when Barack Obama was elected in 2008. The morning after the voting numbers were called in his favor, my predominantly white neighborhood and workplace were as silent and stoic as graveyards. Meanwhile, social media kept me abreast of reactions in Baltimore, though I didn't need to watch streaming videos of the elation there to know that the city was brimming with unabashed black joy.
This is the benefit of living in Baltimore. Black cities are sites of black joy, even in the face of well-documented hardships.
Though you wouldn't arrive until two years later, I knew then that I wanted to raise my future child among people who shared a common investment in celebrating black success, as well as a common consolation in times of black tragedy. I wanted to raise you in a city that understands us.
You were too young to realize the singular gift of living here during the Obama era, but when I moved us back to Baltimore, I exposed you to the confidence that comes with walking among thousands of people who look like us and share our pride and hope. It is the same confidence that carries us now, during a more turbulent administration, during which racially motivated hate crimes are on the rise, and injustice shows no signs of abating. We can go to many parts of this city and share a knowing look with some other black family who has heard the latest reports about the acquittal of a police officer after shooting an unarmed black citizen, or the spiking levels of lead in the water, or asbestos in the air where black families are most likely to suffer.
We don't have answers for each other, but we have the reassurance that we are not imagining it. We know in a city like Baltimore that we are not overreacting. We can mobilize amongst ourselves and know that our dreams of a more equitable future are shared with the people who live next door.
---
THE GREAT CONTENDER
Ting Cui, 16
Junior, Towson High
When Ting Cui was seven years old, her parents signed her up for ice skating camp with her brother, Hao, to keep them occupied during the summer. Although Ting had taken naturally to the rink, she didn't consider the sport anything more than fun until another camper gifted her a pair of skates. "I remember being so touched by the act that I thought, 'I have to keep skating; I have to put these skates to good use,'" she says today.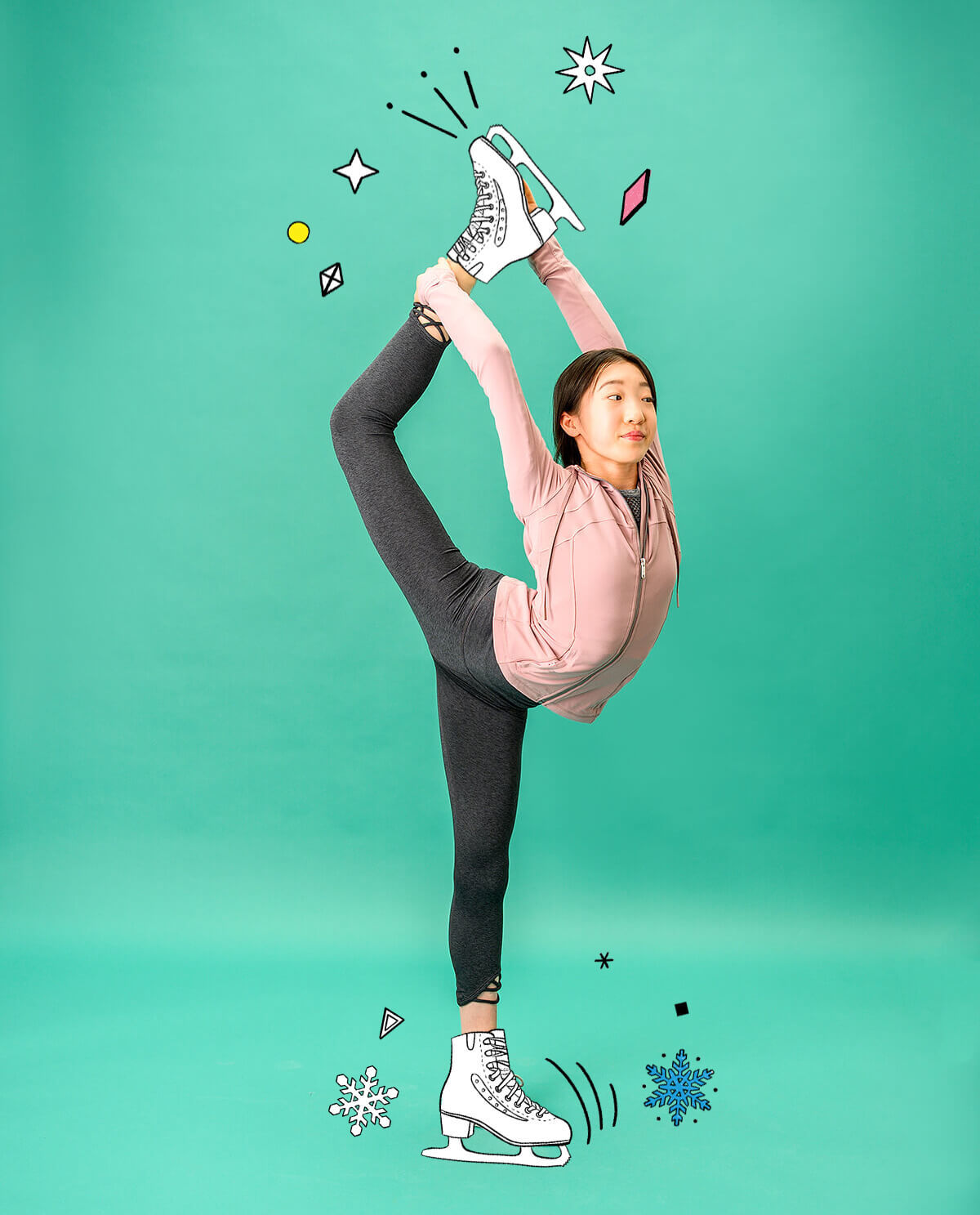 Nine years and dozens of skates later, Ting has become one of the top female figure skaters in the world. At 16, she's represented the Baltimore Figure Skating Club at countless international competitions and mastered some of skating's most advanced elements, all while working toward her high school diploma. Most recently, she has competed at the World Junior Championships, where she impressed judges with near-flawless jump combinations and spins that earned her the bronze medal.
Despite her rise to fame, Ting continues to balance her career as an up-and-coming skater with her life as a normal teenager. In between practice sessions, she spends time with her friends and works on school assignments. With her senior year approaching, she plans to attend college and possibly pursue business or law. "I know lawyers are really competitive, and I already have that in me from skating," she says with a laugh.
In the meantime, she'll spend the next few years working toward the 2022 Winter Olympics in Beijing. Not only would it be a once-in-a lifetime opportunity, but her grandparents and extended family who live there would see her compete in person for the first time. "The Olympics are something that I've been dreaming of since I started skating," says Ting. "The fact that my family could watch me skate and see how far I've come would be the best." —KP
---
THE NATURAL
Edward Lee, 11
Sixth-grader, Walter P. Carter Middle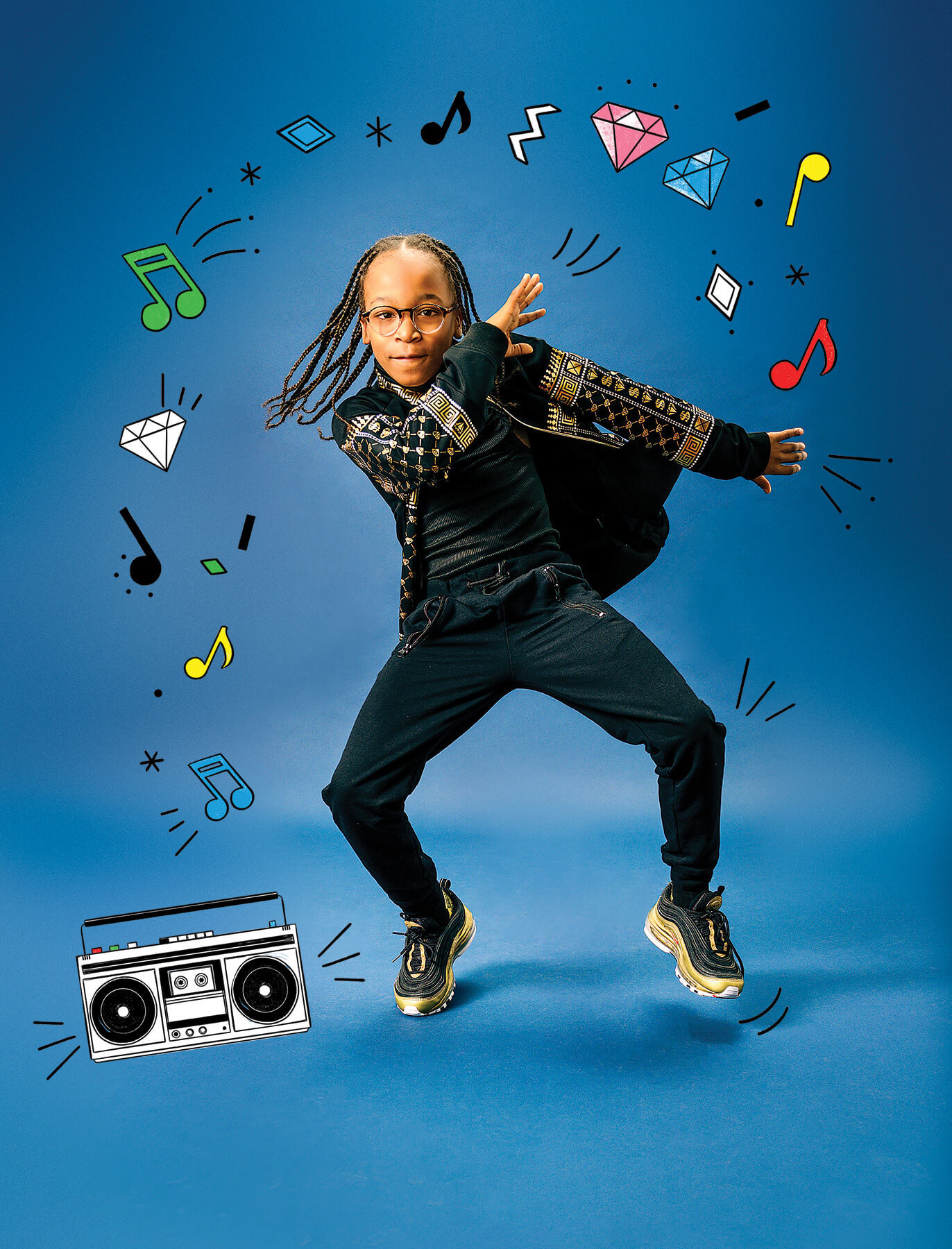 There's one thing that everyone—his dance instructors, his boxing coaches, his parents—calls Edward Lee: "A natural," says Warren Boardley, head trainer at the Mack Lewis Boxing Gym in East Baltimore. "There ain't a whole lot more you can say."
It's true. When you watch him lace up his gloves and hop into the ring, you'd think he'd been idolizing Muhammad Ali since infancy. And when you see him stand at the barre in ballet class, you'd think he'd been born from a line of dancers or spent ages perfecting his form. But he started both just two years ago.
"You don't have to tell him nothing more than once—he got it, then he gone," says Boardley. "When he started out, he was like a fish to water. He hit the game like a storm. Like, 'Where'd this little guy come from?'"
At 4-foot-5 and 65 pounds, Edward is pure muscle—a living embodiment in both of his endeavors of Ali's infamous "float like a butterfly, sting like a bee" mantra. He's light on his toes, sure-footed, and focused in every movement, even without his glasses on. He just won the State Junior Olympic Championship for his weight class and played two roles in the Baltimore School for the Arts' spring production of Hansel and Gretel. Ballet and boxing, in addition to his first love of hip-hop dancing, feed into each other, making him stronger at both.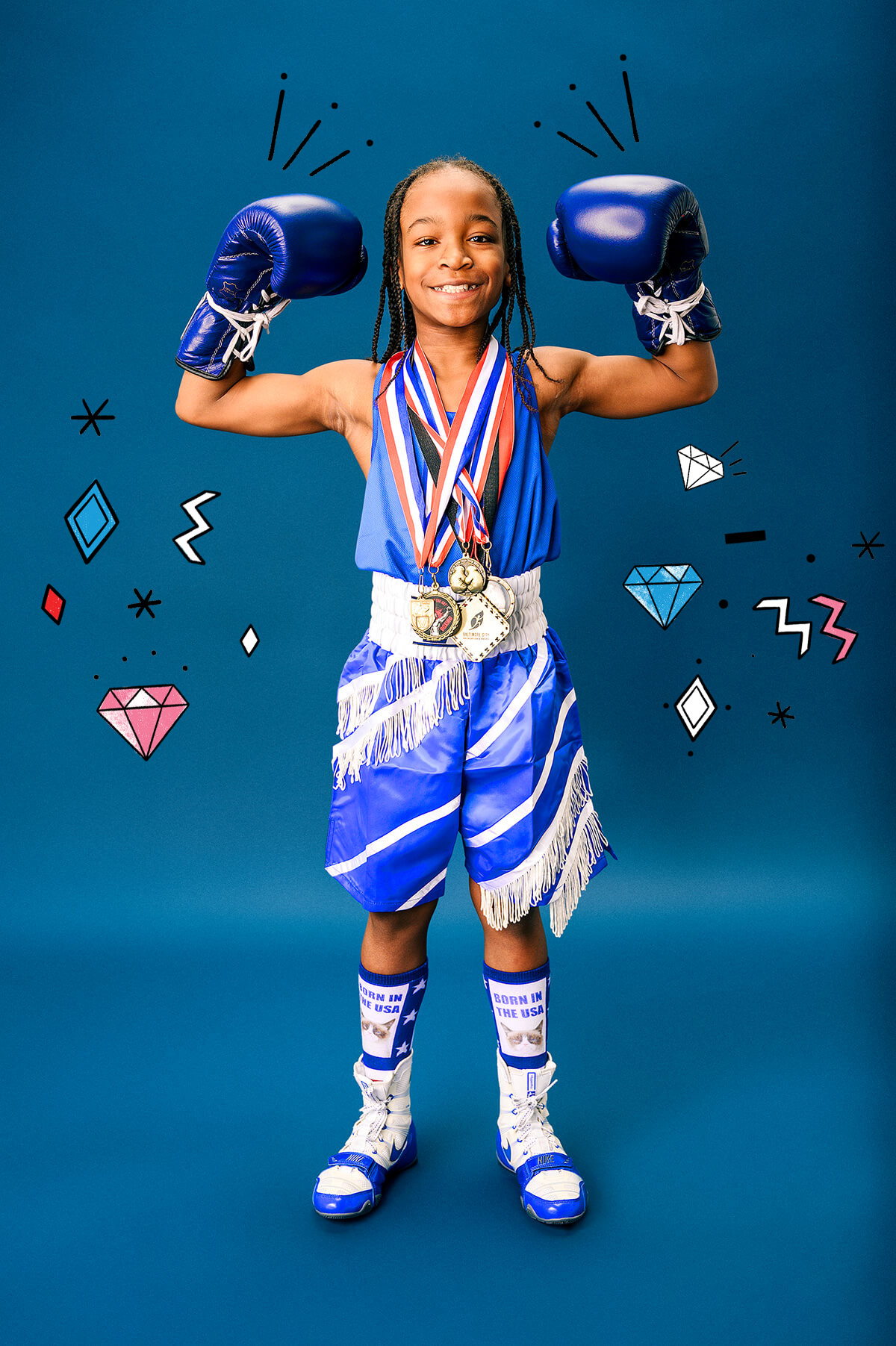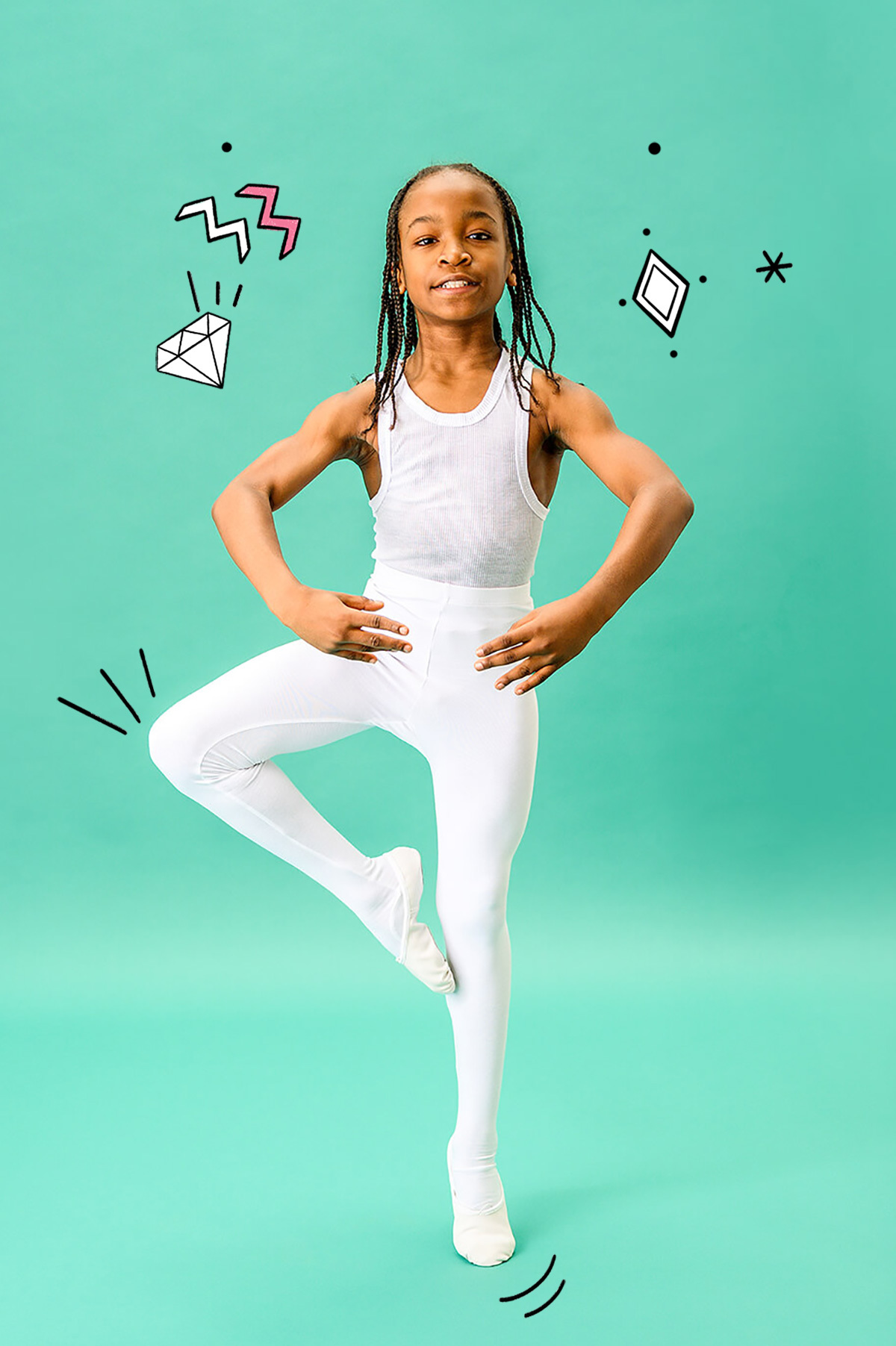 "He's very athletic, yet also very thoughtful, engaged, and persevering," says Anton Wilson, one of his BSA instructors. "He is the type of young man that I think anyone would be proud to have as a son."
And a lot of credit is due to his parents—his mother, Lakeesha, and his father, Edward—who ooze support as they constantly shuffle him between middle school, afternoon dance practices, and nightly training at the boxing gym, where his dad doubles as a coach. Sunday is his only day of rest, but even then, he can't sit still. "He's always going, going, going," says Lakeesha. "I am not afraid to let him try things. If he wanna dance, let's dance. He's confident in who he is."
But is he ever tired? "No," says the soft-spoken Edward with a smile. Besides, he's got big dreams. He looks straight ahead and lists them, as if he's already thought about this long and hard: "Professional boxer, a dance teacher, and if those don't work out, an NBA player." —LW
---
PARENTAL ADVISORY
World's Okayest Kids
Ribbons and trophies aren't for everyone, and that's okay.
By Janelle Diamond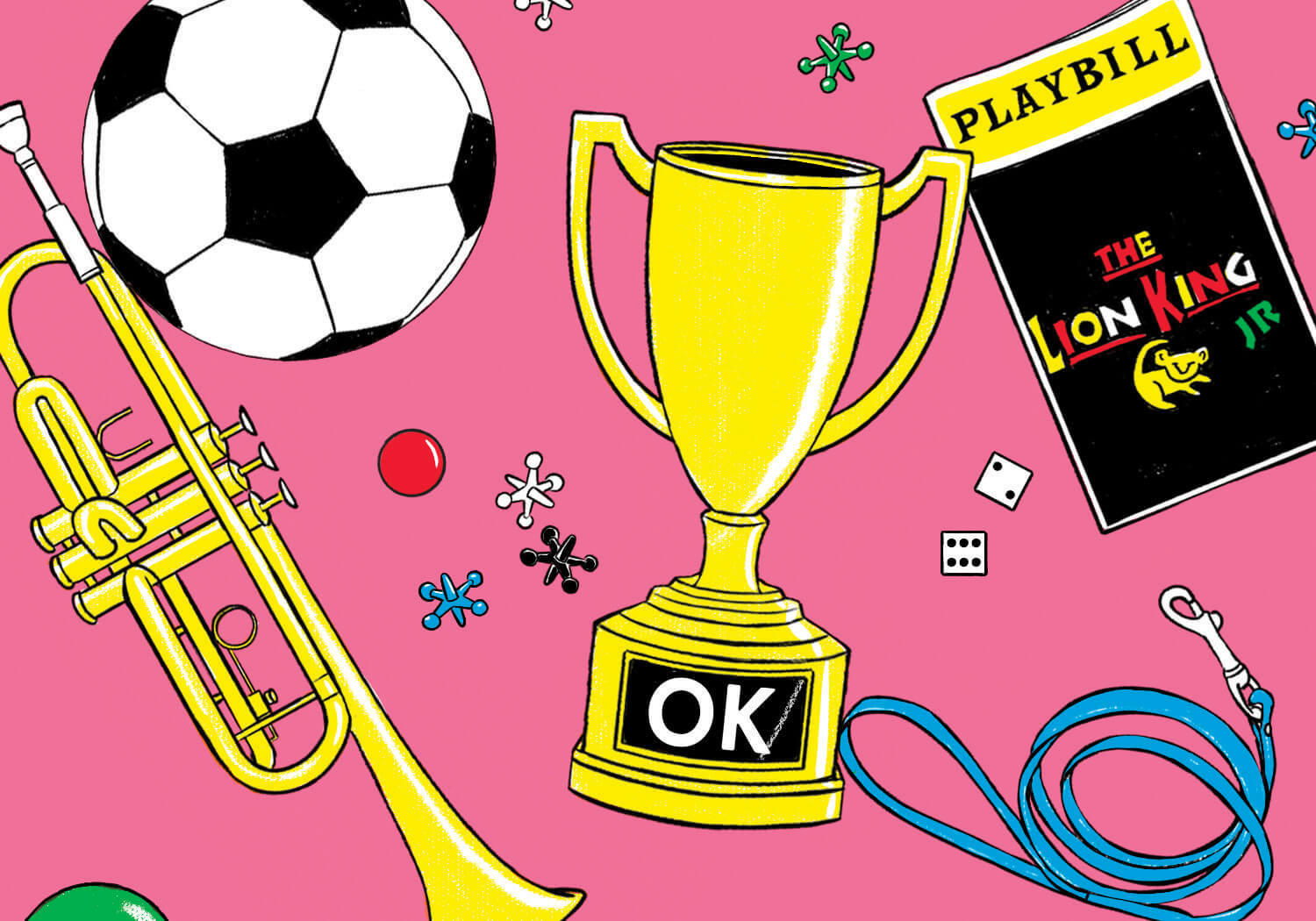 Hello to the future therapist of my children who is reading this right now. Look, I love my kids very much. I am not calling them mediocre. I'm simply calling them regular. Normal. And that's okay. There's so much pressure to be extraordinary, especially in a town full of private schools and a world rife with social media. Every time I open Facebook, there's another award ceremony or honor roll announcement. And, well, it can be hard to parent normality.
I have four truly terrific kids. They play soccer. But just with a rec league. They're not the best on the team, or the worst. My daughter is in her school's production of Lion King Jr. But she's not the lead, and she doesn't have a dedicated speaking part. Despite thousands of hours of practicing the trumpet, my oldest son is not destined to play at Carnegie Hall or even all-state band. And despite their lanky second-grade bodies and ability to sleep intertwined, my twins certainly won't be winning America's Got Talent with their contortion act.
What I'm trying to say is that all of this is okay. In fact, most kids are just okay, but often it's the parents (guilty as charged) who have the hardest time relinquishing the superstar dream. Letting go, accepting what is, allowing your kids just be who they are—and being okay with that—is such a gift. I'm doing my best to let each of mine rise to their own level, even if that's smack dab in the middle of the bell curve. My husband and I remind each other of this when we forget.
Did I mention that Willa has a learning disability and the fact that she even tried out for the play is amazing? That Gideon plays soccer, but also likes lacrosse and rock climbing and walking our dog, Lulu? That his twin brother, Zeke, volunteers to be goalie and often has to be "reminded" (aka me yelling across the field) to pay attention to the game, but is so observant of the rest of the world around him and asks the most amazing questions? And that my oldest, Milo, has maintained stellar grades and deep friendships his first year of middle school while also studying an ancient language as he gets ready for his Bar Mitzvah?
These are things that aren't always measured by ribbons or trophies or certificates. In fact, most of them don't even warrant an Instagram post. So, while drinking reheated coffee out of my World's Okayest Mom mug, I'm just going to sit here and remind myself that being okay with okay is actually its own talent.