New Maryland Science Center Exhibit Focuses on Complexities of the Human Body
A partnership with Johns Hopkins Medicine, the display is meant to inspire the next generation of scientists and medical professionals.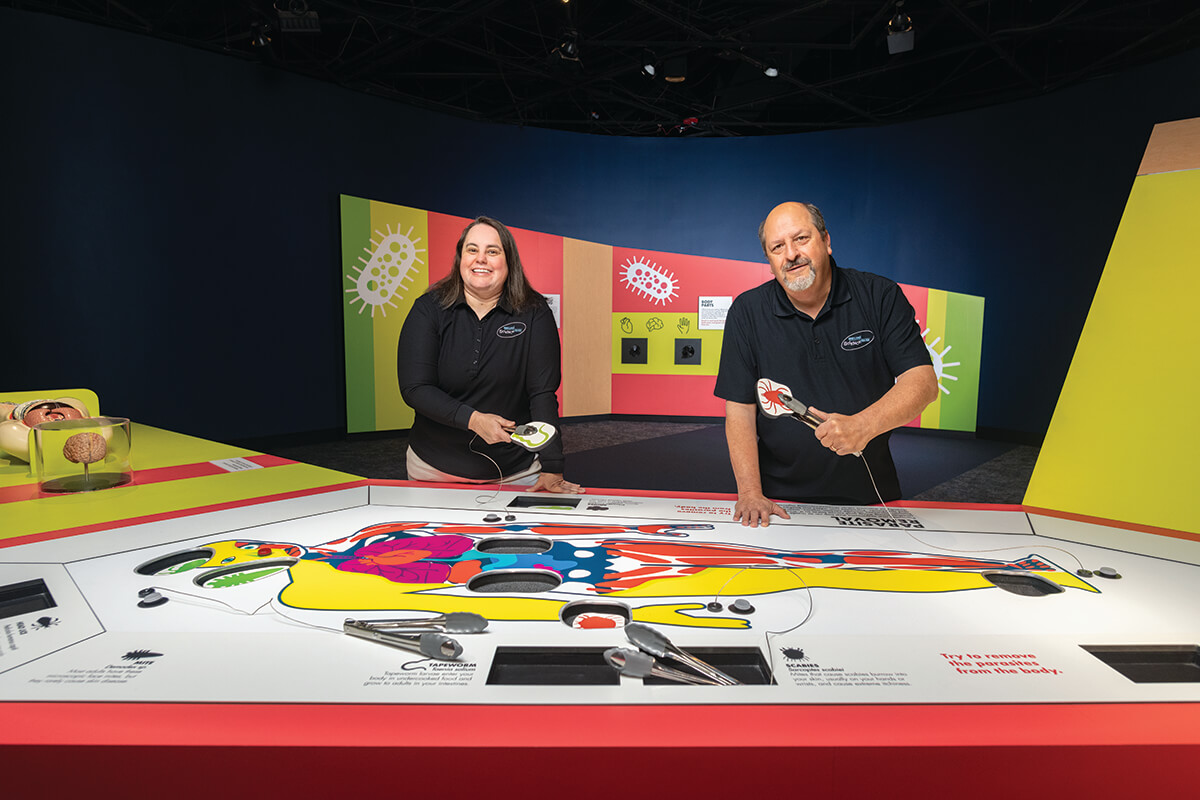 Ever wonder how much elbow grease it takes to burn the calories of one banana? What about a piece of celery? Or have you ever stopped to think about the role that nose hairs play in keeping germs at bay?
The answers to these inquiries and others like them pertaining to the human body and how it functions are scattered throughout the sprawling, colorful second level of the Maryland Science Center in the Inner Harbor. This past November, the veteran field trip destination unveiled You—The Inside Story, a new permanent exhibit that explores the complexities of every human.
"We try to [highlight] all the major disciplines of science, and, obviously, biology—the human body—is an important piece of that," says the center's CEO Mark Potter. "I enjoy the look of curiosity and exploration, and I think that's what we're seeing with the kids that are coming here—and with the adults as well. Everyone's engaged. This is experiential learning."
The museum has covered the topic of the body before, but the upgrade now involves a partnership with Johns Hopkins Medicine, whose faculty hopes the exhibit will inspire the next generation of scientists and medical professionals. After three years of planning, some of which was done online during the COVID-19 pandemic, the center unveiled a 12,000-square-foot, 35-piece fixture meant to stimulate the senses (yes, all five, including taste—there's a jelly-bean dispenser for that).
"We tried to pay attention to the curriculum needs of local schools," says Stacey Prinzing, pictured left, the center's education director, who helped curate the exhibit. "We wanted to tackle a handful of things that would hopefully help teachers along the way."
Also among the exhibit's recent highlights—which join mainstays like the center's painless bed of nails—is a brainwave-powered Mindball table and a fart simulator with realistic sounds. Other amenities include a hand-eye-coordination-twisting bean bag toss, an operation-style game of parasite removal, and the sensory-distorting Ames Room, which is even popular among the museum's staff.
"It's a powerful illusion—so powerful that even when you know how it works, it still works," says the center's senior educator Pete Yancone, pictured right, who also helped curate the exhibit.
This is the sort of interactive experience the entire team hopes will leave an imprint on its visitors. Says Prinzing, "We don't believe that everybody needs to walk away having learned from every part of the exhibit, but if they walk away asking great questions afterwards, or remembering a moment, I think that's what really matters."