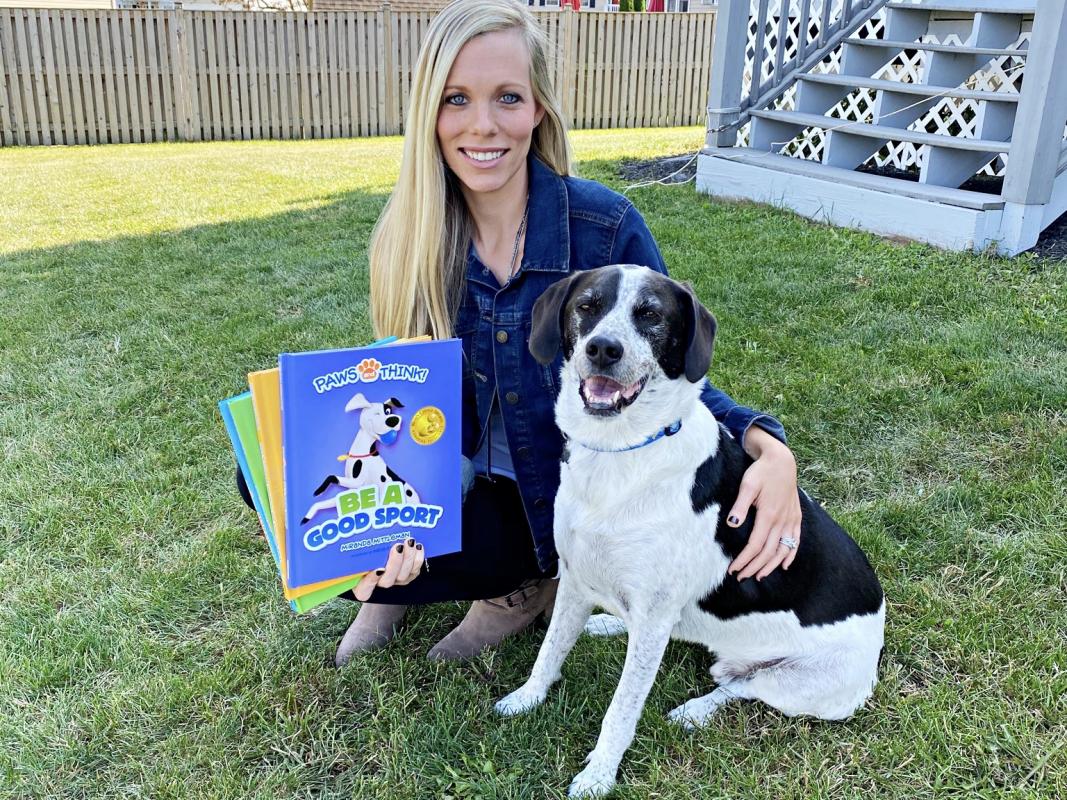 Courtesy of Miranda Mittleman
Local children's book author Miranda Mittleman has always loved poetry. In 2017, she turned that passion into a children's book series, PAWS and THINK!, which teaches kids meaningful lessons through the adventures of the protagonist—her playful mutt, Weaver. In advance of the launch of her fourth book, Be a Good Sport (available for presale now), we caught up with Mittleman about the inspiration behind the series, her virtual school visits, and using the stories as a platform to give back. 
What was the inspiration for the PAWS and THINK! series?
We adopted my rescue dog, Weaver, back in 2015, and I was inspired to write some fun poems while walking him through Baltimore City. When I showed them to my husband, he loved them and convinced me to look into getting published. That's kind of how the idea of PAWS and THINK! started, and when I decided that I wanted to actually look into getting published, I realized that I wanted to do more than just create poems. I wanted them to be meaningful and have important lessons for children. 
Was writing children's books something you studied and have always wanted to do?
I actually never intended to be a published author, but I've always loved poetry. And when I wrote these poems, I really had no intention of ever doing anything with them, just writing them for fun. I have a creative mind, and I went to school for marketing. I always knew I wanted to do something with marketing, I just never imagined that I would actually get to market my own product, so it's been a crazy journey. I've loved becoming a children's author. I can't imagine it any other way.
How did you come up with the idea of telling these valuable stories through Weaver's eyes?
When I was walking Weaver, I was trying to write things from his perspective—just kind of looking at things that I saw when we were walking and imagining how he would see them and what he would be saying if he could talk. I thought about all of the places we saw and the other dogs that we met from Weaver's point of view. Personally, I think that a lot of the children's books that really bring value are the ones that children can put themselves in the main character's position and relate to the most, and Weaver is the perfect subject to do that.
Can you talk about some of the lessons you highlight in your books? How did you choose them?
When I decided that I wanted to create the books, I had four different poems written, each one being a different lesson. At the time I didn't have children—now I have two—but I wanted to take lessons that I knew one day I would want my children to grow up learning. We're All Different, the first of my books, is all about inclusion, diversity, and friendship—things that I think are so important to teach children at a young age. I Am Important is about self confidence and finding your place in the world. The lessons are taught in a very lighthearted, relatable way for children. 
In the books, Weaver introduces himself as a downtown dog. Does living in Baltimore inspire any of his adventures?
I used to live in Federal Hill, in the heart of Baltimore City, and when we would go on walks, we saw so many interesting things. I think that triggered me to start writing poems. We would go to places like Federal Hill Park and Riverside Park, and we would meet so many other people walking dogs and see so many neat things around Baltimore City, like the unique buildings and the homes. We used to live just about a block or so from the Federation for the Blind, and we would actually see a lot of seeing eye dogs, so I incorporated that into, I Am Important. Weaver is around other dogs all the time that have different types of jobs, and a seeing eye dog was one of those jobs. So getting inspiration from things that we actually saw, in places we went in the city, helped me write the poems. Baltimore is such a unique and beautiful place.
How are you adapting with COVID-19 in regards to your usual book tours in local schools?
School visits are my absolute favorite part of being an author. I love going into schools, meeting hundreds of children, sharing my books, and bringing Weaver with me a lot of the time. I have not been able to physically go into schools since the school year started, but I've found other ways to connect. I'm currently offering free virtual visits for teachers who want to have an author visit the classroom. I really want to still be able to reach as many children as possible during this time and create some normalcy for them. I also created a free resource on my website for teachers or parents with different fun lessons, worksheets, coloring pages, and all sorts of things to go along with my book that they can print at home or print for schools. 
In the past, I've held launch parties for each book that came out in my series. So this time, I'm doing a virtual launch party for the new book. That will be on September 29, and it's going to be a way for me to reach as many people as possible and read the new book for the first time. I'm hoping next school year, or later in the school year, I'll be able to visit more schools.
I know your books also have a philanthropic mission. Do your donations typically benefit local children's organizations?
I created a "Charity of the Quarter" program so a portion of the proceeds from every PAWS and THINK! book I sell goes to a different charity or nonprofit. I believe we're on our 13th charity, and we've raised over $8,000. From the beginning, I knew I wanted to do this with a bigger purpose. I saw this platform as a way to give back to my community, and I know I want to help organizations that either help animals or children in some way. I've worked with a lot of local animal shelters like the Baltimore Humane Society and Maryland SPCA, and other local organizations like the Maryland Book Bank that help with literacy.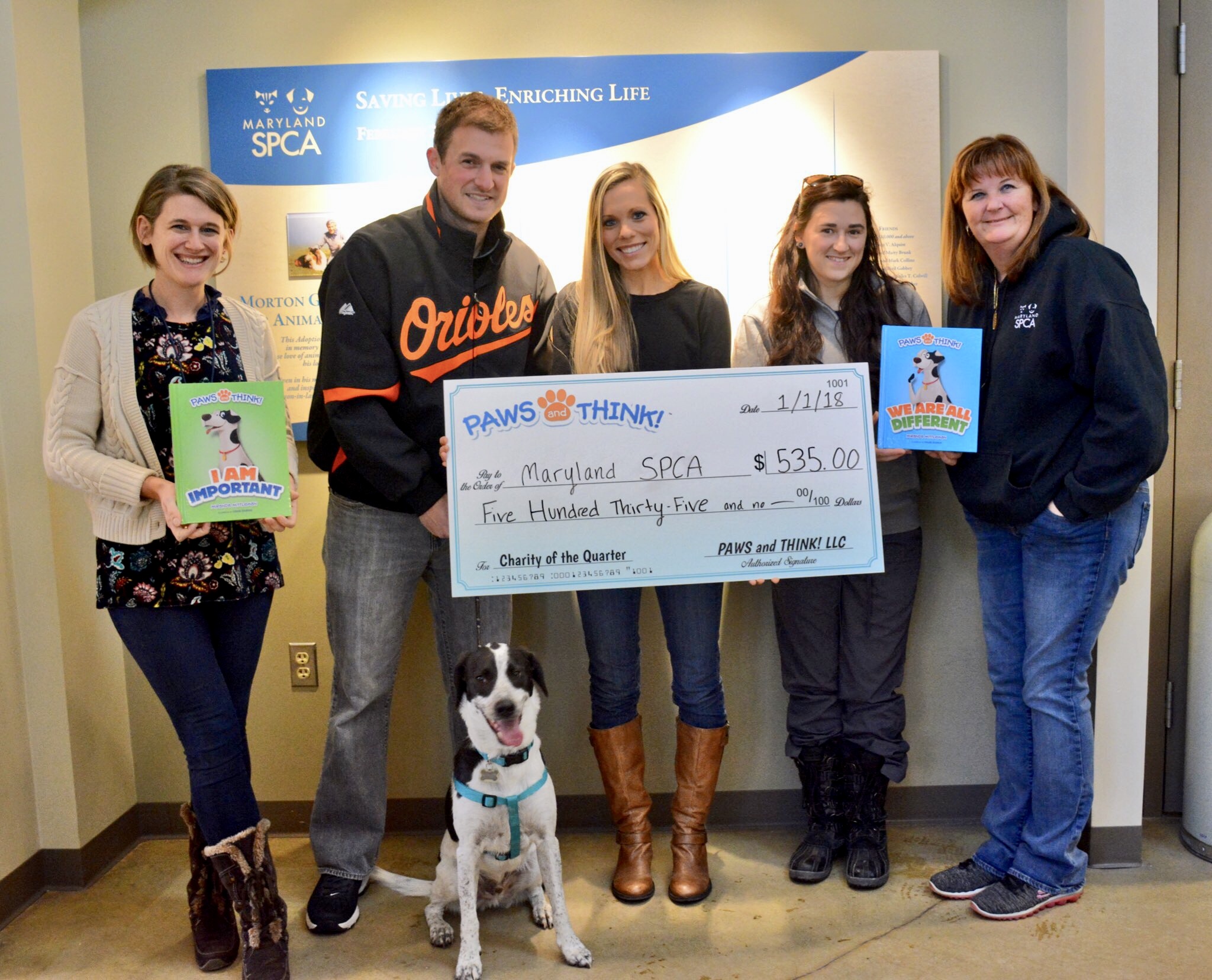 What can people expect from the latest installment of the series, Be A Good Sport?
A lot of people hear Be A Good Sport, and they automatically think of sports, but it is not just about sports. It's about being a good sport on and off the field. Not just simply playing by the rules, but being respectful to others, treating others the way you want to be treated, showing kindness, and supporting each other. And I think those are all really important things that children and adults alike need to understand. In this book, Weaver learns what that means, and he sees how our behavior and attitudes can impact the lives of others. And we even meet a new character.
What are your hopes for Paws and Think! as it continues to grow in the future?
I obviously would love to raise as much money as possible for these nonprofit organizations, and I would like to try to give back to organizations all over the country, not just local ones. I have so many other ideas for books that I would like to pursue in the future, so I'd love for PAWS and THINK! to be a household name and to get these important messages into the hands of as many children as possible.