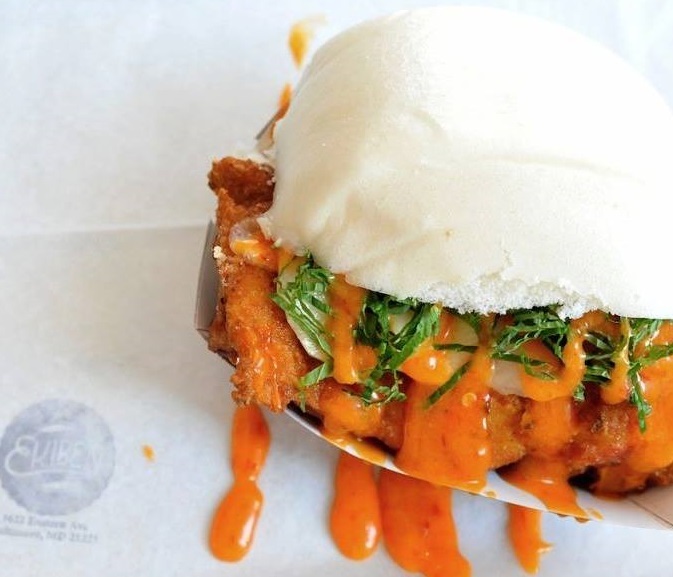 Courtesy of What Weekly
At its core, Artscape is all about supporting local endeavors—a mission that translates not only to its art and music attractions, but also, this year, to its food offerings.
Though it has been a goal for the past five summers, for the first time this year, Charm City's beloved free arts fest in Station North, July 15-17, will offer only locally sourced food options.
"We're extremely proud to feature a food program that celebrates all of the wonderful things happening throughout the state," says Kathy Hornig, festivals director for the Baltimore Office of Promotion and the Arts. "It wouldn't have been true 10 years ago to say that our program could be sustained by all local vendors, but with the increase in the food scene in Baltimore, we're at a place where we have enough quality and variety to do it."
This year, the festival is launching its new-and-improved food lineup by highlighting city favorites like Dooby's and The Local Oyster, as well as up-and-coming businesses from surrounding counties like Frederick's Chic Crepe and Columbia's ThaiThai.
Among the new sellers joining the pack this year is Black Dirt Farm, a two-acre plot in Caroline County that was historically home to one of the first stops on the Underground Railroad. Black Dirt farmer Blain Snipstal performed at Artscape two years ago with his spoken word troupe Spoken Gift, and is excited to return to the festival in a new role.
"A Maryland-based event should benefit Maryland people across the board first and foremost," he says. "So I think it shows a progressive stance from a festival of this size and caliber to take the risk and say, 'You know what? We can do this locally.'"
The farm, which regularly harvests sweet potatoes, winter squash, tomatoes, carrots, and a variety of greens, is using its bounty to create a number of light and refreshing snacks inspired by the this year's outer-space theme.
Its categorized menu will include "Sun Sizzling Sweet" snacks like sliced watermelon and cantaloupe; "Liquid Cosmos" juices and detox waters; and "Star Drops and Comets" finger foods including mushroom jerky, wildflower honey sticks, and watermelon salsa with tortilla chips.
"We understand that Artscape is always blazing hot, so we want to see that hotness and raise it with some cool and crisp flavors," Snipstal says. "When you're at the festival, you need something that's satisfying but also portable."
Returning to the event this year is local steamed bun purveyor Ekiben, which recently opened its first brick-and-mortar restaurant in Fells Point. Co-owner Nick Yesupriya says that, although Ekiben frequently pops up at festivals and farmers' markets around town, its participation in Artscape last year was a game changer.
"Artscape was the event that took us over the edge in a lot of ways," he says. "It was our first big event outside of the Fells Point Farmers' Market, and it was such an awesome experience. It's amazing how many people still come into the store and say, 'Hey, I remember I tried you guys at Artscape.'"
Ekiben's menu will include its fan-favorite rice bowls and steamed buns filled with everything from Thai chicken meatballs and mango papaya slaw to tofu and Japanese curry.
Yesupriya says that he's excited to cater to the forward-thinking Artscape crowd.
"The festival always attracts a lot of people that really value the local artistic interpretations of food and are always down to try new things," he says. "Ekiben is a personal expression of ourselves, so in that sense it's definitely artistic."
In keeping with the outer-space theme, the event will house its own "Area 51 Food Truck Encounters of the Best Kind" park, and a signature "Cosmic Crush" cocktail that will be served at the bar across from the BGE main stage.
"Artscape, for us, is just a great big party for the city of Baltimore," Hornig says, "and you can't have a great party without great food."