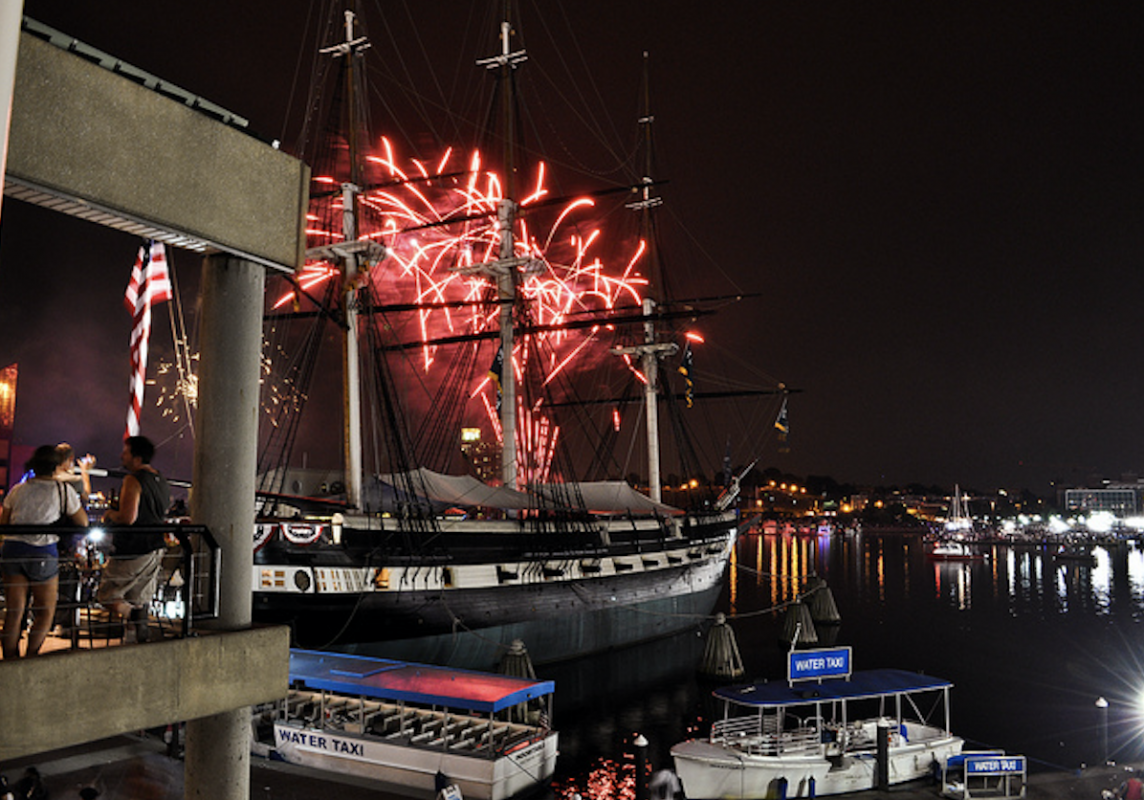 Courtesy of @katiewheeler via Flickr Commons
No Fourth of July celebration is complete without a killer fireworks display, and, lucky for us, Charm City offers clear views in nearly every borough. After filling up on hamburgers and hotdogs at a backyard barbecue, pack up the lawn chairs and head to any one of these community viewing spots to watch the bursting beams light up the sky. 
Canton
Canton Waterfront Park: From outdoor concerts to family-friendly festivals, this picturesque park is a go-to for summer soirees. Spread out on the lush lawn to watch the fireworks sparkle over the harbor. 3001 Boston St.
Catonsville
UMBC Soccer Field: Catonsville puts on a fantastic fireworks show, which most people watch from the high school. But UMBC's soccer field is a nice alternative. 5523 Research Park Drive, Catonsville
Cherry Hill 
Middle Branch Park: Just across the Hanover Street Bridge sits this 150-acre gathering place—which serves as the official home of the Baltimore Rowing Club and offers impressive waterfront views against the backdrop of the Baltimore City skyline. 3301 Waterview Ave.
Downtown
LB Skybar: Head up to the roof of the historic Lord Baltimore Hotel in the heart of the city to enjoy this top-level patio equipped with glowing lanterns and comfy lounge furniture. To complement the fireworks, order a round of summer-inspired jalapeño Palomas or a sangria carafe for the table. 20 W. Baltimore St., 410-539-8400
Harbor East
Wit & Wisdom: This waterfront restaurant's outdoor patio and bar space is one of the prime viewing locations in town. Expect a festive spread of American classics and seafood selections (oysters on the half shell, anyone?), as well as an onsite snowball machine, face painting, and other activities for kids. 200 International Drive, 6-9:30, $45-125, 410-576-5800
Harbor Point
Sandlot: This brand-new waterfront oasis is the closest we can get to the beach without hopping on Route 50. Squish your toes in the sand while challenging friends to a game of volleyball, and relishing summer sips before the fireworks begin blasting after dark. 1000 Wills St.
Hunt Valley
Oregon Ridge Park: The Baltimore Symphony Orchestra provides the sunset soundtrack for this patriotic party each year. Sway to classic scores like John Philip Sousa's "Stars and Stripes Forever" before marveling at the jaw-dropping bursts of light. Picnics are encouraged. 7/3, 13401 Beaver Dam Road, 8 p.m., $9-20
Inner Harbor
Tiki Barge: This floating peninsula of a bar will be a great place to catch the downtown show. We recommend hanging out at the upstairs bar (order a margarita, if that's your thing) where there is no cover and flawless views of the Harbor. 500 Harborview Drive, 410-246-6501
Locust Point
LP Steamers: Snag a brown paper-covered table on the roof deck of this Locust Point staple to celebrate the 4th the Bawlmer way—with cans of Natty Boh and a bushel of crabs. As an added bonus, it's an ideal spot to capture the Domino Sugar sign shining in the background of your firework photos. 1100 E. Fort Ave., 410-576-9294
Tide Point Waterfront Park: With fewer crowds than atop Federal Hill or at the Inner Harbor, Tide Point's waterfront promenade—where Hull Street meets the water and Under Armour has taken over—feels like a boardwalk right in the middle of the city. 1020 North Haubert St.
Towson
Luskin's Hill: Though the original Luskin's furniture store closed nearly 20 years ago, its home atop the 120-foot incline off of Cromwell Bridge Road remains one of the best places to see the Loch Raven fireworks. 1125 Cromwell Bridge Road.
Westminster
Carroll County Farm Museum: Gather at this bucolic site for an outdoor fête featuring food vendors, kids activities, live music, and, of course, a full-blown fireworks extravaganza. Admission is $5 after 5 p.m. with proceeds benefitting the Westminster Kiwanis Club. 500 S. Center St., Westminster, 800-654-4645