Festive Fourth of July Fireworks, Food Specials, Parties, and Parades
Our guide to the best star-spangled celebrations in Charm City.
It was 240 years ago that America the Beautiful came to be,
with Baltimore playing a huge part in its journey towards independence. This
Fourth of July, celebrate the red, white, and blue in the Land of Pleasant
Living, with these nine fêtes, a number of festive fireworks, and plenty of
featured food and drink specials.
FESTIVE FETES:

Dundalk Heritage Festival
JULY 1-3: Dundalk takes America seriously, so get ready for the Fourth with three full days of festivities, featuring a parade, fireworks, music, food, and booze. Dundalk Heritage Park, 2717 Playfield St. Dundalk. Times vary. Free-$8. 410-284-4022.

B&O Patriotic Train Rides
JULY 1-3: Bring the family for a day of patriotic fun with train rides and flag-making crafts at the museum. B&O Railroad Museum, 901 W. Pratt St. Fri.-Sat. 10 a.m.-4 pm. Sun. 11 a.m.-4 p.m. Free-$18. 410-752-2490.
Antietam Salute to Independence
JULY 2: The Maryland Symphony Orchestra performs at this historic battlefield, followed by a fireworks display. Antietam National Battlefield, 5831 Dunker Church Rd., Sharpsburg. 7:30-10:15 p.m. Free. 410-783-8000.
Star-Spangled Spectacular
JULY 3-4: The Baltimore Symphony Orchestra celebrates Independence Day with orchestra performances, fireworks, local food trucks, and the eighth annual "O, Say Can You Sing?" competition. Oregon Ridge Park, 13401 Beaver Dam Rd., Cockeysville. 8 p.m. $9-20. 410-783-8000.
Aquarium Pier Party
JULY 4: At the edge of the Aquarium, watch fireworks with barbecue, beer, and fun for the kids. National Aquarium. 501 E. Pratt St. 6:30-10 p.m. $28.50-78.50. 410-576-3800.

Baltimore's Fourth of July Celebration
JULY 4: Listen to live music from the U.S. Navy Band Cruisers outside on the Inner Harbor before the big fireworks shebang at 9:30 p.m. Inner Harbor. 7-10 p.m. Free. 410-752-8632.
Picnic at the Top
JULY 4: From the 27th floor, see a 360-degree view of the city's fireworks from the heart of the Inner Harbor. World Trade Center, Top of the World Observation Level, 401 E. Pratt St. 7-10 p.m. $25-50. 410-837-8439.
Visionary Pets on Parade
JULY 4: At AVAM's annual parade, dress up your furry friends in the finest costumes for awards like most patriotic and best owner-pet lookalike.American Visionary Art Museum, 800 Key Hwy. 10 a.m. Free. 410-244-1900.
Independence Day Deck Party
JULY 4: Take to the deck of the USS Constellation for a night of front-row fireworks, barbecue, and cannon firings on the harbor. Historic Ships in Baltimore, 300 Pratt St. 7-10 p.m. Free-$75. 410-539-1797.
BMI Independence Day Celebration
JULY 4: Nestled beneath the Domino Sugars sign, enjoy snacks, games, and fireworks from the BMI. Baltimore Museum of Industry, 1415 Key Hwy. 6-10 p.m. Free-$55. 410-727-4808.

Red, White & Zoo Enrichment Day
JULY 4: Spend the holiday strolling around The Maryland Zoo in Baltimore, where animals will be fed special "fishsicle" treats and zookeepers will host a number of enrichment activities that are designed to encourage the animals' natural behaviors. 1876 Mansion House Drive, 10:15 a.m., Free with zoo admission, 410-396-7102
More Fireworks: Annapolis, 9 p.m.; Catonsville, 9:15 p.m.; Frederick, dusk; Laurel, 9:15; Loch Raven, 9 p.m.; Ocean City, 9:30 p.m.; Solomons Island, 9:15 p.m.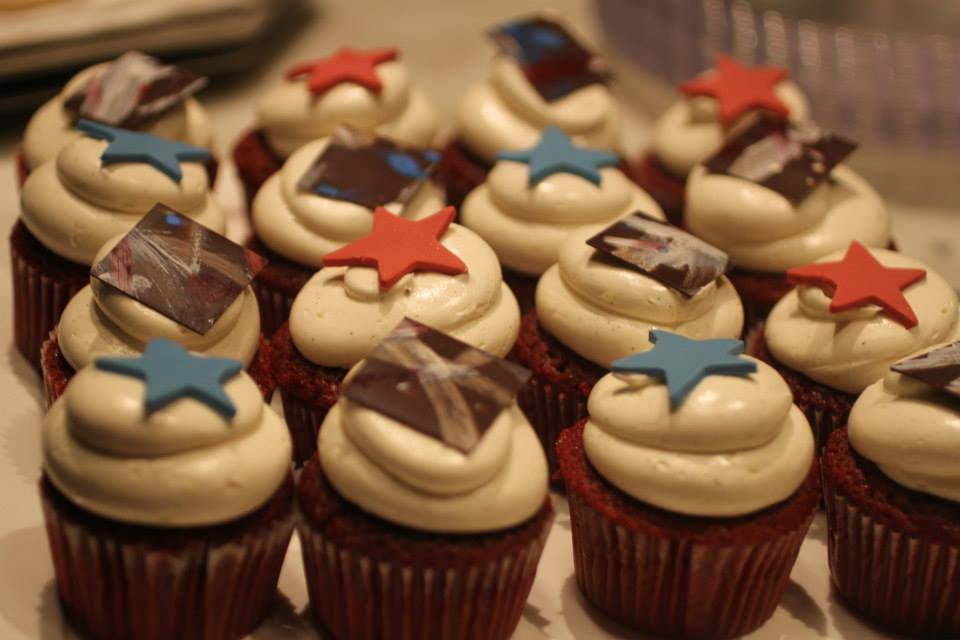 SPARKLING SPECIALS

Star Spangled Banger and Patriotic Pig Roast at Mad River
JUNE 30 & JULY 3: Kick-off the long weekend with a red, white, and blue bash to benefit the Cystic Fibrosis Foundation at Mad River on June 30. The bar will also host a Patriotic Pig Roast on July 3, complete with open bar access, bottomless eats (think roasted pork, shredded pit beef, cole slaw, and baked beans), a corn-hole tournament, and live music by Steve Herrera. 1110 S. Charles St., $30-60, 410-727-2333
Patriotic Party at Michael's Cafe
JULY 4: Michaels's Cafe will be throwing a full-blown Independence Day bash on its patio this year, complete with live music by Janis Joplin-sounding power vocalist Amanda Lynne and happy hour specials from 3-7 p.m. Michael's will also offer $6 orange, watermelon, and grapefruit Crushes and beat-the-clock deals on oysters, local beer, Prosecco, and rosé. 2119 York Rd., Timonium, 410-252-2022
4th of July Bash at Wit & Wisdom
JULY 4: At Wit & Wisdom in Harbor East, snag a front-row seat to watch the fizzling fireworks light up the harbor. The seafood spot is hosting a family-friendly celebration on its outdoor patio, complete with activities like face painting and an onsite snowball machine. The evening's eats will include an oyster-shucking station, unique takes on American classics prepared by executive chef Zack Mills, and an array of festive desserts. 200 International Dr. 6-9:30 p.m. $45-125. 410-576-4800.
Bars and Stripes
JULY 2: With koozie-covered cans of cold beer in hand, gather a group of friends and visit Federal Hill favorites including Ropewalk Tavern, Banditos Bar + Kitchen, Abbey Burger Bistro, Stalking Horse, and MaGerks Pub to find all-American food specials and free red, white, and blue gear. All participating bars will offer $2 Miller Lites and $3 Redd's apple ales all night. Check in at Mother's Grille, 1113 S. Charles St. 5 p.m.- 12 a.m. $10, 410-244-8686.
Red, White, and Brew Bash at Howl at the Moon
JULY 3: Don your stars and stripes and head to Power Plant Live's coveted rock venue for this annual dance party. As a gift to all crawlers sporting patriotic garb, the bar is giving away on-the-house margaritas and Sam Adams drafts. Other specials of note will include $2 Sam Adams summer ales, $6 margaritas, and $20 86-oz. mixed-drink Firework Buckets. 34 Market Pl. 6-10 p.m. 410-727-5483.
Independence Day Fireworks Booze Cruises
JULY 1-4: Climb aboard a Spirit Cruise to feel the warm winds, feast on buffet bites, dig on DJ entertainment, and watch the fireworks display dazzle over the Inner Harbor. The price of admission includes an open bar and bottomless summer-inspired sustenance including orzo shrimp salad, baked sole filet with shallots and capers, and all-American apple cobbler. 561 Light St. 7-11 p.m. $110. 866-312-2469.
Flying Dog at Frederick's 4th
JULY 4: Flying Dog Brewery is celebrating in its hometown on the Fourth, pouring pints of its beloved brews at Frederick's all-day festival in Baker Park. Sip seasonals, like Dead Rise Old Bay ales and Tropical Bitch IPAs, and sangria from local Spin the Bottle Wine Company at three different beer gardens stationed throughout the park. Each garden will feature its own live entertainment lineup, including the likes of rock and soul musicians Freddie Long Band and Americana cover band Secondhand Ramblers. Baker Park. 626 W. 2nd St. Frederick. Noon-dusk. $5. 301-600-2849.

4th of July Deals at Mt. Washington Tavern
JULY 4: To celebrate the holiday weekend, this Mt. Washington haunt is offering free America-inspired snacks—like hot dogs for kids and apple pie for adults—with the purchase of any entrée.5700 Newbury St., 410-367-6903

4th of July Celebration at Wine Market Bistro
JULY 4: Located just two blocks away from the harbor, this Locust Point fixture is a great place to grab a bite to eat before the fireworks begin blasting. In honor of the holiday, the restaurant is offering a three-course prix-fixe menu featuring unique takes on classic picnic fare. Highlights include grilled watermelon salad, barbecue pork sandwiches, kobe beef hot dogs, and boozy watermelon-basil snow cones. 921 E. Fort Ave., $28, 410-244-6166