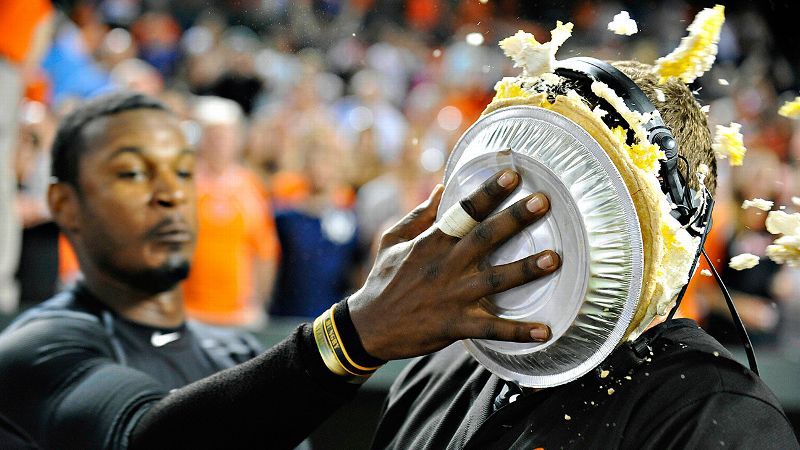 Joy R. Absalon/ESPN
Every January, Orioles optimism starts in earnest as thousands of fans wrap a line around the Convention Center and wait to enter FanFest. Once inside, the madness of jersey buying, autograph seeking, and photo taking really begins. To help you navigate the chaos, here are the five events not to miss at this Saturday's FanFest. (11 a.m.-6 p.m.)
#PiedByJonesy: From 3:55-4:10 p.m., several lucky fans will get the chance to be pied in the face by centerfielder Adam Jones. Some winners will be pre-selected by using the #PiedByJonesy hashtag on Twitter, Instagram, and other social media channels. Other lucky ones will be randomly selected at FanFest.
Tom Clancy Orioles Reading Club Story Time: After the death of Orioles investor and author Tom Clancy, the team partnered with more than 200 public libraries, Enoch Pratt Free Library, and the Department of Education to create the Tom Clancy Orioles Reading Club, which encourages children to read by rewarding them with games and prizes. This Saturday, kids will be rewarded by Orioles players reading them baseball-themed books in the kids theater room at 1:15, 2:45, and 4:30 p.m.
Know Your Teammate: In the Orioles' take on The Newlywed Game, players and coaches will be quizzed on how well they know each other. Two shows (1:20 and 3:20 p.m.) will be hosted on the main stage.
60th Anniversary Book Sales: There will be a booth dedicated to the team's official book, Baltimore Orioles: 60 Years of Orioles Magic, written by longtime sports writer Jim Henneman and featuring a foreword by Hall of Famer Jim Palmer. With more than 300 photographs (some never released), the book guides readers chronologically from the return of Major League Baseball to the city all the way up to last year's postseason run. Fans will be able to preorder the book, which comes out in April.
Clubhouse Tours: Not new this year, but always a favorite is the clubhouse tour, which gives fans with a 2015 FanFest ticket the opportunity to tour the clubhouse, locker rooms, and behind-the-scenes action. Fans should enter through Homeplate Plaza, between gates D & E and the last tour leaves at 5 p.m.