Health & Wellness
Free Fitness Guide
From early morning boot camps to yoga classes in the park, here are the best ways to work out without spending a dime.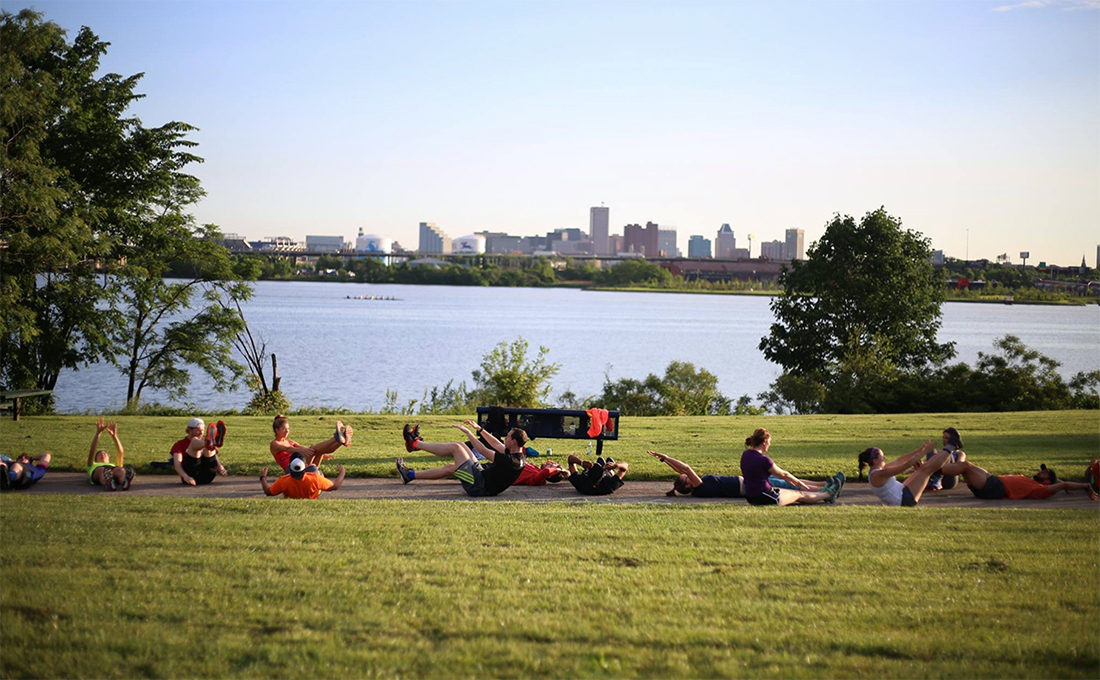 They say the best things in life are free and, when it comes to the local fitness community, we couldn't agree more. In times of costly gym memberships and pricey specialty classes, we here in Baltimore are lucky to have so many free opportunities to work out, spend time outdoors, and connect with other fitness fanatics.
Waterfront Partnership's Waterfront Wellness

The
Waterfront Partnership of Baltimore
and
MediFast
are teaming up again to offer another great season of Waterfront Wellness. This means four days a week of free fitness classes—everything from yoga to boot camp—offered throughout the spring and summer by some of the area's most well-known gyms, studios, and instructors. They do encourage participants to complete a one-time registration before attending.
November Project

It's not easy to wake up early, especially if that means waking up to run hills at 5:30 a.m. after a night of drinking wine and binging
Orange Is The New Black
. But that is what makes
The November Project
so special. This group of generally happy early-risers keeps their fellow tribe members accountable while offering challenging and, dare we say, fun interval routines. Not a serious athlete? Don't sweat it. The workouts are designed for people at all different levels and allow for a go at your own pace routine. By the end, you'll want to bring it in for one, two, or possibly six sweaty hugs and walk away with at least one new friend.
What does Sunday Funday mean to you? Because we think it means starting the day off with the breeze off of the water and a good cat-cow. This all-level yoga class is donation based and alternates some of the area's best instructors to lead the practice. There is also almost always an appearance by local wellness brands giving out samples of juices, snacks, and yogi merch. While their usual location is Canton Waterfront Park, they will also be offering some classes in Patterson Park this season. Word to the wise: Don't leave your sunscreen or sunglasses at home. Your savasana will thank you.
Full Moon Yoga with Pop Up Yoga Baltimore

For night owls, here's your chance to howl at the moon (and no, this has nothing to do with Power Plant) and enjoy a rare nighttime yoga event. The full moon symbolizes many things, but is most commonly associated with renewal. Connect that energy to your yoga practice for a refreshing cosmic boost
and
have fun with glow sticks. The Herd Brothers of M.Power Yoga keep the mood mellow with hypnotic tunes while you achieve the perfect warrior pose. The class is donation-based and fills up quickly, so get there early to save your spot.
Free Baltimore Yoga

Free Baltimore Yoga
is true to its word with free yoga classes three times a week. There are all levels of vinyasa yoga taught by passionate, certified yoga instructors. who prove that they don't need an official studio to have a fulfilling yoga class. The program has a strict no donation policy, because their mission is to bring a fulfilling free flow to anyone and everyone. New to the mat? FBY classes are the furthest thing from intimidating with a diverse and varied group of people, style of practice, and environment. They meet on at Patterson Park, the Parks & People Building in Druid Hill, and at the Under Armour House.
Shake Shack Track & Field Run
with Charm City Run
Dear Charm City Run, you had me at Shake Shack. If you are like us, and only run so that you can pound some burgers while remaining guilt-free, we have the fitness function for you. Every second Tuesday of the month, meet at the McHenry Row store location for a 3- or 5-mile fun run to the Inner Harbor Shake Shack location where the first round of free beer is awaiting you. All levels and paces are welcome.
lululemon Community Classes

While their products can be pricy, lululemon makes up for it by offering free community classes every Sunday at 10 a.m., including yoga, barre, or circuit training led by whichever studio your location has partnered up with for that month. You can peep the schedule on the
lululemon Baltimore
's Facebook page or check out the community calendar, which hangs in each store. The Harbor East location is currently hosting Corepower Yoga in store every Sunday for the rest of June.
5th Annual FIT + Fitness Festival

Free fitness lovers mark your calendar for June 24 when
Harbor East
brings together complimentary classes, healthy food and drinks, and a smattering of giveaways to the tunes of DJ Chrome. The event kicks off at 9 a.m. with a fun run by Charm City Run through the Inner Harbor followed by classes led by the Maryland Athletic Club, lululemon, and the Under Armour Brand House. RSVP for complimentary garage parking and a giveaway item.