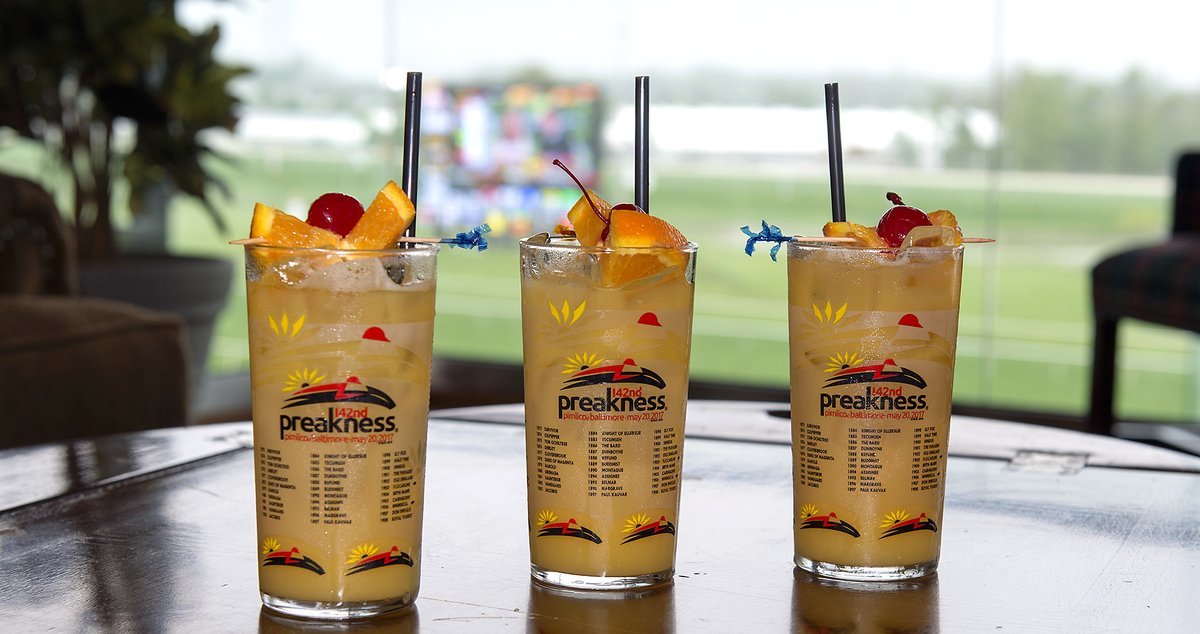 Courtesy of @PreaknessStakes via Twitter
While Maryland is graced with hoards of horse races throughout the spring, the Preakness Stakes are by far the largest event. For the 142nd year, this second jewel of the Triple Crown returns to the Land of Pleasant Living with plenty to do beyond the main event, from barn tours and crab races to live music and hot air balloons.
THE HORSES

SUNRISE AT OLD HILLTOP
5/16-19. Watch the sunrise at Pimlico with an escorted tour of the Preakness barn and an inside look at the horses' morning workouts. Pimlico Grandstand Apron, 5201 Park Heights Ave. Tue.-Fri. 6-9 a.m. Free. 410-542-9400.
BLACK-EYED SUSAN DAY
5/19. The day before the Preakness, see 3-year-old fillies run in one of Pimlico's oldest races.  Pimlico Race Course, 5201 Park Heights Ave. 8 a.m. $40-60. 410-542-9400. 
142ND PREAKNESS STAKES
5/20. The nation's top thoroughbreds compete for the middle jewel of the Triple Crown. Pimlico Race Course, 5201 Park Heights Ave. 9:30 a.m. $40-650. 410-542-9400.
THE PARTY

THE TAVERN DERBY 
5/6-6/10. Throughout racing season, the experts behind the bar at Mt. Washington Tavern will be mixing up a selection of classic cocktails to honor each jewel of the Triple Crown. Sip on traditional racing drinks including the "Preakness Mule," "Belmont Stakes Jewel," and the "Tavern Julep," which fuses muddled mint, simple syrup, and local Sagamore Spirit rye. All drinks are served in a commemorative, take-home glass. 5700 Newbury St., 410-367-6903
LEXINGTON MARKET CRAB RACE FESTIVAL
5/18. At Lexington Market's brand-new Preakness event, enjoy Faidley's raw bar eats, happy hour, music, and a live crab race to coincide with the horses. Lexington Market, 400 W. Lexington St. 5-8 p.m. Free-$5.
INFIELDFEST 
5/20. Country takes over this year's infield music festival with rising star Sam Hunt as the headlining act as well as country duo LOCASH (which is one part Baltimore native). Waldorf's own Good Charlotte also rocks out their '90s hits. The Infield at Pimlico Race Course, 5201 Park Heights Ave. 7 a.m. $110-155. 410-542-9400.
SAGAMORE RACING & RYLEIGH'S OYSTER PREAKNESS PARTY
5/20. Sip classic cocktails made with Sagamore Spirit whiskey, eat endless oysters, and see the show live on the big screen in Hunt Valley. Ryleigh's Oyster, 22 Padonia Road, Hunt Valley. 4 p.m. Free. 410-539-2093.
BMORE AROUND TOWN PREAKNESS PARTY PACKAGES

5/20. The party experts at Bmore Around Town are offering two all-inclusive deals for revelers headed to InfieldFest. In addition to an all-you-can-drink MUG Club ticket to the concert, the party packages also include round-trip transportation (with beer on the bus) departing from Mother's in Federal Hill and Claddagh Pub in Canton. Both bars will be offering drink specials and discounted brunch fare before the buses hit the road. Multiple locations including Claddagh Pub, 2918 O' Donnell St., $140, 410-533-4220.
ALL-INCLUSIVE PREAKNESS PACKAGE AT MAD RIVER
5/20. Bypass Uber surge charges by partaking in this all-inclusive party—which includes bus transportation to and from Pimlico, a MUG Club ticket to InfieldFest, and a pregame at Mad River in Federal Hill. Starting at 8 a.m, enjoy a bottomless breakfast buffet and two-hour open bar access before heading to the track. Bus departs from Mad River Baltimore, 1110 S. Charles St., 8 a.m., $140, 410-727-2333
THE PEOPLE

4TH ANNUAL AMERICA'S BEST RACING PRE-PREAKNESS PARTY

5/17. Start Preakness weekend off right with eats, drinks, and raffle prizes (including a pair of tickets to the main event on May 20) at this annual race-themed fundraiser. Head up to Mt. Washington Tavern's top-floor Skybar to snack on complimentary hors d'oeuvres, sip classic cocktails, and partake in a silent auction to benefit the Thoroughbred Aftercare Alliance—which works to find homes for retired racehorses. Mt. Washington Tavern, 5700 Newbury St., 7-11 p.m., $10, 410-367-6903.
PREAKNESS PACKAGE AT THE IVY HOTEL
5/19-21. Mt. Vernon's posh hotel will be offering festive accommodations for guests visiting Charm City during Preakness weekend. Aside from its ultra-exclusive high-tea service and gourmet dining options, The Ivy will also serve Black Eyed Susan cocktails upon arrival, feature a selection of fancy hats for guests to borrow for Preakness Day, and offer complimentary shoe-shining services after the race. The Ivy Hotel, 205 E. Biddle St., 410-514-6500
ALIBI BREAKFAST
5/18. Following a 1930s tradition, this Preakness Week breakfast allows trainers, jockeys, and horse owners to provide racing fans insight into what it takes to win the Triple Crown. Pimlico Race Course Terrace Dining Room, 5201 Park Heights Ave. 9 a.m. $50. 410-542-9400.
PREAKNESS CELEBRATION BALLOON FESTIVAL
5/18-20. This mile-high festival will color the sky with 25 gorgeous hot air balloons, with crafts, entertainment, and food on the ground. Howard County Fairgrounds, 2210 Fairgrounds Road, West Friendship. Thu. & Fri. 2 p.m., Sat. 6 a.m. $20-35. 410-442-5566.
PREAKNESS UNDER THE STARS

5/20. Take in sweeping skyline views at this race-day watch party on the rooftop patio at the Lord Baltimore Hotel. Dress to the nines in your Triple Crown attire (the hotel will be giving away prizes to guests wearing the most festive hats) to enjoy all-inclusive eats and drinks while tuning into all of the action at Pimlico. LB Skybar at the Lord Baltimore Hotel, 20 W. Baltimore St., 4-7 p.m., $75, 410-539-8400
HATS & HORSES
5/22. Don bowties and big hats for this jockey-theme fundraiser, featuring local eats by Baltimore's best chefs, to benefit Meals on Wheels of Central Maryland. Grand Lodge, 304 International Cl., Hunt Valley. 5:30-9 p.m. $150. 410-558-0827.