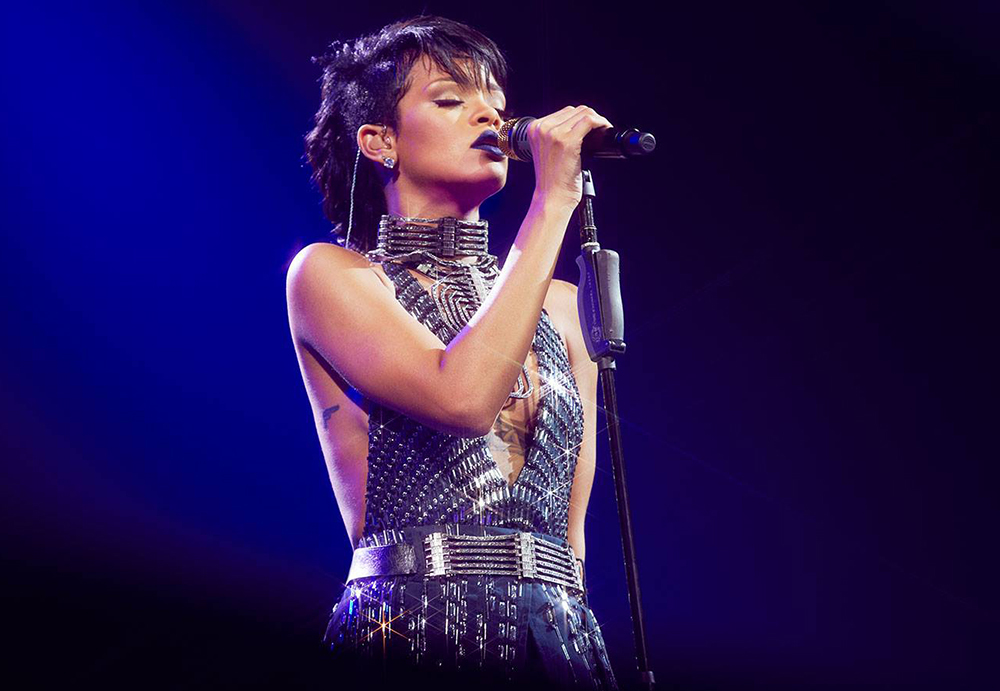 Courtesy of Rihanna
Five things to eat, drink, see, hear, and do with your Charm City weekend.
EAT
Wockenfuss Candies, 6831 Harford Rd. 9 a.m.-4 p.m. Free. 410-483-4414.
It's been 100 years since the Wockenfuss Candy Company first crafted its sweets in Northeast Baltimore, and this weekend marks the fourth time the family has offered a factory tour, as coveted an occasion as a trip through the chocolate factory with Willy Wonka. In Baltimore, Wockenfuss is our Wonka, as we've come to love their cocoa-covered caramels, creamy by-the-pound fudge, and tantalizing gourmet truffles for a full century. The magical excursion will take you on a behind-the-scenes stroll through the sweet-smelling factory, and while no secret family recipes will be revealed, there will be plenty of candy samples along the way. The tours will run all day, but they are first-come, first-serve, so be sure to arrive early or late.
DRINK
Max's Taphouse, 737 S. Broadway. 11 a.m.-9 p.m. $25. 443-513-4647.
Just across the Chesapeake Bay, the Eastern Shore offers us city-dwellers a rural respite from our urban grind, filled with scenic views, quaint waterfront towns, and, as of late, a growing brood of beloved breweries. From Ocean City to St. Michaels, there are some 13 beer-makers micro-brewing their own masterpieces as good as Flying Dog, Heavy Seas, or Union. This weekend, get to know two of the best, as Max's Taphouse takes you on a road trip across the pond to Burley Oak Brewing in Berlin and RAR Brewing in Cambridge. The former is home to creative beer names like Hot Line Sting (we're down for any kind of Drake reference) and Pants are Cumbersome (so true). The latter is a personal favorite, located on a quiet main street with garage-door windows, '90s hip-hop, bedazzled tater tots, sand-covered shuffleboard, and perfect pints of their flagship Nanticoke Nectar. At the end of the night, when you're dropped off at Max's or if you missed the bus entirely, scramble inside for more shore suds on tap.
SEE
Howard Street & North Avenue. 12-5 p.m. Free. 336-404-0959.
This Saturday, the streets of Station North will be covered in not just cement but dozens of onlookers and soft cotton cloth. For one afternoon, two blocks of North Avenue will be blanketed in a red, white, and pink quilt made from 1,500 stories of sexual and domestic abuse survivors, aimed at eliminating shame and blame to build a new culture of public support. Led by the local art activism organization, FORCE, this installation is part of an ongoing series that has set up shop all across the country, including a stint on the National Mall. There will be poetry, performances, quilt-making activities, and a resource fair, as well as Baltimore's top four mayoral candidates—Pugh, Dixon, Stokes, and Embry—who will host a forum on the topic, the first of its kind in the state. Be sure to swing by and see it, and keep your eye out for our June issue, with a full story on the women behind the project.
HEAR
Royal Farms Arena, 201 W. Baltimore St. 7:30 p.m. $35-272. 410-347-2020.
It was about a year ago this month that pop royalty Rihanna was planning to come to Baltimore. In the days following the Freddie Gray unrest, the 28-year-old powerhouse behind chart-topping hits like "Umbrella" and "Diamonds" reportedly wanted to walk with local protesters and perform a free concert in a city still reeling from riots and heartbreak. For somewhat vague reasons, perhaps pertaining to a lack of permit, she never made it, but now, on the heels of her much-anticipated album, Anti, RiRi will finally find her way to 410 fans. For one Saturday night, watch this ballsy, self-proclaimed bad girl perform her old favorites ("Pon de Replay," please) and new minimal masterpieces ("Work," with a surprise appearance by its featured meme-dream Drake, pretty please). With eight Grammys, eight Top 10
albums, and over a decade's worth of artistic flair and fearless fashion choices under her belt, this unstoppable starlet is a force to be reckoned with. On Saturday, expect her to run this town with every ounce of fire that we missed last spring. We hope, ironically, she plays her mid-aughts throwback, "Don't Stop the Music."
DO
Patterson Park, 27 S. Patterson Park Ave. 3-6 p.m. $30-275. 443-890-4200.
The weekend's weather might be crappy, but on Sunday, the skies will part, the sun will come out, your sleeves will come off, and in you'll go into a giant inflatable bubble. For one afternoon, participate in the strangest game to grace the grasses of Highlandtown, as Bubble Soccer takes over Patterson Park. Donning a giant plastic suit and sneakers, you can run, jump, bump, and stumble into your opposition without feeling a thing, or, like we would do, just roll around in the grass. We're still not sure we understand the point, but regardless, it's a chance to enjoy the early days of spring and try something new on for size. Sounds like the makings of an oddly good time.