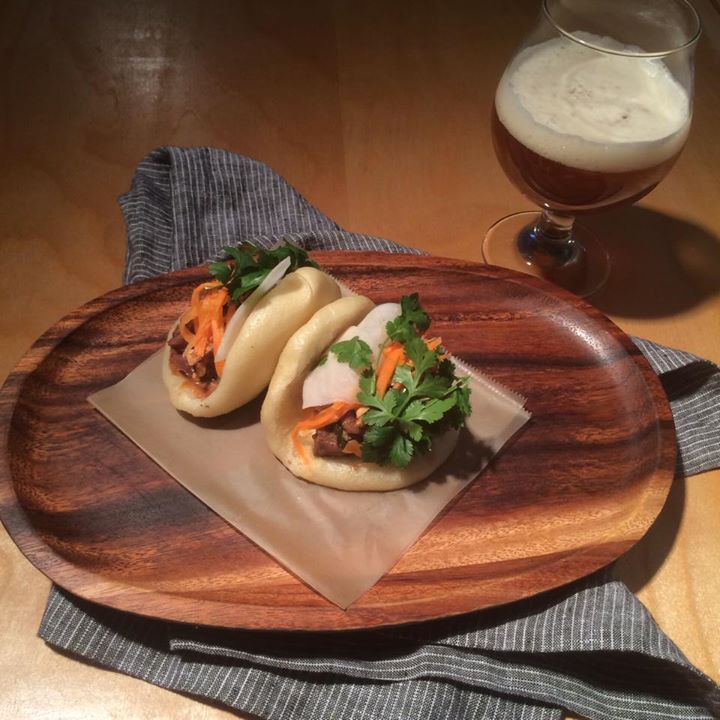 —Courtesy of Dooby's
Five things to eat, drink, see, hear, and do with your Charm City weekend.
EAT
Feb. 15-28: Baltimore Restaurant Week
Locations vary. Fixed-price two-course brunch and lunch for $15 and three-course dinner for $20-30. absolutelyfebulous.com
Unless you've been living under a rock recently, you've probably noticed that Baltimore's food scene is in the midst of a major moment. If you're anything like me, your to-eat list is running rather long, and it's high time you check a few things off. So why not start this weekend, with Baltimore's winter restaurant week popping off on Sunday as part of the city's
Absolutely Febulous fete. More than 100 area eats will offer brunch, lunch, and dinner specials, including new comfort food like Dooby's and Verde, Hampden havens like The Food Market and Le Garage, and fancy feasts like Pazo, Aggio, and The Prime Rib.
DRINK
Feb. 13-16: Max's Belgian Beer Fest
Max's Taphouse, 737 S. Broadway. 11 a.m.-2 a.m. No entrance fee. 410-675-6297. maxs.com
I often walk into Max's and get so overwhelmed by all my beer options that I simply give up and settle on a tallboy of Boh. When I'm feeling fancy, I get a Union Craft can of Duckpin. To make things even more difficult, the taphouse is adding a slew of epic brews to their lineup this weekend—dozens, to be exact—for the 11th annual, three-day Belgian Beer Fest. Each day will feature special drafts, bottles, prices, and events, including Berlin's Burley Oak Brewing Company, Baltimore's
Stillwater Artisanal, and a medley of American sour and wild ales. This Friday, swing by, sip on something new, and if you're feeling extra adventurous, karaoke starts in the side room at 10 p.m.
SEE
Feb. 14: Katt Williams
Royal Farms Arena, 201 W. Baltimore. 8 p.m. $48-128. 410-347-2020. royalfarmsarena.com
Okay, boo boo—this Valentine's Day, skip the serious, swank supper and take your date out for a few feel-good laughs from this ganja-loving (caution: NSFW), velvet-wearing, hair-flipping, high-pitched little comedian, now on a new nationwide tour. Best known for his raucous comedy specials and supporting movie roles in the likes of Friday After Next, the impish stand-up has cemented his frenzied antics, expletive-riddled life advice (caution: also, always, NSFW), and sardonic sets among the ranks of Dave Chappelle, Kevin Hart, and Chris Rock.
HEAR
Feb. 14: Ottobar's Valentine's Day Dance Party
Ottobar, 2549 N. Howard St. 8 p.m. $5-10 suggested donation. 410-662-0069. theottobar.com
Beneath the string of twinkling lights and the red glow of this Remington stage, dance your heart out to some of Baltimore's best musicians on Saturday at Ottobar's Valentine's Day dance party. There'll be a lot of local love, with "booty jams" by Jana Hunter of
Lower Dens, Dianamatic, and DJ James Nasty, funk and soul sets by Lesser Gonzales of Wham City and DJ Young Coconut, and a special guest performance by William Cashion of Future Islands and Peals. Plus, donations will benefit Moveable Feast.
DO
Feb. 14: Cupid's Undie Run
Luckie's Tavern, 10 Market Pl. 12 p.m. $55. 410-223-1105. cupidsundierun.com
This Valentine's Day, don your lucky undies, gather some courage, and then do the last thing you'd expect after the aforementioned instructions: go for a mile-long run around the Inner Harbor. Hey, it's all for a good cause, with proceeds benefitting the Children's Tumor Foundation, and it starts and ends with a party in Power Plant, plus an awards ceremony for the best skivvies. So brave the cold then blow off some steam with one of Luckie's boozy frozen slushies.