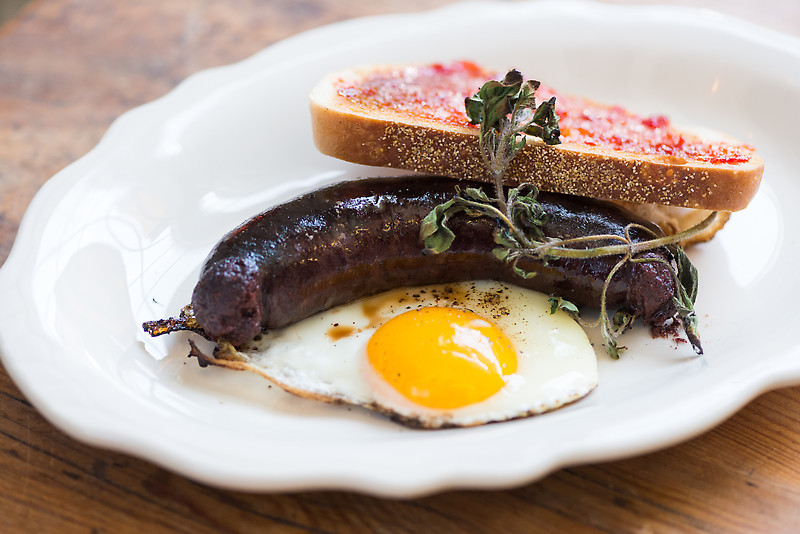 Star Chefs
Five things to eat, drink, see, hear, and do with your Charm City weekend.
EAT
Feb. 20-21: Parts & Labor Brunch
Parts & Labor,
2600 N. Howard St. 10 a.m.-3 p.m. 443-873-8887. partsandlaborbutchery.com.
Hold onto your horses, or in this case, your
cows and pigs. On Saturday and Sunday, Spike Gjerde's Remington meat mecca is
going ham with the introduction of its brand-new weekend brunch. Step up
your hangover cure or weekly splurge meal at this industrial auto-garage-turned-hipster-chic warehouse with its full feast of meats (steaks,
sausages, burgers, you name it), breakfast sandwiches (like the "Hot Brown,"
with gruyere béchamel, bacon, pickles, and parsley), and "restorative
fare" (we'll take one pozole, please, with "rib fingers," whatever that means, cilantro, radish, and a
side of sunny-side eggs). Food baby be damned, be sure to belly up at P&L pretty 24-tap bar for craft drafts and at least one artisanal
cocktail.
DRINK
Feb. 21: Dogwatch Tavern Fund for Family Potluck
Dogwatch Tavern, 709 S. Broadway. 12-6 p.m. $20-25. 410-276-6030. facebook.com.
By now you've likely heard about the violent hit-and-run that took place two weeks ago at Dogwatch Tavern in Fells Point. The incident left the bar badly damaged and severely injured Jill Boram, the wife of the pub's chef. The couple was exiting the building at the end of his shift as the car crashed came through the entrance, striking Boram, who is now recovering at the Johns Hopkins Hospital ICU from skull fractures and a broken hip, leg, and teeth. It was a dark day for the tavern, but now they're coming together to thank the community for all of its positive support. The bar will be open for regular hours, and for a small donation, you can bring a dish or partake in a potluck buffet, have some drinks, and enter raffles, all to benefit Boram's recovery.
SEE
Feb. 19-21: American Craft Council Show
Baltimore Convention Center, 1 W. Pratt St. Fri. 10 a.m.-8 p.m., Sat. 10 a.m.-6 p.m., Sun. 11 a.m.-5 p.m. Free-$36. 612-206-3100. craftcouncil.org.
In the midst of the winter doldrums, surround yourself with pretty things at this three-day celebration of all things American-made. Now in its 40th year, the American Craft Council show will once again feature more than 650 jewelry, clothing, furniture, and home décor artists from Baltimore (like Annie Howe Papercuts, 3Clothing yogawear, and Ronnie Aronin pottery) and beyond. Meet the makers, browse their beautiful goods, and even buy something nice to ward off those bad-weather blues. And on Friday and Saturday afternoon and evening, don't miss the Craft Beer Pop-Up, where you can belly up with suds from The Brewer's Art, Union Craft, Flying Dog, Monument City, and Charm City Meadworks.
HEAR
Feb. 20: Rye Rye
Creative Alliance, 3134 Eastern Ave. 8 p.m. Free. 410-276-1651. creativealliance.org.
Before there was TT The Artist and Abdu Ali, there was Rye Rye, who, in 2008, was one of the first to revive the homegrown, high-energy, breakbeat genre of Bmore Club, initially made famous in decades prior by DJ Scottie B and 92Q's K-Swift. At the ripe age of 17, the artist's vivacious style and confident sound led to Rolling Stone reviews, a spot on Billboard's "21 under 21," and collaborations with M.I.A., Robyn, and Diplo. Lately, the 25-year-old has been lying low, but this Saturday, you can catch her dance-party fire at the Creative Alliance, where she'll be performing as part of the art space's Resident Artist celebration, with open studio tours, two exhibitions, and an opening set by Baltimore beatboxer Shodekeh.
DO
Feb. 19: 4 Hours of Funk
The Windup Space, 12
W. North Ave. 10 p.m. $5. 410-244-8855. facebook.com.
Guys. This weekend is going to be in the 50s. The 50s! That's
spring. That's practically summer. That's anywhere but stuck in the middle of a
terribly cold February, having burned through all of Netflix and ready to set
your sweaters on fire. So get out of the house, grab your dancing shoes and
friends, and get over to Station North for a feel-good night at The Windup
Space's monthly dance party. In honor of the recent passing of Earth, Wind
& Fire bandleader Maurice White, the DJs will be spinning a solid power
hour of songs by the 1970s funk collective—think "September," "Let's Groove,"
"Shining Star"—followed by another three of disco, boogie, and soul. It's the
perfect way to shake your groove thing and get in the warm-weather spirit.
P.S.: Only 30 days 'til spring.