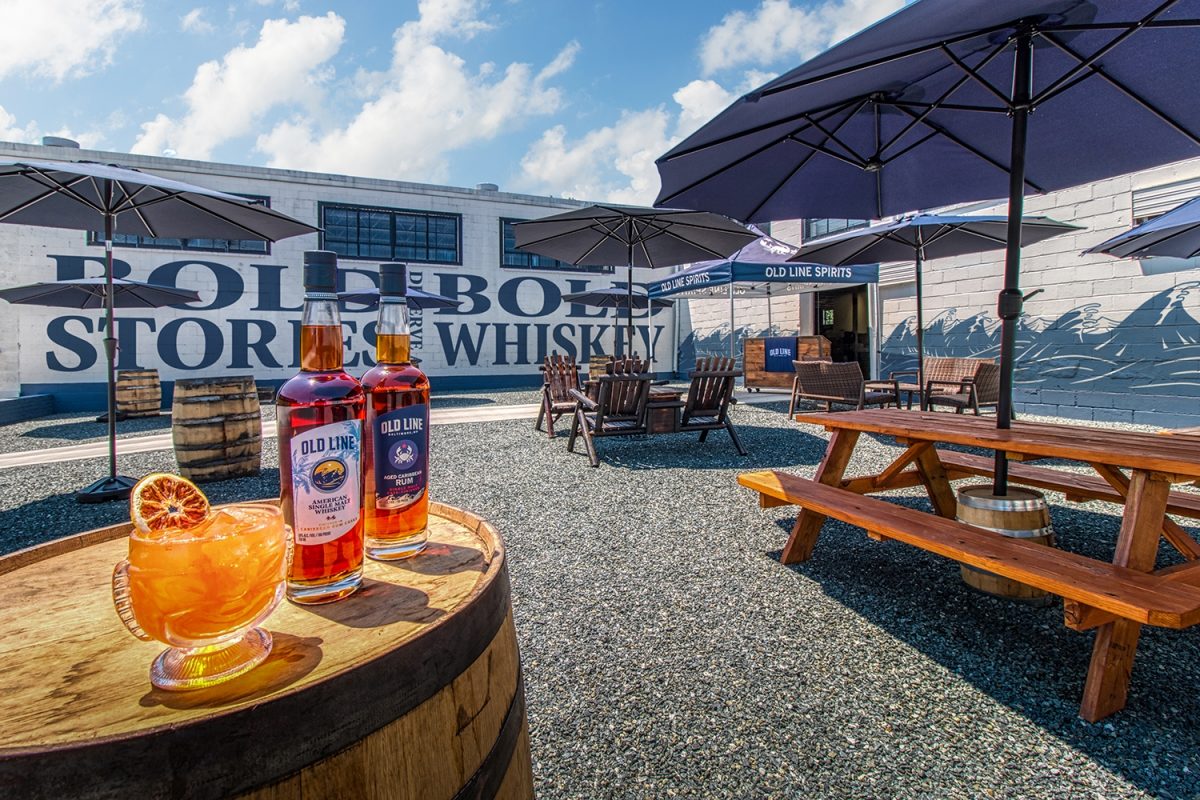 Old Line Spirits
---
EAT
In advance of National Ice Cream Day on July 19 (be sure to check out our handy guide to local ice cream shops for the cherry on top of a perfect Sunday), Cajou Creamery is continuing this Friday-night Instagram Live series with special guest Chelsea Gregoire of Drinkable Genius. The hospitality veteran will join husband-and-wife owners Dwight Campbell and Nicole Foster to create tasty cocktails that incorporate Cajou's entirely-vegan flavors. Grab a pint, sit back, and kick off your weekend by tuning in to the fun conversation. While you're at it, consider donating to Cajou's Kickstarter campaign to help fund nationwide shipping and equipment for a new storefront.
DRINK
Old Line Spirits. 200 S Janney St. 12-8 p.m. Prices Vary.
Old Line Spirits is opening its long-awaited outdoor courtyard on Saturday. In honor of the debut, the Highlandtown distillery will be offering a full summer cocktail menu featuring its own whiskey and rum, as well as its latest release: New Normal Vodka. Deddle's Chicken & Donuts will also make an appearance to serve up juicy Buffalo wings made with a signature Old Line Whiskey sauce. You can even bring your pup, as long as it's on a leash, and non-alcoholic drinks will also be available.
SEE
Baltimore Clayworks. 5707 Smith Ave. 2-8 p.m. Free.
Strolling through galleries and gazing at art is one of things we've missed most during quarantine, but this weekend, Baltimore Clayworks is ready for you to view its latest exhibition, The Wind of Change: Contemporary Ceramics of Taiwan. Professor Ching Yuan Chang of Tainan National University of Arts has expertly curated a unique display of Taiwanese ceramics to display the craftsmanship, creativity, and resilience of clay. The solo exhibit will also feature displayed works by one of Baltimore Clayworks' very own fellows, Samantha Briegel. Briegel's "Maintaining Comfort" spotlights functional vessels inspired by fabric and fashion. Entries will be timed and masks will be required to ensure that guests can wander through the gallery safely, so be sure to reserve your spot online.
HEAR
Zen and the City. 811 N Charles St. 5-9 p.m. $5-15.
This weekend, instead of massages and facials, downtown wellness center Zen and the City is bringing you a live outdoor concert. Described as "Tiny Desk-meets-Artscape," the event will allow guests to browse and purchase art from Charm City creators before heading into the garden to enjoy the tunes. The series will be broken into 60-minute slots, with performances by electronic soul artist Jazzo, poetry duo The 5th L, and singer-songwriter Mariah Ash. Seating is limited, so don't forget to bring an outdoor pillow to get comfortable outside.
DO
The Maryland Zoo in Baltimore. 1 Safari Place. 8-10 a.m. $14.99-24.99.
Since so many yoga positions are inspired by the animal kingdom, what better place to hold a downward dog or cobra pose than the Maryland Zoo? All yogis are welcome to travel to Safari Place to take part in a 60-minute, Vinyasa-style yoga class. The class is designed for both beginner and intermediate yoga lovers, so no need to worry if you're not a master yet. The session will take place at Penguin Coast, allowing participants to gaze at the flowing waters and swimming penguins while sweating it out in the summer heat.