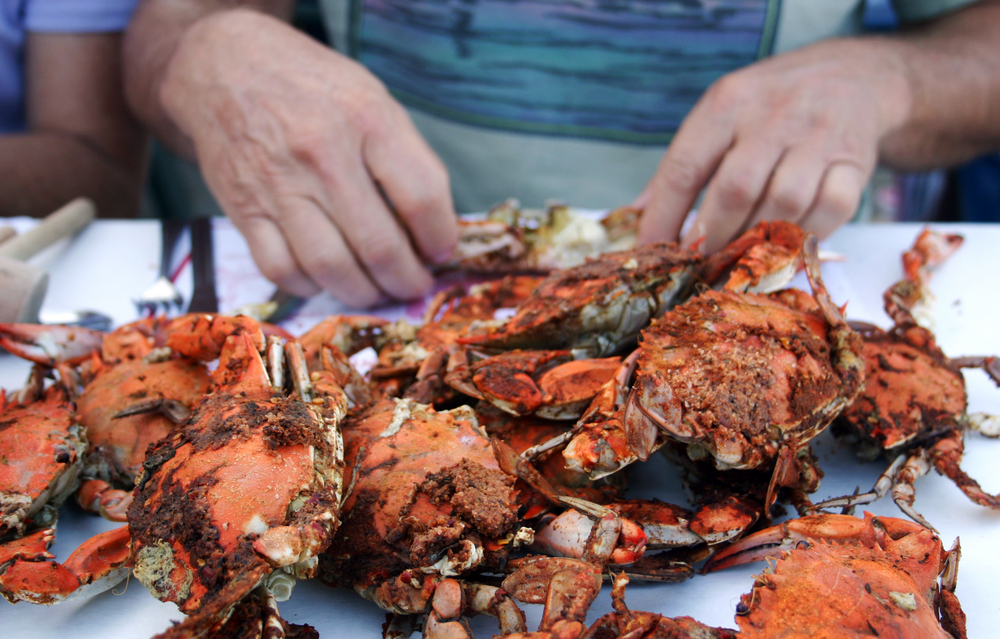 Five things to eat, drink, see, hear, and do with your Charm City weekend.
EAT
Fort McHenry National Monument, 2400 E. Fort Ave. 4-8 p.m. Free-$75.
Fourth of July
may have come and gone, but here in Charm City, we prefer to celebrate America all summer long.
This Saturday, keep your patriotic game going strong at an epic feast along the
Baltimore harbor. Dig into heaps of Maryland crabs, sip on locally brewed Heavy
Seas beers, and listen to the Chesapeake sounds of the Eastport Oyster Boys.
Afterwards, dust off the Old Bay from your fingers and wander the grounds of
this historic fort, which served as inspiration for the Land of the Free's national anthem, "The
Star-Spangled Banner."
DRINK
Waverly Brewing Company, 1625 Union Ave.
3-7 p.m. Free.
If you haven't
been to Waverly Brewing Company yet, this is the weekend. With an outdoor
patio, corn hole, and proximity to Blue Pit BBQ, it's the perfect place to
spend your Sunday Funday, especially with this Sunday's "Reggae Spin Cycle" Jamaican
music. Grab a pint of O'Bay or Balti-Mo, set up shop outside, and transport to
the beach with funky grooves by Nanthali Sound, Bobby Babylon, and Suburban
Hi-Fi. Highlandtown's Snake Hill will be providing their
signature artisanal sausages with sides like coleslaw and baked beans.
SEE
The Motor House, 120 W. North Ave. Fri. 7:30 p.m., Sat. 9 a.m.-12 a.m. $5-20. 410-637-8301.
Artscape is just around the corner, and to get you excited for the country's largest free arts festival, the Motor House in Station North is throwing a dance festival jump-off with performances, workshops, and, of course, a dance party. On Friday, check out hip-hip and African dance by local groups like the Sankofa Dance Theater, Baltimore Dance Crews Project, and Full Circle Dance Company and Morton Street Dance Center. On Saturday, learn the basics and get in on the fun with a full day of children's jazz and modern dance classes, children and youth hip-hop workshops, family fitness, hula hooping, zumba, and medicinal dance. Even with two left feet, let loose with an evening dance party, featuring the sounds of afro-fusion, house, hip-hop, salsa, R&B, line dancing, and more. It'll have you ready for Bond St. District, Wyclef, and The Mighty Mighty Bosstones next weekend.
HEAR
Merriweather Post Pavilion, 10475 Little Patuxent Pkwy., Columbia. 12 p.m. $95-150.
Music festivals
are all the rage these days and rather quickly our region is becoming riddled
with them: Sweetlife, Firefly, and now the Merryland Music Fest. This weekend,
hop on the bandwagon and head to the Merriweather woods for the newest
iteration of All Good Music, with an eclectic lineup of 21 acts, Flying Dog
beers, and local artisans throughout the festivities. With national headliners and local favorites alike, hear two—yes, two—sets of jams by The
String Cheese Incident, the feel-good vibes of Ben Harper, rolling thunder of
Grace Potter, relaxing reggae of Stephen Marley, electronic funk of Lotus,
Southern rock of Shakey Graves, and homegrown roots music of Cris Jacobs.
DO
The Can Company, 2400 Boston St., Ste.
104. 9:45 a.m. Free, with $10 suggested donation.
This is not
your average bar crawl. In fact, it is much more difficult, but every ounce of pain the next morning will be well worth it—trust us. The only drink involved will be that of water, consumed while hydrating for the ballet-inspired
fitness craze: barre. The exercise seems easy but packs a punch, combining
strength, endurance, flexibility, and balance routines for a low-impact, whole-body
workout that leads to a killer core. Think planks, sit-ups, and squats, all
with the help of a ballet barre, or your very own body weight. Whether you're
new or experienced, bring some friends, wear comfy clothes, and get a good
start to your weekend. Best of all, proceeds will benefit the One Love
Foundation, founded in 2010 in honor of UVA student Yeardley Love.