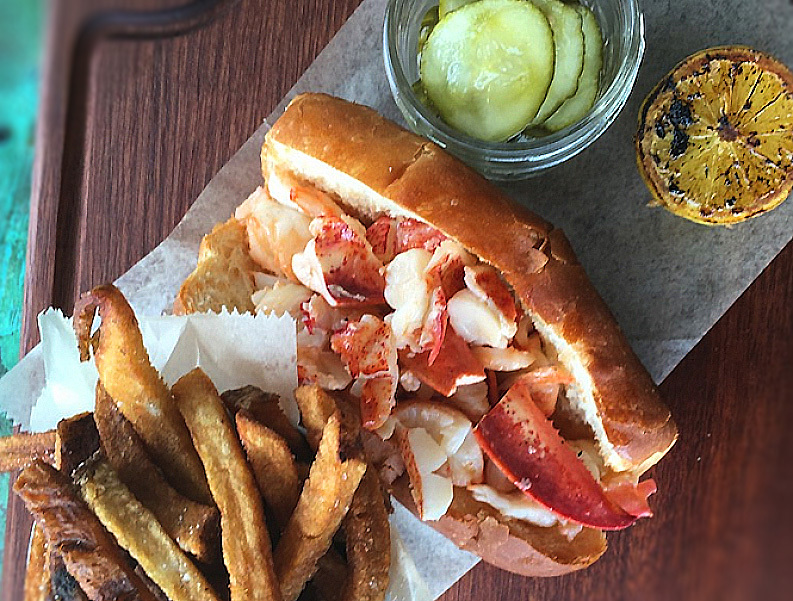 Five things to eat, drink, see, hear, and do with your Charm City weekend.
EAT
The Corner Pantry, Lake Falls Village, 6080 Falls Rd. 11 a.m.-7 p.m. $21. 667-308-2331.
If there's one
Instagram to avoid during the bewitching hour between lunch and dinner, it's The Corner Pantry. Those bedazzled donuts. Those Scotch
eggs. Those special Thursday night suppers. That salmon. While we salivate over
our screens, the modern British café is just a stone's throw away, and well
worth the trek for some seriously good comfort food. And if the pictures aren't enough to pull you, this weekend, they're launching Lobster Roll Fridays. Throughout the
summer, swing up Falls Road for massive Maine lobster rolls, served in warm,
buttered brioche buns (made by Cunningham's, mind you), with a side of pickles
and hand-cut fries. Eat in or
carry out, but best of all, it's BYOB.
DRINK
44 S. Market St., Frederick. 12-5 p.m.
We hate to admit it, but the weather is going to suck again this Saturday. No sun. No blue skies. It's the hard truth, and so we might as well make the most of it. Rain or shine, wash away your sorrows in Frederick and celebrate Maryland's booming beer scene with over 40 local breweries boasting as many as 200 craft brews. Think The Brewer's Art's Birdhouse, Flying Dog's Bloodline, Full Tilt's Hops the Cat, Key Brewing's California Commons, Peabody Heights's Old Oriole Park, Union Craft's Country Boy, and our new summertime favorite, Diamondback's Citranova. Soak it up with food truck treats from Brick N Fire, Slainte, and Carnivore BBQ, and dance it down to three live bands, including Baltimore's own Big Hoax Band.
SEE
Second Chance, Inc., 1700 Ridgely St. 5-8 p.m. Free.
Gone are the days of all-Ikea-everything, coveting a couch from Restoration Hardware, and begging for another sofa sectional from Pottery Barn. We no longer need the glitz and the glam of the latest fashion. Now, we looks for things that are old, or imperfect, or made by hand—perhaps by someone you know, or maybe even love—things with a story. Luckily, Baltimore has a burgeoning DIY scene, with your neighbors, friends, and coworkers crafting everything from clothing and accessories to housewares and furniture, and this weekend, the latter will be given its very own pop-up show in South Baltimore. Brought to you by The Industrial Arts Collective, a local maker community, and Second Chance, a nonprofit that salvages materials for reuse and provides job training throughout the region, the event will feature nearly 1,000 square feet of works made by eight local furniture makers, from now through the end of July. At the kick-off party this Friday, grab a beer and admire vintage home furnishings from Cedar & Cotton, handmade light fixtures by La Loupe, industrial tables and benches by Monkey in the Metal, unique creations by Zimmerman Woodworks, and reclaimed craftsmanship by the Station North Tool Library's Surface Project.
HEAR
May 13-14: Dope Body, "The End," Pt. 1 & Pt. 2
Fri.: Metro Gallery, 1700 N. Charles St. 8
p.m. $10. Sat.: Floristree, 405 W. Franklin St. 9 p.m. $10.
It's been six short months ago since we expressed our love for Dope Body's latest album, Kunk. The eight-year-old band was as raw and rough-and-tumble as ever, with one little listen enough to move your feet, and maybe even make you ready for a mosh pit. On those few tracks, as in any of their live shows, the local quintet was full of gusto, power, and fury, driven by clashing hi-hats, thunderous drums, plugging bass, shredding guitar, and brooding vocals. We couldn't wait for what would come next. Alas, and unluckily for us, the band has decided to call it quits, with its members taking on successful side projects like drummer David Jacober's third solo record, Glass Splinter; his collaboration with guitarist Zachary Utz, Holy Ghost Party; and their new band Scroll Downers. As sad as we are, they're wrapping things up with two big bangs, starting on Friday night in Station North alongside sexy slow jams by Gurl Crush and high-energy hip-hop by local rapper 83 Cutlass, followed by a Saturday night show downtown with dripping electro-R&B by New York's Eartheater and rebellious rock by D.C.'s Chain and The Gang. Come ready to get rowdy and in clothes you don't mind getting drenched in sweat.
DO
Merriweather Post Pavilion, 10475 Little Patuxent Pkwy., Columbia. 12 p.m. $100-150.
Sweetlife is more than just a music festival. With regional roots and a focus on sustainability, this full day fete features everything from an eclectic mix of musicians to local eateries and community support. In the Merriweather woods, hear Canadian dream-pop artist Grimes, Drake-signed R&B singer PartyNextDoor, English rockers The 1975, and New Wave icon Blondie, not to mention the NoCal sounds of Mac DeMarco and funky falsetto of Thundercat. Meanwhile, you can grab grub from the North Atlantic's very best, like new Harbor East haunt, Sweetgreen, DC's epic Maketto, Bmore's own Woodberry Kitchen, and even the Big Apple's Big Kahuna, Momofuku.