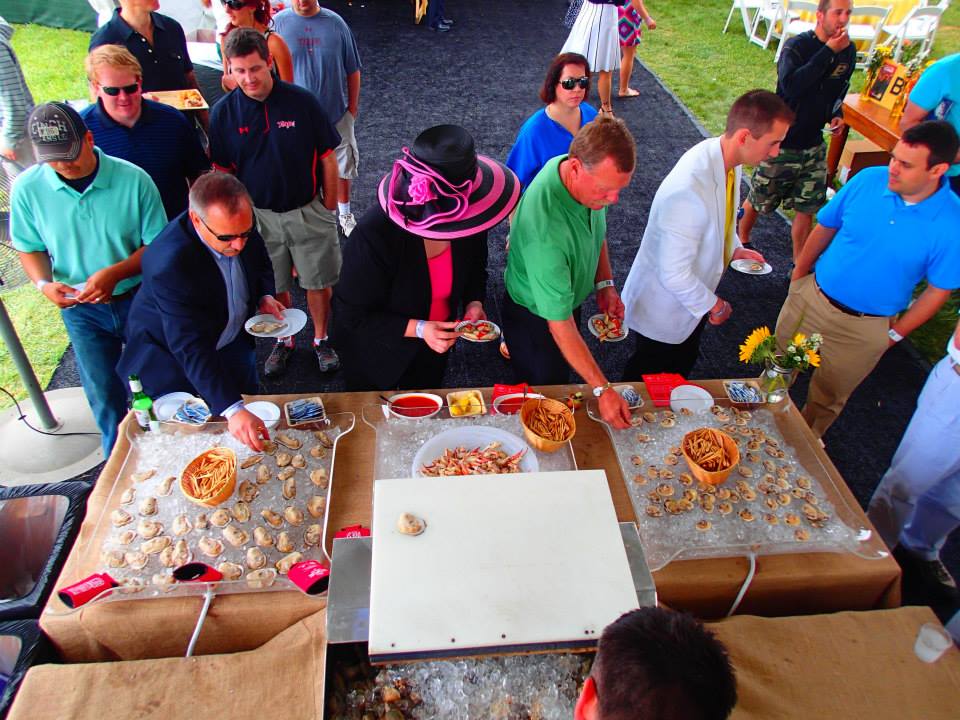 J. J. McDonnell.
Five things to eat, drink, see, hear, and do with your Charm City weekend.
EAT
May 15: Dylan's Oyster Cellar & W.C. Harlan's Clavel
W.C. Harlan, 400 W. 25th St. Free. 5 p.m.-12 or 1 a.m. 301-848-2849. facebook.com.
Oysters, Mexican food, and cocktails? That's our kind of party. Dylan's Oyster Cellar and W.C. Harlan both have lots to celebrate lately, as, much to our edible excitement, the two hipster havens are expanding on their bespoke, speak-easy-style roots. Dylan's is setting up shop in Hampden this fall, with perfectly shucked oysters and delicious craft cocktails, and W.C.'s co-owner, Lane Harlan, is opening a sister spot—Clavel—this summer, full of mezcal drinks and Mexican-inspired eats. This weekend, they're coming together for a Friday night street party. Slurp back some raw oysters and shots of ceviche. Nibble on clam tostadas, mango on a stick, jicama in a bag, and other street-food eats. Sip on Jamaican agua fresca or creative concoctions from the mixology masters inside.
DRINK
May 15: Union Craft Brewery's Black Fridays
Union Craft Brewing, 1700 Union Ave. 6-10 p.m. Free admission; pay as you go. 410-467-0290. unioncraftbrewing.com.
The beloved Union Craft Brewery is back with its summer celebration of hops and hogs. Once again, UCB is teaming up with the infamous biscuit-sandwich street vendor,
Blacksauce Kitchen, to throw their Black Fridays, this weekend being the first of the season, with a whole hog BBQ, DJ Daniel Biltmore on the ones and twos, and an endless flow of UCB brews. It's going to be a hot one, so head to the Hampden-Woodberry lot and tip back some of their warm-weather seasonals, like Old Pro—a tart, German wheat—and Steady Eddie—a lemony wheat IPA.
SEE
May 8-June 14: Marley at Center Stage
Center Stage, 700 N. Calvert St. Times vary. $19-89. 410-332-0033. centerstage.org.With an oeuvre as grand and iconic as Bob Marley's, it only makes sense to make a musical about the late legend's life and legacy, and Center Stage's production from artistic director Kwame Kwei-Armah happens to be the first. It also happens to be the star's theatrical debut, as Mitchell Brunings has spent his career as a singer in Europe and a runner-up on Holland's version of The Voice. The musical tells two intertwined stories about Marley's life through song and dance, set to the soundtrack of his career, including timeless classics like "Could You Be Loved," "Redemption Song," and "No Woman No Cry."
HEAR
May 16-17: Chesapeake Bay Blues Festival
Sandy Point State Park, 1100 E. College Pkwy. 10:30 a.m.-9 p.m. $65-140. 410-257-7413. bayblues.org. Rain or shine.
Typically we tell you to stick around Charm City, but this weekend, we're sending you east to hear two living blues legends perform on the sands of the Chesapeake Bay. There, near Annapolis, rock and blues legends Greg Allman and Buddy Guy will be headlining a charity show featuring a dozen other local and regional musical acts. Allman is the rock and blues singer, songwriter, and guitarist behind The Allman Brothers Band, to whom we're forever grateful for Southern summer classics like "
Midnight Rider," "Ramblin' Man," and "Sweet Melissa." Guy, on the other hand, is the soulful blues guitarist best known for his versions of "Mustang Sally" and "Ain't No Sunshine." He has played with the likes of Muddy Waters, Eric Clapton, Stevie Ray Vaughn, and the Rolling Stones—even personally influencing Jimi Hendrix. Both are Rock and Roll Hall of Fame legends and still as energetic onstage as ever. Lean back and listen on the sandy beach, indulge in some local grub and a few brews, and watch the Bay Bridge twinkle in the background as the sun begins to set.
DO
May 15-16: Preakness
Pimlico Race Course, 5201 Park Heights Ave. 887-206-8042. preakness.com.
Maryland's horse racing history runs deep, and it all culminates with Preakness, the middle jewel thoroughbred race of the famous Triple Crown. There are lots of
events leading up to Saturday, like Black-Eyed Susan Day on Friday, with 13 fillies sprinting the stakes and those classic, citrus-centric cocktails, and '90s bands on stage—but we all know its just a pregame for the big day. The next morning, make your way to the hallowed ground of Pimlico to catch the 140th race and bet on your favorite black (or "bay," like American Pharoah) beauty. Don't miss InfieldFest, with hip-hop headliner Childish Gambino, house music master Armin Van Buuren, country artist A Thousand Horses, and bluegrass folk-rockers Trampled By Turtles. True Chesapeake Oyster Company will be there, too, shucking up Skinny Dippers and Huckleberries as the exclusive oyster supplier of Preakness.
---
We urge you to continue to support local restaurants, bars, and
businesses, to take part in community events, and to donate to or participate in the growing number of volunteer efforts around the city. Some examples include the Inner Harbor Project, Maryland Food Bank, and Big Brothers Big Sisters of the Greater Chesapeake. Others can be found via Maryland Unites, which lists several non-profits that are accepting donations like the Red Cross of the Greater Chesapeake, Central Region United Way, and Associated Black Charities, and through the Mayor's Office of Neighborhoods, which continues to update an online spreadsheet for volunteer and donation opportunities.