Steel Magnolia
Despite years of health struggles, Charleston's Cindy Wolf keeps on cooking.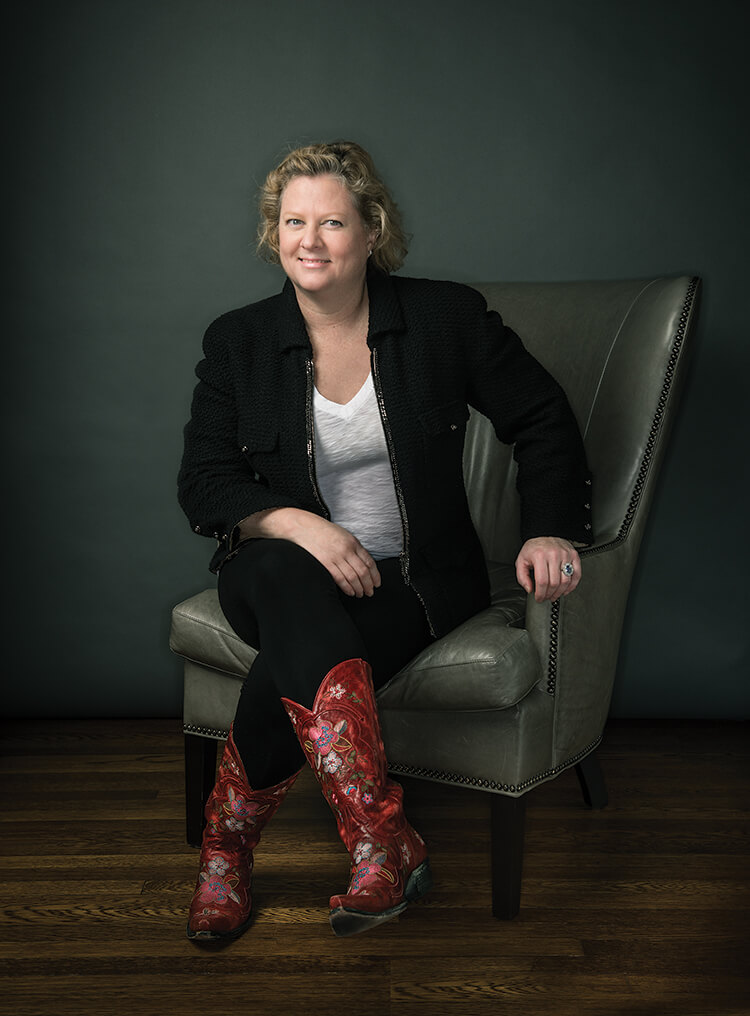 Hours before dinner service begins, Cindy Wolf prepares herself for a night of feeding 95 guests at Charleston. With a bar mop thrown over her left shoulder and pavé diamond studs adding a hint of sparkle to her ears, she moves meticulously around the kitchen, preparing a cognac cream sauce, taste-testing a sliver of Vallée d'Aspe cheese, and showing her staff how to artfully arrange a ballotine made of chicken and foie gras with chicken-liver mousse.
"People debate over whether cooking is art, but I know it's art for me," says Wolf her resonant voice a vestige of early childhood singing lessons. "It's not that I reinvent things—I'm creative from the standpoint of working with a product that just came in the door or doing something with a foie gras that I've never done before—that's the art form."
Charleston is Baltimore's high temple of fine dining, a sacred space of sorts for classic French food with Southern inflections. And Wolf, arguably Baltimore's most highly hailed chef (major industry awards, a guest gig at the White House, personal praise from Julia Child and wine guru Robert Parker), presides as priestess of the palace. She's also the person, along with co-owner and ex-husband Tony Foreman, often credited with creating a restaurant renaissance in town when the two of them operated Savannah at the Admiral Fell Inn in 1995, followed by the ownership of their first restaurant, Charleston, two years later. (The duo also own Pazo, Cinghiale, Johnny's, and two Petit Louis Bistros as part of their Foreman Wolf Restaurant Group.)
Ask other chefs about Wolf and hero worship ensues. "From early on, Cindy set a new standard for Baltimore dining," says John Shields, chef/owner of Gertrude's and a native Marylander. "She's an extraordinarily talented chef with a passion for excellence, both with food and service." Adds Linwood Dame of Linwoods, "When Cindy brought her skills to the city, she elevated Baltimore's dining scene with her passion for cooking, her quest for excellence, and her commitment to quality. She is an inspiration to young chefs, especially women, who are gaining ground in a traditionally male profession."
Wolf has earned accolades outside of Charm City, as well: She's a three-time James Beard Award finalist for Best Chef: Mid-Atlantic—the first chef in Baltimore to be nominated, though she says that she has long lost count of how many times she's actually been up for the award. ("I'm like Susan Lucci," she cracks.) And through the years, famous fans have flocked to Charleston including actor Daniel Craig, who visited while in town to promote Skyfall. "I served him a special course so I could take it out to the table," she says smiling. "I took a slow walk to the table."
But while she's happy to let her perfectly executed plates of pan-roasted magret of duck catch the stardust, she's not someone who loves putting herself in the limelight. In the words of her longtime employee, Charleston captain Peter Keck, "She's the first to say, 'It's not about me—it's about what we produce and what we do.' She's not inking out a book deal or a TV spot."
When she's not at Charleston, most mornings Wolf sits at her kitchen table in her elegant 1905 Roland Park home (you could call it "the house that beurre blanc built") eating bacon and eggs, as she writes the next day's menu and pores over one of the hundreds of cookbooks—Child, Alain Ducasse, and Joël Robuchon—she keeps in her library for inspiration.
This chalk-gray morning, however, away from the hustle and bustle of her otherwise hectic life, Wolf is makeup free and in casual clothes, caught in a moment of quiet reflection. While she has struggled with the idea of revealing painful issues that have formed the subtext of her life, the famously private chef has decided it's finally time to get personal.
"Having cancer is central to my story," says Wolf, who has not come to this confession easily and has the clarity that comes with years of contemplation. "Growing up in my family, we didn't talk about illness, and the only reason I could think about talking about it was because Angelina [Jolie] wrote that article in The New York Times [about getting a preventative double mastectomy]. Now, I'm willing to talk about my health and how my life has progressed, because I'm very fortunate."
Four months after realizing her life's dream of opening her own restaurant with Charleston in 1997, Wolf, now 50, was diagnosed with breast cancer. She was 33 years old at the time. Right away, her primary concern was for her staff and the fate of the newly opened restaurant. Other than family and close friends, Wolf guarded the diagnosis closely. Tony Foreman recalls their discussion at the time. "When Charleston opened she said, 'I don't want to be known as 'the cancer chef.' I just want to be known as 'a great chef,'" he says. The cancer, says Wolf, was "very aggressive—I'm lucky I lived through it. The day I went in for my first chemo, I felt like I was going in for a lethal injection—I was scared." Then, in 2008, there was more bad news. "It was not a recurrence, but a new cancer 10 years later," she says. "The second time, I just didn't talk about it at all."
Despite undergoing extensive and grueling treatments including chemotherapy, multiple surgeries, and rounds of radiation, Wolf found solace in Charleston's kitchen, her diagnosis lending her already prized work a new depth. "I worked every day," says Wolf, whose Charleston kitchen staff wore bandanas to cover their heads in solidarity with their then-bald boss (and continue the sartorial tradition to this day).
"That was part of what helped me to survive," she says. "I needed that distraction. I needed to do what I loved, even though when I would walk through the back hallway and smell chicken stock I would be nauseated." She recalls: "There's a reason I didn't go out to the dining room very much back then. When you lose your hair as a woman, you don't feel very good about yourself—it's very hard to go through. When you lose your hair, you don't feel normal anymore, and you have this screaming card that says, 'I have cancer.'"
In addition to feeling fortified by Jolie, Wolf's older sister, Julia, recently encouraged her to open up about her experience. "My sister said that I should talk about my story," sighs Wolf. "I've been through some very serious struggles in my life, and my sister felt that, if nothing else, other people could see that I worked though being sick twice. If it happened for me, it might happen for them, too."
As she discusses her life, her rescue tabby cat Louis Deux nesting on a posh pile of pillows nearby, Wolf seems a study in contrasts. She is demanding in the kitchen—"I expect the best, but I apply that pressure to myself, as well," she says—but she tempers that toughness with a softer side. ("Be patient with people," she often reminds herself. "Especially waiters.") She's serious ("intense, bright-eyed, and not fooling around," is how Foreman describes her), but also disarmingly funny. ("You'll cry [with joy] if you eat my scrambled eggs," she says. "My brother-in-law once asked me if I had added whipped cream to them.") She's cagey about naming what kind of cereal she eats ("I'm not telling you," she says when asked to substantiate a certain rumor regarding her affection for sugary cereal), but fearless when it comes to discussing the most intimate parts of her past.
She also bemoans the fact that when you're a top chef, no one wants to cook for you. "No one invites me to dinner," Wolf says, "and, yes, I do want people to invite me over. I don't know what I'd do if someone invited me to dinner at this point—I'd probably be nervous myself."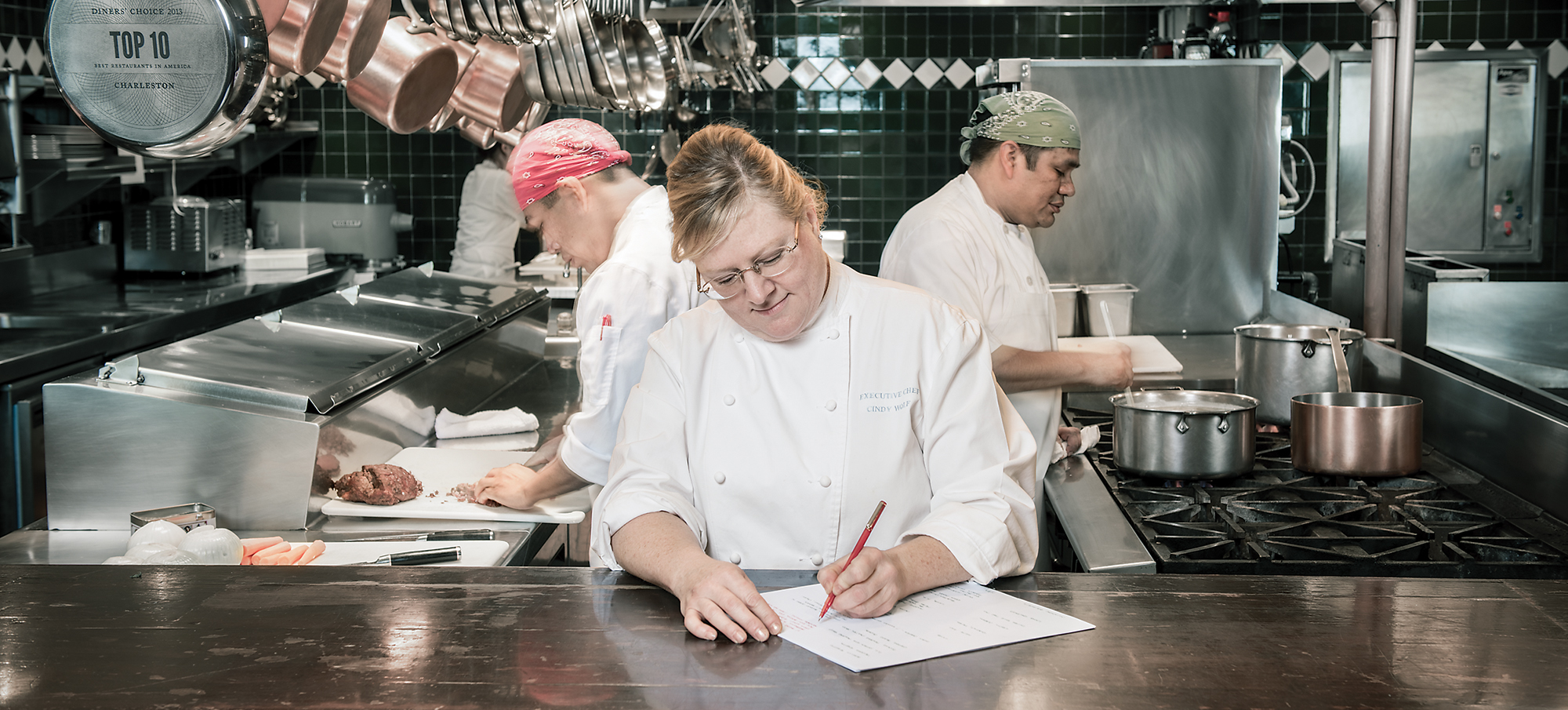 Early on, Wolf learned about loss. When the Virginia-born chef was six years old, her eldest sister, Cathy, died of leukemia. "That was at a time when people didn't talk about someone having a health situation like that," says Wolf, "and that shaped my thoughts about illness later."
Despite the loss of her sister, Wolf says she had a "wonderful, happy, healthy childhood," and one in which food was at the fore. Her mother, Jean, was a stay-at-home mom and an excellent cook known for her Pennsylvania Dutch recipes, including potpies and homemade chicken-noodle corn soup. "My mom's job was to cook," she says, "and that's what she did, so I grew up loving food." Her late father, Robert, who was the vice president of Hardee's Restaurants, and her absolute idol, was also a strong influence. "My father did tremendous things in that position," she says, admiration still evident in her voice. "This is a company that owned thousands of restaurants."
By the time Wolf was in the fourth grade, her father had taken a new job as the vice president of Ponderosa Steakhouse, dictating a move to Northern Indiana, and, eventually, Charleston, SC. "My father did a lot of business in Chicago, so I ate in all the good restaurants in Chicago at a time when French restaurants were still popular in the United States," says Wolf, who grew up eating at the membership-only Whitehall Club and the storied Le Perroquet.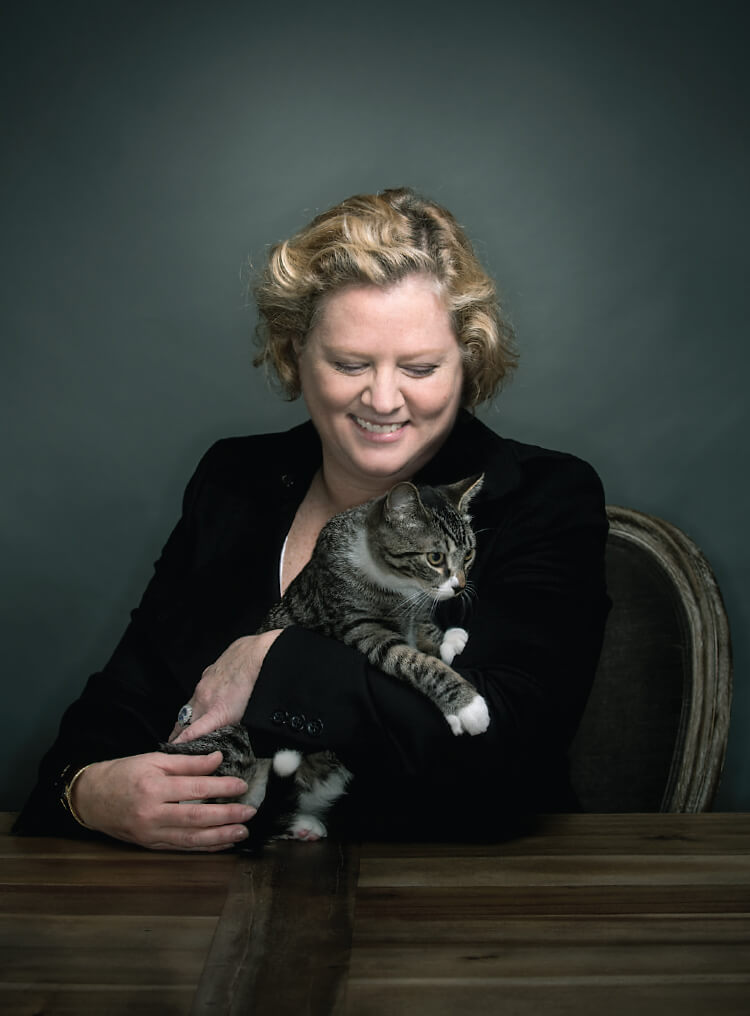 In the fabled dining rooms, she soaked in the splendor. "You would walk in and all the waiters would be in tuxedos," she recalls of the Whitehall Club, "and the restaurant was beautiful. It was dark and opulent with crystal everywhere and beautiful woodwork. There was a beautiful mahogany bar on the right and a big round table in the center that always had smoked salmon laid out." She also indulged in other items that few kids her age were consuming. "I was eating sweetbreads," says Wolf. "I was eating hearts of palm. I was eating smoked salmon as an eighth grader." It was that early exposure that helped Wolf acquire a sophisticated sense of taste, as well as tremendous insight into the industry. "I was very fortunate that I had these experiences, because I was developing a palate and an understanding of what is good food and an understanding of the table and what great service is," she says. "I've been around food my entire life. I was born to be a chef."
With the goal of one day opening her own restaurant, Wolf pursued a degree in business management at the University of Evansville, but academics eluded her. "I sat there and dreamed of the two cookbooks my mother had sent me away with," she recalls. "I dreamed of Le Perroquet and talked to my friends about the restaurant I wanted to do."
Realizing that college wasn't her calling, she dropped out by 1984 and moved home to Charleston, soon landing an apprenticeship at Silks, a high-end Low Country cuisine restaurant in the legendary Planters Inn, then the city's finest dining establishment. Although Wolf was 19 at the time, and had never worked in a kitchen, she impressed the sous chef. "She said, 'With your background eating at all these restaurants all your life, you're going to be a great cook,'" recounts Wolf. "She said, 'I'm hiring you.'"
Starting as garde-manger working at the cold station (and eventually working at all stations), Wolf learned lessons she draws on to this day. "I learned everything," she says. "Everything about speed. Everything about being organized. Everything about doing things the best possible way you could do them. I learned the discipline of working in an excellent kitchen."
After a year and a half at Silks, Wolf furthered her knowledge formally at the prestigious Culinary Institute of America (CIA) in 1985, where she first became enamored with classic French cooking and the principles of Auguste Escoffier, the father of modern French cooking. "Every day I walked through the front doors of that school, I loved every single minute," she says. "It was my foundation."
From the CIA, Wolf moved on to fine-dining jobs in Charleston, Knoxville, TN, (where she became an executive chef by 25), and Washington, D.C., where she met Foreman, who was managing the Southern spot Georgia Brown's. The duo, who moved to Baltimore in 1994 to start Savannah, were married for 15 years, and though the personal partnership didn't work out, the professional partnership has continued to flourish and the two remain friends, making frequent trips to Europe for the business every year and even cohosting the weekly radio show Foreman and Wolf on Food and Wine on WYPR. Did they ever consider not working together after their divorce? "No," asserts Wolf. "Never. Not once."
Wolf has nothing but respect for the man who proposed six months after their first meeting. "Tony is one of the best at what he does that I've ever known," she says. "And his love of the table is the same as my love of the table. At the same time, we are two very different people, which is why I think we make very good business partners. He is extremely intelligent and very knowledgeable. We are both strong-willed, so we both have our opinions and ideas, but I think those two things coming together make for a very good idea. It's a pleasure for me to work with Tony."
Back at Charleston, just before dinner service, Wolf—that's "Chef Wolf" in this domain to everyone including Foreman—puts her ideas into play, leaving nothing to chance as she reviews the night's lineup during "menu meeting." "I put the roasted red-beet tartare on the plate," she explains as staffers furiously scribble in notebooks while sitting in Charleston's luxe dining room after "employee meal" (the staff meal before dinner service). "That's 'tartare' in quotes—it's not really raw, it just looks like tuna tartare. It's a brunoise of roasted red beets mixed with just a tiny bit of mayonnaise, salt, pepper, capers, a brunoise of cornichons, and a little bit of chives." She goes on, as her staff hangs on every word. "It will have a blood-orange supreme as a garnish made of a reduction of orange juice, fresh pomegranate that I puréed in the blender to make fresh juice, and a little bit of sugar, so it's a pomegranate-and-blood-orange reduction."
Twenty minutes or so later, she's lectured on the intricacies of not only that dish, but the entire menu (at which point, maître d'hotel Kalada Nemieboka quizzes the staff, dish by dish, as they practice their patter for patrons). "She is super focused on ingredients and their expression," says Foreman.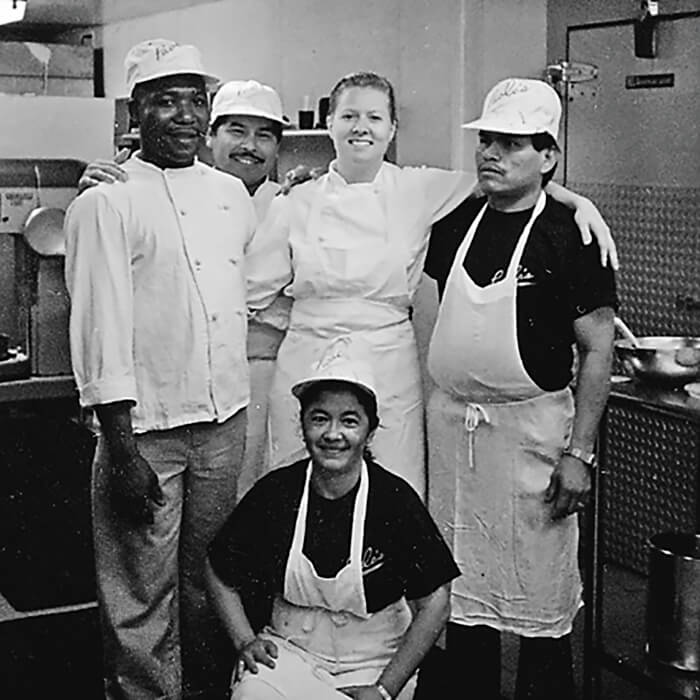 Regardless of the context, absolute excellence is her aim. Erik Oosterwijk, president of Fells Point Wholesale Meats, has worked with Wolf for years. "Even in a relaxed setting, like when she's working to please the crowd at a Christmas party at her house, she's very serious about food, because she wants it to be perfect," he says. "It's amazing to watch her as a tray of goodies comes out of the kitchen. Even at home, she's checking them out as if they were going to the dining room at Charleston—it all has to be just so."
And though Wolf and Foreman are credited with kicking off Baltimore's food scene and were sourcing products locally long before "locavore" became a part of the lexicon, Wolf doesn't pay much attention to it. "I don't know what the scene is, and I have never known what the scene is because I have worked the entire time I have lived here," she says. "In the 20 years I've lived here, I can name how many times I've eaten somewhere other than my own restaurants. When I was married, we traveled to Europe when we weren't working."
With dinner service in full swing, Wolf takes her command post in front of the pass line. Like a well-timed pas de deux, she calls out orders and inspects each Bernardaud plate (made with real copper, gold, and platinum powder) before runners take them to the tables. "Nine rockfish, two turbot, two duck," she calls out, as she instructs a runner on the proper angle to deliver the magret of duck and then repositions the garnish with tweezers. "Keep the medallions at six o'clock, with the steep grade of greens in front of the guest," she says, choreographing every movement.
As kitchens go, Wolf's is markedly quiet and calm. "She's not hellfire and slamming things around," says Keck. "She is there for the betterment of the staff." And to please her patrons. "Feeding people is the reward for cooking," she says. "People telling you that that's the best they've ever had is the most incredible thing."
Though Charleston's inner sanctum is a hushed place, Wolf can't contain her passion for food. "I love the way that food looks," she gushes. "I love cutting open a truffle and seeing what the interior of that particular truffle looks like. I love the smell of it. I love the way it feels in my hands. I love the sound of it—I love every part of it."
As Charleston celebrates its eighteenth year of success, Wolf is far from ready to throw in the (kitchen) towel. In fact, she's just warming up. "I hope 18 years at Charleston is only the beginning," she says with conviction. "I don't plan on going anywhere. I hope I am still in the kitchen when I am 70, and all the guys that work for me, too—may they never leave."