Tough Cookies
Still going strong after 135 years, Otterbein's Bakery has hit on the recipe for success.
Inside a small warehouse in Windsor Mill, the air is rich with the salty-sweet smell of butter and sugar. Here, a wall of refrigerators is filled with pillowy balls of cookie dough, all made in two nearby mixers from an age-old family recipe. The dough is flattened and cut into hearts, flowers, and stars, which slide onto baking trays to be placed on tall racks. Once full, the racks are rolled into floor-to-ceiling ovens, and after 10 minutes, the cutouts come out as cookies, which are cooled and "shuffled" off the trays into stacks, like a deck of playing cards. From there, each paper-thin cookie is delicately placed in a bag by hand, 20 or so deep. The bags are then weighed on a scale, sent down the production line, and packed into boxes, before being shipped out on delivery trucks to be sold across the Mid-Atlantic.
Production manager Dave Johnson oversees the entire process and, even after more than a decade at the bakery, he still eats those cookies every day. "Quality control," he says with a smile.
For many, Otterbein's Bakery has been a constant craving since 1881, as locals and tourists alike have fallen in love with its old-fashioned cookies, found stockpiled in grandmothers' cabinets, passed between friends at holidays, and pinched from their red-and-white windowpane bags as favorite late-night snacks. They're a true Charm City classic, as much a part of Baltimore as Berger and Natty Boh.
Although still going strong after 135 years, there were times when Otterbein's almost crumbled, amidst competition and change. "I really thought about throwing in the towel," says Mark Otterbein, fourth-generation owner of the bakery. But with a bevy of loyal customers, personal perseverance, and a dash of good luck, they have not only survived but thrived. Today, the fifth-generation business makes nearly 4,000 bags of cookies a day, or about one million a year, which is more than double what they were producing a decade ago. And, all the while, despite the big business and mass production of our modern age, Otterbein's has remained a small, family-run operation—the little bakery that could.
Little is known about the early days, but we can safely say that an iconic brand was born when Adam Otterbein immigrated to Baltimore in the late 1800s, carrying with him the sugar and ginger cookie recipes from his family's village bakery in Germany. (He was also cousin to Philip Otterbein, pastor of Old Otterbein Church on Conway Street, for which the Otterbein neighborhood is named.)
Once settled in America, Adam and his wife opened a bakery at the corner of Fort Avenue and Jackson Street near Locust Point. Inside that three-story rowhouse, which doubled as a retail shop and family home (now an Italian sub shop in the shadow of Domino Sugars), they made everything—cakes, pastries, cookies, bread—entirely from scratch.
Eventually, Adam passed the family business onto his son, August, who passed it onto his son, Joseph, and like the men before him, Joseph started his own family on that same site. "My memory is mostly from pictures," says Joan Otterbein, Joseph's second oldest child and current office manager, sitting behind her desk in the Windsor Mill bakery. "But I remember my sister and I going down to the basement, where the men were making all of those wonderful things, to get colorful handfuls of 'jimmies,' or what we now call sprinkles."
In the mid-1960s, Joseph decided to leave South Baltimore. With a growing family, he moved the business northeast, setting up shop in a little storefront on Northern Parkway near Loch Raven Boulevard, where a blue-and-white-striped awning hung from the brick façade and a green neon light that read "Otterbein's" in cursive script glowed warm and welcoming in the window. Over the course of their childhoods, all nine of Joseph's children spent time working in the 300-square-foot shop, with the girls covering retail in the front and the boys handling baking in the back. Glass display cases held every dessert a kid could crave—donuts, Danish pastries, éclairs, cream puffs—and a corner freezer carried cartons of Abbotts Ice Cream.
"We were a full-line bakery, so we did everything," says Mark, Joseph's fourth eldest, leaning back in his office chair. "When I got out of school at noon, I learned how to cut cookies until I left with my father at 5 o'clock."
Sundays were the busiest day of the week. "Back then, you had to go to the bakery and get your donuts and Danishes after church," says Joan, who worked at the store through college before becoming a schoolteacher.
But while pastries and breads remained the year-round top sellers, it was the sugar and ginger cookies that kept customers coming back, especially during the holidays. People lined up inside and out the door for those classic sweet treats, which flew off the shelves so quickly that, when they ran out, customers would wait by the ovens for the next fresh batch. "We'd have to put them in paper bags instead of plastic because they were still hot," says Joan.
To keep up with demand, the Otterbeins rented two apartments to store the cookies, and in those sugar-scented rooms, 1-pound boxes wrapped in red-and-white baker's twine were stacked in winding rows, six or seven high. "And still," Mark says, "we always sold out."
They were the cookies that kids put out for Santa Claus at Christmas, and they came in special shapes for Easter, and hearts for Valentine's Day, too. "We cut them all by hand," says Mark, who was by far the fastest, extending a $100 bet to anyone who could beat him—and, to this day, no one has.
Eventually, though, some of the sweetness began to fade. Like Joseph, who for a short while left the family business to work production for Nabisco, Mark wanted to break away from the bakery. "I joined the Navy just so I wouldn't have to work there for the rest of my life," he says with a chuckle. "But you see where that got me."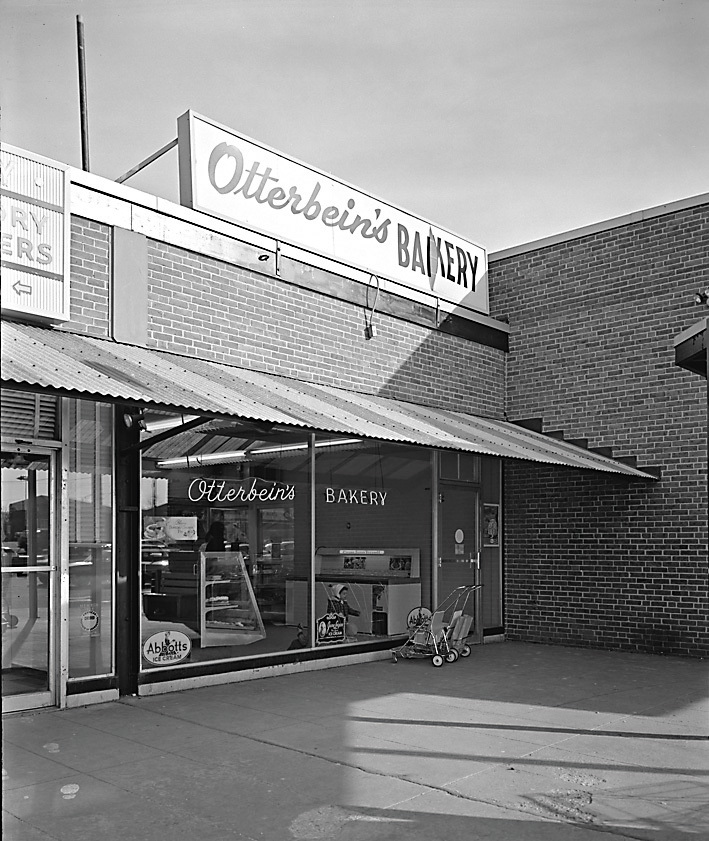 Seven years after leaving the family fold, Mark came back in 1979, eventually buying the bakery from his father after he retired. A decade later, he moved the shop a few doors down to take advantage of a larger space, but the rent was too high and times were tough.
In the early 20th century, there was a bounty of bakeries in Baltimore. Think Silber's, Rice's, Rueckert's. But with the rise of the American supermarket following World War II, grocery stores not only expanded, but started to add their own baking sections, too. They were a one-stop shop: Anything you wanted was at your fingertips, in dozens of colorful varieties, perfectly placed on white lacquered shelves. "We had an Acme right next door and it was tough to compete," Mark says. "They were cheaper, and it was more convenient to buy all of your groceries in one place."
In the years that followed, Mark began to doubt the bakery's future. "The neighborhood changed and we just weren't getting the business we needed," he says of the mid-1990s. "I was in debt . . . and I really thought it was the end." Then, he had an idea: Maybe if he couldn't beat them, as the old adage says, he could join them. Maybe he could sell his cookies to the grocery stores.
But even after he gave up the retail shop and happened upon a space to start his wholesale operation, "everything was still hand-cut, and I couldn't get enough stores to make it worthwhile," says Mark, who had been testing the waters at independent grocers like Eddie's and Graul's.
He swore that if he could just get into one big store, he could turn everything around. He called Giant Food every day, to no avail, until eventually, a woman answered. "I'm stuttering because here is my one shot," Mark says. He gave her his sales pitch, to which she responded: "Eh, I don't think so."
"But, I said, 'Give me one store—can you just give me one store and we'll see what happens?'"
Maybe it was luck. Or maybe it was fate. But whatever it was, and however reluctantly, she agreed. "I already had it in my mind that it would work," Mark says. "Because, if I had to, I would go in that store and buy all the cookies myself."
But he didn't have to. The cookies took off, just like they did in those early days, and before long, that same woman was calling him back, asking if he'd like more stores. "And it all snowballed from there," Mark says.
Once Otterbein's cookies were in Giant, they were carried by Super Fresh, and Food Lion, and with all those orders rolling into his tiny operation, the bakery was bursting at its seams. Around the same time, Otterbein's made its first new cookie since 1881—the chocolate chip—based off Mark's wife's personal recipe, inspired by the back of a bag of Nestlé Toll House morsels. "We tweaked it a bit, but it's basically the same recipe," Mark says. After that came lemon and oatmeal raisin.
"We had bakeries in the stores, but making the kind of thin cookie that they make by hand is difficult to do," says Harold Graul, co-owner of Graul's Market and a longtime wholesale customer. "There isn't anything quite like them."
These days, Mark's son, Ben, a fifth-generation Otterbein, helps run the family business. Like the rest of his cookie kin, Ben grew up in the bakery and remembers spending his childhood summers putting labels on those now-iconic paper bags (which, by the way, are just generic stock bags from when the bakery first went wholesale). Also like the Otterbeins before him, Ben left for a few years to spread his wings but something kept pulling him back, and by the time Mark started using words like "retirement" and "sell," Ben was ready to embrace his birthright.
Otterbein's Bakery makes nearly 4,000 bags of cookies a day, or about one million a year.
He returned home in the summer of 2014, and by fall, the bakery was breathing new life again, having been approached by Flying Dog Brewery with an odd but intriguing pitch: the Frederick brewhouse wanted to make holiday beer that went with Otterbein's crunchy cookies, and the unlikely pairings turned out to be a great success, selling out well before Christmas.
"Their cookies are amazing and they have quite the following, but at the end of the day, it's about the people, and the Otterbeins are great people," says Ben Savage, CMO at Flying Dog, which sold about 4,500 cases of its cookie-themed beer in 2014 and roughly twice that in 2015. This past fall, the two businesses teamed up again, this time introducing a new beer and the bakery's first new cookie in over a decade—orange white chocolate chip (now available wherever Otterbein's are sold).
Back at Windsor Mill, white delivery trucks fill the parking lot, while inside, employees are revving up for the holidays, much like they did on Fort Avenue all those years ago. The sugar and ginger recipes remain unchanged from those early days, and the old spiral-bound notebook that holds them still sits in the bakery's office.
The production room is filled with lighthearted laughter as cookies are sorted and placed into bags. Most of the 20-some employees grew up together, according to April Williams, head of the bagging department. "Or have mutual friends," says Dave Johnson, the production manager. Both Williams and Johnson have siblings who worked at the bakery at one time or another, and as they see it, "It's just one big family here."
Ben and his wife hope to carry the Otterbein legacy into a sixth generation of their own someday. "Growing up, it was just life," Ben says. "It was just what my parents did. It wasn't anything special. But then I hit a certain point where I was able to stop and say, 'You know? This is a cool thing we have here.'"
And throughout the years, the Otterbeins have received "love letters" from devoted fans expressing that very same sentiment.
Whether they're first-time customers, longtime loyalists, homesick former residents, or soldiers in Afghanistan, not a week goes by without an email, phone call, or handwritten letter from someone professing their cookie crush. "People always tell us they look and taste like what their grandmothers used to make," says Mark of his great-grandfather's cookies. "And that's what we strive for. We want them to taste like home."