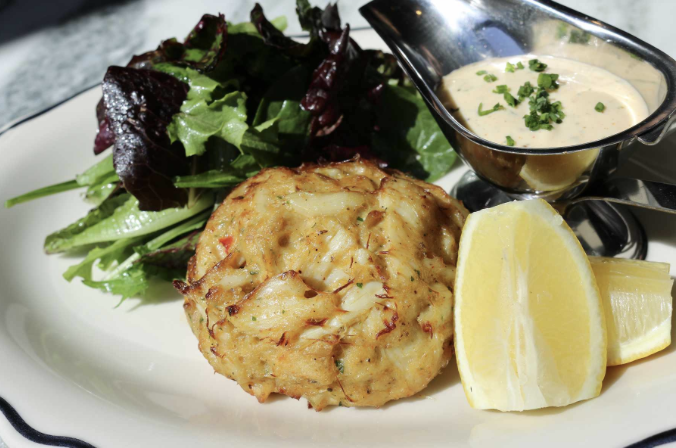 Courtesy of Loch Bar
As kids, brothers Alex and Eric Smith always looked forward to visiting their grandfather—the late H&S Bakery founder and prominent waterfront developer John Paterakis Sr.—at his office on Bond Street in Fells Point. For them, spending the day with their grandfather at work also meant walking one block over to the bustling Broadway Market for lunch.
"It was always packed with people," recalls Alex, now the founder and owner of Atlas Restaurant Group. "At that time in the late '80s and early '90s, both the North and South sheds were open, and there were tons of options. There was a Chinese vendor and a fried chicken guy, and I remember waiting in line to eat at those places as a kid."
The market has deteriorated significantly in the decades since, but now, Atlas—which operates restaurants including Ouzo Bay, Loch Bar, and Tagliata in Harbor East—has partnered with longtime Canton crab house Captain James Landing to restore the market's South shed back to its former glory.
"The first thing I did when I moved back to Fells Point after college in 2012 was walk around the neighborhood to really see what was going on," recalls Eric. "And I just remember this serious sense of sadness to see the state of decay that the market was in. So, when the opportunity arose, it was something we jumped on."
The brothers had been friendly with Captain James owner Billy Tserkis (Eric says they routinely dine there in the summer), and felt that he would be the perfect partner to launch an authentic crab house concept. As it turns out, Tserkis also has a strong connection to the property. His father, George, operated a traditional Greek bakery inside the market from 1981 to 1983.
"It was called Acropol, which was an abbreviation for Acropolis," Tserkis shares. "They sold homemade bread, Greek pastries, rice pudding, and stuff like that. I always knew he worked there, but it wasn't until recently with all of this coming up that I found he actually ran it."
Though details about the design for the new restaurant, The Choptank, are still in the works, Alex says that the spot will be a fusion of both brands that offers traditional Maryland staples—including the Eastern Shore-style fried chicken that he loved to get at the market for lunch as a kid.
"This wasn't like KFC," he remembers. "I used to love fried chicken as a kid, and at the market, they fried a chicken and it was big. So we're going to have a pressure cooker and do the same thing. We're also going to make our own ribs, and hard-shell crabs are going to be a big component."
While the seafood aspect is similar to both Captain James and Atlas' Loch Bar concept in Harbor East, Alex says the crab house will have its own vibe with a more expansive menu.
The plans for the restaurant are part of the Baltimore Public Market Corporation's multi-million-dollar revitalization of the historic property that dates back to 1786. Construction on the North shed between Fleet and Aliceanna streets, which has sat vacant for years, is slated to begin in July 2018. Existing tenants operating in the South shed will be offered leases in the redesigned North shed when it opens early next year.
Once that transition occurs, the Atlas team will begin construction on the new restaurant—which will be just under 5,000 square feet and seat 150 guests inside. By comparison, the team says that the space is about the same size as Ouzo Bay. They expect for the restaurant to debut Memorial Day weekend of 2019.
"We're not looking to put in a five-star restaurant that is going to be $150 per person," Alex adds. "It's going to be priced for the neighborhood."
Community associations have voiced concerns about the prospect of a restaurant group moving into the neighborhood, which is largely comprised of small businesses. Owners are quick to point out the differences between this project and the recent overhaul at Cross Street Market.
"We have nothing to do with the ownership of the market—we're not writing our own rules," Alex says. "We're simply a tenant renting the space. A huge part of the reason we're doing this is because our grandfather invested capital and fixed up the waterfront at a time when it was industrial and run down. Even though we're just getting started, this is our small way of reinvesting into the community."
Tserkis says that he's looking forward to staying close to Canton, where Captain James has operated for nearly 40 years.
"I grew up in the Fells Point area," he says. "I didn't live there, but I might as well have since I was at the restaurant 18 hours a day ever since I was 12 years old. It's great to be able to stay in a neighborhood with such a historic nature to it."
Reinvigorating the market and harkening back to its bustling roots is a priority for Atlas, whose lease will extend through the building's 250-year anniversary in 2036.
"What's exciting is to get in there and give back to make the neighborhood a little bit stronger," Eric says. "I go there all the time when the bars are packed with people spilling out. And in the center of all of that chaos, you have this market in total darkness. We just want to bring some light there for the people of Fells Point."