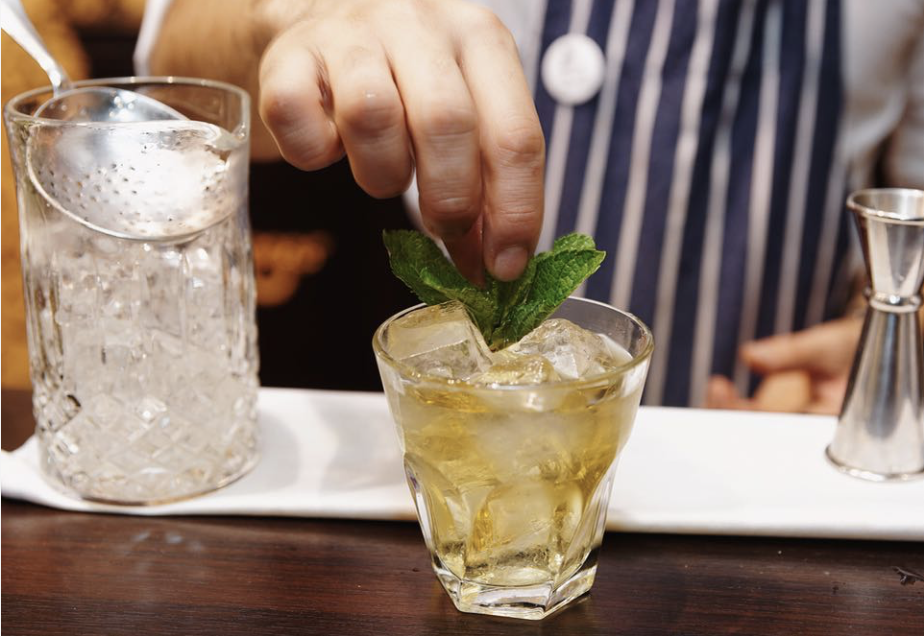 On a balmy evening last summer, a dozen of the area's most talented bartenders gathered beneath the waterfront pavilion at the Baltimore Museum of Industry to put their skills to the test in Baltimore magazine's inaugural Southside Stakes competition. The contest paired each bartender with a local distillery, and tasked the teams with creating a unique spin on the classic Southside cocktail.
Baltimore Bartenders' Guild (BBG) treasurer Amie Ward—who took home the People's Choice award for her Southside that combined Sagamore Spirit Rye, rhubarb amaro, lavender sorbet, and lemongrass syrup—was so inspired by the experience, that she decided to keep the event going this year.
"I didn't want it to go away," says Ward, co-beverage director at R. Bar inside Remington's communal food hall R. House. "It feels good to be able to maintain something that's super Baltimore-focused."
Local industry professionals will once again gather to craft their versions of the country club concoction in the second annual Southside Stakes competition at R. House on Sunday, October 1 from 7-10 p.m. Though veteran bartenders and guild members have been involved in organizing the event, Ward says that the BBG is hoping to attract industry newbies to participate this time around.
"This one's for the new guys and gals," she says. "Baltimore's bar and restaurant scene is growing exponentially, so we wanted to make sure that we're letting all of that fresh blood come through."
Each contender will be assigned a regional spirit— including Baltimore Whiskey Company, Lyon Distilling Co., Catoctin Creek Distillery, and Belle Isle Spirits—and will be required to incorporate sugar, herbal, and citrus sources. Aside from those key ingredients, Ward is encouraging the participants to get as creative as possible.
"It has such a refreshing impact," she says of the classic cocktail. "Regardless of what you use, the citrus and herbal sources combined together make something that's just mind-blowing."
With roots that trace back to the Prohibition era, the traditional Southside—made with gin, sugar, mint, and lemon—is thought to have originated in Chicago, but gained popularity locally amongst Maryland's Hunt Cup crowd.
"We obviously weren't going to do a Manhattan competition," Ward says. "The locality and history of it all plays a huge role in this."
In keeping with the local feel, the BBG will be donating a portion of all ticket sales to House of Ruth Maryland. The organization, which benefits victims of partner violence, aligns well with the guild's mission to reduce harassment in local bars. Ward says that the guild members voted on which local charity they wanted to partner with, and House of Ruth was the overwhelming winner.
"The big drive within the bartending community worldwide right now is providing safe spaces for our patrons and peers," she says. "And, specifically, being able to recognize things like sexual harassment and assault. People have become so much more cognizant of what's happening in the atmosphere."
Throughout the past six years, the guild has donated more than $50,000 to the Cystic Fibrosis Foundation with its annual Rye's Up fundraiser. Ward hopes that the Southside Stakes competition mirrors that event's spirit, not only in the charitable sense, but also in the way that it brings the community together. 
"Rye's Up is always referred to as bartender prom for us, so this is like our homecoming" she says, with a laugh.  "But it's not just about the comradery of our community. It's also great for the regulars who we provide solace to from a long day of hard work. Whatever is happening in their life, they know they can come to us to escape it."