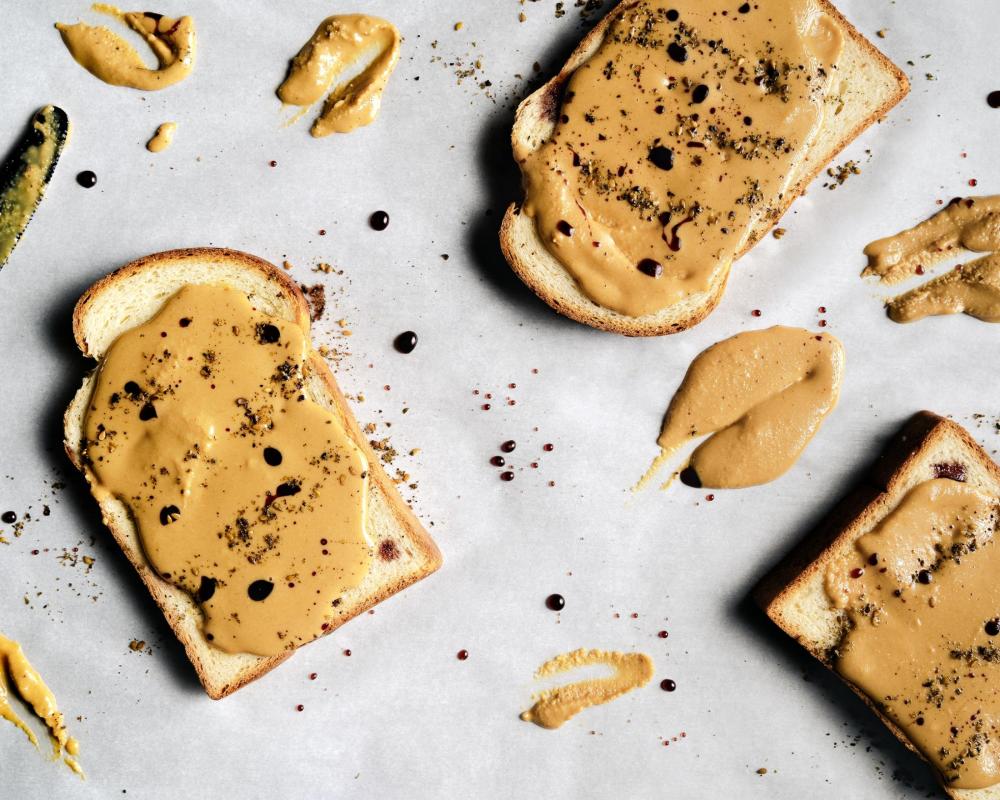 Tahini butter toast with jam (recipe below from the owners of Good Neighbor) is a great alternative to the classic PB&J.
We feel for you, parents. New schedules and activities make back-to-school season stressful enough. And sourcing, prepping, and packing the perfect lunch only adds to the frenzy. We get it, sometimes it's easier to send them with cafeteria money and call it a day. But when you are committed to filling up lunchboxes—and typical sack-lunch staples like a PB&J are worn out—what else can be done to please picky young palates?
To answer that question, we asked Baltimore food creators to share their own kid-friendly meal-prepping advice.
"Our five-year-old has strong opinions about food, but he also loves going grocery shopping," shares Laura Alima, who owns ice cream shop The Charmery with her husband, David. To make trips fun, "I always let him pick out snacks or treats to balance with the healthy foods he enjoys.
"Our daughter is going into third grade and enjoys helping out. On the weekends, we make lunches for the week that we can grab in the morning." Laura says the couple's daughter takes pride in the process of assembling her own lunchbox, "And I get the freedom of not doing it," she quips. 
One of her kids' current favorites is a peanut butter sandwich sprinkled with mini chocolate chips.
"It feels like a healthy treat in sandwich form," Laura says. "Our daughter is perfecting her chip disbursement on the sandwich, so I have to give her a limited amount, or else the chocolate chips would be a solid layer."
Here are a few more tips, tricks, and time-saving recipes from other local food business owners and chefs.
Tahini Butter and Jam on Toast
To curb the risk of allergies, most daycare settings don't let students bring in peanut butter. So this couple—whose cafe in Hampden is known for its fancy toast options—decided to create a nut-free version of a PB&J for their little one. The couple packages their own tahini butter at Good Neighbor, "but you can buy tahini at your local grocer," says Chopra, adding that he's partial to the tahini sold at Punjab Groceries in Waverly. Mixed with nutmeg, cinnamon and cardamom, the sweet and salty spread is good to go. Chopra tops the finished toast (brioche preferred) with lemon zest and sea salt for some tartness. "It's hard to guess a child's taste buds for the day, so we usually include a sweet and savory snack," Chopra says. "Plantain chips and fresh fruit are a good mix."
Ingredients:
1 tablespoon tahini
1 dash of cardamom
1 dash of cinnamon
1 dash of nutmeg
1 slice of brioche
1 tablespoon jam of choice
Sea salt
Lemon zest
Instructions: Combine spices with tahini to make your own tahini butter. (Or you can buy it from Good Neighbor!) Spread on toasted brioche along with jam. Garnish with sea salt and lemon zest.
Overnight Oats
When it comes to packing lunch for their three boys, the owners of the Highlandtown wine and beer shop have a sustainable focus. Jeryl says they use brown paper bags to carry everything that's pre-wrapped, but for drippy fruit and other unwrapped goods they use reusable paper pails, which are cost-friendly and recyclable. Their recipe for overnight oat jars, "to get the kids out the door quickly," makes a filling lunch or breakfast.
Ingredients: 
1/2 cup of organic, quick oats

1/2 cup of almond milk

1 tablespoon of peanut butter

1 handful of berries (or your kids' favorite fruits. The Coles use strawberries for their middle child and blueberries for their oldest.)

1 tablespoon of maple syrup 
Instructions: Add all ingredients into a Mason Jar. Shake well and store in the refrigerator overnight. 
Citrus Chicken Salad
Falk might handle the prep and cooking for his catering business, The Lunchbox Lady, and food pop-up, Big Softy, but "at home, my wife, Denise, is the lunch-maker: aka, the sous chef for the kids' school lunches," he says. Falk stresses that a tasty lunch "is all about balance." Oftentimes, for Falk's kiddos, a peanut butter and Nutella sandwich, or this tasty citrus chicken salad, will do the trick. "Some days they get a Jell-O or an applesauce pouch, and Doritos or popcorn for a crunch," Falk says. "We give them choices, and hope they eat 80-90 percent of their lunch." 
Ingredients:

3 chicken breasts

Drizzle of olive oil

Pinch of salt

2 celery sticks

3/4 cup shredded pineapple

1 handful of dried cranberries

1 cup mayonnaise

Instructions: Drizzle chicken breasts with olive oil and sprinkle with salt. Bake at 375 degrees for 15 minutes. Flip and bake the chicken for another 10 minutes. Once the chicken has cooled, shred half and chop half into chunks to achieve different textures. Halve celery long ways and mince. Add to a bowl along with chicken, pineapple, dried cranberries, and mayo. Mix, add salt to taste, and boomtown! (Two fruits and half the mayo=full strength!)
Chickpea Tuna Salad
When feeding their two boys who are sensitive to lactose (and, apparently, leftovers), the couple—who you can find most days behind the counter at their plant-based ice cream shop downtown—is creative in their efforts to keep lunchtime "filling, flavorful, and healthy." Thankfully, Foster says that Campbell's famous chickpea "tuna" salad is a winner in their household. "The kids like creamy and crunchy so they love tuna salad," Foster says. For school meals, she says the boys enjoy it best with apple slices and another crunchy snack. "We buy lots of nuts and dried fruits to make trail mix," she adds. 
Ingredients:

2 cups canned or cooked chickpeas

2 tablespoons vegan mayo

1 tablespoon sweet relish

1 teaspoon Dijon mustard

Kelp flakes

Chopped celery

Chopped red onion

Celery salt

Fresh black pepper
Instructions: If chickpeas are canned, rinse until the bubbles disappear. Smash with a fork and stir to incorporate all ingredients. Serve atop gluten-free bread with arugula and sliced tomatoes.