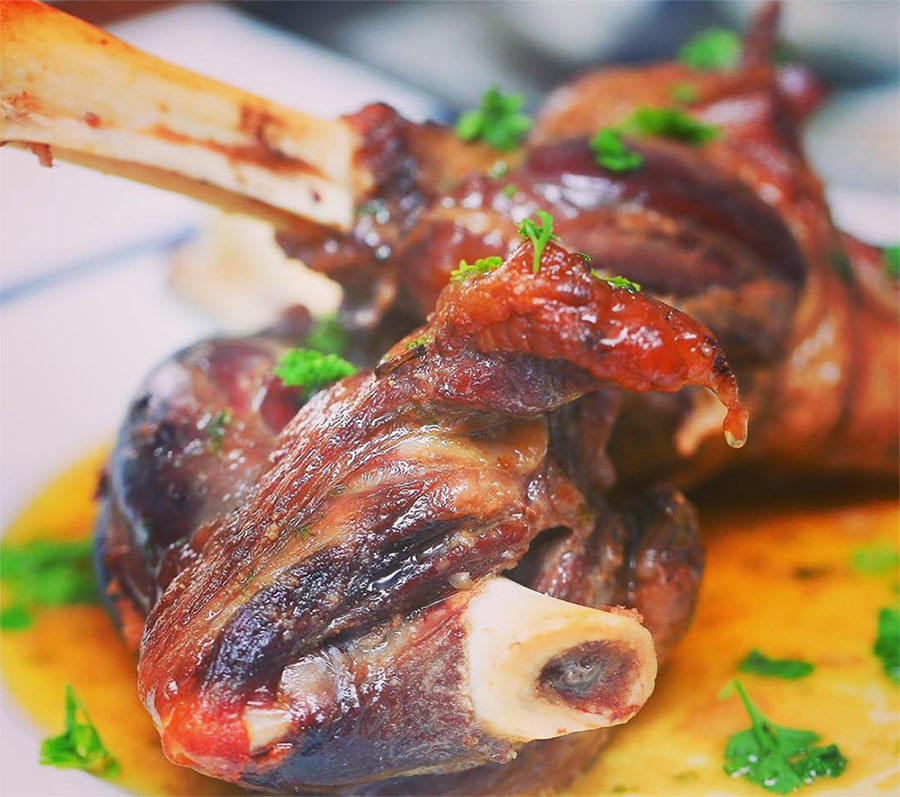 Courtesy of Twist
Editor's note: Winter Restaurant Week has been extended until Sunday, January 29.
Local foodies might recall getting their hopes up for the kickoff weekend of Winter Restaurant Week last year, only to be disappointed by the massive storm that blanketed the city in more than two feet of snow.
Due to last year's inclement weather, Downtown Partnership and Visit Baltimore are bringing back their annual Winter Restaurant Week promotion—January 13-22—one week early this season.
"This will be an experiment, but it's a nice way to keep the holidays going," says Michael Evitts, Downtown Partnership's vice president of communications. "We're always soliciting input from restaurants and looking for ways to make it better."
Now celebrating its 12th run, the annual dining-out initiative aims to bring business to local eateries during a time of year when locals typically hunker down. More than 100 city spots, both old and new, are participating this time around, trotting out special prix-fixe menus to be offered throughout the 10-day culinary event.
Evitts says that the promotion will continue the new pricing guidelines that were adopted during Summer Restaurant Week last year. After feedback from diners, organizers are now allowing restaurants to choose within a range of $12-20 for two-course meals and $20-35 for three-course meals.
"Introducing the new flexible price point last summer was a trial balloon, but it worked out very well," Evitts says. "It allows both higher-end restaurants and more affordable neighborhood spots to provide the most value for their patrons."
Also new this year—organizers are encouraging eateries to add beer and wine pairings to their menus in order to give diners a more holistic culinary experience.
"Baltimore's bar scene is at the top of its game," Evitts says. "Dining out isn't just about the food anymore. The mind of the consumer is changing to see that it can be just as much about the beverage pairings."
Among the many spots returning for Winter Restaurant Week is Indigma, the Mt. Vernon mainstay known for its creative takes on classic Indian fare.
Chef/owner Tony Chemmanoor says that, although his neighborhood spot has been around for decades, he sees Restaurant Week as an ideal opportunity to demonstrate how the menu has changed with the times.
"We always get a lot of regulars who come in to support, but also a lot of new faces," says Chemmanoor, who has participated in the promotion since it began. "It's great for people who are looking to try something different."
For lunch, Indigma will offer a special "thali"—a traditional Indian platter made up of eight small tasting dishes. The three-course dinner menu will highlight dishes such as vegan samosas, herbed chicken kabobs, fish vindaloo, vegetable masala, and authentic rice pudding. Chemmanoor is enthusiastic about the new wine pairing promotion, mentioning that each of the featured items will be accompanied by a different suggested international pour.
In Federal Hill, Restaurant Week veteran Liv2Eat is also gearing up to participate again.
"I'm religious about it," says Cecilia Benalcazar, who co-owns the cozy dinner spot with her husband, chef Kevin Perry. "You can't do it more than twice a year because it becomes anti-climactic, but it's really great for people in suburban areas who need that catalyst to make the trip downtown."
Benalcazar says that some of the well-received dishes on Liv2Eat's New Year's Eve prix-fixe will roll over to its three-course Restaurant Week menu, which will feature sunchoke-apple soup, roasted squash salad with kale and Allegheny chevre cheese, Wagyu beef carpaccio, black truffle gnocchi, mandarin panna cotta, and a chocolate torte.
While plenty of established dining destinations are returning, a number of newbies are also getting involved for the first time this season.
Though a flood on the property prohibited Argosy Cafe, located inside the Munsey Building downtown, from partaking in its inaugural Winter Restaurant Week last year, owner James Shaffer says he's excited to make up for lost time.
"On the restaurant side, it encourages us to push the envelope," he says. "Less established places get the chance to really show what they can do."
Argosy's three-course dinner menu lists worldly options such as spicy shrimp and grit cakes, risotto balls with house-made marinara, duck leg with a bourbon-maple glaze, tahini-yogurt chicken with Israeli couscous, and basil pesto penne with spinach and tomatoes. In keeping with the café's beer-centric bar program, Shaffer says he is looking forward pairing dishes with a variety of local brews like Diamondback Brewing's Bamb Black IPA.
Mediterranean-influenced Twist, which recently joined the Fells Point dining scene, will also be getting in on the deal for the first time this year.
Chef/owner Jose Molina has participated in previous Restaurant Weeks at the other Twist locations in Washington, D.C., and he's excited to see how the initiative catches on with diners in Fells Point. The eatery's lunch and dinner menus will showcase dishes like braised lamb shank, Moroccan couscous, shakshouka, pumpkin gelato, and vanilla-infused crème brûlée.
Though the restaurant is BYOB, Molina plans to offer complimentary small pours of local beer and international wines to pair with the dishes.
"For us, the goal isn't financial," he says. "It's more about bringing people from other neighborhoods and introducing our cuisine to different palates."