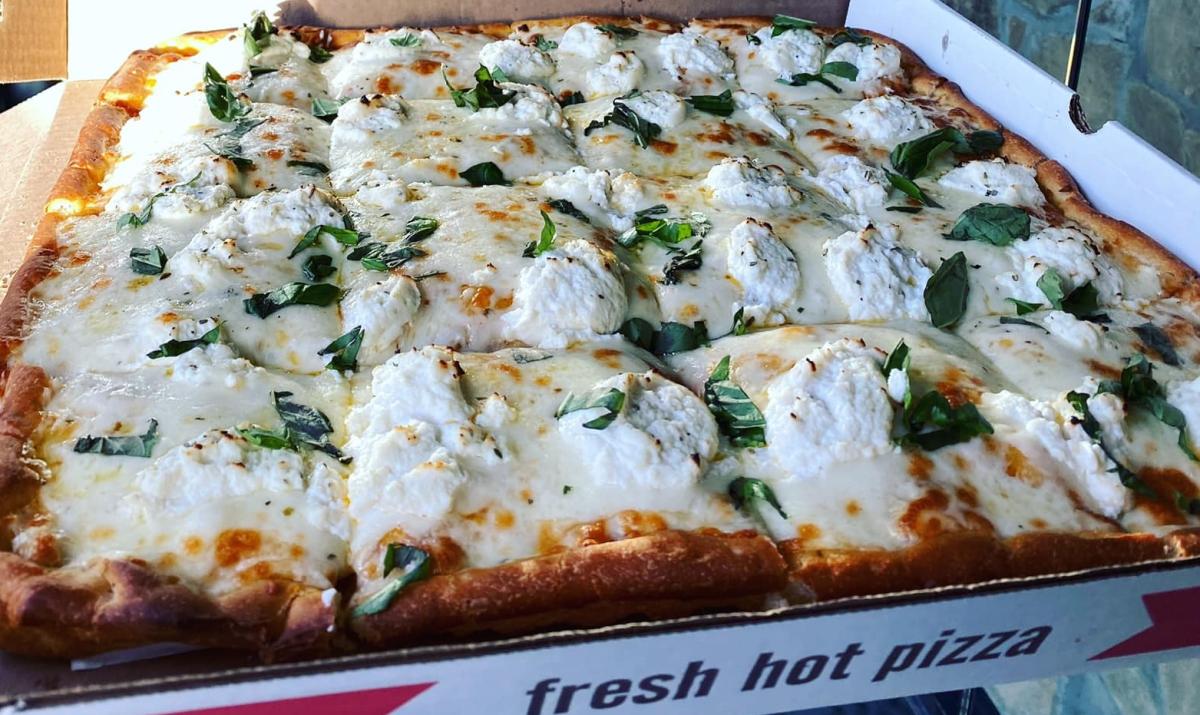 Limoncello is opening a new pizza spot to highlight its Tuscan-style pies, which gained popularity during the pandemic. —Courtesy of Limoncello via Facebook
COMING SOON
Limoncello Pizzeria: Locals residing in the 21230 might remember Limoncello's Tuscan-style pizzas—which became incredibly popular as a takeaway invention during the shutdowns and restrictions of 2020. After the restaurant reopened in full, the team at the Italian spot in Locust Point decided to axe the pizzas from the menu, but it was a tough call. "When all limitations were lifted, we realized we weren't able to do both [our regular menu and the pizza menu] at the same level of excellence," general manager Vincenzo Schiano tells us. "We're not set up to be a pizzeria, so we made that decision—but it was hard because we received so much love from the neighborhood."
Now, after a significant outpouring of requests—and a pop-up at the Locust Point Festival that sold out in two hours—the square pies are officially making a comeback. The restaurant's new sister-concept, Limoncello Pizzeria, is slated to open in a space just across from the flagship on the ground floor of Anthem House on Fort Avenue this spring. 
Diners can expect an eatery mainly built for carryout, but with some dine-in seating. The menu will include past favorites like the Vinny's Grandma (smoked mozzarella, olive oil, garlic, and fresh basil) created in the Instagrammable "upside down" style—with the sauce artfully dolloped on top of the cheese. Schiano adds that New York-style pies will be a new addition, as well as many by-the-slice options for power lunches. He teases some "fun things in the sub and sandwich department, as well."
"What we try to do at Limoncello is take patrons on a culinary journey to our hometown of Monte di Procida outside of Naples," he explains. "That's Limoncello Baltimore—it's about our home back in Italy. Limoncello Pizzeria is a 180 on that. It's us showing everyone in the neighborhood that this is our home now."
OPEN
Mova Nature: There's a new juice bar on the Avenue in Hampden. Owner Kelli Bagby opened Mova Nature in December at 813 W. 36th St., serving up cold-pressed juices, herbal teas, açaí bowls, juice cleanses, and sea moss gel. Bagby launched the business in 2020, in response to both the pandemic and a health crisis closer to home. "In 2019, my older sister, who was 34 at the time, was diagnosed with stage-four colon cancer," she shares. "Then about two months later, my father passed from kidney disease. It really put me in a mindset of taking a look at my own health, and then also seeing how I could help my sister along her journey." 
Bagby found there were no local juice bars in her neighborhood geared toward health. After conducting research and gaining a social media following from her posts and recipes, she knew it was time to move forward with a juice business of her own. "During the pandemic, everyone was looking for ways to remain healthy," Bagby says. "So Mova Nature became a trusted source for that." Cue Bagby making deliveries, shipping out of state, and popping up at local events.
"It makes me happy to be in this position, because I can see the shift with people wanting to take their health into their own hands," she adds. "That's really the message I want Mova Nature to convey—that trying to find balance with our daily wellness and nutrition is a lifestyle for us. I'm super excited to be accessible to people and to have this space."
Be on the lookout for smoothies set to hit the menu, as well as an added apothecary wall that will offer herbal blends and feature other small businesses. 
EAT: Although the name of this new restaurant in Locust Point sounds like a command, it's actually an acronym for what it serves: eggrolls and tacos. EAT opened in January at 1371 Andre St. According to SouthBmore.com, the concept comes from hospitality vets Doug Campbell, Michael Leeds, and Spike Owen. (Campbell and Leeds are behind Barfly's in Riverside.) Last summer, Leeds told the website that patrons can expect "steak, chicken, pork, and shrimp egg rolls and tacos, as well as different proteins available as weekly specials." The bar also offers a variety of margaritas. While the spot finds its footing in the next few weeks, it will operate Tuesday through Sunday starting at 4 p.m. 
Tio G's Chimi + Empanadas: As it gets ready to say goodbye to OG stalls like STEM Farm + Kitchen and Molina Pizza, Remington food hall R. House recently announced this new permanent vendor. From owner Gerdyn Mojica, the stall serves handmade empanadas filled with braised meats, as well as Dominican-style burgers and house lemonades. Mojica—a first-generation immigrant from the Dominican Republic—also has a stall at the newly opened Lexington Market, but this larger R. House stall will offer him a chance to stretch his culinary muscles. "This is an incredible opportunity for our small business," he said in a statement. "We can't wait to wow the people of Remington and Baltimore." Give Tio G's a follow on Instagram to check out the stall's complete menu, rolling out later this month.
NEWS
Lee's Pint & Shell Adding Second-Floor Balcony: Those summer happy hours at Lee's Pint & Shell in Canton are about to get an upgrade. You might've noticed some construction going on at the bar on the corner of Linwood Avenue and Hudson Street. At the end of the month, Lee's is expected to debut a second-floor balcony that can seat 70 guests. Owner Dave Carey tells us that the state-of-the-art, second-floor roof system is designed to open and retract. Patrons can expect TVs, heaters, fans, glass railings, and clear weatherproof curtains. Overall, Carey says this addition will allow Lee's to provide additional year-round seating, host larger private events, and create more desirable covered al fresco tables on the first floor. He adds that these upgrades coincide with the launch of Lee's elevated menu, which will include "more formal entree options," 20 new wine selections, and refreshed craft cocktails. "We're looking forward to old friends and new friends alike stopping by," he adds.
EPICUREAN EVENTS
2/11: Chocolate Fest 2023 at Union Collective
Looking for the perfect Valentine's Day pregame? On Saturday, Feb. 11, all of Union Collective's vendors—including Union Craft Brewing, Baltimore Spirits Co., Vent Coffee Roasters, and The Wine Collective—will offer "delicious chocolate surprises" for the return of the makerspace's annual Chocolate Fest. At the brewery, expect a chocolate cask during the day and a show from Talking Heads tribute band Psycho Killers in the evening. Baltimore Spirits Co. will release another Singularity (made with chocolate and chili pepper liqueur), Vent Coffee will have vegan chocolate doughnuts and espresso chocolate chip cookies (among other decadent offerings), and The Wine Collective will festively pair chocolates with wines all day. Of course, The Charmey is on board, too, with Chocolate Magic Shell on deck.
2/11: Old Line Spirits' Warm Up Winter Tiki Party
If chocolate isn't your thing, head to Old Line in Highlandtown for its Warm Up Winter Tiki Party. Sip on signature tiki cocktails—made with the distillery's American Single Malt Whiskey and Aged Caribbean Rum—or participate in rum and whiskey tastings. Fuzzies Burgers will be on site flipping its famous smashburgers and Hawaiian shirts are more than recommended. The event runs 1-9 p.m.
2/13: Franciscan Center Benefit Dinner at JBGB's
On Monday, Feb. 13, Remington restaurant and butcher shop JBGB's will host a collaborative dinner curated with the students and staff of The Franciscan Center's Dignity Plates Culinary Training Academy. Diners that book one of the 50 seats can expect seasonal veggies, butchered meats, and a selection of vino from Old Westminster Winery. Tickets are $125 and can be purchased, here.
SHUT
Brick Oven Pizza of Fells Point: This longstanding pizzeria, a must-hit late-night spot for Fells Point revelers, took to social media on Jan. 18 to announce that it has closed permanently. "The reason we had to close, bottom line, is due to loss of finances being taken away, and that a late-night permit to serve food after hours 12-2 a.m., like everyone else in Fells Point, was not renewed," a post on Facebook reads. B.O.P. owner Zion Graviel originally tried to sell the business late last year. No word yet on whether we can expect another late-night shop in its place.