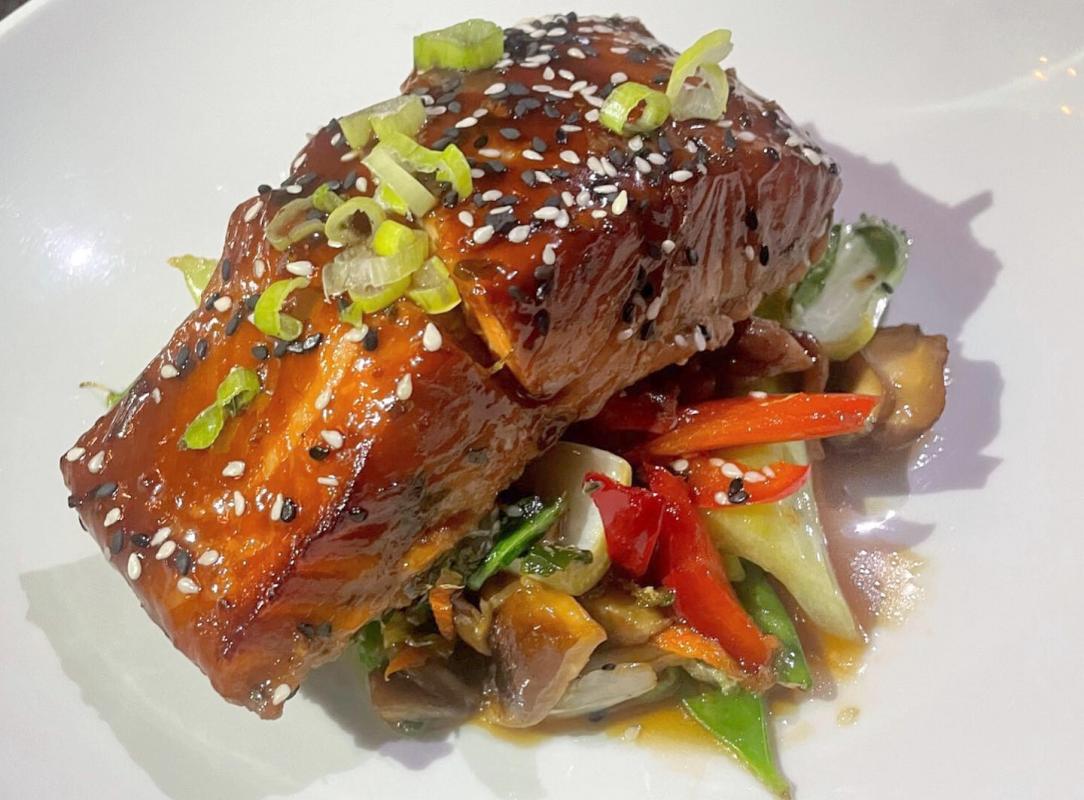 The maple and mirin-glazed salmon at The Owl Bar. —Courtesy of The Owl Bar via Facebook
Baltimore Restaurant Week is something of a bi-annual holiday for always-hungry city dwellers, county residents, and all those in between.
As in year's past, the citywide program—running from July 22-31 this summer—invites diners to pull up chairs and savor discounted multi-course menus ($25-45) for lunch, brunch, and dinner. And with a mix of offerings from old standbys like Amicci's and Johnny's, as well as newer spots like Francesca's Empanadas and Mera Kitchen Collective, we can safely say there's never been a better time to reserve a table.
"I don't cook at all, so this is like my favorite time," says Shelonda Stokes, president of Downtown Partnership of Baltimore, which organizes the summer promotion alongside Visit Baltimore. Stokes adds that, as always, restaurant week presents an opportunity for locals to support the community's steadfast hospitality workers.
"At the core, we want our restaurant community to do well," she says. "We always want to make sure they're sustained. And on the flip side, we want people to get out there and experience the new foods and restaurants in our city."
Before you start perusing menus, we put together a list of tips and tricks—from Stokes and a few other experts—to help take advantage of the delicious deals. 
Preparation, Preparation, Preparation
While some might want to use restaurant week as a time to plan a special date night or overdue celebration, others might be looking to hit as many spots as possible. No matter your plans, Stokes says start the process by checking out the Baltimore Restaurant Week site—which breaks down more than 70 participating spots by neighborhood, cuisine, price point, and dietary restrictions.
"When people come, we want to make sure that we get them as prepared as possible," Stokes says. "For anyone who's new to this, and anyone who wants to continue to make sure that their experience is great, we want them to start at the site, which has menus and links to reservations." Stokes references additional advice on Instagram. "Follow us, and you'll be in the know."
Say Yes to Reservations
Especially during restaurant week, make sure you're calling ahead or racking up those OpenTable points: "It's the way you can ensure that you're not going to show up and wait an hour and a half to get a table," explains Lauren Hamilton, chief marketing officer at Downtown Partnership, who also urges patrons to keep tabs on current restaurant hours. "Post-COVID, some of them aren't open as late as they used to be."
Plan a Lunch Meeting
When you think restaurant week, your brain might automatically gravitate toward evening meals, but don't forget about daytime dining: "Since people have more flexible work schedules now, I highly recommend taking advantage of the lunch deals," Hamilton says. "I packed my week with meetings and booked restaurants all around the city. It's a good way to get your work done and enjoy delicious meals while the restaurants are a little bit less busy."
Try Something New 
"I'm one of those people who is more of a traditionalist—I eat the same foods all the time," Stokes admits. "But restaurant week allows me to explore new restaurants, menus, and foods," For her part, Stokes is excited to sample the vegan crab cake at The Land of Kush in Seton Hill. Also on her list is EDR (Eat. Drink. Relax), the new Mt. Vernon spot that is participating for the first time with specials such as seafood pappardelle and Caribbean-spiced chicken breast.
Remember, even if a restaurant has been around for decades, it could still be new to you: "Browse around and treat yourself to a new adventure," says Aaron Luna, director of operations at Belvedere & Co. Events, which operates The Owl Bar. The dimly lit mainstay inside the historic Belvedere Hotel is gearing up for another restaurant week with cabernet-braised short ribs, maple and mirin-glazed salmon, and other special dishes, along with its famous cocktails. "The best food to please a palate can be found in hidden places."
Find Time to Reconnect
Overall, Stokes hopes that the dining deal can be about more than just the food, and that it encourages neighbors to break bread together: "Now, with everybody doing more on Zoom, we're losing that [relationship aspect] of neighborhood," she says. "Let's get back to that connection piece of it so people engage again and invite their friends."