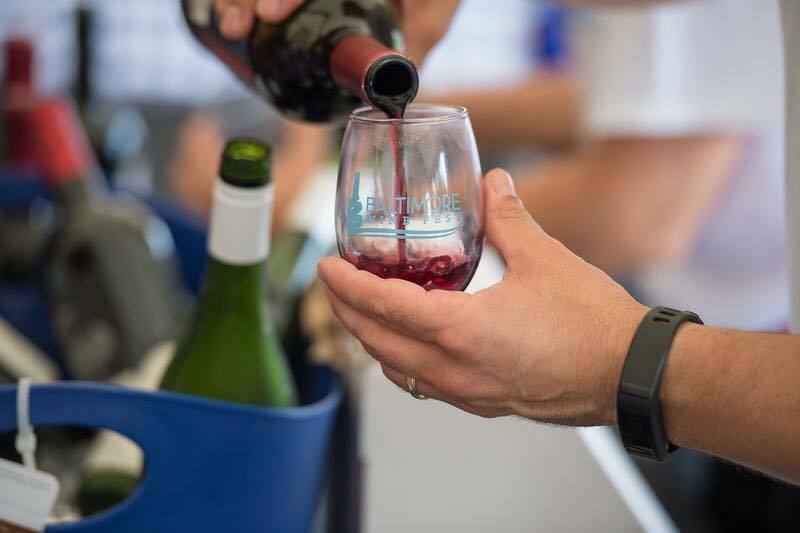 Courtesy of Dave McIntosh Photographics
Whether you're a craft beer enthusiast or a classic cocktail lover, the city is chock-full of celebrations fit for every type of barfly. Recently, we've seen local events explore everything from home brewing to tea-tails, and now, oenophiles will be able to get their fix at the upcoming Baltimore Wine Fest.
The second annual soiree hosted by B. Scene Events & Promotions will take over Canton Waterfront Park on Saturday, June 18 from 12-7 p.m., featuring upwards of 140 wines, light bites from local food vendors, chef demonstrations, and live music.
B. Scene founder Beth Laverick says that the inaugural festival attracted a sold-out crowd of 6,000, and, with expanded wine offerings and a revamped food lineup, this year's event will be able to accommodate an additional 2,000.
"People like to sip and socialize," she says. "I love wine expos for the variety, but I also love festivals for the casual atmosphere, so the wine fest is a good way to combine the two."
Wine lovers can look forward to sampling local blends from Linganore Winecellars, as well as international sips from as far as Chile, Argentina, and Australia. There will also be plenty of food pairings to peruse, with returning restaurants like Dooby's, Heavy Seas Alehouse, DogWatch Tavern, and Pitango Gelato being joined by newbies like Points South Latin Kitchen, Snake Hill, and Bottoms up Bagels.
Specifically, the food offerings will include dishes like pulled pork sandwiches from HarborQue, crabby fries from Jimmy's Famous Seafood, True Chesapeake Oyster Co. Skinny Dippers from The Local Oyster, and shrimp and crabs from Captain James Landing.
"The restaurants are one of the things that make it so unique," Laverick says. "We didn't want to have [typical] concession stands, so being able to focus on some of the best restaurants in the city is huge. I'd rather enjoy a nice crisp sauvignon blanc with ceviche than with fried dough."
A jam-packed live cooking demonstration schedule will highlight various afternoon workshops led by local chefs Kevin Cauthorne of Myth & Moonshine, Dara Bunjon of Sotto Sopra, and Cyrus Keefer of pop-up kitchen Defie Moi.
While taking in the waterfront views, festival-goers will also be able to browse handmade wares from local crafters, enjoy family-friendly activities in a designated kid's zone, and dance in the grass to live music performances. This year's lineup has doubled in size, featuring local pop-rockers Michele McTierney Band, soul and blues musicians Gypsy Soul Revival, one-man folk band Skribe, and alternative rock and roots trio Pressing Strings.
Admission packages are carnival style (vendors accept food and drink tickets, rather than cash) and start at $15. Additional tickets will be available for purchase onsite, and a portion of all proceeds will be donated to the Baltimore City Department of Recreation & Parks—which works to preserve city gathering places including Canton Waterfront Park.
Laverick, who also organizes the annual end-of-summer Baltimore Seafood Fest (scheduled for Saturday, September 17 this year), says that these large-scale events do more than meets the eye when it comes to uniting the community.
"You don't find these festivals everywhere," she says. "Baltimore has had to overcome some obstacles over the past year, and it's nice to be able to come together, have a good time, and show visitors how great it is to be a local. I'm a big believer in the idea that if you keep peoples' calendars filled, they'll stay."