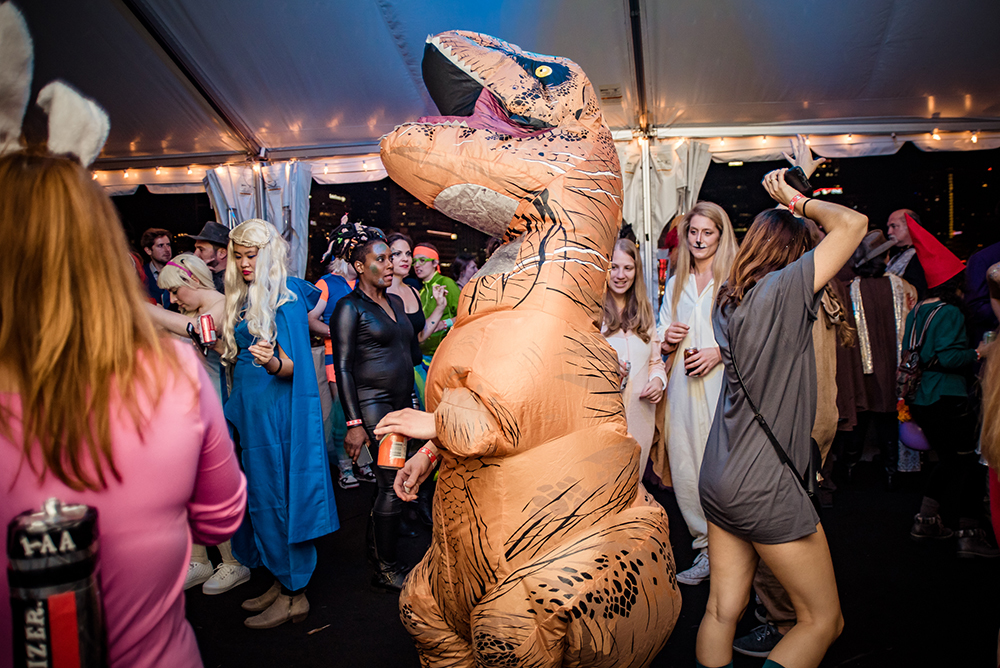 Tessa Sollway Photography
From costume contests and concerts to Halloweekend bar crawls and devilish dance parties, celebrating Halloween is tons of skele-fun for everyone—not just for the kids. So leave your little monsters at home and check out these Baltimore events for a holiday celebration full of booze, boos, and witch's brews.
Creepy Crawls
Federal Hill-O-Ween: Creep and crawl over to Federal Hill's 10th annual Halloween tour-de-bar on October 27 from 5 p.m.-12 a.m. Drink your way through 14 of Federal Hill's spookiest saloons and take advantage of the drinks deals, including $3 Miller Lites, $4 Blue Moons, $4 Leinenkugel's Harvest Patch, $5 mixed drinks, and shooter specials. If you don't go, it may haunt you forever.
Baltimore Halloween Crawl Fells Point: Calling all ghouls, ghosts, and goblins! Mark your calendars for the official Fells Point Halloween Crawl on October 27 from 1-9 p.m. A $12 ticket gets you a haunted mug, cover-free access to nearly a dozen Fells Point bars, food promotions, and an entry into a raffle to win prizes. Drink specials include $3 beers, $3 rail drinks, and $4 haunted shots. They'll also be prizes for the best dressed participants. South Broadway
Power Plant Live Baltimore Horror Story: Creatures of the night unite for Baltimore's biggest Halloween party at Power Plant Live on October 27. Pre-order a $5 ticket for access to all 11 bars and nightclubs, including Mosaic, Luckie's Liquors, and Rams Head Live, and each bar will represent a different season from American Horror Story. The event will feature a costume contest with over $10,000 in prizes and a DJ spinning the spookiest tracks. 34 Market Pl., 410-727-5483
Supernatural Soirees
Power Plant Live! Halloween Rally: Start your Halloweekend early at Power Plant Live's 6th annual Halloween rally. On October 25 from 10 p.m.-1 a.m., there will be an epic rave complete with live entertainment, confetti cannons, a photo booth, glow sticks, and tons of other spooktacular fun. General admission is $35 and includes five drink tickets, good at over 10 Power Plant bars and restaurants. 34 Market Pl., 410-727-5483
Rocket to Venus: This annual Halloween costume ball returns for its 12th year on October 27. DJ Ghoul Guy and Creepy Worm will spin tracks from 10 p.m.-2 a.m., and there will be cash prizes and drinks specials all night long. The costume contest judging starts at 1 a.m., so bring your ghoulfriends and zombaes and get ready for a scary good time. 3360 Chestnut Ave., 410-235-7887
Hollywood is Dead Party: Check out The Owl Bar's Hollywood is Dead Party on October 27 from 8 p.m.-2 a.m. Come dressed as your favorite dead celebrity and be ready to boo-gie at this spirited shindig. The event will feature a DJ playing party tunes, a costume contest, and tons of food and cocktail specials that you won't want to miss. The cover charge is $5. 1 E Chase St., 410-347-0888
A Very Wicked Affair: Baltimore nonprofit HASA will host a Halloween-themed event at Boordy Vineyards on October 26 from 6-9:30 p.m. The $85 ticket includes bottomless wine, a fall harvest menu, live music by John Silver, and a commemorative wine glass. And the proceeds will benefit children and adults through HASA's interpreting, educational, and therapeutic services. 12820 Long Green Pike, Hydes, 410-318-6780
Lee's Block Party: Celebrate Halloween with 20,000 free oysters at the 6th annual Shuckin' in the Street festival. The block party goes from 12-10 p.m. on October 27 and features performances by DJ Nick Paros, Crushing Day, and Honey Extractor. There will also be a costume contest with a $1,000 prize. Get access to the event with a $10 donation at the door—a portion of the proceeds go to Kennedy Kreiger & The Chesapeake Oyster Recovery Partnership. 2844 Hudson St., 410-327-2883
Monster Melodies
The Glow Ball with Dos Santos: Do the monster mash at Creative Alliance's annual costume dance party. The festivities start at 8:30 p.m. on October 27, and Chicago-based quintet Dos Santos will be taking center stage. Pre-ordered tickets are $13, and tickets at the door are $16, so get ready for a night of dancing and debauchery. 3134 Eastern Ave., 410-276-1651
Halloween Baltimore: Believe in Music and the Maryland Science Center are back with their annual Halloween extravaganza on October 27, featuring a diverse lineup of musical guests playing on seven unique stages. The acts include Dan Deacon, Natural Velvet, Prismatic, DJ James Nasty, Electric Love Machine, and many more. There's also a costume contest with the first prize winner claiming a $1,000 prize. 601 Light St., 410.685.5225
Halloween Costume Party: Eat, drink, and be scary at The Windup Space's Halloween bash on October 26 at 7 p.m. The $10 cover charge will get you access to tons of live entertainment, including performances by Ca8al, Kit & The Chardonnay Boys, AM I DEMON, Voodoo Pharmacology, and Rooney's Shoe. 12 W North Ave., 410-244-8855
Halloween at the Symphony: Listen to the banshees belt and the sirens sing at this Halloween-themed musical event. Starting at 6:30 p.m. on October 26, the event will feature a costume contest with prizes, access to backstage tours, light fare and candy, as well as musical activities. Tickets are free for BSO members and their families and are $15 for non members. 1212 Cathedral St., 410-783-8000
Mondo Baltimore Halloween Bash: Celebrate Halloween's spookiest screenplays at The Windup Space on October 27. The event is from 8 p.m.-2 a.m. and will feature the Mondo Baltimore Band, covering cult classic bad movie tunes, as well as clips from classic Halloween flicks to get the party started. 12 W North Ave., 410-244-8855
Halloween Happenings
Bike Party: Halloween Ride!: Gather your friends on October 26 for the scariest bike party of the year. From the Incredible Hulk and Spiderman to Wonder Woman and Harley Quinn, this Halloween hangout will surely attract all of Baltimore's muscle-y monsters. The ride starts at 6:30 p.m. 600 N Paca St.
AVAM's Free Fall Halloween Celebration: Boos and ghouls of all ages are invited to the American Visionary Art Museum's Monster Mash-Up Workshop on October 30. From 4-7 p.m., visitors can create boo-tiful paper monsters, and the Halloween-day festivities are free of charge. 800 Key Highway, 410-244-1900
Fells Point Ghost Tours: There's no better time to get to know Baltimore's haunted history than on Halloweekend. Learn about Charm City's supernatural past, share spooky tales, and maybe even see a ghoul or two in historic neighborhoods Mt. Vernon and Fells Point. 731 S. Broadway, 877-293-1571
Harry Potter Halloween at Johnny's: Inspired by J.K. Rowling's famous fantasy novels, Johnny's in Roland Park is transforming into a wizardly wonderland on Halloween night. Come in costume to order spooky specials—in addition to the regular dinner menu—from servers decked out in Hogwarts-inspired attire. In keeping with the theme, the evening's treats will include butterbeer cupcakes, Dragon's Breath macarons, Troll Boogie bonbons, and more. 4800 Roland Ave. 410-773-0777