Garnishes Gone Wild
All over town, bartenders are going gonzo with their cocktail toppers.
Scorpion Bowl, Pen & Quill

Cocktail: Rum, cognac, orgeat, lemon and orange juices, Angostura bitters
Garnish: Flaming lime, grilled pineapple, "shark" lime, orange wheel, paper umbrella
Every week, the bar staff at Pen & Quill breaks out the paper umbrellas for Tiki Tuesdays. "Cocktails can get stuffy and, with this theme, it's impossible to be stuffy," says bar manager Naomi Kline. The menu is full of traditional tiki tipples like mai tais, but the pièce de résistance is this scorpion bowl, which is meant to be shared between "two adventurous drinkers or four people who want to drive home." Explains Kline, "You know it's a success when a customer gasps. You can look out at Charles Street, and feel like you're in the islands."
---
The Waverly, Sugarvale
Cocktail: Duck-fat-washed rye, white vermouth, Bigallet China-China Amer liqueur, Monument City Brewery Company Brown Ale reduction, orange bitters
Garnish: Mini-ploughman: duck ham, lonza (cured pork loin), Beemster Gouda, smoked olives, pickled fennel
"This was our way of combining our charcuterie and cocktail programs," says Breanne Radford, lead bartender of the Mt. Vernon spot. The Waverly is a play on a traditional Brooklyn cocktail, but Radford uses a duck-fat rye whiskey and Monument City Brewing's Brown Ale reduction for a unique twist. When deciding how to garnish her cocktails, she thinks like a chef. "I like contrasting flavors," Radford says. "The duck meat adds richness to something that's already really spicy."
Born on the Bay-O, Miss Shirley's
Cocktail: Deep Eddy lemon vodka, Bloody Mary mix
Garnish: Blackened shrimp, tasso ham, andouille sausage, cheddar, pickled okra, tomato, celery, Old Bay
"The Bloody Mary trend with outside-of-the-box garnishes has been happening all over the country," says Miss Shirley's head chef Brigitte Bledsoe. "We wanted to do something crazy that was still our style." So the chef, who also conceives the cocktails, decided to garnish the Bloody with ingredients to represent the restaurant's Southern menu. "The main reaction is usually, 'Oh my God, how am I going to eat this?'" Bledsoe cracks. Fun fact? The staff goes over to Bledsoe's house to brainstorm and taste test cocktails over pizza.
---
Amado Nervo, Clavel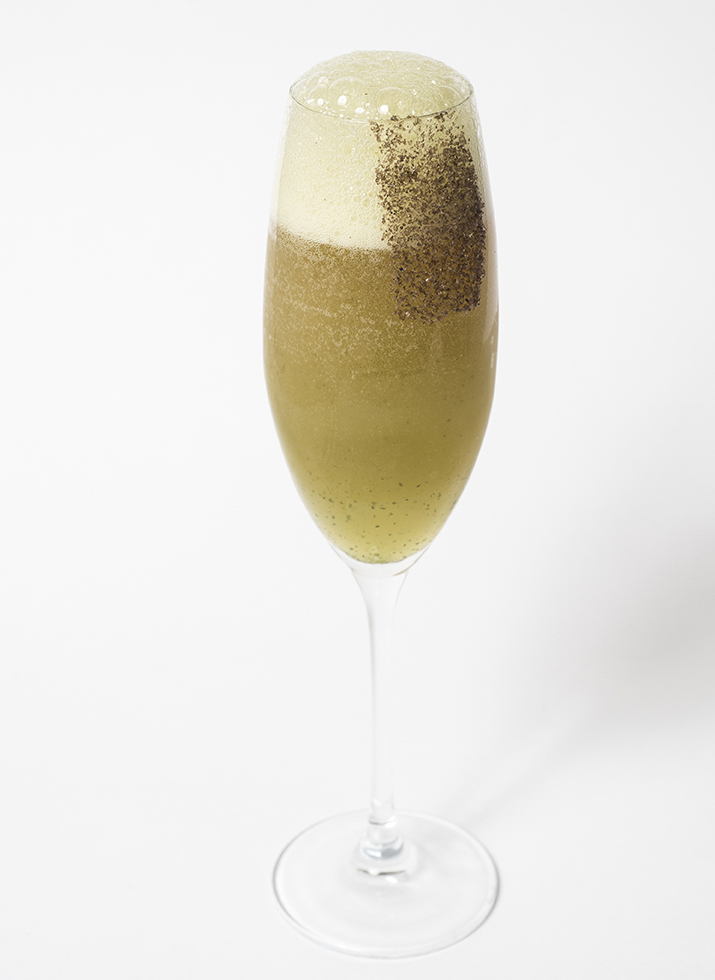 Cocktail: El Buho mezcal, cilantro honey, vermut, lime, cava rose
Garnish: Black sea salt, smoked over Pacific red alder wood
Clavel is known for queso dip, mezcal drinks—and beautiful garnishes. We are enamored with the bar's take on salt rims. Case in point: the narrow band of black salt on the Amado Nervo. "The technique is to swipe a rectangular pattern on one side of the glass with a lime wedge and dip that area into a bowl of salt," says owner Lane Harlan. "This gives the cocktail a dense and calculated salt shape." When combined with the drink's other ingredients, Harlan says the cocktail leaves you with "a memory of smoke."